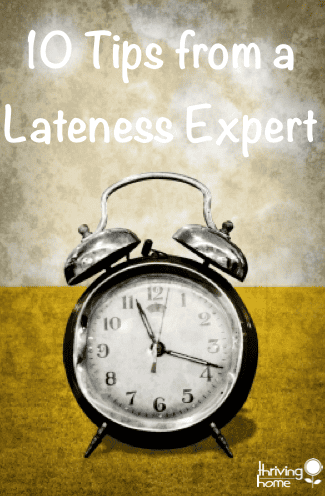 What makes me a lateness expert? Well, just ask any of our family and friends who graciously laugh off our casualness when it comes to arrival times. With each additional child added to our family, it seems that we run another 5 minutes late wherever we are going (which equals 15 minutes late oftentimes!). It's one thing, though, to arrive late to dinner at a friends' house but quite another to be late to school or paying bills. That is where this self-proclaimed "lateness expert" has some new, effective strategies that I've been taking baby steps to incorporate. (Plus, enter our GIVEAWAY to win a 16GB Mini Tablet Computer at the bottom of this post!)
5 Tips for Getting Out the Door on Time in the Morning
I have learned the secret to getting anywhere on time in the morning for our family. Can you guess where it starts? That's right–the night before. Shuffling one 1st grade kid and my husband out the door–fed and dressed–and getting ready for work myself on some days while managing two other little ones, feels like no small feat. But, when I prepare the night before, all is calm and I even have time to read and pray in the morning. Here's what I do the night before to prepare:
1 – Think ahead and write it out. I write out our next day's schedule, menu, and to-do list on a dry erase board on the fridge. This helps me organize my day and priorities in advance. I love this visual. It keeps me on track the whole day! I also use our magnetic fridge schedule to help my non-readers know what is going on that day.
2 – Lay out clothes. Lay out all of our clothes and instruct the older kids to put them on before coming downstairs. For the very opinionated 4-year-old girl, this avoids some major conflict in the morning as well. Woot-woot!
3 – Prep the get-up-and-go juice, if you know what I mean. Get the coffee pot set and ready to brew. The BPA-free one I purchased recently has an automatic setting, so I can come downstairs at 6:15 to a hot pot of joe ready to go.
4 -Prep breakfast. Prepare breakfast the night before or, better yet, the weekend before. I often make a few of my go-to healthy recipes in advance and put them in the fridge or freezer so we can eat on them all week or month long.
5 – Make lunches. Pack anyone's lunch boxes ahead of time. It's amazing how this relieves the hurry of a morning! Here are some of our go-to healthy lunch box favorites:
I make a lot of the same things I listed for breakfast above and pack those.
Tomato Bisque Soup – When I make this soup for dinner, I double it and freeze extra in small amounts for lunches. I thaw this in the fridge over night. The next morning, warm this up and put in a thermos. I add a baggie of shredded Parmesan and my son gobbles this up.
hard-boiled eggs
plain yogurt with toppings packed separately (blueberries, ground flaxseed, Coconutty Granola with Dried Fruit)
Sandwiches Ideas: ham or turkey and cheese (I only buy antibiotic/hormone-free and often organic deli meat, though), PB or almond butter and honey, hummus and cheese, banana slices and PB
mini pizzas on whole grain English muffins – wrap in foil and warm in the oven at 350 degrees; they stay warm until lunch
5 Tips for Saving Money and Avoiding Late Penalties
Now, the other area where I can get bit in the butt for lateness is when it comes to paying bills if I'm not careful or missing sales. Here are 5 tips for saving money and avoiding those late penalties.
1 – Pay everything online with auto pay that you can. Over the years I've switched just about every bill I pay to auto pay to avoid the late fee. Otherwise, I find that bills can get buried and forgotten under a stack on my desk.
2 – Go through your mail every day and act right away. My friend, Kelley, has been beating this mantra into my head for years. I have a tendency to let mail stack up. But, she says to go through it on the way back from the mailbox and deal with bills or other "action-required" mail as soon as possible. I still need some help in this area, but I'm making baby steps toward it!
3 – If you're going to use a credit card, use one that saves you time and money. Now, I'm a big fan of the cash envelope system. That's where you allot a certain amount of cash for different budget areas and put it in envelopes. That way you only spend what you have in front of you that month. We've gone in and out of using this system over the years, and it really does work when I stay on top of it (that's the hard part). But…we do use our one credit card to pay for things that we aren't tempted to overspend on–especially bills. If you're going to use a credit card, you might consider the Citi Simplicity card, which has no late fees, no penalty rate, and no annual fee! Here are a few facts about the card:
According to a recent survey, more than half of Americans who have paid a credit card bill late spent at least 10 minutes trying to get the fee removed. Citi Simplicity was designed to alleviate the frustration of late fees, and provide a simplified credit card experience. It is the ONLY card that never charges late fees, a penalty rate or an annual fee, ever. Learn more at www.citi.com/simplicity. When you consider credit card late fees typically start at $15 and can be as high as $35 per missed payment, late payment fees can really add up.
4 – Get ahead of the changing seasons and save money by making your home more energy efficient. With some easy, small updates, you can save money on your utility bills every month. Here are a few cheap ideas of ways to make your home more energy efficient:
Replace the weather-stripping around all the doors, making sure to close up any gaps.
Replace all standard light-bulbs with energy efficient ones.
Replace your air filter in your H-VAC every three months.
Clean out your dryer vent that leads from your dryer to the outside of your home once a year. (This also prevents a fire hazard!)
Turn your thermostat up in the summer when you're gone during the day.
Turn your thermostat down in the winter and wear warmer clothing around the house.
5 – If you missed a sale or are short on time to shop around, use these money-saving tools.
Citi Price Rewind's can help you get the best price. Have you ever done all your back to school or holiday shopping, only to see the items you purchased on sale later? Or bought a gift early just before the price drops? It can be frustrating and time-consuming to chase down price adjustments. A program called Citi Price Rewind can do the work for you, by searching retailers' site for lower prices when you buy and register an eligible item with your Citi credit card. Remember to save your credit card receipt each time you shop. If Citi finds your item at least $25 lower than what you paid within 30 calendar days, you can get the difference in price back, up to $250. The average refund is $80. To learn more visit www.citi.com/pricerewind for more information.
If you have a Citi Simplicity card, Citi Easy Deals give you access to great discounts on gift cards, travel, brand name merchandise and more, including offers for favorite restaurants and shops. Visit citieasydeals.com at home or on your mobile phone to see how you can start saving with over 200,000 offers!
SHARE AND WIN:
What are your tips and strategies for conquering lateness? Share via tweet/blog post/comment per the rules below and YOU CAN GET A CHANCE TO WIN A 16GB MINI TABLET! (Note: You do not need to comment to enter the sweepstakes since there are other ways to enter here. No purchase necessary.
Sweepstakes:

The Conquering Lateness Sweepstakes ("Sweepstakes") is open to legal US Residents, age 18 or older. Void where prohibited. Sweepstakes ends 5 p.m. (PST) on October 24, 2013. The Official Rules are available here. No purchase necessary.
Only two entries per participating blog per household; if the same or substantially similar comment (as determined by the Sponsor in its sole discretion) is posted twice, it may only count as one Entry. Eligible persons may enter this Promotion by taking any of the following actions, each of which counts as one entry:
1.     Leave a comment in response to the Promotion prompt on this post.
2.     Tweet (public message) about this Promotion, including exactly the following unique term in your tweet message: "#SweepstakesEntry"; and leave the URL to that Tweet in a comment on this post.
3.     Blog about this Promotion (including a disclosure that you have received a sweepstakes entry in exchange for blogging about this Promotion), and leave the URL to that post in a comment on this post.
4.     To enter without commenting, follow this link, and provide your email address and your response to the Promotion prompt.
Be sure to visit the Citi brand page on BlogHer.com where you can learn more about conquering lateness!
Photo credit: "Alarm Clock In Vintage Style Stock Photo" by pixbox77 from http://www.freedigitalphotos.net/.
Pin It