10 Easy DIY All-Natural Household Products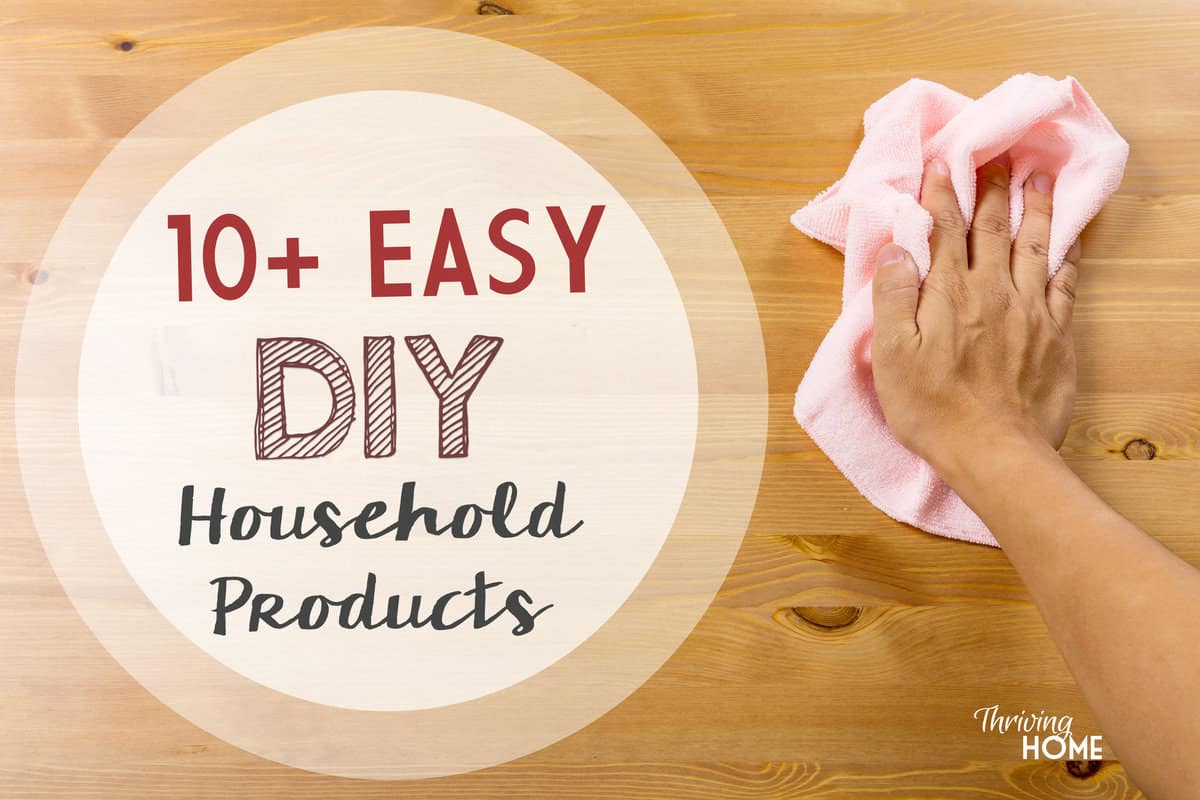 My son was diagnosed with Crohn's Disease at 20 months of age. It was terrifying, especially when we had no family history at all. So, I did what I'm guessing many terrified mothers who feel out of control do–I began to research like a madwoman. My goal was to discover what could have possibly triggered his little immune system to go into overdrive.
I didn't find any definitive answers for him. But…my eyes were opened wide for the first time to the amount of and dangers of toxins in our environment. They are everywhere! From the food we eat to the air we breathe to the personal hygiene and cleaning products we use in our homes. And, they are most dangerous to developing fetuses and children.
Why Are There So Many Dangerous Products on Store Shelves?
Like me, you may have assumed that cleaning products on store shelves, for instance, were safe because the FDA regulated them. Here's the reality…
The President's Cancer Panel, a mainstream medical panel, released a report in 2010 warning that "chemicals threaten our bodies" and "that our lackadaisical approach to regulation may have far-reaching consequences for our health," according to a New York Times article. "Only a few hundred of the more than 80,000 chemicals in use in the United States have been tested for safety," the report says. It adds, "Many known or suspected carcinogens are completely unregulated." The truth is that our government does a lousy job of protecting the consumer from chemicals!
In regard to unborn babies and children, the New York Times goes on to say, "the report warns about exposures to chemicals during pregnancy, when risk of damage seems to be greatest. Noting that 300 contaminants have been detected in umbilical cord blood of newborn babies, the study warns that: "to a disturbing extent, babies are born 'pre-polluted.' "
The warnings about the dangers of cleaning products, cosmetics, pesticides, plastics, etc are no longer coming from "health nuts" on the fridge of the medical world. No, the most mainstream doctors in the business are now raising alarming concerns. Sadly, we cannot trust the FDA or companies who make these products to have our best interests in mind.
This is Overwhelming! What Do I Do?
Believe me, I know. I felt the exact same way when I first began researching. We aren't without hope, though. What should I do? you may ask. The answer: We have to take our family's safety and health in our own hands.
One of our family's first big changes after my son's diagnosis was to rid our house of as many toxic chemicals in household products as we could. (I'd love to tell you more about our dietary changes another time, but check out my menu plans and our recipe index for clean-eating food ideas.) If you'd like to take the baby step of ridding your home of toxic household products, I would encourage you to try one or both of these suggestions:
1 – Check EWG's Guide to Healthy Cleaning before buying cleaning supplies at the store. This site researches and rates the health risk of thousands of household cleaning products. It also suggests the safest ones on the market.
2 – Try making your own household products. I once thought, "How am I supposed to do that with three little kids to care for and a part-time job?" But, it's surprisingly easy and saves you TONS of money! To help you get started, here are 10 all-natural household product recipes that we use and love (and some tips for finding the ingredients at the bottom)!
10 DIY All-Natural Household Products
1. All-Natural DIY Drano – Naturally unclogs your toilet or any drain with only 2 ingredients!
2. Non-Toxic Foaming Hand Soap – Incredibly easy and cheap. You'll never buy hand soap at the store again after trying this trick.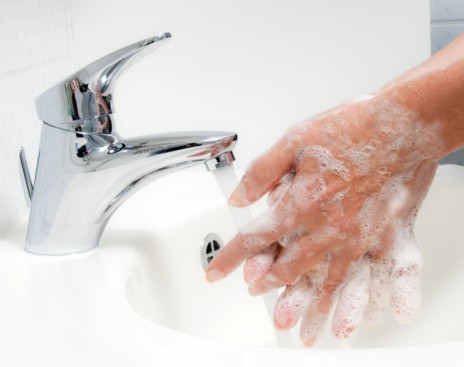 3. DIY All-Natural Carpet Cleaner – This removes the oldest and most disgusting of stains with 3 simple ingredients.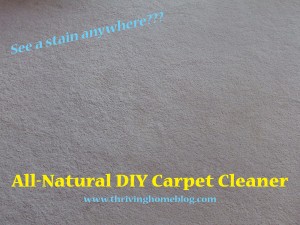 4. Homemade Laundry Detergent – This will save you tons of money and leave your clothes clean without harmful chemicals.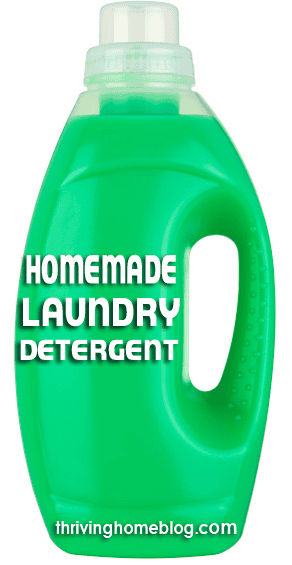 5. Fruit and Veggie Wash – Here's an easy, effective way to clean the pesticides, bacteria, viruses, and dirt off of your produce. This is the first thing I do when I get home from the store after putting groceries away.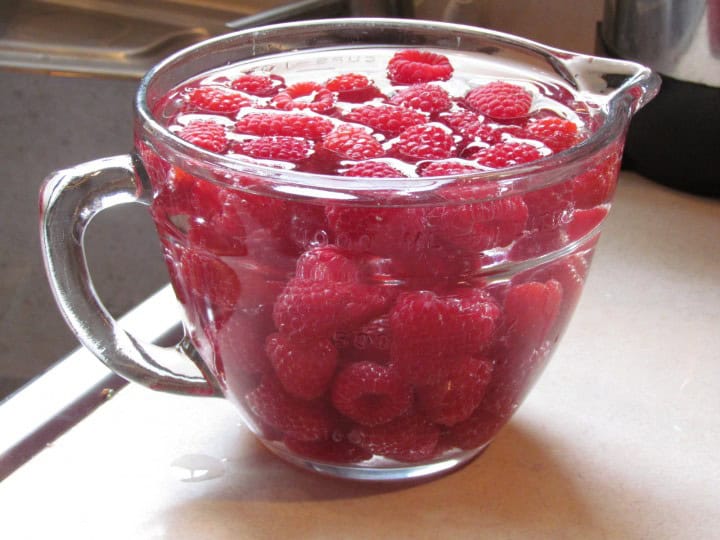 6. Easy Shower Cleaner – I'm ashamed to admit that my showers could easily descend into a dark pit of soap scum and mildew before Polly introduced me to this convenient idea. Even my 5-year-old boy helps clean the shower while he's in there now!
7. Stainless Steel Cleaner – Use this one ingredient, and you'll swear you've got a new stainless steel appliance.
8. All-Purpose Disinfectant Spray – We've used this for years on counter tops and toilets alike. Works great and smells nice.
9. DIY Carpet Deodorizer – Get rid of those lingering pet (or kid?) smells with this DIY idea.
10. DIY Fruit Fly Traps – Pin this one for later–you know, when you're up to your eyeballs in fruit flies this summer. You'll be glad you did.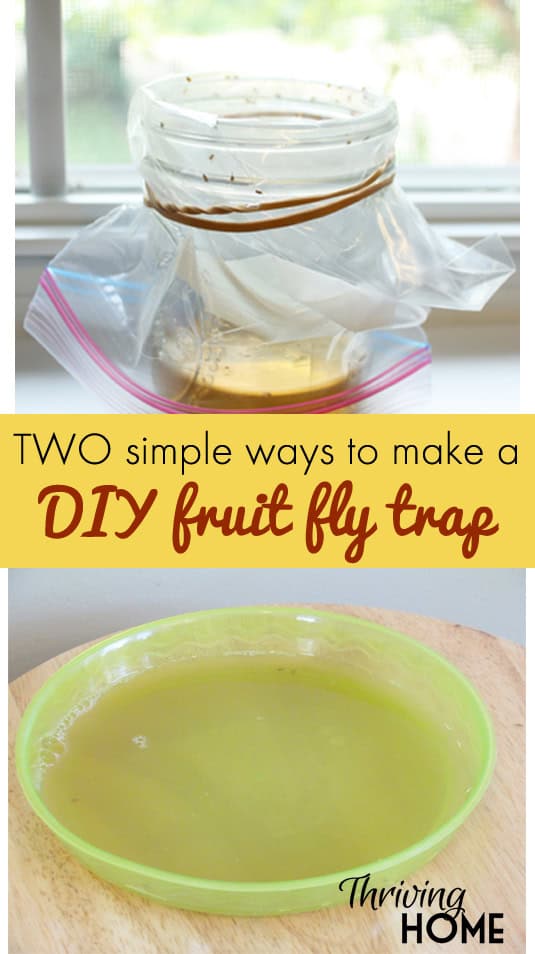 Where Do I Get These Ingredients?
You'll find most of the ingredients for these homemade products at your grocery store or some place like Walmart or Target. However, tea tree oil can be found at a health food store or on Vitacost. In fact, I think the best deal I've ever seen on tea tree oil is this one. If you use my referral code link when you make the purchase, you'll get $10 off too!
Like this post? Be sure to sign up for our weekly email updates or follow us on Facebook to get more homemade household product tutorials, healthy recipes, and more.
https://thrivinghomeblog.com/wp-content/uploads/2012/12/Easy-DIY-Household-Products.jpg
3000
4500
Rachel Tiemeyer
https://thrivinghomeblog.com/wp-content/uploads/2019/10/thrivinglogo.png
Rachel Tiemeyer
2012-12-13 06:09:47
2020-01-05 15:42:43
10 Easy DIY All-Natural Household Products