10 Summer Boredom Busters: Easy Kid Activities at Home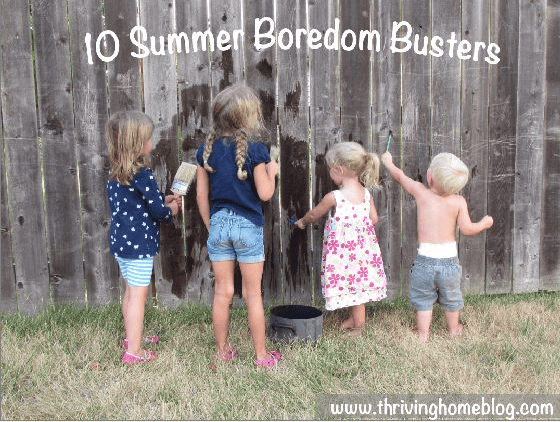 I don't know about where you live, but it's been blistering hot in these here parts for weeks on end. Too hot to play outside for most of the day, in fact, unless water is involved.  When you have three small kids at home all day, especially an energetic 5-year-old boy who gets up at 6 a.m. every day…you need to have something to do for them! (Can I get an "amen"?)
As we approach the final stretch of summer break, I put together a list of successful activities I've done with my kids when the boredom or bickering sets in.  The key, I think, is having easy ideas to do with supplies you've got on hand. Here are my top 10 go-to easy kid activities at home. I'd love to hear some of yours, too!
1 – Make Powerball Cookies.
These no-bake healthy cookies are so easy that kids of all ages can help you make them (and eat them). Even my 1-year-old loves to "cook" with us on this one. Note: You can use sun butter or almond butter if you're avoiding peanut butter until age 2. I'm not promising it won't be messy for your kitchen or the kids, ok?  But, it's super fun.
What I love about this recipe is that is doesn't require baking so kids can eat as they cook, and each child can add what he/she likes to theirs.  You can also have your kids make this for a neighbor or friend as a way to serve others.  Just make sure they wash their hands well and don't lick their hands, utensils, or the cookies while cooking. That's the hard part!
2 – Wash the car.
Throw the kids in their swimsuits and slather on the sunscreen.  Then, give each child a bucket full of soapy water, old wash cloth, and access to the hose.  My kids stay busy for a long time doing this one.
3 – Make Play Dough Aliens.
If you don't have play dough on hand, you can make your own using the recipe here.
4 – Play Mommy's Store.
My 3-year-old daughter received a cash register for her birthday. So, I thought, why not play store with my her and 5-year-old son? Not only did we have a blast together, but we got to discuss important life and math concepts.
5 – Create a fort and have a special reading time together inside it. 
We really enjoy reading free online books at www.wegivebooks.org. This site has 100's of books for all different ages of children.

6 – Paint the fence or concrete.
My 5, 3, and 1-year-olds and their cousins loved this activity the other night. I gave them a bucket with water and whatever old paint brushes I had on hand. That's it! They worked and worked on it.  You can also do this on concrete.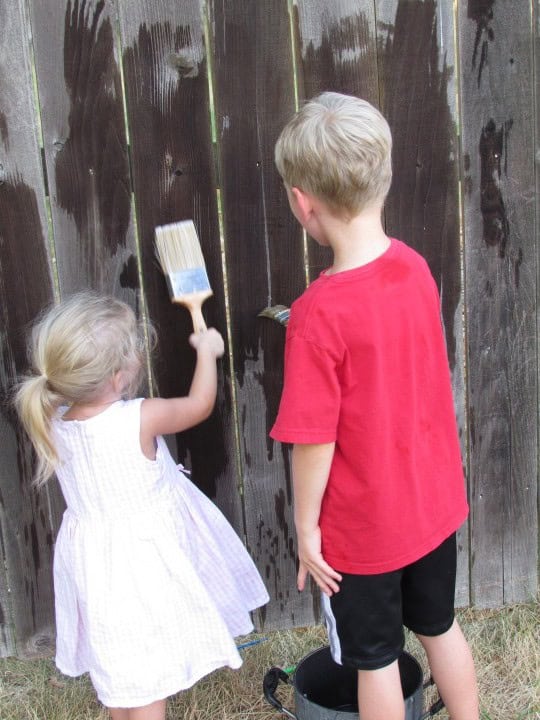 7 – Put kids to work.
My 3 and 5-year-olds are at the age where they love to help me.  So I try to think of ways to have them help around the house as much as I can. I praise them often while they do these things and remind them that they are serving our family and God while doing these tasks. Here are some of the things they like to do:
water plants outside
put away the clean silverware
sweep the back porch
pack up and put out the recycling on trash day
pull weeds
"wash" dishes in the sink (I usually still throw them in the dishwasher, but it's good training!)
fold towels and washcloths
help me move laundry along
dust
help cut up fruit or vegetables for dinner using a plastic or butter knife and with supervision at age 3 or older (this has the added benefit of interesting them in these foods so that they might try them)
8 – Create this homemade sorting game.
I have the kids do this activity at the counter while I work in the kitchen sometimes. There are so many things for young children to learn while working on this activity, as I list in the post.
9 – Play Word Post Its.
Do you have a post-it pad and pen? You do? Then you're set for this super simple yet fun learning activity for pre-readers or young readers.
10 – Dance Party and/or Freeze Dance.
We do this one a lot. Find a fun dance song (like the one below) and blast it while you all get a little exercise all together. This time with my kids always completely cracks me up.  How can you not laugh at a 1-year-old trying break dancing moves or a 3-year-old girl shaking her hips like Beyonce? You can also make this into a game called Freeze Dance.  When you pause the song, everyone has to freeze.  If you move, you're out (or you can just keep playing without getting the kids out like we do).
11. Bonus! Do Just Dance for Kids on Youtube.
I've collected all our favorite free Just Dance videos from youtube in this one post. This is a perfect rainy day activity for mom and active kids!
Lastly, here are more Summer Boredom Buster ideas from Family Fun Magazine.
Your turn. I know you creative mommas have some great ideas out there…
What is a summer boredom buster around your house?
https://thrivinghomeblog.com/wp-content/uploads/2012/07/IMG_2035-e1342968109565.jpg
540
720
Rachel Tiemeyer
https://thrivinghomeblog.com/wp-content/uploads/2019/10/thrivinglogo.png
Rachel Tiemeyer
2012-07-24 09:40:00
2020-01-05 21:09:30
10 Summer Boredom Busters: Easy Kid Activities at Home