10 Tips for Throwing a Successful Yard Sale
I don't know if I should admit this but I associate spring time with garage sales.
As the snow (finally) melts away, I have begun to see more and more sale signs popping up on Fridays and Saturdays. This morning I saw one on the corner of a popular intersection. Since I was kid free for the morning I wanted to swing by the sale and see what they had. However, I didn't. Want to know why?? Because I couldn't read the dang sign and I didn't know which direction to go.
I was reminded how much of a pet peeve bad garage sale signs are to me and secretly wished the person throwing the yard sale had read my post last year that shared tips for throwing a sale. Specifically tip #3.
With yard sale season on the horizon I figured it'd be good to pull this post out of the archives to hopefully serve as a reminder of some things to do to make your upcoming garage sale a success.
10 Tips for Throwing a Garage Sale
Throwing a garage sale is a lot of work but totally worth it if you do it well. I've thrown two in the past two years and both ended up making me a lot of money and getting rid of a lot of stuff!
1) Location, Location, Location
This is something that may be out of your control but having your sale on a busy, easy to access street can mean the difference of hundreds of dollars. Lots of people who stop by garage sales are doing it impulsively. I even had quite a few people stop by on their way to work! If you have a friend who lives on a busy street, it'd be worth the pain of hauling your stuff over there to use their yard. In fact this is what Rachel did at my last sale and she ened up making 2-3 times as much as she did at the sale she had at her house.
2) Partner Up
If you can, find a partner in crime to throw the sale with. This is helpful in a lot of different ways. Your sale will be larger which attracts more people. It also splits a lot of the work up such as tracking down tables, setting things up, keeping things organized, etc. It's also just fun to have a person to work it with (and laugh at some of the crazy things people buy).
3) Signs
Good signs are CRITICAL. People need to be able to get the necessary information from a quick glance. Most people don't even pay attention to the address or other information on a sign. They just follow the arrows. Mine were really simple. Here is an example of one.
Make a lot of signs! I ended up making 12 for my sale. The better the directions, the more people you will have.
To avoid having a sign that wraps around the pole that you hang it up on, try this little trick out: tape wooden kabob sticks to the back of your sign. That way the wind won't mess with it! Worked great for me.
Here's another great sign hanging tip: at busy intersections, put a sign on the corner where people can (impulsively) turn right. Hopefully the picture I whipped up below will help you understand what I mean.
4) Tables
Get as many tables as you can! Having your stuff on tables not only makes it easier for people to browse and see things but it also communicates you care about the stuff you are selling. If you just throw stuff all over your yard, it shows people you think it is junk as well.
5) Organization
Hang up your clothes, cluster items that are similar, stack your books, take things out of bins and boxes, wipe the dust off things, and do your best to make things look organized, clean, and taken care of.
6) Curb Appeal
Like I said before, you want people to impulsively stop by your sale. Put big items by the curb so people driving by can easily see them.
7) Price EVERYTHING
Seriously. Make it very clear what every item costs. Most people don't like to speak up and ask for or offer a price. You want to make it easy for them to know what they will pay. The items that I didn't have priced were the ones that didn't sell very quickly. (I eventually caught on to why people were looking at them and then passing them up).
8 ) Have an electric outlet/batteries available to test items
Don't take it personally, but people won't trust you. They want to test out the electronics to make sure they work. If you don't have an outdoor outlet, run an extension cord. Also, have batteries available to prove that items work.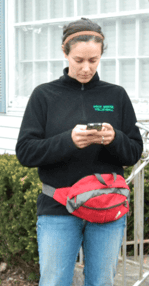 9) Fanny Pack
Wear it and wear it with pride baby! You'll be on your feet, moving around the sale quite a bit. The last thing you want to worry about is someone swiping your hard earned cash. As larger bills accumulated, I would move them to inside my house. A fanny pack also helps people to know who to pay or who to direction their questions. It's the mark of a seasoned garage saler.
10) Give information
It's very helpful to give the buyer a little information about the item. For example, on quite a few items, I had the price tag AND a little post-it explaining what the item was, what it did, or how old it was. I also made special notes if something was brand new. Rachel was smart and printed out what some of her baby items were going for on ebay and taped it to the item. That way people would SEE they were getting a great deal!
Seems like a lot of work, doesn't it? I'll be honest with you, it is! Just think of this way: people are paying you to take your junk away. All you have to do is set up the platform for them to do it. So now that you are properly trained, go clean out those closets and basements and get selling!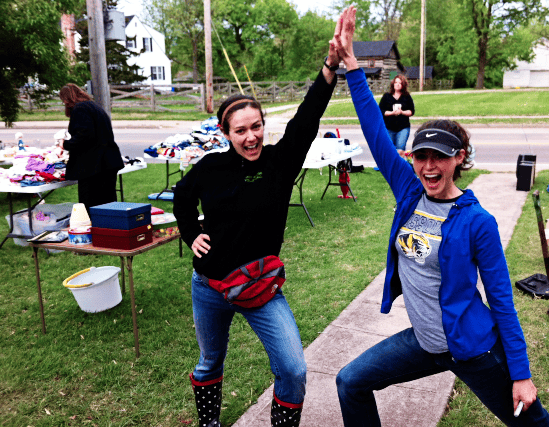 https://thrivinghomeblog.com/wp-content/uploads/2019/10/thrivinglogo.png
0
0
Polly Conner
https://thrivinghomeblog.com/wp-content/uploads/2019/10/thrivinglogo.png
Polly Conner
2013-03-27 05:22:05
2019-01-30 12:04:24
10 Tips for Throwing a Successful Yard Sale