10 Winter Fashion Must-Haves Under $50
I (Polly) come from a small lake down. (Camdenton, MO if you know where that even is). As a child, I grew up wearing combination of a bathing suits, Umbros, over-sized t-shirts, and Tevas pretty much every day of my life. In college, I realized that fashion was not my strong suit. In fact, a college roommate (who is now a big-time fashion blogger ironically) told me that I "had a shoe problem." Um, thanks?
This is why I need people like Alex in my life. 
Alex reached out to me a few months ago sharing about her new blog, Alex Marie Jordan. For a new blogger, I was amazed at how well done her site is! It's cute. It's organized. It's useful. It's approachable. I love it. So much so that I asked her if she wanted to be regular Thriving Home contributor. And guess, what?! She agreed! 
So, hopefully this is the first of many posts that will come from this darling gal. Hop over to her blog and give her some love, will ya.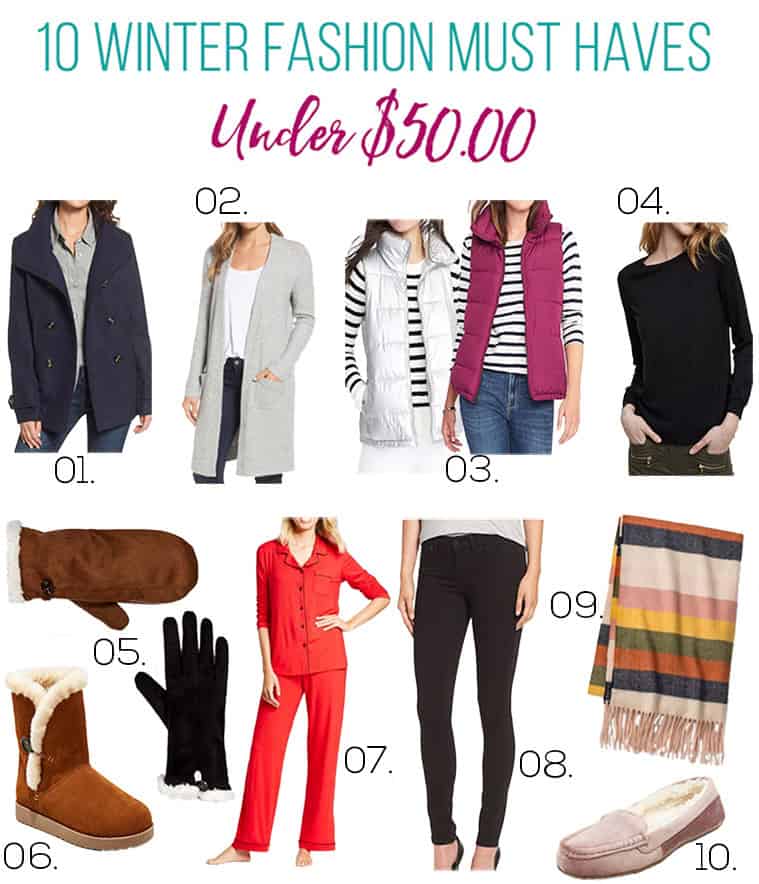 Hey y'all!
First off, it's so nice to "meet" you! My name is Alex and you can find me over at my blog, Alex Marie Jordan, where I talk all things fashion & lifestyle. I am so excited to have connected with Polly and Rachel through a mutual friend and can't wait to share this post with you today!
As a fashion blogger, I am constantly sharing new clothes, trends, and products with others, but truth be told, I'm a bargain hunter deep down. I love a good sale or deal as much as the next gal, so from one bargain-hunting woman to the next, I want to share my top 10 wardrobe picks for winter with you today. Even better? They all come in under $50! These are practical fashion and accessory items that will keep you warm, comfortable, and cute in the coming months.
Ready to get started?!

1. GREAT WINTER COAT
First and foremost, you need a good coat! I'm not sure what the weather is like where you live, but here in the Midwest, winter can be frigid! I love this peacoat, which is currently on sale at Nordstrom. With amazing reviews and from a trusted brand, this would make a great purchase this year. I'm also a big fan of all the color options you have. My personal favorites are Hunter Green and Navy.
2. LONG CARDIGAN SWEATER
Probably my favorite thing in the world to wear this time of year is a good, comfy sweater. I love pullovers, too, but a cardigan is just so easy to throw on and can take an otherwise basic outfit to a new level. Halogen is one of my favorite brands to buy at Nordstrom. It's super affordable and they always have the cutest items. Pair this cozy sweater with a couple other items off this list like a layering tee and black jeans for a perfect date night look.
3. PUFFER VEST
Anybody else love a good vest?! Puffer vests, in particular, are definitely back in style and in my opinion, are the perfect casual piece to throw on while running to the grocery store or heading to and from the gym. This particular vest comes in several colors and the fleece lining is just enough to keep you warm on a chilly day of errands. It also comes in a fun metallic if that's your style. PS – these are both on MAJOR sale right now!!
4. THE PERFECT LAYERING TEE
One of my favorite things about this time of year is all the layering of clothes. It's so easy to throw on more layers, a thicker sweater or some sort of warm accessory like a scarf to stay extra cozy. Great layering tees are a staple in my wardrobe for that exact reason! I love this relaxed tee and can already imagine all the ways it can be worn. I would strongly suggest to everyone out there to have both a black and a white solid tee of some sort that can be your go-to for things like this.

5. TECH-FRIENDLY GLOVES (OR MITTENS)
You'll also need a solid pair of gloves to keep those hands warm during the cold winter months. Have you seen the gloves that are technology friendly, allowing you to keep your fingers warm while still answering phone calls or text messages?! Genius!! This micro suede pair is super chic and looks way more expensive than its actual price tag. And if you're a mitten girl (like me!) this same brand makes this pair that is both adorable and affordable.
6. WARM BOOTS
A pretty obvious necessity for winter would be a pair of warm boots. What can be challenging here, though, is finding a good pair that won't break the bank. I think this pair does it! These cute little suede booties are a nod to the ever-famous UGG boots, which are great but definitely not cheap. These however, come in several colors, have incredible reviews, and are the perfect affordable addition to your winter wardrobe. I have a pair like these and wear them constantly.
7. SET OF WINTER JAMMIES
Another must-have for the cozy homebody is a great set of winter pajamas. I love the idea of fleece or flannel but to be honest, I get hot in the middle of the night, so I know that something warm and fuzzy will not do me well. Enter this gorgeous set! Made of a soft and lightweight blend, these are not only the softest pjs ever but they also walk the line of helping to stay warm without getting TOO warm. I recently purchased this exact set and am loving them. I know I'll wear them all season long.
8. YOUR FAVORITE BLACK JEANS
I'm a fan of black jeans all year and believe every woman should find the perfect pair that she absolutely loves. Black jeans are so versatile and can be easily dressed up or down, which is perfect for any woman on the go. I especially love a good pair of black jeans with a tall boot and chunky sweater during the winter. Such a classic (and easy) look.
9. FUN (AND WARM) SCARF
I love a great scarf, and since I'm usually wearing a neutral colored coat or jacket, I think it's fun to add a pop of color with your accessories. This multicolored striped scarf is a perfect example of how to do just that. It's bright and fun but the texture is SO soft and cozy… sure to keep you warm on a cold day.
10. COMFORTABLE SLIPPERS
My final must-have for winter is a great pair of slippers to wear around the house. I'm always cold, so one way I try to stay warm in the colder months is by keeping my feet cozy in my favorite pair of slippers. They fill the gap between socks not being quite enough warmth and a regular pair of shoes not cutting it in the comfort department. Slippers, or "house shoes" as some may call them, are ideal for lounging around, folding laundry, or even running out to the mailbox. I think this velvety pair from Target is SO adorable.
I hope this has given you some great ideas for some fun, yet practical, purchases you can make this winter!
It's been a joy sharing this post with y'all today and I hope to bring more tips and tricks to you down the road. Be sure to check out my blog for more fashion and lifestyle posts and come say hello on Instagram and Facebook!
xx Alex
https://thrivinghomeblog.com/wp-content/uploads/2017/12/winter-under-50.jpg
884
759
Alex
https://thrivinghomeblog.com/wp-content/uploads/2019/10/thrivinglogo.png
Alex
2017-12-20 07:46:52
2019-12-16 20:13:05
10 Winter Fashion Must-Haves Under $50