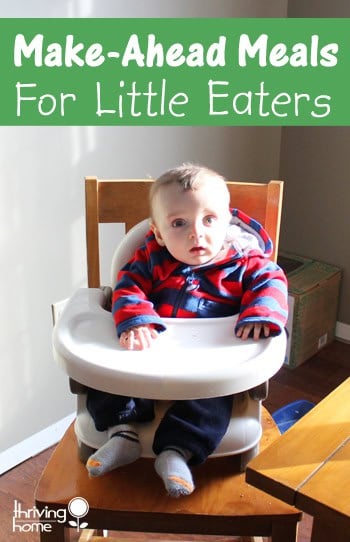 My little guy is now 9 months old and pretty much eats what we do at the table. I guess you could say my infant food philosophy falls near the Baby Led Weaning philosophy except that I do make an effort to mush up certain foods and make a few combinations of various healthy ingredients to serve as meals. Overall, for the most part I prefer to feed my little one food as close to its original form as possible AND let him feed it to himself. It's a messy process but he's already a great eater like my daughter was, so I like to think this has something to do with it.
Like with freezer meal cooking I like to make double batches of recipes and freeze them for future use. I've put together a list of make-ahead meals for little ones that are easily freezable.
To freeze portions of food that need to be divided up, I LOVE using these silicone baking cups.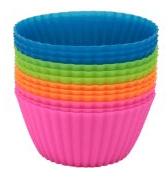 When my infants were younger and just starting out on solids I used ice cube trays because the serving sizes made more sense but now that I need bigger portion sizes, these baking cups are perfect.
That being said, a lot of these recipes don't need to be divided up into cups or trays. You can freeze things like pancakes and the Cheesy Vegetable Patties in freezer bags and later warm in the microwave. Just make sure to test the temperature before offering it to the baby! To learn more about cooking ahead of time in bulk and freezing meals, check out this post.
1. Cheesy Vegetable Patties


My husband and I nicknamed these "broccoli pancakes" because that is pretty much what they look like. However, little hands can't resist them thanks to the cheddar cheese. Make a batch of these and either refrigerate them for up to a week or freeze them for a quick, nutritious meal for your little one in the future.
*Freezing Tip: separate them with parchment paper so you can easily pop one or two out at a time.
Print
Cheesy Vegetable Patties
---
Ingredients
8oz

frozen broccoli florets

4oz

breadcrumbs

6oz

Cheddar, grated

2 1/2 tablespoon

water

2 1/2 tablespoon

olive oil

1 1/2 teaspoon

baking powder
---
Instructions
Pre-heat the oven to 375.
Steam or cook broccoli until soft. Drain and chop up well.
Combine broccoli with the remaining ingredients and mix well.
Form the mixture into nugget shapes and place on a greased baking sheet, about 3 inches apart.
Bake for 20-25 minutes.
Serve warm.
To freeze let them cool and place in airtight bag or container, separating the patties by parchment paper.
This oatmeal pancake recipe is a staple in our home. Especially since my second child started solids. They are easy for little gums and full of nutrition. We use them for all three meals of the day around our house (not in a row, obviously). I also love to scoop baked apples on top of the pancakes to add a little sweetness without adding a ton of sugar.
3. Peachy Sweet Potatoes
My nine month old scarfed a HUGE serving of these down the first time I gave them to him. They are so simple to make. I would have never thought to combine these two things but they totally work together. He LOVES them.
Print
Peachy Sweet Potatoes
---
Ingredients
3

medium sweet potatoes

2

–

3

peaches, peeled and chopped
---
Instructions
Bake sweet potatoes until soft.
After removing the peel of the sweet potatoes, place them in a food processor.
Add peeled peaches and blend until smooth.
Pour into freezer friendly containers and save them for later!

Easy to make and a favorite of kiddos. Make sure you use a bib with this yummy, healthy recipe.
5. Blueberry Banana Yogurt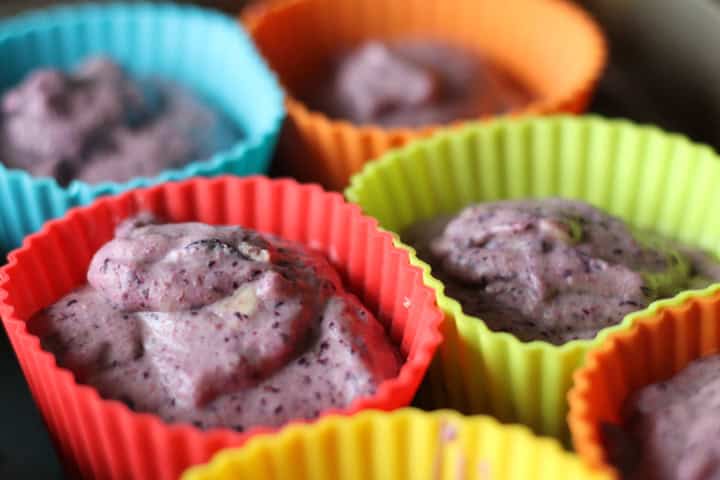 These make a great breakfast that you can pop out of the freezer on a busy morning. Next time I make them I might add a bit more banana or even peaches to sweeten it up a bit more. These reusuable and safe silicone muffin cups are perfect for freezing this sweet snack.
Print
Blueberry Banana Yogurt
---
Ingredients
1 cup

blueberries

1

whole banana

1 cup

plain yogurt

2 tablespoon

s wheat germ
---
Instructions
Puree blueberries and banana. Mix in yogurt and wheat germ. Freeze in serving size portions.
I haven't made these spinach lasagna rolls in a while but remember how much my first child LOVED them. You can pack them with healthy ingredients and use whole wheat noodles to make them a bit healthier. They are super easy to divide and freeze for future lunches you might need for your little one.
7. Banana Quinoa Mash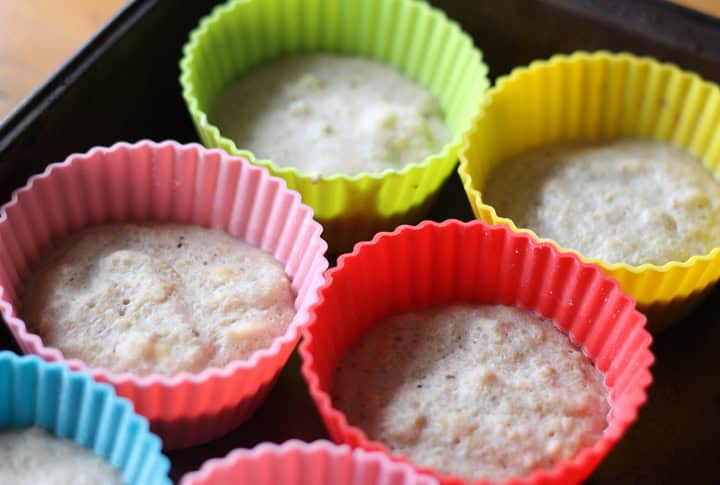 Quinoa has the most protein of any grain and has a soft, baby friendly texture. It has a delicious nutty flavor that kids like. Mixing it with banana which is a taste your little one has probably already become used to makes it very likely that your little one will really like this recipe. Freeze in these handy and safe silicon muffins cups.
Print
Banana Quinoa Mash
---
Ingredients
1/2

banana
pinch cinnamon

3 tablespoon

s cooked quinoa

1 tablespoon

whole milk yogurt (I used plain, greek yogurt)
---
Instructions
Double or triple recipe if desired.
Mix all ingredients together either in a blender or by hand. Divide up in freezer friendly storage containers for future use.
8. Pear-Apple Oatmeal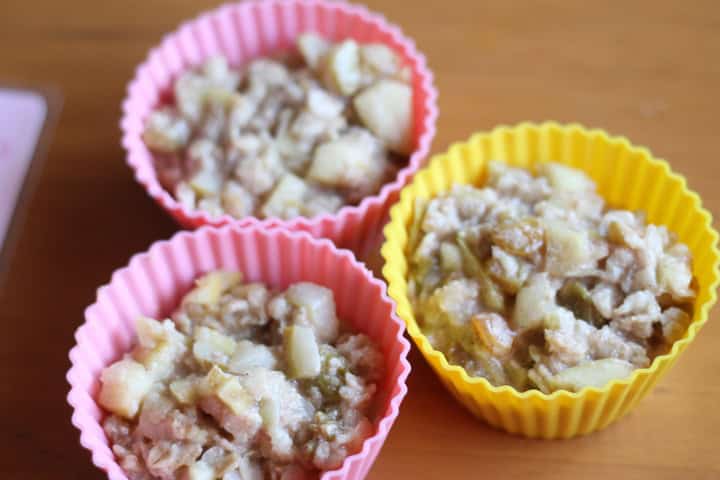 Super yummy and filled with lots of flavor and nutrition made and frozen in these handy and safe silicon muffin cups. A great recipe to have on hand for little eaters!
Print
Pear Apple Oatmeal
---
Ingredients
2 cup

s water

2/3 cup

oatmeal (not quick oats)

1

pear, organic if possible, peeled, cored and cubed

1

apple, organic if possible, peeled, cored and cubed

1/3 cup

dried cherries, chopped (I left this out and it was fine)

1/4 cup

golden raisins, chopped

2 Tablespoon

s brown sugar

1/4 teaspoon

pure vanilla extract

1/4 teaspoon

freshly grated nutmeg

1/2 teaspoon

cinnamon
---
Instructions
Make oatmeal according to directions. Add in apple and pear with 1-2 minutes left of cooking.
Add in remaining ingredients and stir well.
9. Cheddar Broccoli Potato Mash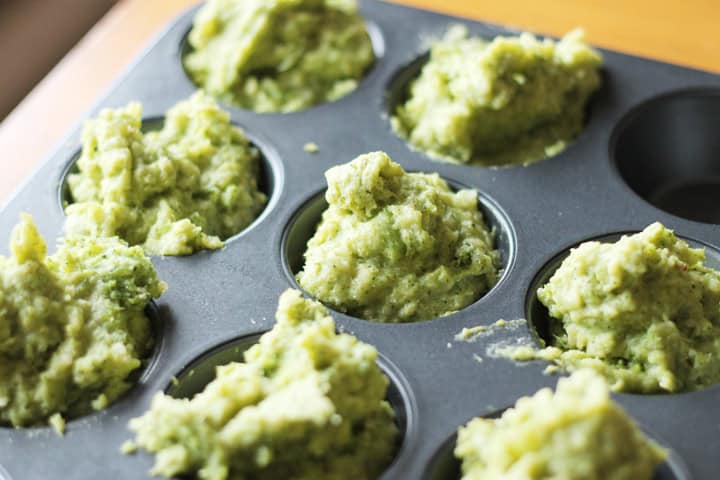 A great little recipe that little ones will likely take to easily. Perfect for the dinners when the table food isn't quite suitable for little gums.
Print
Cheddar Broccoli Potato Bites
---
Ingredients
1

large potato, peeled and cubed

1 cup

cooked broccoli, chopped

2 tablespoon

s cheddar cheese (i used white cheddar cheese)
---
Instructions
Add all ingredients to a food processor and mix until desired consistency.
As with so many of our real food recipes, these pumpkin pancakes have sneaky vegetables (i.e. pumpkin this time) and 100% whole grain in them, but retain their light, fluffy texture. They are a great recipe to stock up on and freeze for the future!
11. Squashy Potatoes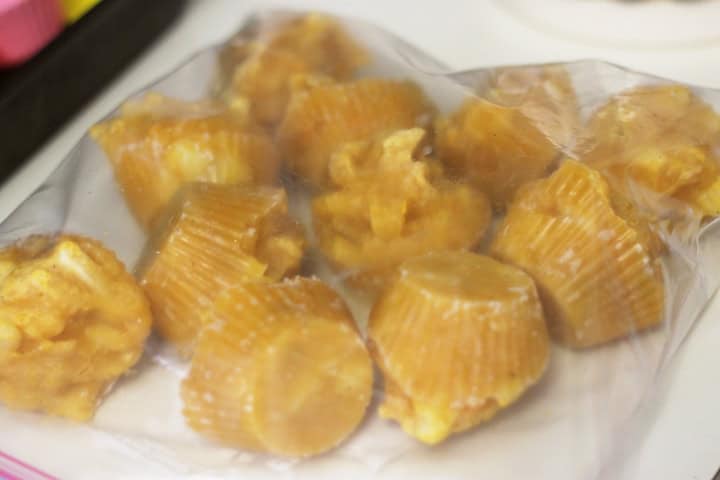 Print
Squashy Potatoes
---
Ingredients
1/2

small butternut squash, peeled, seeded and chopped

3

medium potatoes, peeled and chopped

1

medium Braeburn apple, peeled, cored and chopped

1/4 tsp

pepper

1/4 tsp

cinnamon

1/2 Tbsp

onion, chopped
---
Instructions
Place squash, potatoes, apples, onion, pepper and cinnamon in a saucepan and add water just to cover. Cover and simmer on low 35-40 minutes or until vegetables are tender. Drain water and reserve. Transfer to a blender and puree, adding reserved water if necessary to reach desired consistency.
Note: Some affiliate links are included in this post. We make a small commission off any purchase you make this through one of our affiliate links at no additional cost to you. This helps support our site so we can keep bringing you free and helpful content. Thank you!