My mom used to say she felt like a short order cook when my three siblings and I were young.  Now I understand.  There's only so many battles I can fight in one day with the little people, and the lunch menu isn't one I usually choose.  Although I encourage my kids to try new foods at times (usually at dinner), I often end up as a semi-short order cook at lunch.
One of the quickest, healthiest, and most popular lunches around here are what we call "roll-ups".  The thing I like about roll-ups is that I can tailor them for each kid and for me, too.  I can also sneak in extra veggies for us, since cheese covers up a "multitude of sins."
Here are the basics of the "recipe" and a few ways we roll, but this is your game, baby.  Feel free to do some of your own short order rolling for your gang.
1 – Start with a whole wheat or whole grain tortilla.  This isn't easy, to be honest. Most prepackaged tortillas are full of tons of unrecognizable, highly processed ingredients and preservatives that I'm not excited to feed anyone, much less my little ones.  The best tasting tortillas with real ingredients I've found are from Trader Joe's (as you may know, I heart TJ's). I buy several packages when I make it to TJs and freeze them until ready to use.
2 – Use a binder like shredded cheese, cream cheese, hummus, or a nut butter to add fat (to make it yummy and filling), protein, and so the whole thing will stay together once it's rolled up.
3 – Add any additional ingredients that make sense with your binder (i.e. honey, veggies, deli meat).
4 –If needed, microwave your roll up for about 10-20 seconds to soften the tortilla, melt cheese or melt the nut butter a bit.
5 – Roll up and eat burrito-style or cut into "sushi" slices.
Here are a few of our favorite roll-up combinations, but the possibilities are endless really.
Peanut Butter and Honey Roll-Up

Hummus, Cheddar Cheese and Turkey Roll-Up

Sneak a little spinach into the Hummus, Cheese, and Turkey Roll-Up to up the nutrition…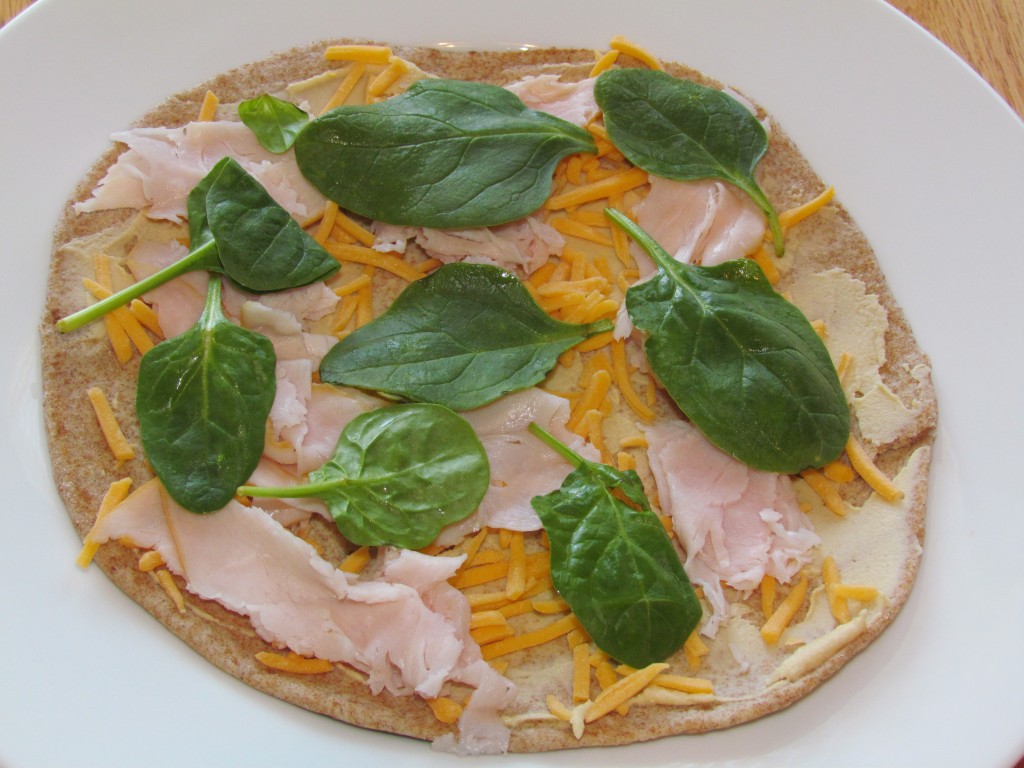 Cream Cheese, Spinach, and Avocado Roll-Up
 Let's hear your ideas.  What would you add to your roll up?