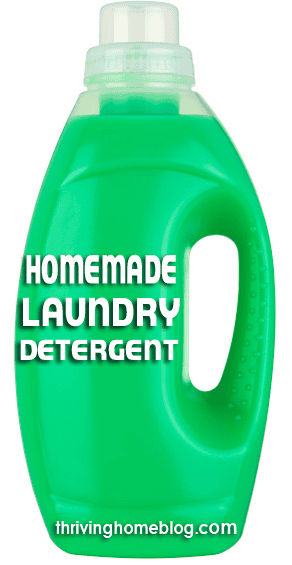 Guest post by Jess from Twenty-Something and Not Counting
I've been making homemade laundry detergent for about 4 years now. Though I was a little nervous it might not work well or might take too long, I decided to give it a whirl. I made it once and never looked back! Seriously! I originally found the recipe on thesimpledollar.com, but I've also heard it's similar to Michelle Duggar's recipe among others.
Reasons you may want to consider making your own laundry detergent:
It's cheap!
It's environmentally friendly—no weird chemicals or dyes and you know what's in your soap because you made it!
It's easy. It takes about 30-45 minutes of hands-on time. You don't need to be a chemist or a rocket scientist.
It has no perfumes or other skin agitators.  (I use lemon essential oils in mine sometimes, but otherwise it has no scent at all.)
It's fun. Really! My husband and I make soap together. Yes, we're nerds!
Supplies Needed for Homemade Laundry Detergent
You can find all of the supplies below in the laundry aisle of Wal-Mart or you favorite grocery store.
1 cup Washing Soda–Not to be confused with baking soda. It's the yellow Arm and Hammer box.
1/2 cup Borax—You'll most likely see 20 Mule Team Borax on the box.
1 bar Fels Naptha bar soap—I've heard of people using other kinds of soap but this soap is actually made for laundry, so I stick with what I know works.
about 3 ½ gallons Water
5 gallon bucket with a lid–We've used the same cat litter container for years.
Optional: essential oils of your choice
How to Make Homemade Laundry Detergent
Step One:
Grate down the entire bar of Fels Naptha. This part you can do while watching your favorite TV show or having a good conversation. I did find this awesome tool (see below) at IKEA when I visited recently and it has changed my soap making experience because it actually keeps the soap inside as you grate it—way less mess! You can use a large or small hole grater but I like the soap to be grated finer.
Step Two:
In a medium pot, boil 4-8 cups of water. I've found more water makes it easier to dissolve the soap into soap bubbles but doesn't change the consistency. Once the water is boiling, gradually add soap and stir rapidly until all the soap is dissolved and you are left with soap bubbles.
Step Three:
Add three gallons of hot water to the storage bucket of choice. Then add borax, washing soda, and soap bubbles to the bucket. If you are adding essential oils, you'll want to add them now. I would say add 10-20 drops or so. I don't measure—I just go by how I feel.
Step Four:
Stir all ingredients together until well mixed. Put a lid on your bucket and let the homemade laundry detergent sit overnight to gel.
Step Five:
Open your bucket. The consistency will most likely be like a gelatin. Mix it all up—I use a handled grater or spoon. Mix until some of the gelatin is broken into easily removable pieces. It doesn't need to be perfectly consistent the whole way through. It just needs to easily scoop up so you can use it.
That's it! So easy!
Directions for Using Homemade Laundry Detergent
I use a cup in each load. I do think it's important to put the soap in the washing machine first with the water and then add clothes, but I am sure when my husband does laundry he just throws it all in and I don't know the difference. It works just the same.
How Much You Save Making Your Own Laundry Detergent
If you are wondering how the costs stack up, well, here's the number crunching:
Tide = $17.97 per jug or 18 cents per load
All Free and Clear = $12.50 per jug or 12.5 cents per load
Homemade Detergent:
Borax—$4.46 for a box (.23 per batch of detergent)
Washing soda—$3.24 for a box (.48 per batch of detergent)
Fels Napth—$1.15 for a bar, one bar per batch
Total Cost of Homemade Laundry Detergent = $1.86 per batch or 3.3 cents per load
The savings! The savings, I say!!
FAQs about Homemade Laundry Detergent
1) Does the homemade laundry detergent work well?
It's lived up to my satisfaction for years. I do pre-treat severe stains but other than that, it's the only soap I use.
2) Does homemade laundry detergent keep color and the "new" feel to clothes?
I tend to think so. In four years, I've never noticed an issue.
3) Can you use it with an HE machine?
I have heard that you absolutely can but since I have an old-school machine, I would recommend talking with someone who's done it or do a little online research before you try it.
4) Can you use it with cloth diapers?
You probably shouldn't. It won't irritate your baby, but it might add soap buildup to your diapers and you'll have strip them.
I hope you get the drive to make this soap once and fall in love like I did!  You'll save yourself so much money and know that you're using a safe option for your family.  Suds up!

You might also like...