When I ran across these Vegan Chocolate Cookies on Pinterest, I was intrigued. They got great reviews on the Weight Watchers site and Pinterest.  But, I knew I could make them much healthier and still taste good to my kiddos. That's how my healthy Chocolate Coconut Cookies recipe was born.
First, here's the quick and dirty nutrition break down for you health-conscience folk:
whole wheat flour, almond flour, and unsweetened coconut = fiber
almond flour (aka ground almonds) and coconut oil
= healthy fats
cocoa powder = antioxidants
3/4 cup sugar = less sugar than the original recipe and still delish
no eggs = vegan
Now, for the taste test results…
1 – My kids helped me whip these little cookies up and went crazy over the batter (which contains no raw egg) and the cookies themselves. Jack, age 5, said, "Yum! Yum! Yum! These are soooo good, mommy!"
2 – My sister-in-law's review: "These remind me of Samoas." (You know, the Girl Scout cookie.)
3 -My neighbor, Windy, via text: "The cookie is great. Would love the recipe." (Note: She is the best neighbor. We've been swapping samples of healthy recipes with one another all weekend. Our kids love delivering them door to door. So fun!)
4 – My review: I think these Chocolate Coconut Cookies are reminiscent of a brownie because of the texture, but my kids insist they are cookies.  Now, don't expect some decadent dessert here, but they are a pretty tasty snack.  I personally love the coconut and chocolate combo, and the coconut oil makes them so moist.  To me the best part is that I feel like I could feed the kids these for breakfast, snack or dessert.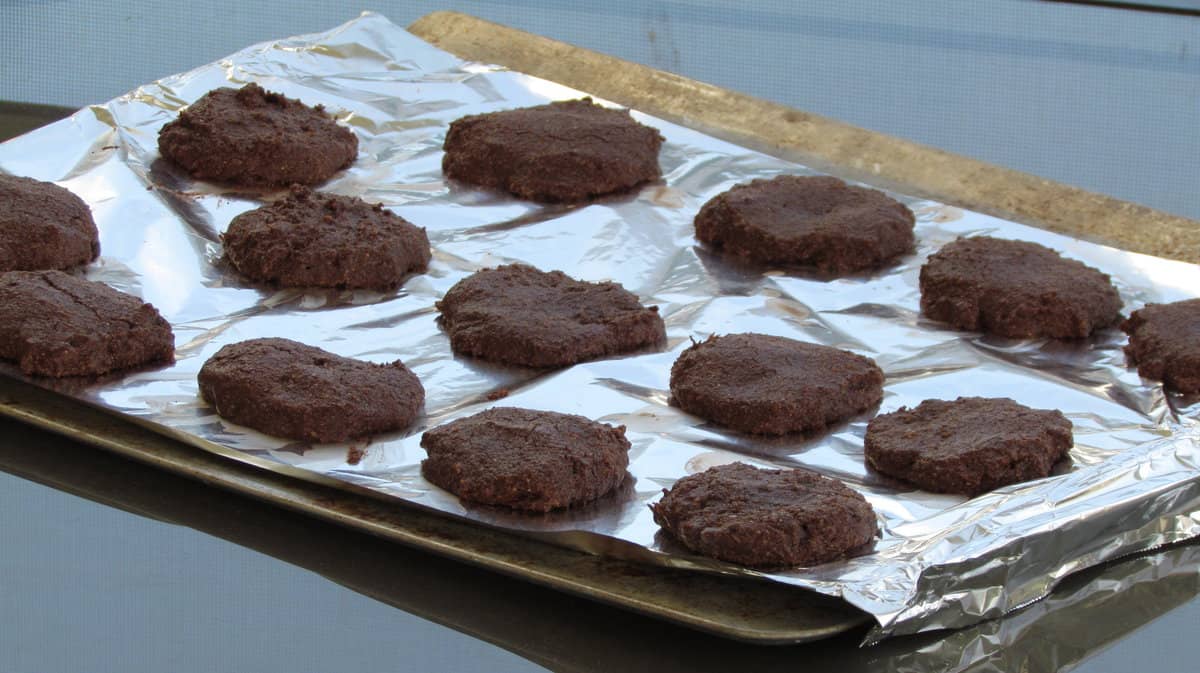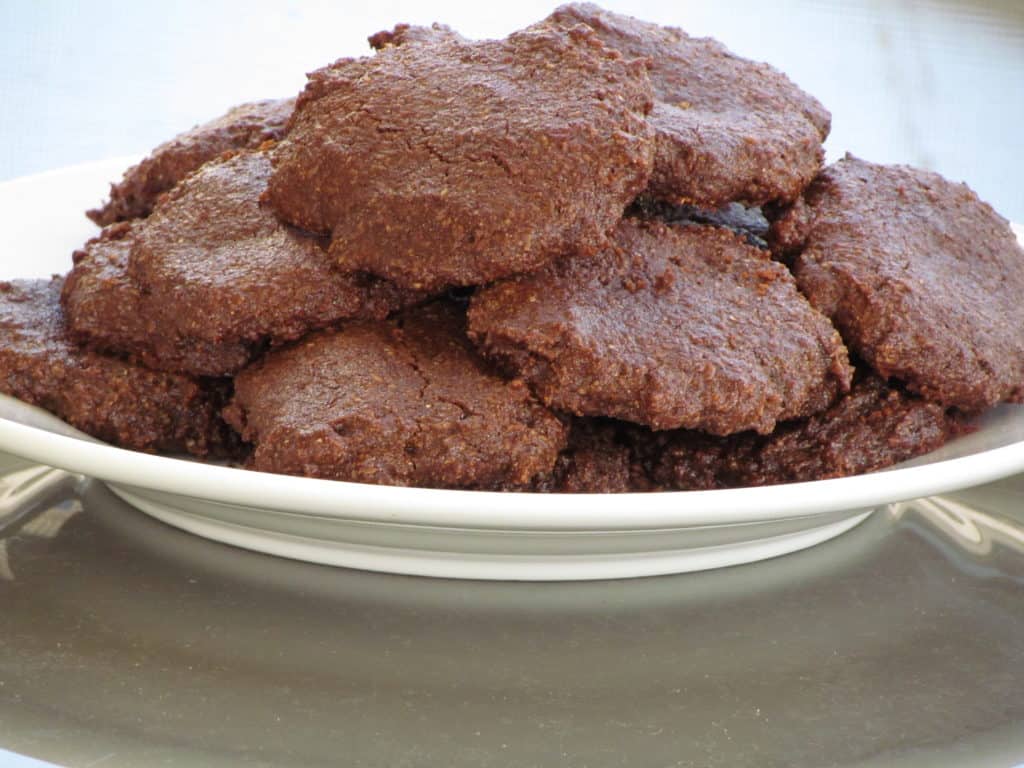 If you like this recipe, you might like one I made years ago called Vegan Chocolate Chip Cookies.  I need to make them again, but I remember liking them right out of the oven.
Linked to: WLWW, Time Warp Wife
Print
Healthy Chocolate Coconut Cookies
Author:

Prep Time:

15 mins

Cook Time:

10 mins

Total Time:

25 mins

Yield:

30-35 cookies
---
Ingredients
1 cup whole wheat flour
1/2 cup almond flour (I find this at Trader Joe's in baking aisle)
2/3 cup cocoa powder
1 teaspoon baking soda
1/2 teaspoon salt
3/4 cup brown sugar
1/3 cup coconut oil, melted
1 teaspoon vanilla
3/4 cup hot water, almost to a boil
1 cup unsweetened shredded coconut
---
Instructions
Preheat oven to 350 degrees F. Spray two cookie sheets with cooking spray or line with foil or parchment paper.
Whisk together flours, cocoa, baking soda, and salt in medium bowl. Next, combine sugar, oil, and vanilla using a hand-held or standing mixer. Add 1/2 of water and 1/2 of flour mixture and mix briefly until combined. Add the last of the water and flour mixture and mix again just until combined.
Finally, add the shredded coconut and mix one last time until fully combined (don't over mix).
Scoop about a tablespoon of batter per cookie onto to the cookie sheets, spreading them about 1-2 inches apart. Wet the spoon and lightly press each cookie down with the back of the spoon.
Bake for about 8-10 minutes, just until set. Do not over bake or they will become dry.
Let cool for 2 minutes on sheet before transferring to a plate or your mouth. 🙂
You might also like...