Here is a quick and easy DIY thank you card idea to give to someone who has helped you out with your kiddos. I recently sent this to my parents as a thank you for keeping my little one while we were on vacation.
The card is pretty self explanatory by looking at it. Just have your kiddo make a hand print with paint, cut around it and adhere it to another piece of paper. Write your thank you message on back and you've just saved your self a few bucks and a trip to the store to buy a card.
Here are a few other homemade cards I've made in the past if you're interested.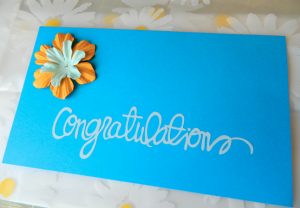 Decorating Card with Sewing Machine Stitches
You might also like...