Whether a first-time mommy or a weathered veteran, we believe every mother has some valuable wisdom that she's gleaned along this crazy journey we call parenting. Mommy Spotlight highlights a mom who is striving to create a thriving home in her own unique way. Today's Mommy Spotlight guest is Kara Chupp, a stay-at-home mom who blogs at Meet the Chuppies.

Tell us a little about you and your family…
In December, Jason and I will celebrate our 16th anniversary. We have five kiddos…four here and one in Heaven. Laura is our oldest and she's 11 and 1/2, Colson is our oldest boy and he's 10. Cavan, our youngest son will turn 9 in October. Selah is next and she would be 4 and 1/2 (I wonder all the time what she is like in Heaven) and our youngest, Lydia, just recently turned 3. Three of our children are biological and two are adopted.

What are some things you love about being a mom?
I love spending time with each one of our kiddos and I'm thankful that they give me a good excuse to read fun books that I loved as a child, play Legos & games, watch fun movies, and rediscover the wonder of God's Creation.
They've helped me cling to God in a whole new, deeper way. I just love them all SO much and so desire for them to know God in a real, life-transforming way.
I also really enjoy seeing my husband's relationship with them and the closeness that exists between them and their dad and the sibling friendships bring absolute JOY to my heart.
What is one of the hardest things about being a mom?
I definitely struggle with losing my patience and being consistent and making sure I take the time to be "all there, wherever I am".
It's also a battle for me not to worry, especially after Selah died…
I have to preach God's Truth to myself over and over.
I can trust Him.
Nothing surprises Him.
He loves them deeply and nothing touches their lives, but what has been sifted through His fingers.
It's also a struggle for me when they are hurting…to trust that God is using the hurt to draw them closer to Him. I truly want that, but that mama's-heart-pain is something I couldn't even imagine prior to the kiddos joining us.
Do you have a job other than "mommy"?
I used to teach high school English and Speech (though you wouldn't know it with all the errors you'll find in my writing) and I did teach a few classes when our children were little, but now I'm home full time.
I write for our personal site and also for The Better Mom (a Christian website).
But life is very full with the little guys and I'm thankful to be home with them. Whenever I do much else, it's a battle to keep the right priorities. I tend to throw myself into whatever I do…
We also part-time homeschool. They go to school for full days on M/W/F and then the whole school homeschools on T/TH. So on those days, we're pretty much focused on school.
What is some advice you would give new moms?
Keep your marriage a priority, even over your children. It is so easy to get caught up in the immediate needs of children…to be so empty by the end of the day, that there isn't a whole lot left to give to your husband. That's a dangerous place to stay and in the long haul, our children will be more blessed by a strong marriage. For us this meant, bedtimes (especially when they were all really little) were pretty early so that Jason and I could have some time to catch up.
On the whole though, I think this is probably one area where I really struggled and still sometimes do. But I'm working on it…on trying to make time with my guy a priority.
As a mom, how do you keep yourself spiritually healthy?
I try to get up early and to spend time in His Word and I make sure I stay in consistent accountability with friends who are likeminded. We also are faithful to be there at church and I love to listen to itunes podcasts from pastors like Matt Chandler and John Piper. I have some great friends that I've walked with for YEARS and those walk-talks have been used by God many times.
Right now I feel like God is teaching me that it's not all about service (I'm a "doer") and more about living a life of worship…where moment by moment I take notice of His fingerprints that cover my life in blessings.
On a really practical note, when our first child was born, I bought a cookbook holder that I love and put it right on the edge of our kitchen counter. When I'm not reading my Bible, it stays there…open to whatever I was reading that morning…so that I remember to come back to Him throughout the day.
What Bible verses have encouraged or shaped you as a mom?
I love Matthew 5:16 because it reminds me why I'm here–
"In the same way, let your light shine before others, so that they may see your good works and give glory to your Father who is in heaven."
2 Corinthians 10:5 is my "worry verse"…take every thought captive to the obedience of Christ–
"We demolish arguments and every pretension that sets itself up against the knowledge of God, and we take captive every thought to make it obedient to Christ."
I couldn't go on without 1 John 1:9 (especially on those days when I feel like I've failed as a mama)–
"If we confess our sins, he is faithful and just to forgive us our sins and to cleanse us from all unrighteousness."
And Psalm 62 is extra close to my heart…that phrase "pour out your heart before Him"…I just love that we have a God who wants to be that close to us. I feel like He gave me this Psalm when we were up at the hospital with Selah.
"For God alone my soul waits in silence;
from him comes my salvation.
He alone is my rock and my salvation,
my fortress; I shall not be greatly shaken…
For God alone, O my soul, wait in silence,
for my hope is from him.
He only is my rock and my salvation,
my fortress; I shall not be shaken.
On God rests my salvation and my glory;
my mighty rock, my refuge is God.
Trust in him at all times, O people;
pour out your heart before him;
God is a refuge for us. Selah"
What parenting books have influenced you the most?
Are you sure you want to ask me that question? (I have "issues" with book-hoarding-collecting) 🙂 Our book recommendations about other areas can be found here but for Parenting and Family–
Loving the Little Years: Motherhood in the Trenches
(see Rachel's book review here)
Shepherding a Child's Heart

Gospel-Powered Parenting: How the Gospel Shapes and Transforms Parenting

Family Practice: God's Prescription for a Healthy Home

Family Driven Faith: Doing What It Takes to Raise Sons and Daughters Who Walk with God

A Mother's Heart: A Look at Values, Vision, and Character for the Christian Mother (Pilgrimage Growth Guide)

Hearts and Minds: Raising Your Child with a Christian View of the World

Heart of Anger: Practical Help for the Prevention and Cure of Anger in Children

The Fruit of Her Hands: Respect and the Christian Woman

Praise Her in the Gates: The Calling of Christian Motherhood

Pastor Dad — Mark Driscoll
Big Truths for Young Hearts: Teaching and Learning the Greatness of God

Last Child in the Woods: Saving Our Children From Nature-Deficit Disorder

Hold On to Your Kids: Why Parents Need to Matter More Than Peers

Everyday Talk: Talking Freely and Naturally about God with Your Children

Teach Them Diligently: How to Use the Scriptures in Child Training

Don't Make Me Count to Three

Grace-Based Parenting

Simple Object Lessons for Children (Object Lesson Series)

Proverbs for Parenting : A Topical Guide for Child Raising from the Book of Proverbs

Shaping of a Christian Family, The: How My Parents Nurtured My Faith

What is a Family?

Disciplines of a Godly Family (Paperback Edition)
What are a few of your favorite baby/kid products?
1) Several years ago, my husband bought us the whole Little House on the Prairie dvd set and so every Thursday night is L.H.O.T.P. night at our house. We get Subway sandwhiches and watch an episode together…never fails to spark GREAT conversations.
2) We love all things Lego.
3) We're big insect, animal, rock and nature people, so I love Insect Lore…especially their kit for hatching butterflies.
4) When we had babies, I loved these baby safe mesh feeders so that we could just give our children whatever food and vegetables we were eating.
Please stop by Kara's blog Meet the Chuppies. As you can tell, she has depth and wisdom to share!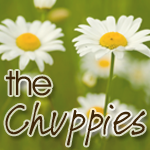 You might also like...