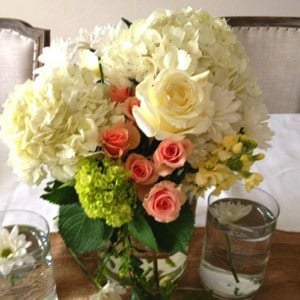 Today's fabulous guest post is by Mateja Holter from Miss Hostess. I love learning how to make my home more beautiful from people like her who are gifted in the area of hospitality! Look how simple it is to make your own flower arrangements…
You don't have to be a professional florist or devote a whole afternoon to make a beautiful centerpiece.  All that it requires is beautiful, fresh, healthy flowers, some patience, and a little basic knowledge of composition, which I will show you here.  Then, for a little more inspiration, I'll show you some other ideas that will hopefully get you to do some creating!
The Look: Romantic, Soft, and Natural
I made this particular centerpiece using 2 large white hydrangea, 2 mini green hydrangea, 2 stems of white garden roses (garden roses are much larger and more full than regular roses, and more expensive),  2 stems of light pink and 1 stem of orange spray roses, 2 stems of yellow stock, and 2 stems of white daisies.  The greenery that falls along the length of the vase is actually artificial greenery that I bought at a crafts store.  It brings the perfect flowy touch.  I also wrapped simple wide burlap cloth (available at a crafts store), around the vase to give it an earthy touch.  Before you begin to arrange, there is some prep work to be done, however!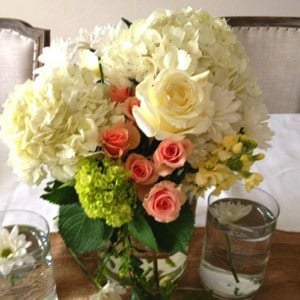 The Prep
I used a cylinder shaped vase for this arrangement, and the one below is slightly smaller in diameter.
Fill the vase with water and, ideally, sprinkle some of that florists' powder in there to help lengthen the life of the flowers.
Place tape across the vase, both ways, as you see below, so you end up with little squares.  This is where you will put each stem of each flower.  By making a grid such as this, the flowers will not flop around as much, and you can control the placement much better.   If you are making many centerpieces, and wish to keep the composition consistent, this can help you do it. Just keep a "map" of which flowers you've placed in which grid.  I used 1/2 inch thick plain tape, and it worked really well! Just be sure to attach the tape neatly to the edges of the vase.
Fill a really large vase, or a couple of vases, with all of the flowers you will be using, but don't trim the stems yet!  Set this on your workspace close to the container you will be filling.
Have ready a sharp pair of trimming scissors.
A Quick Lesson In Composition
Arranging flowers and making them look good is all about the arranging… or the composition! By keeping the following principles in mind, and then practicing a few times, you will begin to get a feel for how this works.
Take a look at the flowers you will be using and ask yourself the following as you are creating:
1.    How Tall Do You Want each Stem to Be?
This really translates into how tall you want the arrangement to be. My answer is that if the base is wide enough, you can pretty much have it be any height, you just want the arrangement to turn out wider than the diameter of the vase.  If your container is a tall and skinny one, use taller stems, it just looks better.  The flower that you first place in the container, which is always the largest (see below) will dictate the general height of the arrangement, so cut conservatively!  You can always cut down later.
2.  Which is the largest flower here?
The largest flowers in my bunch were the beautiful, white hydrangeas, which are about 6 inches in diameter!  You will place these in your container first because, as the largest flower, they will ground the arrangement. So you want to be sure they have their even place.  If you were to put this flower in last, you will probably have trouble–the flower might pile on top of the smaller ones or you might have trouble squeezing them in somewhere. It's a lot easier to squeeze in a spray rose than a large hydrangea.  Also, a flower as large as the hydrangea can handle a petal of daisy or a whole rose to lie on top of it, and you actually would want this look, as opposed to a large hydrangea looking as if it is sitting on top of the other delicate flowers.  So, pick your largest flower and put them in a square!  Try opposing sides of the container, as you want them evenly spaced.
3.  Which way does the flower "face?'
Yes, each flower on a stem has a "face" and a "back", as I call it.  You want to feature the flower's face from every angle, to the fullest extent possible.  For example, one of my hydrangeas had a flat end to it, so I faced that end toward the middle of the container and faced the larger, fuller side toward the outside (or what everyone would see).  For multi-flowered stems (more than one flower on a stem), the face of the stem is usually on the side of the lowest flower, you will notice it once you see it. Here are examples of the "face" and "back" of a stem of daisies.
The back of a stem of daisies: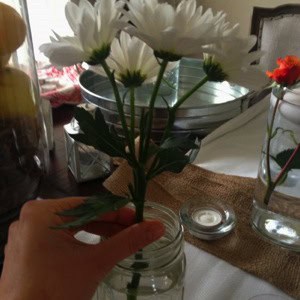 The "face" of a stem of daisies: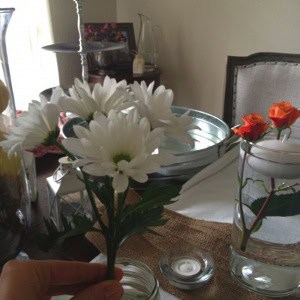 4.  What is my next largest flower?
My next largest one is the garden rose. I placed two of these in the container, trying to space them out a bit.  Remember, when you are cutting the stems, always cut them a bit longer than you think you want, especially the first one, because you can always cut it down more, but you can't make it grow back!
5.  Which is my next largest one after that?
But wait!  The flowers that I have remaining are roughly the same size!  Well, then, you can ask yourself, which flower do I want MORE of in the arrangement?  My answer here was daisies, so I layered them in.  I then finished with touches of pink and orange spray roses, for touches of color and size variance.
6.  What are my complementing touches?
Mine here were the small green hydrangeas and the yellow stock.  They took up the least amount of space and I included them for color and texture variance.  I put these in last because that way it let me  place them in a way that was balanced with the most substantial pieces.  Lastly, I just tucked in three pieces of the artificial greenery to hang along the side.
7.  How does it look from every angle?
You should be rotating your arrangement after each step to make sure it looks even on all ends, especially for a centerpiece you're placing in the middle of the table. Adjust each flower's position if you notice it getting lopsided. It's MUCH easier to do this as you go instead of at the very end!
Now step back and enjoy your beautiful piece !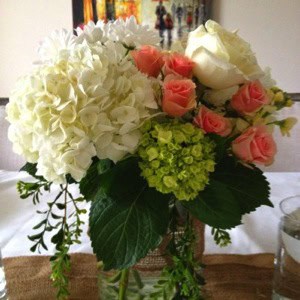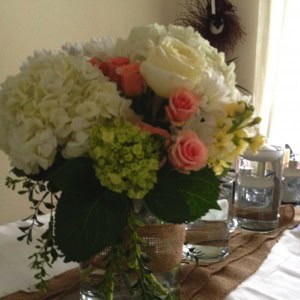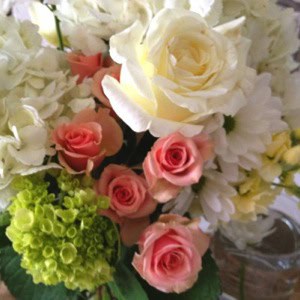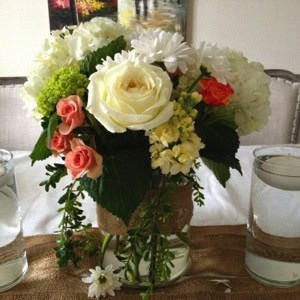 Other DIY Pretty Flower Piece Ideas
Monochromatic Cute
This look below is super cute and does not take any lessons in composition, just equal stem cutting and placement!  I made these, below, using white mini roses, in crackled glass candle holders.  I kept them in the fridge (so the blooms stayed nice and taut instead of opening further),  until I was ready to transport them to the location of the party.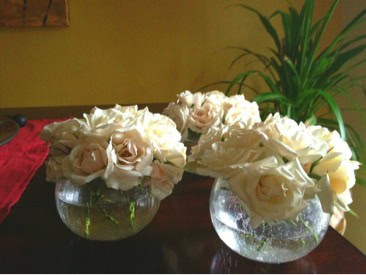 Flower Pattern
Ok I know this obviously isn't a flower arrangement, but this is another way to bring the free spirit of flowers into your home: With tablecloths to cover the kitchen table, or fresh pillow cases to set your head upon.  I'm in love with vintage patterns such as the one you see below. Can you imagine how a bright pink and white rose bouquet would look set upon this print? Gorgeously saturated in beauty! The only thing that would make this better would be to sip a cup of tea or coffee at that table right now.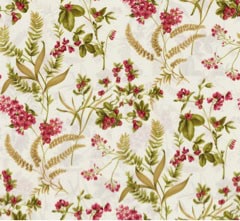 Thrown Together Wild Flowers
The flowers below are all flowers that you can plant and grow in your own yard!  Imagine waking up in the morning and trimming off a few stems. How's that for a renewed morning routine!?
Spring is the perfect time to plant some wild flowers if you're thinking of it.  Here are some good ones to plant: Daisies, Baby Blue Eyes, Bird Cherry, and Corn Flowers are all beautiful picks.  If you're thinking of planting a wild flower patch, I found this site to be a great beginning guide: http://www.americanmeadows.com/wildflower-seed-planting-instructions
What a great way to get your kids involved too!  Have them pick the seeds and help you sow them, and watch them grow.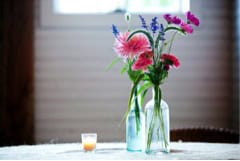 Soft and Understated
Monochromatic in the flowers and the vase lend to an art deco-y, warm look.  Other combinations to try would be white hydrangeas with white porcelain or yellow daisies in a clay pot.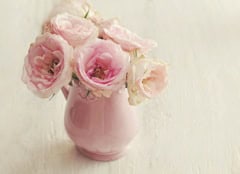 Leftover Lovelies
You may find that you have a couple extra flowers left over. Perfect! Gather any sorts of jars or even some deep candle holders, fill with some water, and cut the stems of the flowers short so they just stick out of the container.  Place in random places such as your kitchen counter, on a corner shelf, or on your bedside table for some added charm.  Who doesn't like waking up to a fresh flower or two?
Playing around with the extras and mason jars..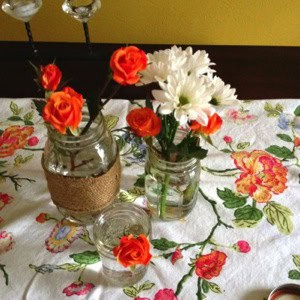 Beautiful purple Dahlia's make anything special!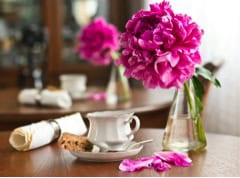 Blue pansies!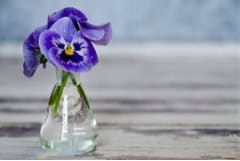 Simple stems floating in water. Doesn't this just make you feel like a free bird?  Just so simple, beautiful, and graceful.  The water also reflects perfectly in the sunlight.  I bought these simple glass cylinders at my local crafts store. You don't need to go to a fancy home goods store to buy these.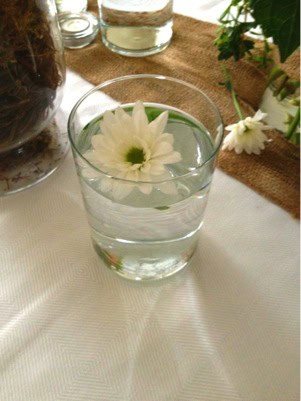 No matter what you end up putting together, from a full arrangement to a simple collection of mason jars filled with wild flowers, it will be beautiful and be sure to bring a smile to everyone who enters your home.
Question for you! Comment and tell us: Which arrangement do you think you might try? Or do you have other ideas for how to use fresh flowers around the home?

Mateja Holter lives and works in Athens, Ohio with her husband. When not at her day job, she loves to entertain and to write about all things to do with hosting—from the décor, to the food, to the etiquette.  She hopes to share her passion with others at her blog Miss Hostess—all while having fun and living simply beautifully. 
You might also like...