By Jessica Ellingsworth from Mavyn, Contributing Author
Autumn is definitely in the air (even here in sunny Texas, thank goodness!), and I am here to take seasonal foods to a whole new level by incorporating them into the skincare routine. Jessica here, and I was recently perusing a high-end spa menu here in Austin and noticed a few services with pumpkin in them with a hefty spa price tag attached. I thought–maybe I could whip something like this up at home?
After a little research, calling my sister up to take a few photos of me donning the concoction, and my facgoing through some 'guinea pig' moments, I think I have a winning recipe for soft, beautiful skin–Pumpkin Coffee Facial Mask. Plus, there isn't a care in the world about any toxins touching your face. Here are just a few remarkable things about the ingredients:
Pumpkin is rich in naturally occurring antioxidants, enzymes, carotenoids, and contains high levels of vitamin E.
The lactic acid and enzymes in yogurt can help remove dead cells, exfoliating your skin.
The fresh coffee grounds (stay with me here!) are also a natural exfoliator and there are many high dollar face creams on the market with added caffeine for de-puffing and rejuvenation.
Grapeseed oil is a light antioxidant rich oil derived from the seeds of grapes.
This amazing skin hydrator absorbs completely into the skin without clogging pores or feeling heavy. Great for ALL skin types. If you have oily skin, you may be saying, "What? Put oil on oily skin?!" If you haven't read about the wonderful thing called "Oil Cleansing Method", (could be another blog post entirely) then let me quickly introduce you to one of my favorite go-to websites for this healthy, cost-effective alternative to facial soaps. Oil cleansing is the only way my sister washes her face!
Are you ready for your own at-home spa experience this fall? Here is what you'll need—besides a few kid-free moments!
Pumpkin Coffee Facial Mask
Ingredients:
1/2 c. canned or puréed pumpkin
3 T. finely ground almonds
3 T. unflavored yogurt
2 T. ground coffee beans (fresh is best)
1/2 T. honey
1 tsp. grapeseed oil (you can also use jojoba, sweet almond, or sunflower seed oil; just steer clear of coconut oil because it will likely clog facial pores).
Directions:
Layer all ingredients in a bowl. Stir to combine well. Apply using the back of a spoon or a foundation brush like I used. Any extra can be wrapped and kept in the fridge for up to 5 days. Let it sit on your face for 10 minutes. You may want to get into the tub and soak with essential oil bath salts at this point! Wet a washcloth with really warm water and wipe your face clean.
If you try it, let me know in the comments what you think!
Happy Autumn, Jess
P.S. You may want to try the Pumpkin Spiced Latte while relaxing in your Pumpkin Coffee Facial Mask! Click the image below to pin it for later.
About the Author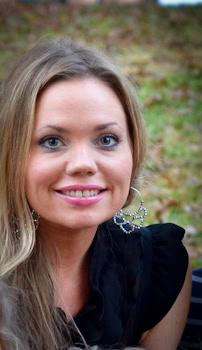 Jessica is a freelance writer, stylist, and recipe developer. She lives in Austin with her husband, two daughters, and son. She loves makeup artistry, interiors, travel, being in the kitchen with her kids, creative living, and exploring the streets of Austin for inspiration and the best food dives. She blogs at Mavyn.
You might also like...