Before I jump in, I want to acknowledge that you might be a little thrown off by this title. Yes, I'm calling it a mediocre makeover. It's tempting to not post about things that didn't turn out GREAT but I don't want to filter all of my projects and make you all think I flawlessly update things. With each piece, I learn something new and this project is no different. Here's the story of my bumpy journey on a bed frame makeover!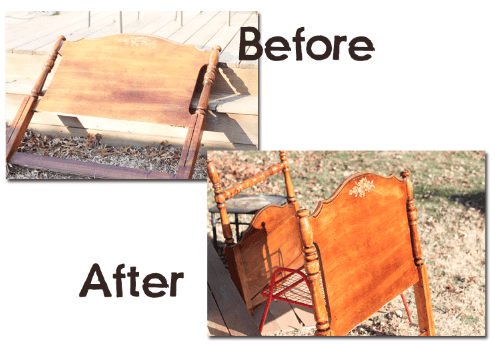 Like I mentioned before, we have tons of plans for our new house.
One of the rooms I didn't talk about was my daughter's bedroom. Right now, it currently looks like this: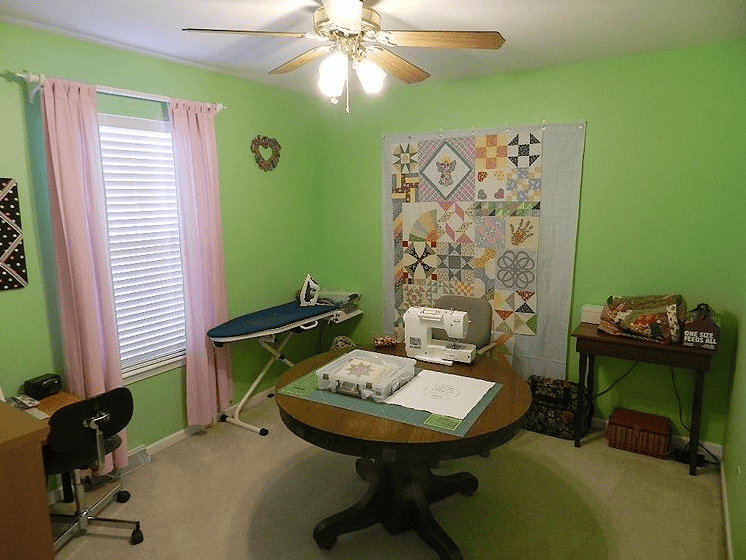 When we get our hands on the room and a paint brush, it will soon be a light gray color called Moonshine. Here is an example: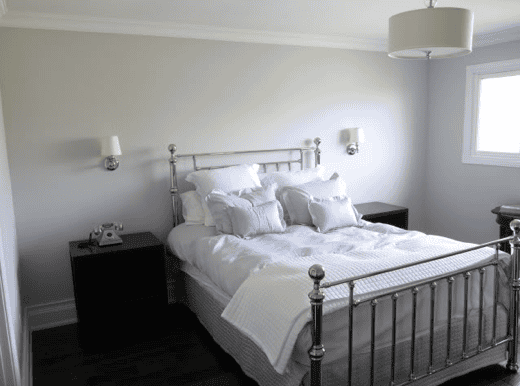 With this bedding: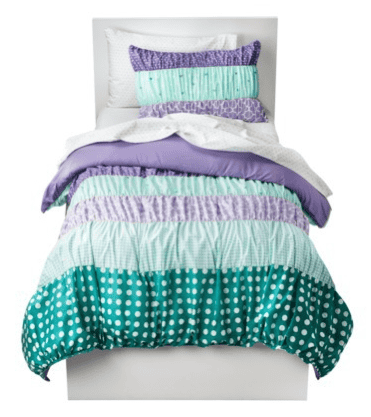 Won't that be fun!?
My daughter is currently sleeping in a full size bed so we plan to move her to a twin bed. Instead of buying one brand new ($300-400), I opted to do a little hunting on Craigs List. While I am huge advocate of buying things second hand, you still have to be careful about buying things and selling things on Craigs List. It's a blessing and a curse. (I've shared some tips on how to sell things on Craigs List in this post.)
Well I found a deal that looked pretty promising. It was wooden twin size bed frame with box spring and mattress included for $40. After asking the seller a few questions, we worked it out that he would deliver it to my house in a few days. I was pretty excited because I really liked the look of the frame. I wasn't sure if we would use the mattress or not though. Depends on how it looked.
Anyway, the man and his son showed up to drop off the bed frame and immediately apologized about the pictures not showing some of the damage on the frame. He said if I felt it was misrepresented then we could renegotiate the price. As I looked at the frame closely, I saw what he was talking about. One of the most obvious things was the broken post on the foot board.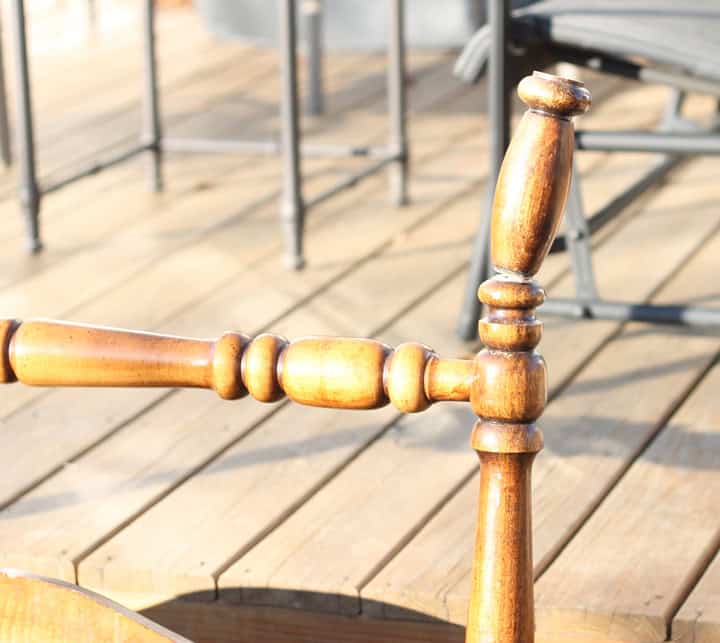 I also pointed out to the seller that someone had written their name into the wood at some point…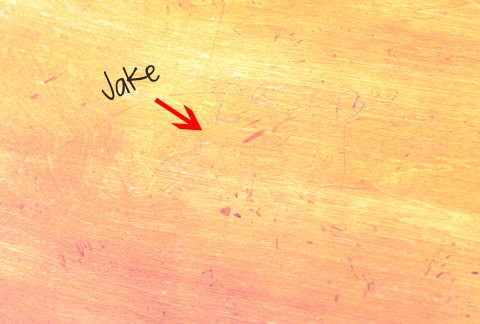 He was gracious and apologized and again offered to lower the price.
I kindly told him I probably wouldn't have purchased it if I would have seen these things but I agreed to pay $20 for it all. He was fine with that.  I played it cool but on the inside I was squealing "I just got a solid wood bed for $20!!!!" Here is another before picture of the head board and foot board: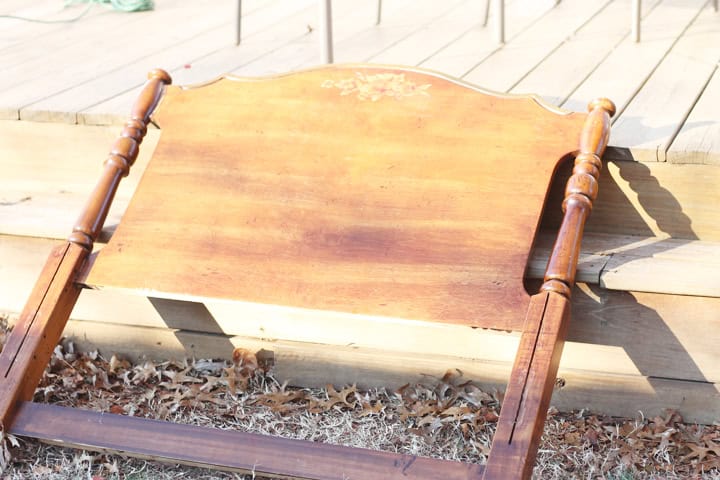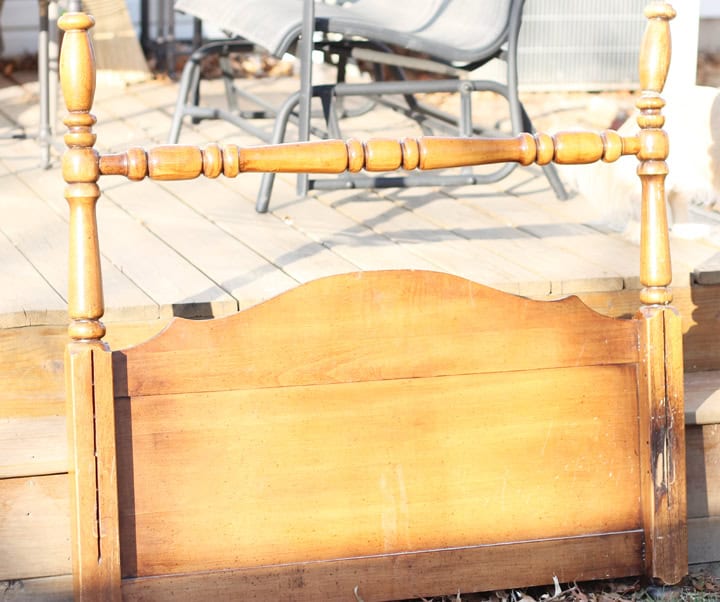 I knew it would take some TLC to fix it up for my little gal's room.
Since it was a nice day outside I thought it would be a great day to start the project. My plan was to use a product called Polyshade Stain. It basically has stain and polyurethane all in one and doesn't require much sanding.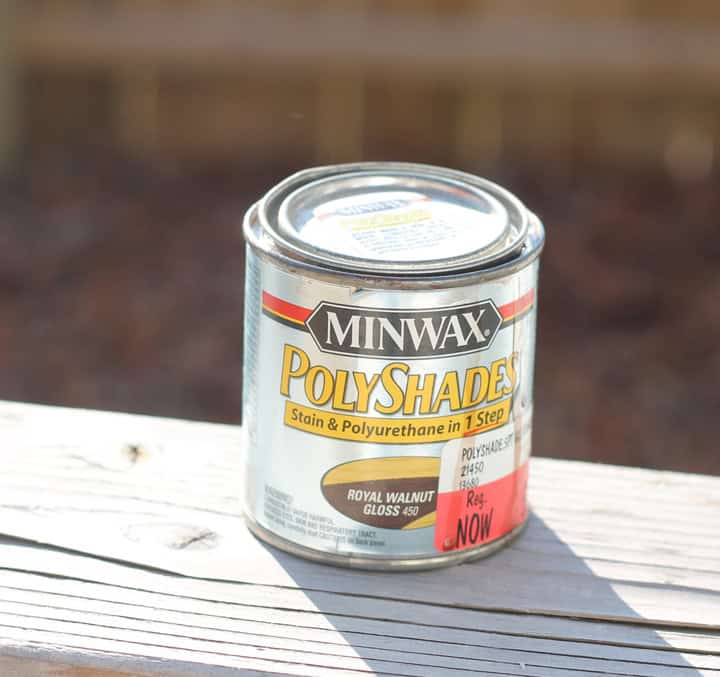 Well, I'm calling this post my mediocre makeover because at this point I started to make some mistakes.
I got a bit ambitious with my sanding (thanks to my palm sander). I used an 80 grit sandpaper but learned the hard way that this was way too much. All I needed was to rough up the surface a bit to give my Polystain something to grip onto but I ended up sanding the surface off of the wood in some areas.
As you can see in the picture below, the color turned out pretty uneven in some areas. If you look close, you can even see some lines my sander left behind. Womp-womp…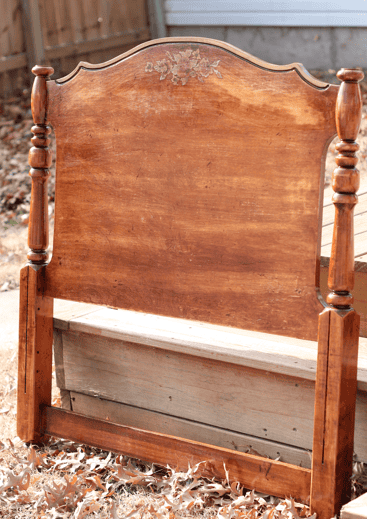 Anyway, I proceed to use the Polyshade Stain and I REALLY liked the color it gave the wood. It also disguised the childhood graffiti that came with the frame. 🙂
I spread it on, one thin coat at a time and let it adequately dry in between coats. I only had enough for two coats or else I probably would have done three. Despite all the things I would have done differently, I do like it better than how it originally came to me.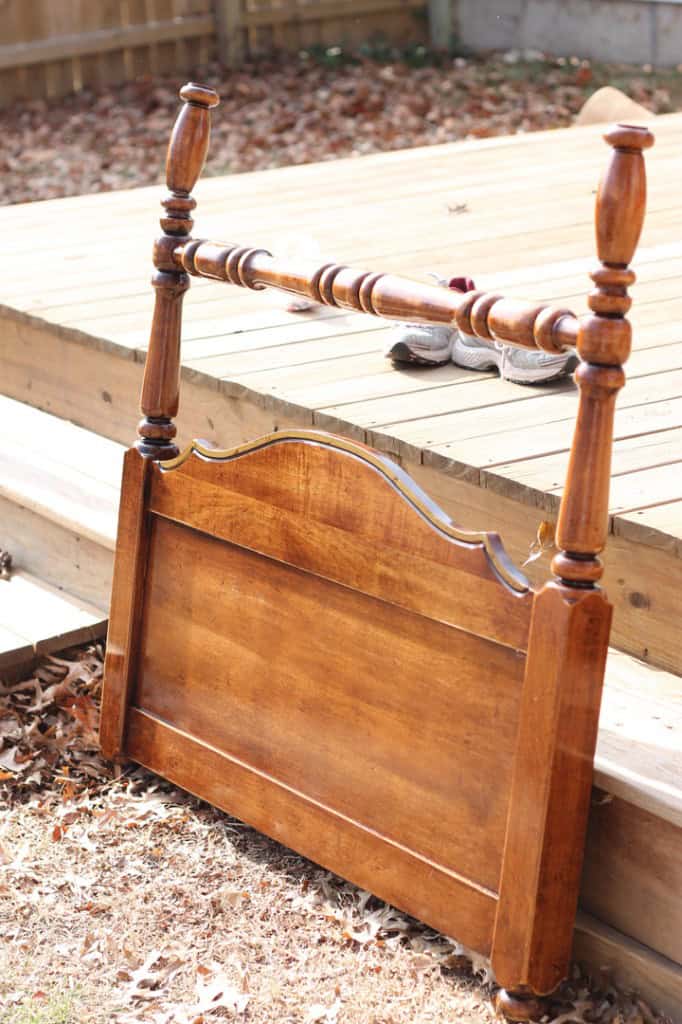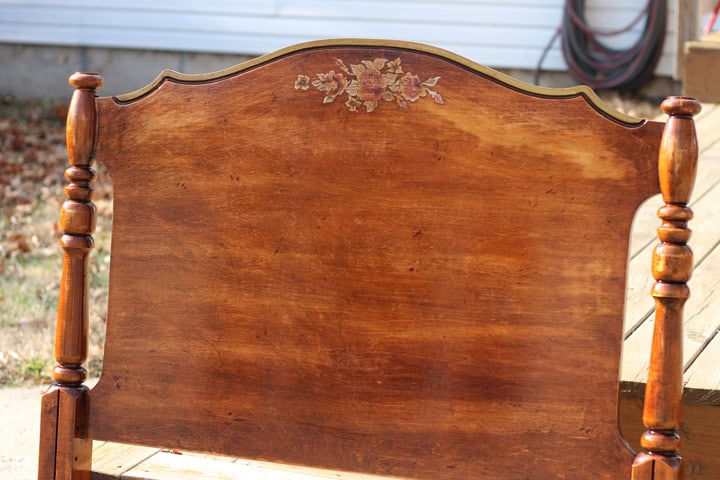 I love how the stain settled into the cracks and crevasses to give it a dynamic look.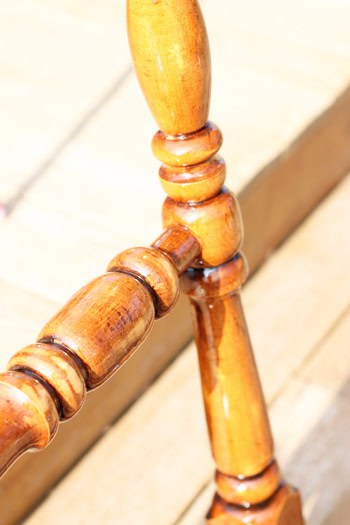 As far as my sanding mistakes, I'm just going to chalk them up as "adding character" to the piece.
I still need to fix the broken post but overall I am pretty happy with how my $20 bed turned out!