I've got another dangerous cookie recipe to share with you. These mocha chip cookies are moist, chewy and a delicious combination of chocolate with a hint of coffee. Not only are the cookies amazing but the cookie dough is to die for!
My little gal proved to be a great helper in the kitchen when making these. That is if you define helping as tasting various ingredients and attempting to stir with her hands.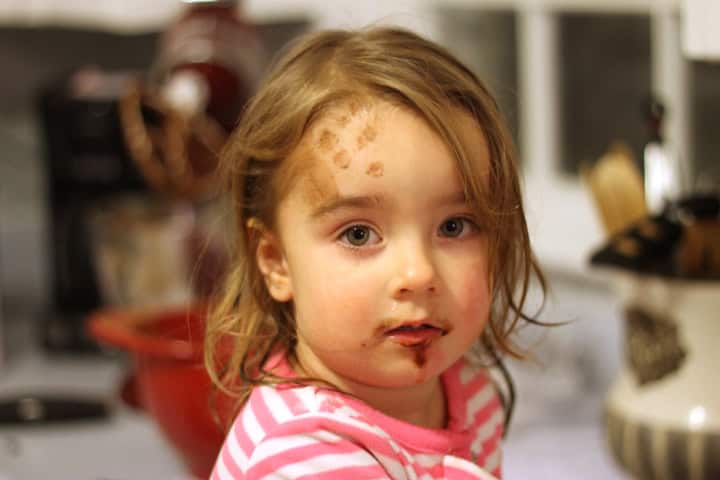 Despite managing the eager toddler hands as I made these, they turned out great. The original recipe is actually a peppermint mocha cookie recipe but I'm not a huge fan of peppermint so I just excluded that ingredient and they turned out great.
Hope you get a chance to try these out! Check out other dessert ideas in our recipe index.

Mocha Chip Cookies
These mocha chip cookies are light and fluffy. You'll love the dark chocolate chips and the hint of coffee. They're sure to be a hit at your next gathering!
Ingredients
2 sticks butter, softened
1⅓ cup sugar
2 eggs
1 tablespoon instant coffee
½ cup cocoa powder
1 teaspoon baking powder
½ teaspoon salt
2¼ cups flour
1½ cups dark chocolate chips
(optional) 1½ cups white chocolate chips
Instructions
Preheat oven to 350.
Cream together butter and sugar until light and fluffy, then add eggs one at a time, beating well after each addition.
In another bowl, whisk together the dry ingredients (cocoa, flour, coffee, baking powder and salt.) Add to wet ingredients and fold in dark chocolate chips.
Drop tablespoons of dough onto lined sheet trays and bake for 12 minutes. Let cool completely.
Optional: Melt white chocolate chips in the microwave (stirring after each 30 second interval) and scoop into a small plastic bag. Snip off end and drizzle cooled cookies with white chocolate.
You might also like...