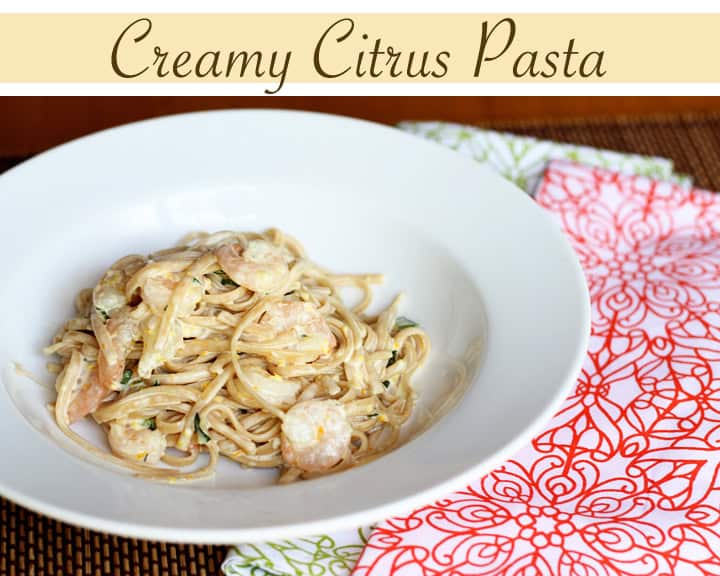 I seriously can't believe it has taken me this long to share this citrus pasta recipe. After my friend Sara shared this dish with me that she found in a Rachel Ray cookbook, I've been making it for years. I've made a few tweaks, but it's pretty close to the original. Its creamy sauce is full of flavor and has proven to be a hit with all ages.
I really like to serve it with roasted broccoli and wheat dinner rolls. It can be a great pasta dish for the summer, too. While it's warm and creamy, the citrus flavor makes it seem fresh and light.
Give it a whirl if you are looking for a new recipe!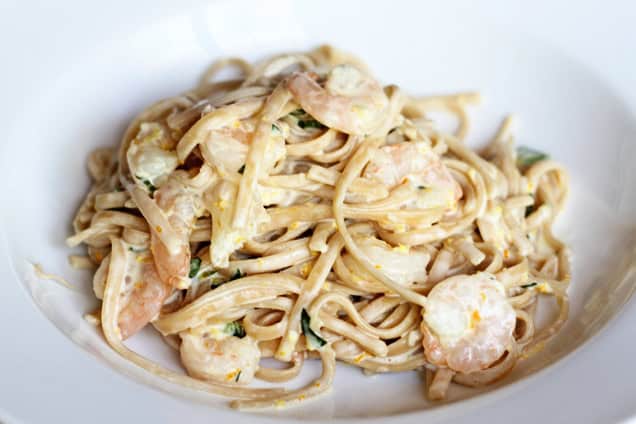 Print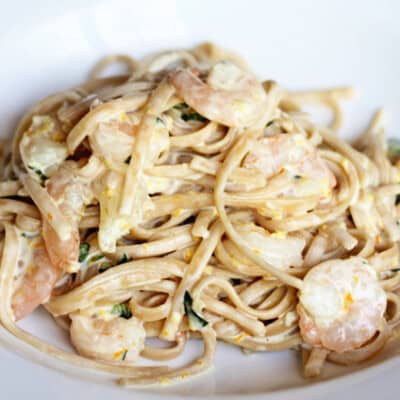 Creamy Citrus Pasta Recipe
Author:

Prep Time:

15 mins

Cook Time:

10 mins

Total Time:

25 mins

Yield:

4
---
Description
While this pasta dish is warm and creamy, the citrus flavor makes it seem fresh and light. It is a flavorful dish that you'll love to serve up.
---
Ingredients
1 cup heavy cream
2 tablespoons cognac or 2 tablespoons dry sherry
zest of 1 lemon
zest of 1 navel orange
1/2 teaspoon coarse sea salt
2 tablespoons fresh mint, chopped (I leave this out)
12 leaves fresh basil, chopped or torn
1/2 pound whole wheat linguine, cooked al dente
1/2 cup grated parmigiano-reggiano cheese (I just use Parmesan)
---
Instructions
Boil a pot of water and add linguine.
While pasta is cooking, warm the cream over low-medium heat.
Add in the cognac or dry sherry, lemon and orange zest, and salt; simmer 7-10 minutes.
Remove from heat and add mint and basil.
Toss the hot, drained pasta with the sauce and grated cheese.
Serve immediately.
(I like to throw a small handful of Parmesan cheese on top of each dish right before I serve it.)
You might also like...