Dinner:
Sunday: Cheesy Chicken and Wild Rice Casserole, Homemade Sandwich Wheat Bread, corn on the cob (try this no-boil trick!), green beans, fresh pineapple
Monday: Easy Calzones (using this whole wheat dough and this pizza sauce), green salad with Balsamic Parm Dressing, pear slices
Tuesday: Leftovers
Wednesday: BFD*: Peanut Butter & Banana Baked Oatmeal, all-natural bacon, orange segments
Thursday: : 7-Layer Taco Dip with organic tortilla chips and raw veggies, fruit salad
Friday: Easy Cheesy Mexican Chicken (in the slow cooker) over brown rice, steamed broccoli
Saturday: Firecracker Grilled Salmon, grilled veggies (peppers, onions, mushrooms), baked potatoes
*Breakfast for dinner
Breakfast Ideas:
leftover Baked Apple Cinnamon French Toast
Breakfast burritos (recipe to come)
oatmeal with blueberries and bananas
Lunch Ideas:
leftovers
Snack/Dessert Ideas:
Banana Oat Chocolate Chip Cookies
Free Printable Menu Planner
Here's an easy way to get started on saving money and eating healthier–download our free printable menu planner!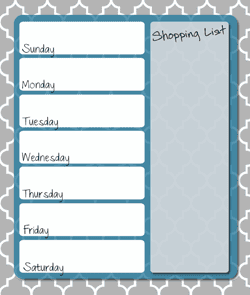 You might also like...