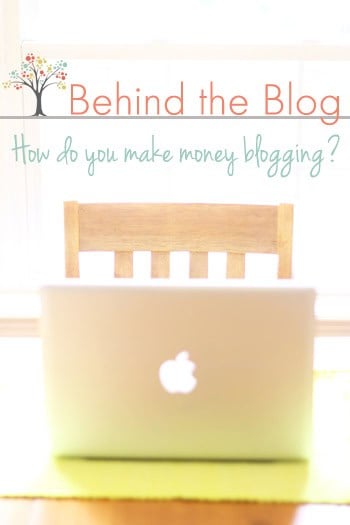 We are in the midst of a week-long series called Behind the Blog. Our hope is to give you a peek behind the scenes of Thriving Home and to answer some common questions. So far we have covered, "How did Thriving Home start?" And  "How do you divide up the work?"
One of the most common questions we get from people, is "How do you make money blogging?" When we got started blogging we wondered the same thing! Keep reading to find out!
(answered by Rachel)
Hobby? Ministry? Business? Yes.
As Polly said in "How did Thriving Home start?", we blog because we LOVE it–viewing it as a hobby and ministry. We're passionate about equipping and encouraging moms to strive toward thriving homes. But, as entrepreneurial-minded gals, we've always viewed our blog as a business venture, too.
Our hope is to provide another steady income for our families, while staying home and engaged with our children. Family always comes first (at least that's our goal!). But, now the blog has become another part-time job for us. We each hire a sitter once a week so we can have focused blog time, in addition to the time we spend in our free moments at home.
When did you start making money?
When we began in January 2012, we had little idea of where to start when it came to developing revenue streams for our blog. Now, as we've learned, the possibilities are nearly endless. We've experimented and continue to experiment with ways to increase profit, while being loyal to our vision and values.
We did not pay ourselves from our minimal earnings for the first year and a half of the blog. Our side bar ads made pennies for the first few months, and, just as our Amazon Affiliate Program was gaining momentum, Missouri laws changed and the program was cut in our state. But, as I'll lay out below, over time we've found some steady streams of income.
By July 2013, we felt comfortable beginning to pay ourselves 40% each of our earnings per month and then saving 20% for taxes and future projects. And that's what we've continued to do ever since. Our revenue has steadily increased, in sort of a two steps forward and one step back pattern, over the years.
Why is it necessary to have ads and sponsored posts?
We know that ads and sponsored posts can be an annoyance, at times, to blog readers. It certainly was to us before we understood why they're necessary. However, these options provide a way for us to earn money while you benefit (hopefully!) from our free content and many hours of work. We try to be thoughtful in the kinds of ads and sponsors we accept and have often turned away opportunities that we feel aren't consistent with what we believe. If you ever see a questionable ad pop up on our site, please let us know so we can fix it.
Now, how do you make money exactly?
Now, on to the big question at hand! What are our revenue streams? Here are our top earners in order currently:
1 – Blogher Ad Network: This is the ad above our top post and the first one you see on the sidebar. We also receive a sponsored post opportunity, which we can apply for or not, from them about once or twice a month. Examples are posts about this Cabin Air Filter and Glidden Paint.
2 – Google Adsense, Technorati Ads, and Zedo Ads: These three networks feed some ads in a few other spots on the blog.
3 – On the Job Meditations for Moms: 25 Encouraging Verse Cards: Depending on the month, our verse cards usually come in at #3 or #4 for earnings. This makes us so happy, because we love seeing God's Word get into moms' hands!
4 – Private Sponsors: We sell some ad space on our side bar and in our weekly newsletter to businesses. You'll see on our Advertise page what we offer.
5 – Giveaways and Sponsored Posts: We offer private giveaways or reviews for products we stand behind, as well. We began charging for this service more recently, as it takes a good amount of time to administrate a giveaway and write a well-crafted review. As traffic has grown, the demand for this has grown. Now businesses contact us and send us freebies to review, instead of us asking them.
6 – Affiliates: An affiliate is someone who gets a cut from a sale just for referring the purchaser. Most major retailers (think Amazon, Target, Walmart, etc), book publishers and even bloggers who are trying to sell e-books offer this revenue opportunity to bloggers. Polly and I don't do a lot with affiliates right now, ever since laws changed in Missouri and we can no longer be an Amazon affiliate. We hope to explore this avenue more in the future, though.
What ways do you hope to expand in the future?
We are always exploring different ways to generate income, but we're currently very excited about two projects that are in the works. The first is a printable for families that we'll sell in our store that will help facilitate simple faith conversations at home. Our second is an e-book of all our freezer meal recipes. We can't wait to roll out both of these products, because they further our mission at Thriving Home of equipping and encouraging moms. But, we're taking our time to make sure they are done with excellence. Check back in coming months please!
Coming Up:
Behind the Blog: What do your husband's think?
Behind the Blog: What do you wish readers knew?
You might also like...