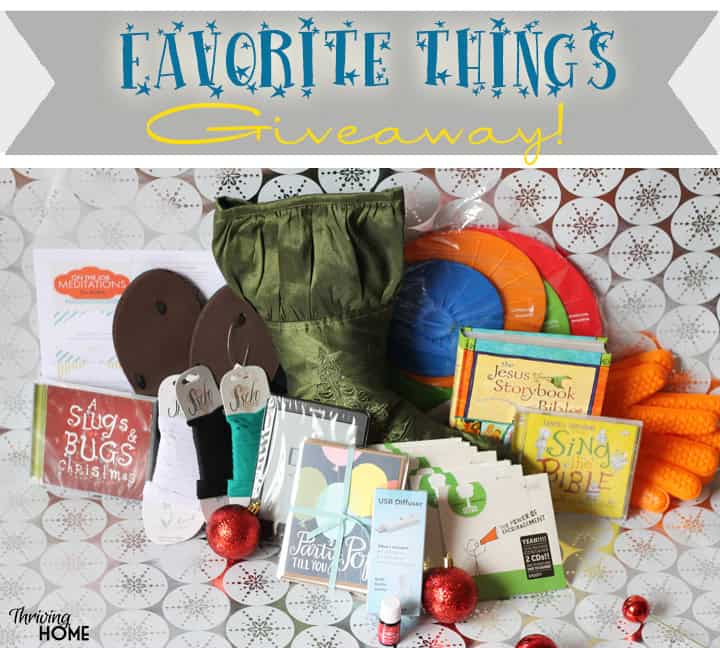 WE ARE PUMPED.
Behold, you are experiencing our BIGGEST GIVEAWAY OF THE YEAR. Actually EVER on Thriving Home. We have put together a collection of our favorites and are giddy with excitement to pass all of these on to one super-duper-extremely-lucky reader.
Wait. It gets better. And so do your chances of winning. Twelve other bloggers are doing the same thing! For one week only, we're hosting a Favorite Things Stocking Giveaway along with 12 other hand-picked, wonderful bloggers. That means you can hop over to the other sites and try to win their favorite things too!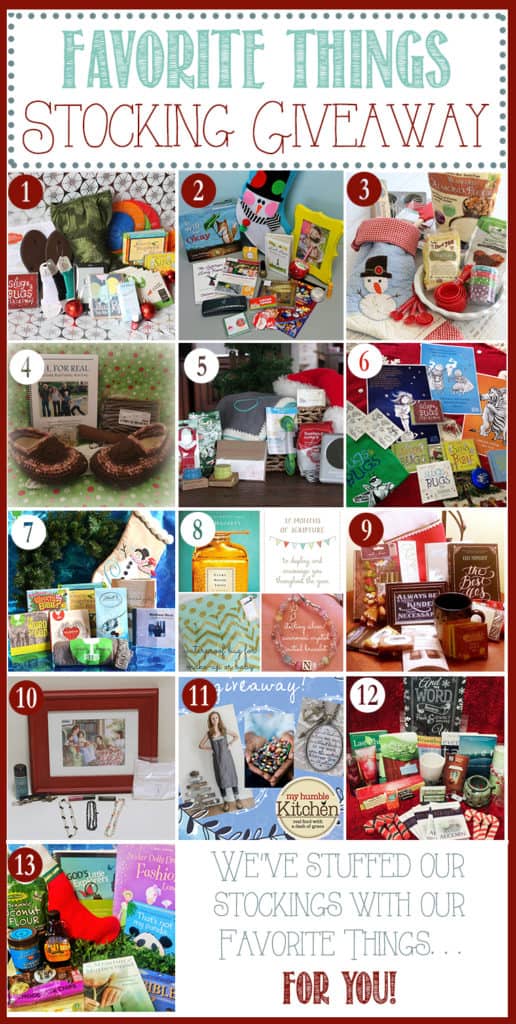 1. Thriving Home  // 2. Happy Home Fairy // 3. The Nourishing Home // 4. Heavenly Homemakers // 5. Meaningful Mama  // 6. Slugs and Bugs  // 7. Seeds Family Worship  // 8. Jennifer Ebehack // 9. The Generous Wife  // 10. The Modest Mom Blog  // 11. My Humble Kitchen  // 12. Kara Chupp // 13. Motherhood on a Dime
ENTER NOW:
Check out the Stocking Giveaway Collage featuring 12 other beautiful bloggers and their Favorite Things stockings.
Scroll to the bottom to see the details for MY Favorite Things Stocking.
Enter to win my Christmas Stocking Giveaway at the giveaway below.
HOP to all the other sites and enter to win their stockings!
Look around and enjoy the sites of these incredible bloggers. I love this hand-picked group of blogs. They all love the Lord and their sites and content reflect that. If you like Thriving Home, you'll like these friends of ours too!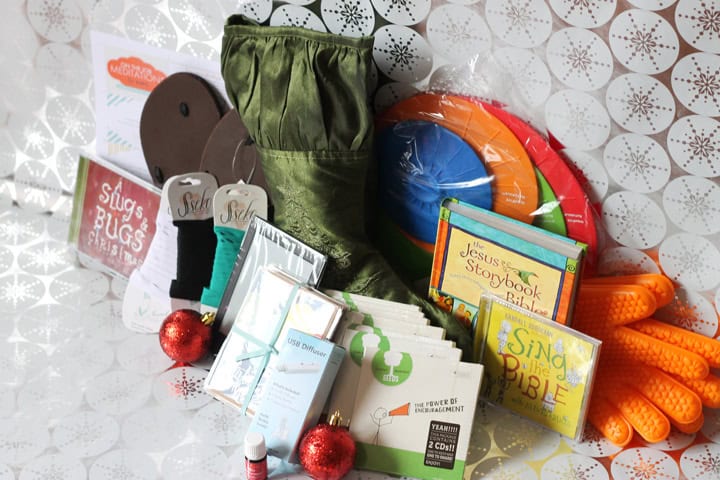 Silicone Kitchen Products ($66.97 value)
We are big fans of silicone. Why? Because it's tasteless, odorless, non-toxic, non-leaching & non-corrosive. Silicone is SAFE and a great, environmentally friendly product for use in the kitchen. So we've rounded up three incredible products that we use in our own kitchens. (Giveaway and review of these silicon products is sponsored by HighFive Naturals.)
1) Set of 4 Silicone Pot Holders ($15.99)
These bright, trendy, fun kitchen gadgets make great Christmas gifts and stocking stuffers! Temperature resistant from – 40 to 500°F! Designed for a safe, secure, nonslip grip. – Rachel
2) A Pair of Silicone Cooking Gloves ($23.99)
I am in love with this funky new kitchen gadget! My friends and family think they are hilarious for one. (Yep. I have a little dance I do for them when I'm wearing my crazy orange gloves.) And, most importantly, I love their nonstick grip and high heat resistance. Did you know you can do things like grab a hard boiled egg right out of a pot of boiling water? Or grab food off the grill when you are wearing these safe and durable silicon gloves? Read more about the variety of uses here. These would make a great gift for any cook! – Rachel
3) 4 Silicone Suction Lids ($26.99)
Leave the wasteful, toxic plastic wrap behind! Check out these reusable food saver lids that actually create a suction-top for a variety of sizes of bowls, pots and pans. I use them all the time for leftovers. – Rachel
As I mentioned in this post, I LOVE my Sseko sandals.
Sseko Designs is an ethical fashion brand that hires high potential women in Uganda to make sandals. This job enables them to earn money through dignified employment that will go directly towards their college educations. Not only do I feel good about buying them and how they were made, they are also SUPER comfy. A bonus is that I can easily swap the ribbons out to go with any outfit.Get this, Sseko is offering a BIG discount that they normally only offer on black Friday. For our readers, they are offering 20% off anything in their store! It's only good from December 10 – December 12 so hop on over to Sseko designs and browse around for some Christmas goodies. Use Promotion Code: holidayshimmer. – Polly
One of my talented and dear friends, Karen, helped start this now thriving Midwest company. Don't get me wrong, though. Their adorable products would be a favorite with or without the relational ties. I mean…do I really even need to tell you why? So. Cute. So. Creative. Order your own cards (or any of their other gorgeous products) today and skip the lame, overpriced ones in the store aisles. – Rachel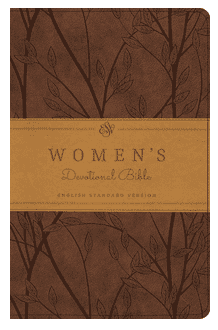 While I usually use my ESV Study Bible when reading God's Word, I love to have this devotional Bible on hand. Just this morning as I was reading 1 Peter, I stumbled upon a great devotional in this Women's Devotional Bible that helped me apply what I was learning. The Women's Devotional Bible features materials designed especially for women. The book introductions, character sketches of key figures, all-new daily devotionals, and all-new articles have been written by both women and men. These contributors include professors, musicians, authors, counselors, homemakers, and conference speakers. It would make a great gift idea for any woman! – Polly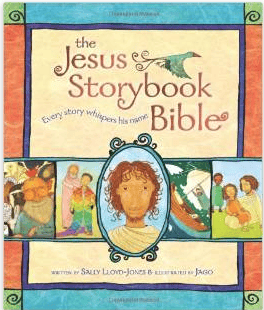 I can't say enough good things about The Jesus Storybook Bible. It tells the Story beneath all the stories in the Bible. At the center of the Story is a baby, the child upon whom everything will depend. Every story whispers his name. A Bible like no other, The Jesus Storybook Bible invites children to join in the greatest of all adventures, to discover for themselves that Jesus is at the center of God's great story of salvation—and at the center of their Story too. Check out all our other children's Bible recommendations here. – Polly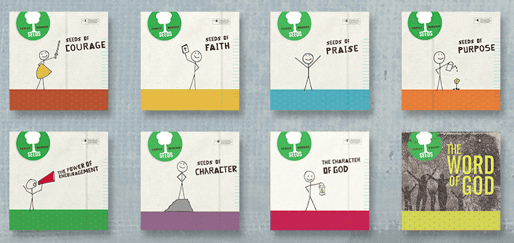 Polly's and my family both adore Seeds Family Ministry's music, and I know many of you do too! Never heard of them? Read all about their ministry and music in my post here. – Rachel

These printable 25 Encouraging Bible Verses (NIV version) are designed to help you get creative in your time with God, allowing you to practice "on the job meditations." Place these cards where you traffic the most and lift your eyes up all day (or night, while you're nursing or rocking a sick child) to your Father in heaven. Or gift them to friends and family–especially new moms–so they can do the same. These make a great stocking stuffer or small gift for mom friends! Order your own HERE.
Ever since I tried Thieves essential oil and learned of all the benefits of using of essential oils, I've been sold. I have to admit, I was a little jealous when I learned that Essential Oil Living was sending us a 5 ml bottle of Christmas Spirit version (a blend of orange, cinnamon bark, and spruce) to give away to one of YOU, along with this really cool USB Diffuser. With this little kit, you can experience the wonderful and healthful aroma while you work at your computer!
If you want to order your own Young Living essential oils now, you can place an order HERE. The link is automatically set for the customer to sign up as a wholesale member*, which means big savings for you. But, if you don't want to do that, just check the retail customer box. *Any new wholesale members that sign up with a Premium Starter Kit on or before December 13 will be entered into a drawing for a Golden Touch Collection ($106 value).
For any questions, check out Essential Oils Living Facebook page! – Rachel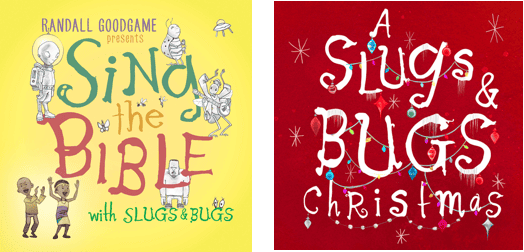 We can't say enough about our love for Slugs and Bugs music. In fact, you can read all about how my kids refuse to move past the Sing the Bible album. We've got in our hands two of our favorites to give away to readers. But, trust me, you'll want to order any or all of their albums for your kiddos now so they arrive in time for Christmas! They have a great sale going through December 15! – Rachel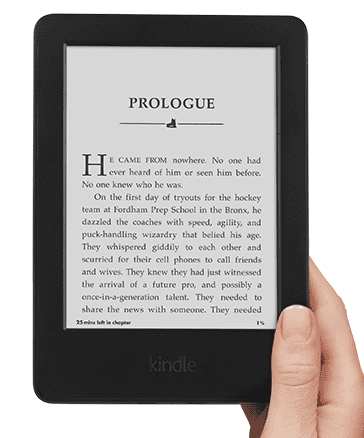 We love our books. We love reading them and we love sharing about them. Since most of my reading is done primarily when I work out (thank you elliptical for making this possible), having a Kindle is almost a must. I can't be fumbling with pages when I'm gliding side-to-side and up and down trying to keep my head steady so I can read. We are also out of room on every bookshelf in our house (thank you seminary husband for that) so storing my books on a Kindle is helpful in that way too. – Polly

*If you are already a follower, you can still enter. Just follow the instructions!
You might also like...