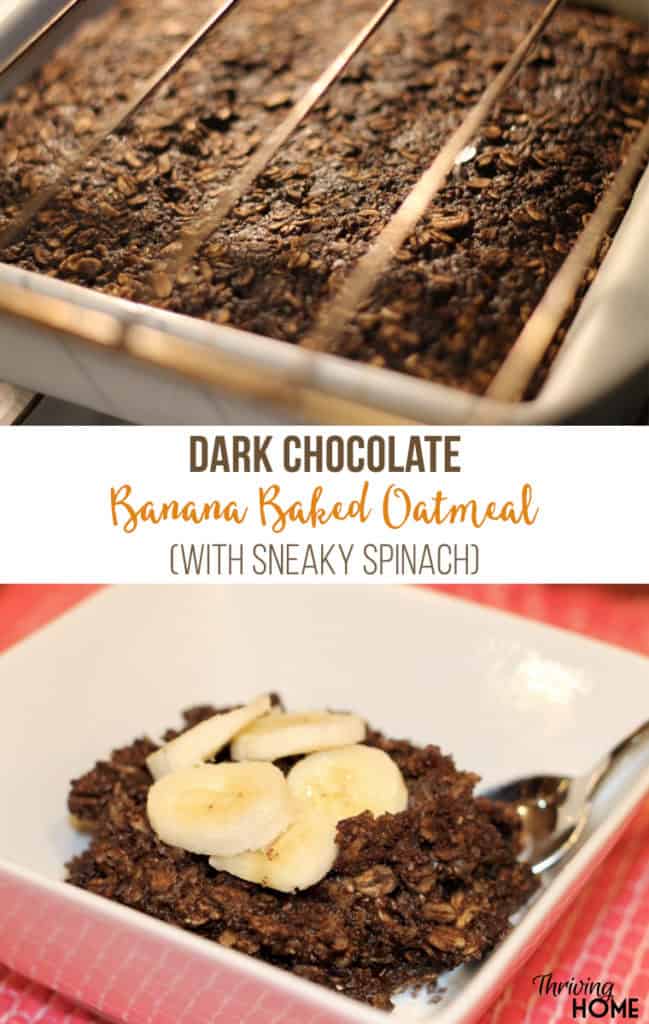 You caught us. Yes, it's slightly ridiculous how much we eat oatmeal around here, whether it's Homemade Instant Oatmeal Packs or another baked oatmeal recipe from our breakfast recipe index. We love them all!
But, I know, I know. You're thinking, "Rachel's gone off the deep end on this one. Spinach in your oatmeal?" Look, my baked oatmeal philosophy is similar to my smoothie philosophy: what they don't see, they won't taste. It's true. You really cannot see or taste the spinach after using the blender to puree the wet ingredients. This warm bowl of comfort is just pure dark chocolaty goodness…filled with lots of fiber, vitamins, and minerals!
Chock this recipe up to just one more genius way to sneak more fruits and vegetables into a kid favorite (check out 50 more ways here)!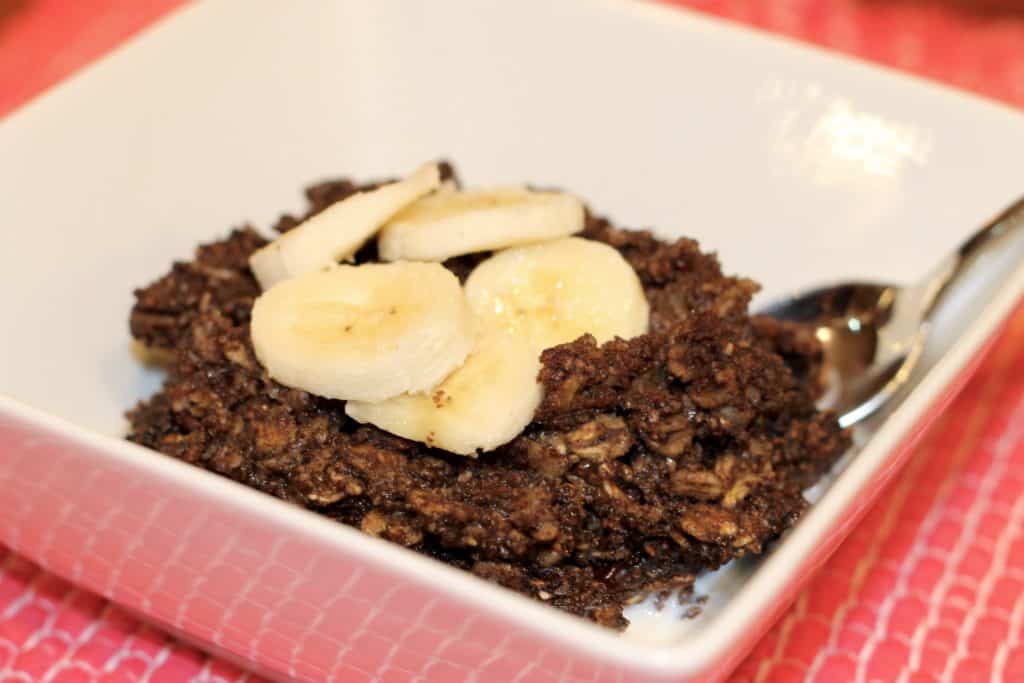 Dark Chocolate Banana Baked Oatmeal (with Sneaky Spinach)
This warm bowl of comfort is just pure dark chocolaty oatmeal goodness...filled with lots of fiber, vitamins, and minerals!
Ingredients
3 cups rolled oats
¼ cup dark cocoa powder (or regular cocoa powder)
2 teaspoons baking soda
½ teaspoon salt
1 cup milk
2 tablespoons melted coconut oil (or butter)
2 large eggs
½ cup honey or agave nectar
2 teaspoons pure vanilla
1 large or 2 small bananas
Optional: 2 cups fresh spinach, loosely packed
Instructions
Preheat oven to 350 degrees F. Grease a 9x9 baking pan with coconut oil or baking spray.
In a large mixing bowl, combine dry ingredients (from oats through salt).
In a blender, layer the wet ingredients in order (from milk to spinach). Blend until very smooth.
Pour wet ingredients into bowl with dry ingredients and stir until combined. Pour batter into a baking pan and bake for 20 minutes or until set in the middle.
Serve warm with milk and fresh sliced fruit on top.
Notes
Freezer Meal Instructions:

To Freeze:
Make the batter and pour into baking pan, but do not bake. Wrap tightly with plastic wrap and/or foil and freeze for up to 3 months in back of freezer.

To Prepare:
Let baked oatmeal thaw in refrigerator for 24 hours or defrost in the microwave using the defrost setting. Bake according to directions. Cook time will increase if baked oatmeal is still cold or partially frozen. Cover with foil if top begins to brown too much.
You might also like...