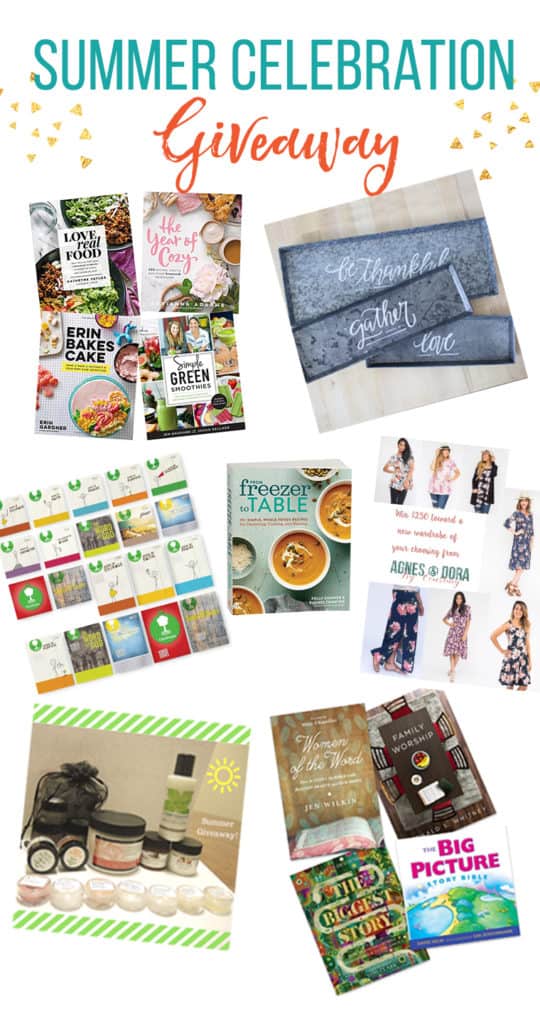 Surprise!
It's giveaway time on Thriving Home!!
We LOVE putting together giveaways like this for you guys. Not only do we enjoy giving stuff to our readers but we also love that we can get great products and businesses in front of you. We are making this HUGE giveaway ($650+ worth of AMAZING goodies) SUPER easy to enter.
Note: We are a participant in the Amazon Services LLC Associates Program, an affiliate advertising program designed to provide a means for us to earn fees by linking to Amazon.com and affiliated sites. Read our full disclosure policy here.

Enter the Giveaway:
Want a closer look at the goodies?! We are super pumped to tell you about them. Let's start with a shameless plug for our cookbook…. 😉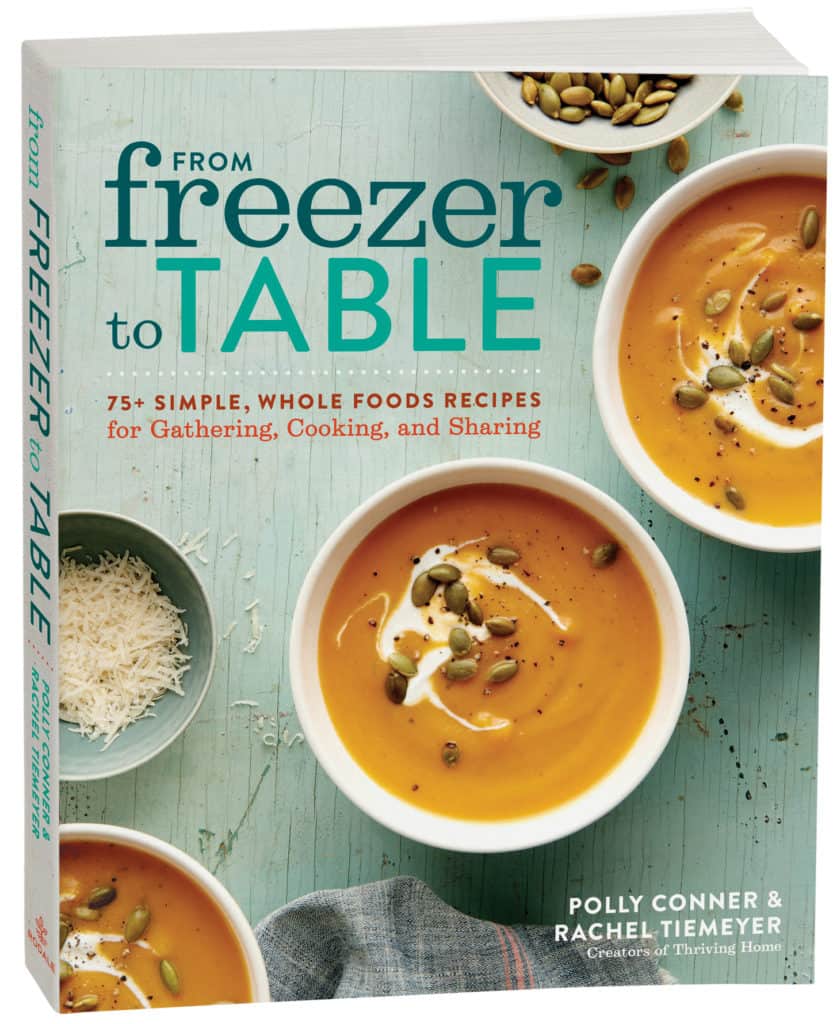 From Freezer to Table is the ultimate guidebook for transforming the way your family cooks, eats, and freezes. The chapters are packed with freezer cooking basics, practical tips for Freezer Cooking Parties and Freezer Clubs, and plenty of motivation and tools to make freezer cooking second nature. With more than 75 simple, family-friendly recipes―all made from whole food ingredients―this book shows how you can stock your freezer with favorites, like Mixed Berry Oat Scones, Parmesan and Herb Chicken Tenders, and slow-cooker Killer Carnitas.
Prepare to reclaim your kitchen from processed foods, all while saving your wallet, your waistline, and your time! With a freezer full of the easy dishes in this book, you can enjoy tasty, stress-free meals around the table with those you love, even on your busiest days.
If you pre-order we will send you all sorts of gifts! Learn more about our pre-order gifts here!
Rodale Cookbook Bundle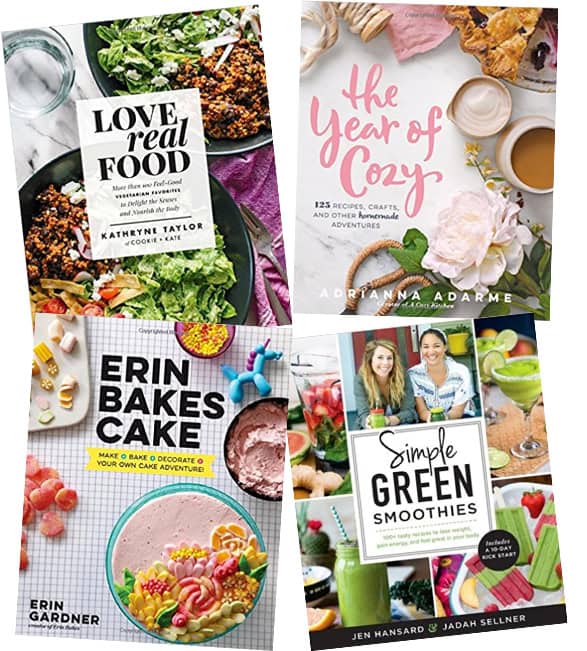 The path to a healthy body and happy belly is paved with real food―fresh, wholesome, sustainable food―and it doesn't need to be so difficult. No one knows this more than Kathryne Taylor of America's most popular vegetarian food blog, Cookie and Kate. With Love Real Food, she offers over 100 approachable and outrageously delicious meatless recipes complete with substitutions to make meals special diet-friendly (gluten-free, dairy-free, and egg-free) whenever possible.
From the author of the popular blog, A Cozy Kitchen, comes a beautifully photographed one-stop-shop book with all the recipes and projects you'll need for some cozy inspiration this holiday season―and all year long. Organized by the months of the year and by categories as "Live," "Do," and "Make, " this book offers ideas for activities, recipes, and DIY projects that make the little moments in life just as exciting as the big.
Jen Hansard and Jadah Sellner are on a fresh path to health and happiness- deprivation not included. In their book, Simple Green Smoothies, these two friends invite you into a sane and tasty approach to health that will inspire and energize you on your own journey toward a happier life. The Simple Green Smoothies' lifestyle doesn't involve counting calories or eliminating an entire food group. Instead, it encourages you to make one simple change: drink one green smoothie a day.
Erin Gardner's cake recipes share a delicious, time-saving secret: they're all the same. Why play the guessing game of sifting through dozens of recipes when all you need are just a few that contain hundreds of variations―572, to be exact! The cakequations in Erin Bakes Cake teach you how to combine her cake, buttercream, cookie, and candy recipes in endless mouth-watering ways. Erin's cake recipes aren't sorcery―they're science. They all share similar ratios of ingredients that add tenderness, strength, or flavor. You don't have to be an expert. Everyone can learn to make a great cake!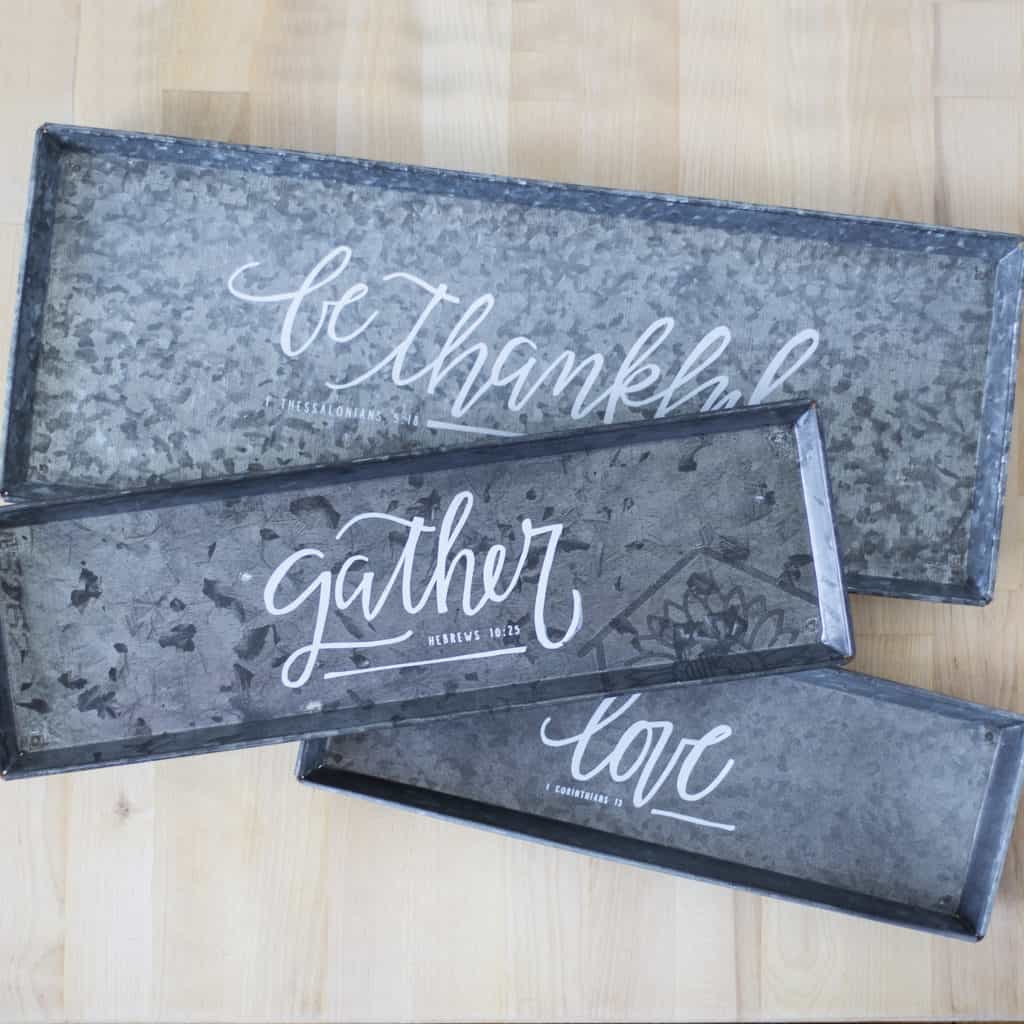 This set of decorative trays ($50.00 value) make a lovely accent to any table, dresser or mantle.  It's a simple way to bring encouraging words (along with Scripture references) into your home.
Crossway Bundle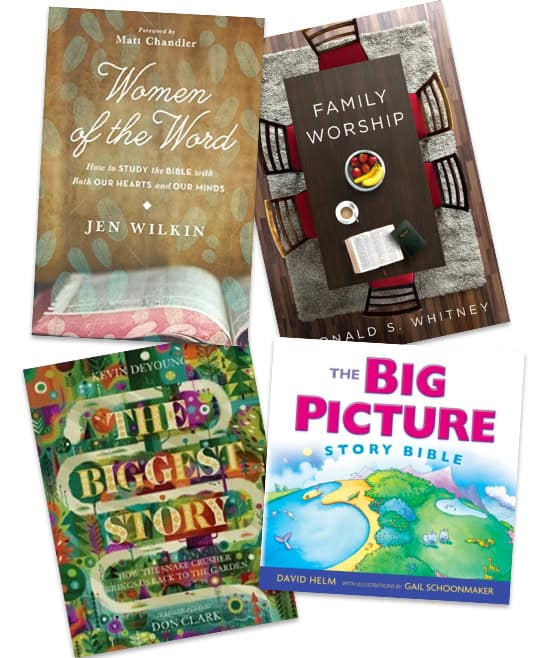 Family Worship
by Donald S. Whitney: This short book offers parents practical guidance for leading their families in daily worship of God through reading Scripture, praying together, and singing songs. Includes an accessible discussion guide to use with the whole family.
The Big Picture Story Bible
by
David R. Helm with illustrations by Gail Schoonmaker: Designed for kids ages 2–7, this children's Bible presents the remarkable true story of God's love for the world from both the Old and New Testaments with simple words and striking illustrations.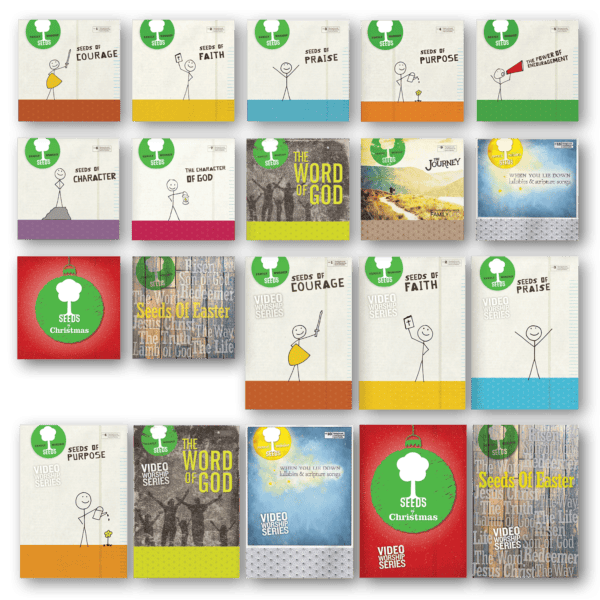 This pack includes all 12 albums with over 120 songs to word-for-word scripture and 8 DVD's with 72 original videos and 36 with Hand Motions. Seeds music makes it fun and easy for kids and families to learn, memorize and store God's Word in their hearts. Learning God's Word to music and videos makes it easy to memorize and it sticks with you! You can learn more about our mission and our products here!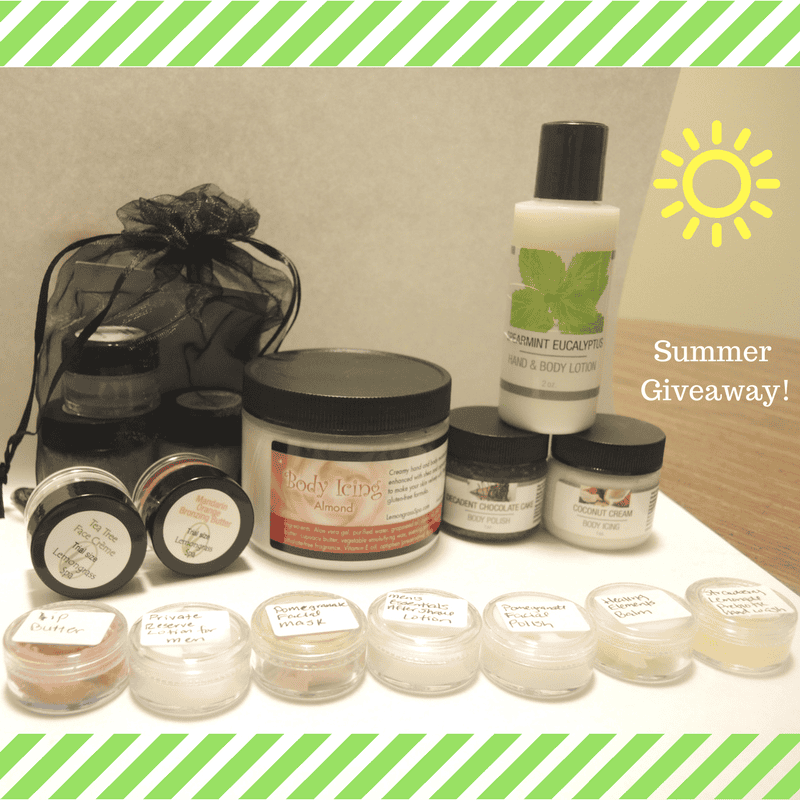 Many of us are concerned about what we feed ourselves and our families, but have you ever thought about what you "feed" your largest organ, your skin? At Lemongrass Spa Products we are on a mission to make healthier alternatives to chemical ridden cosmetics and body care for the entire family. Therefore, all of our products are 97-100% all natural and many are also organic.  If you win this $50.00 giveaway, you will receive samples and one full size of our most popular products.
Swing by here to learn more about these amazing products and more!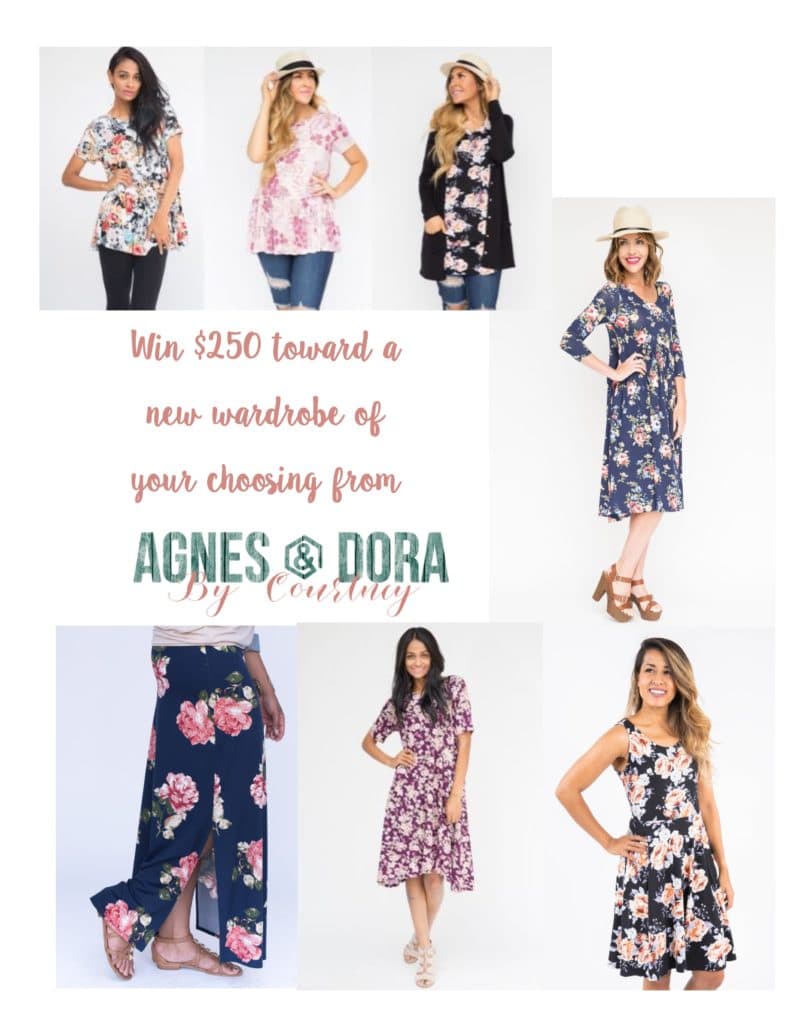 Agnes and Dora clothes are comfortable, well made, trendy, and affordably priced. They offer something for everyBODY from XXS to 3XL. From dresses, to skirts, to shirts, and to leggings, there truly is something for anyone. With the softest prints, these pieces are the most comfortable clothing you will ever put on. Not to mention, flattering on every woman. You will truly fall in love!
Enter the Giveaway!
So fun, right?! Make sure you get entered and then share about the giveaway to earn those extra entries!