3 Devotional Books for Elementary Kids We Are Loving
This post may contain affiliate or sponsored links. Please read our disclosure policy.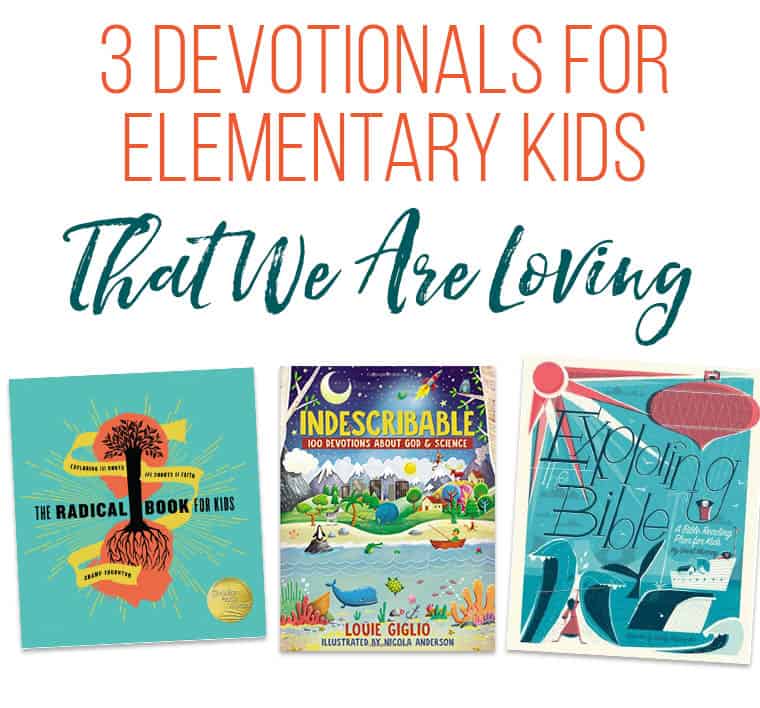 3 Devotional Books for Elementary Kids We Are Loving
If I get one thing right as a parent…it's not to get them the right education. It's not to make sure they play the right sports. It's not to help them avoid pain at all cost. And it's not even to make sure they grow up to be a success in their career.
If I get one thing right as a parent, it's simply this: I want to teach my children that they are forever loved, known, and made right with God because of what Jesus has done for them.
Because of Jesus, we can know the God of the universe. Our kids can know the God of the universe. And that will change our lives and their lives forever.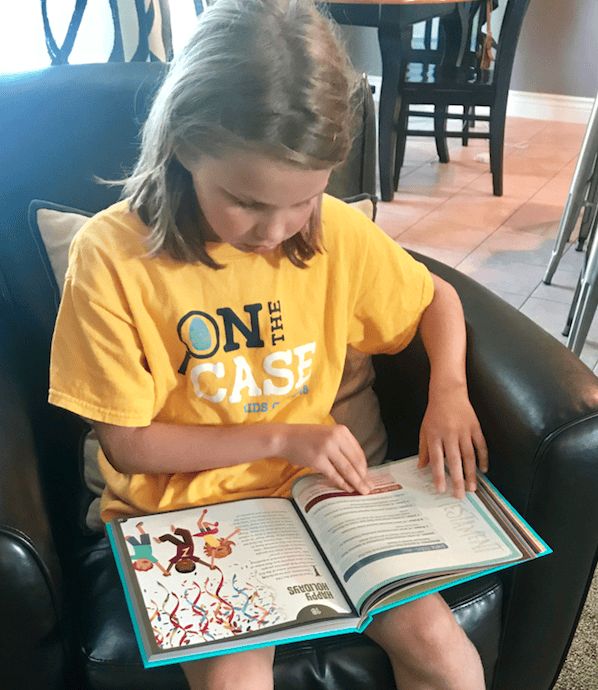 So, while Nathan and I are trying make sure our kids get a good education, try different extracurriculars, feel safe in our home, and hopefully find a career someday that will benefit them and the world…we don't want to miss our biggest call as parents in the process.
By spending just a few minutes a day reading the Bible or a Gospel-centered devotional with our kids, we can help our children learn that nothing (not school, not friends, not grades, not how they look) is more important than meeting God each day. It's where they will learn that are loved more than they could ever imagine. That they are part of the greatest story of all time. That they can depend on Him with their entire lives.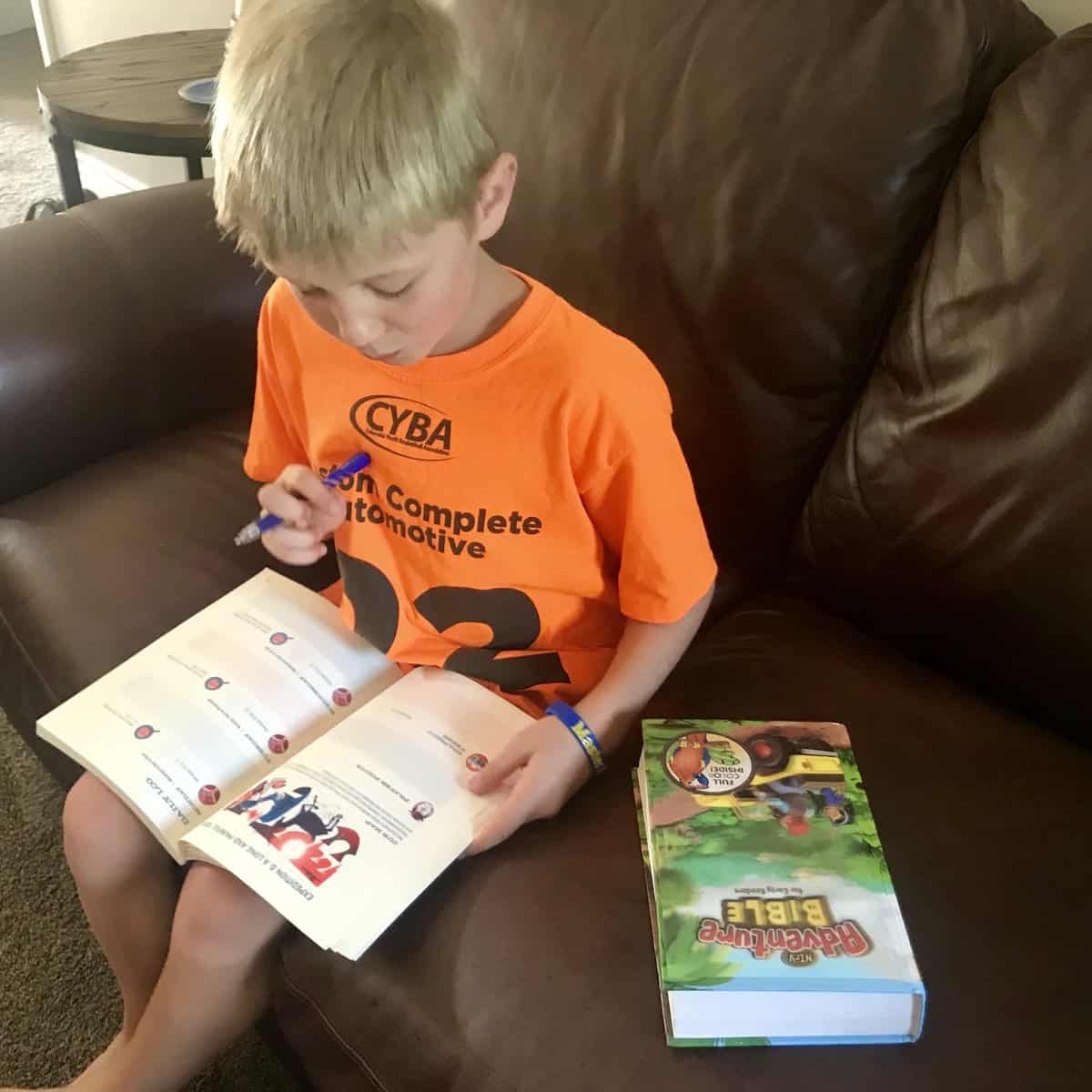 I've written quite a bit about children's Bibles and devotionals our family has used over the years, which you can find here. Today, I want to share about three excellent devotionals for elementary children our kids (ages 7, 9, and 11) and we have enjoyed this summer.
Giveaway alert! Be sure to scroll to the bottom and enter to win our giveaway of all three of these books for your own family.
3 Excellent Devotional Books for Kids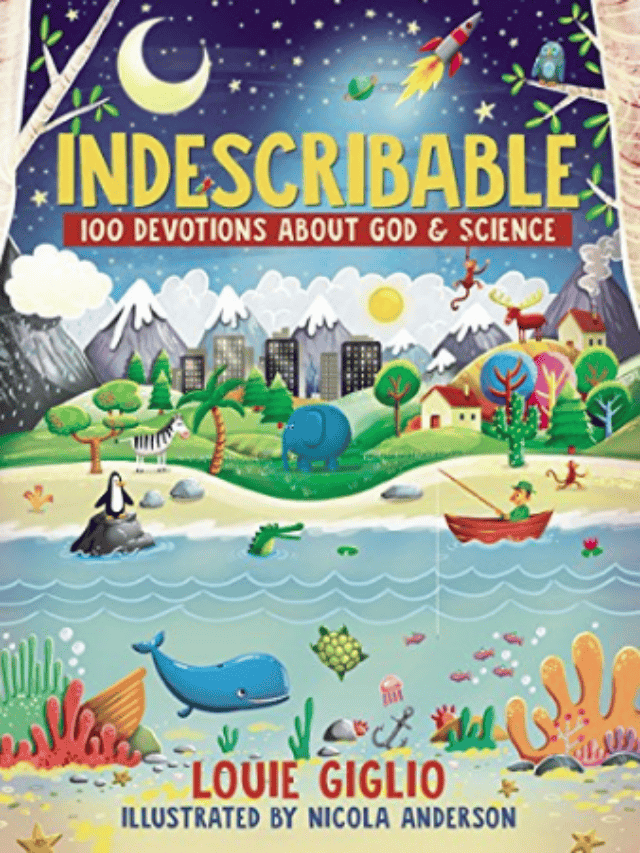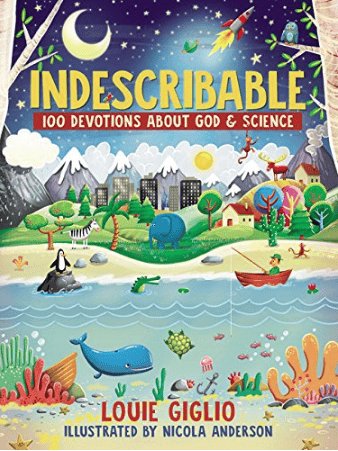 Target Ages: The publisher says ages 6-10, but my 11-year-old boy certainly enjoys it, too!
Description and Review: Your child doesn't have to be a little scientist to be drawn to this devotional, although your science-loving kid will absolutely love it. We received this book in one of our Seeds Family Boxes, and it's quickly become a favorite of ours.
Indescribable helps children (and parents) be amazed at the majesty of creation and our powerful, personal, and purposeful Creator. Each 2-page devotion includes a key Bible verse, scientific findings and fascinating facts, photography and really cool illustrations, and a short closing prayer. I usually try to ask a review question and sometimes a life application question (if I can think of one on the fly) of my own at the end.
How long does it take? It takes us about 4-5 minutes to read one, pray, and discuss, so it ends up being a perfect one to read in the car on the way to school.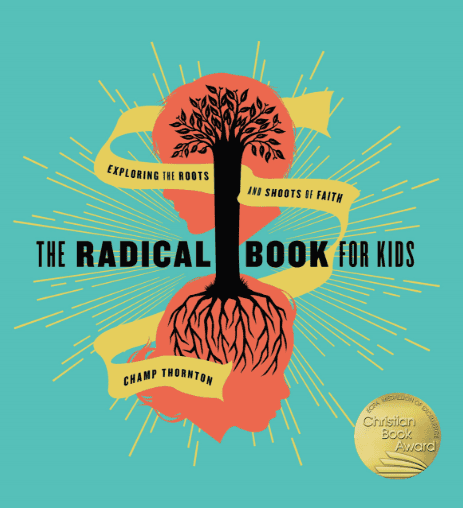 Target Ages: The publisher says children ages 8 and up. My instinct and experience with my own kids says this is best for ages 9-12. But, I think even young teens would enjoy doing this with younger siblings.
Description and Review:
Around every corner is a new surprise in this book! From the wide-ranging topics to the vibrant and unique design to a plethora of fun facts, The Radical Book for Kids is a home run devotional book for older elementary and tween boys and girls. It's a fun-filled explorer's guide to the Bible, church history, and the Christian life.
Some topic examples:
friendship
how to make good decisions
weapons in the Bible (and how to make your own catapult)
names of God
women and men who gave their lives for Christ
fun and games in Bible times
Latin words you should know
The best part of all is that deep biblical truths are communicated to kids while stimulating their curiosity and sense of adventure within a gospel-centered framework. Tucked in the midst of quirkiness is teaching about God's attributes, our salvation, and what radical faith in our promise-keeping God looks like.
Jack (my 11-year-old) read through this book in a matter of days last year, and Hannah (my 9-year-old) is currently working her way through it each morning. Sometimes I read it to her, and sometimes she reads it on her own. Both kids have required no prompting from me to keep at it and have enjoyed telling me the cool facts they are learning along the way.
How long does it take? Each chapter is anywhere from 2 to 9 pages long, so it depends on which one you're reading that day. I would estimate the chapters take anywhere from 7-15 minutes to read and to look through all the fun off-set boxes and illustrations.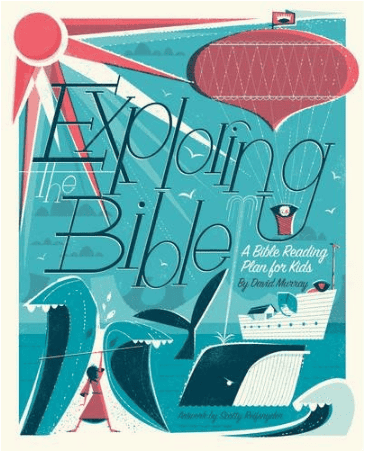 Target Ages: Ages 6-12. It really is a versatile resource for multiple ages.
Description and Review:
Reading the Bible is like taking a trip through God's story, setting out to explore and experience the beautiful views found within. But without a map, it's easy to get lost.
Exploring the Bible leads kids ages 6–12 through the Bible one day at a time over the course of a year. For use alongside any Bible (here are my suggestions), this workbook will help them see the overarching story of God's Word and lay the foundation for a lifetime of discovering truths about God, humanity, and the gospel.
Each weekly entry includes:
Daily Bible readings
Prayer points
Memory verse
Discussion questions
Space for sermon notes and reflections
One of my favorite parts of using this resource is that it is teaching my children how to look up verses in the Bible and then to think about what they read. It's a simple resource, but I think it's effective in helping children begin a daily habit of reading God's Word.
How long does it take? About 5-10 minutes. My youngest son (age 7) looks up the verse, I usually read it to him so he can listen closely, and then he fills out the answer to the daily question. We end by writing down a quick prayer point or praying about something he has already written down.
Want Bible Recommendations for Kids?
Here are the 7 Best Children's Bibles for Every Age
Want Bible Recommendations for Teenagers?
Here are the Best Bibles for Tweens and Teens.