3 Key Ways To Save Money and Eat Healthier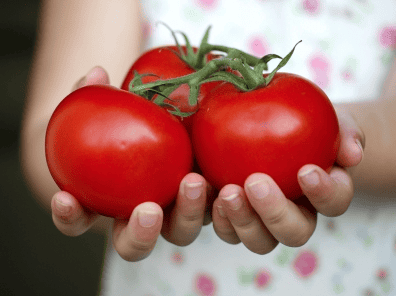 I'm about to make a statement that you might strongly disagree with.  But, I'll do it anyway…and hopefully convince you.
I think having healthy homemade food (vs. eating processed convenience food or fast food) for most meals is doable and is a huge benefit to you and your family. Not only will you save money, but you'll perhaps be adding years to your life, avoiding disease, have more energy, and feel better! Research has shown again and again that eating a diet of whole foods (the ones closest to the actual food source–think fresh vegetables, whole grains, local meat, etc) with an emphasis on a variety of fruits and vegetables is what our bodies need to thrive.

Our family made the commitment to make mostly homemade food (or what I often call "real food" on this blog) when one of our children was diagnosed with Crohn's Disease as a toddler and our eyes were opened to the dangers of processed foods and the chemicals in our environment. And, that's partially why I began this blog. I wanted to share with friends and family (and now people all over the world–cool!) ways to feed your family well, too.

I understand that different life situations may make this goal of "homemade food everyday" more difficult. Before having kids, my husband and I ate all kinds of frozen pizzas and take-out due to our crazy work schedule.  However, with three kids at home and two part-time jobs, I've been learning that healthy home-cooked meals are achievable if you're willing to invest in these 3 things.
3 Key Ways To Save Money and Eat Healthier
1) Menu Planning
Saving money and having healthy meals on the table start here. On Saturday, I plan out healthy meals and snacks for the week, make a grocery list, and go to the store and Farmer's Market to buy fresh produce for the week. I try to only go one time a week and stick to my list (this is the key to saving money!). You can find all my healthy meal plans here. And, download our FREE printable (and cute) Weekly Menu Planner to set yourself up for success.

2) Making Freezer Meals
For me, this is mostly doable because I'm in a freezer club where I end up with a variety of different frozen entrees every month. I've been doing this for six years now, so it's like second nature. I also double just about everything else I cook and freeze the second batch. Check out one of our most popular posts that contains 60+ Healthy Freezer Meals for recipe ideas.
3) A willingness to eat leftovers
If the food is good enough, this shouldn't be a problem, right? 🙂 Actually, I have to get pretty creative with leftovers sometimes. I put just about any leftovers in the freezer, if I don't think my family will eat it. I'm pretty cheap, so I'll cut off corn from a half-eaten cob, scoop out uneaten baked sweet potato, and freeze uneaten pasta or rice. Then, I try to get creative with what I have. Here are a few ideas:
Make soup or a casserole out of leftover pasta, cooked beans, rice and veggies. Check out our healthy Recipe Index for healthy soup ideas.
Here are tons of ideas of how to use up cooked beans (enchiladas, taco salad, etc). Beans are so cheap and good for you!
Use leftover rice in a whole wheat wrap with refried beans, shredded cheddar cheese, corn and some salsa. Heat in the microwave until warmed through.
So, what is one baby step you can take this week to move toward eating more homemade food? Don't feel like you have to make big moves all at once. But, I think you'll find that any efforts you make toward this goal carries rewards that are both physical and financial…and that your food just tastes better!
Photo credit at top: http://www.freedigitalphotos.net/
https://thrivinghomeblog.com/wp-content/uploads/2013/03/Screen-Shot-2013-03-27-at-10.31.17-PM.png
296
396
Rachel Tiemeyer
https://thrivinghomeblog.com/wp-content/uploads/2019/10/thrivinglogo.png
Rachel Tiemeyer
2013-04-02 05:36:57
2014-08-19 17:47:19
3 Key Ways To Save Money and Eat Healthier