4 Mistakes I've Already Made As a Parent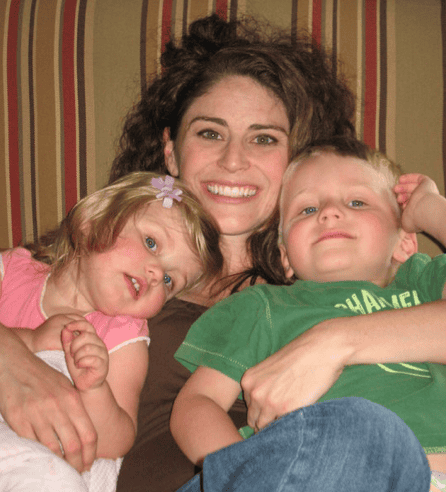 One of my fears in writing a blog called Thriving Home and that sometimes speaks to parenting issues is that you'd get the ridiculous impression that I somehow have my act all together as a mother.  Excuse me while I have a good belly laugh at the thought. Bah, ha, ha, ha, ha, ha, ha!
You know that convenient "undo typing" button in Microsoft Word?  Man, I would sell my right arm for an "undo parenting moment" button I could click throughout the day.  I can't tell you how many times Nathan and I have sat up late at night pow-wowing about our kids and wondering aloud, "Are we screwing them up?"
I'm a parent in process like you.  I'm a parent who desperately wants to get this parenting thing right like you.  I'm a parent getting on-the-job training like you.  And…I'm a parent who needs the grace of God every single moment of every single parenting day like you.
Whew.  Glad I got that off my chest.
One of my best friends is 18 years older than me, roughly 50 years wiser than me, and a mother of two grown kids.  She also happens to be my neighbor and has walked alongside me in this parenting journey for the past five years. One of the aspects of her advice/mentoring I've appreciated most is her willingness to share mistakes she felt that she made as a young mother.  What a gift her humility and honesty have been to me.
I'm only five years into this journey, but I started thinking, "What mistakes can I already identify that I've made as a mom?"  As each of our three kids grows, I've begun to notice–not dwell on too long, but hopefully learn from–our mistakes.  I'm sure in latter years I'll recognize many more.
For now, here are four (hopefully) minor "train wrecks" I give you permission to gaze at and then attempt to avoid yourselves…
1 – Leaving my baby unattended with my toddler.
My 21-month-old boy had been so sweet to or just ignored my infant daughter for the first few weeks she was home.  So, I didn't even think twice about setting her on the couch just a moment while I stepped into the kitchen to grab something.  In those five seconds, I heard my toddler mumble something from the next room about picking up sissy. So I sprinted back in the next room only in time to see him pick her up and drop her on the floor with a "thud".  As the baby screamed, I was beside myself with "you're an idiot, Rachel" guilt at the time and shocked at how quickly a well-meaning toddler could get a hold of her.  Thankfully, her body was made of a lot of cartilage at the time and she made the 2-foot free fall unscathed.
2 – Pushing my first two kids too hard to potty train.
Potty training might be one of my least favorite parenting tasks so far.  No, I didn't/don't like the clean up jobs, but more than that I hated the constant battles.  Neither my boy nor girl really got the hang of it until they were 3-years-old, and we still have hiccups to be honest.  I partially chalk those battles up to the fact that a) I shouldn't have worried a lick about whether or not I had a friend with a potty-trained 18-month-old and quit trying to keep up with the Potty-Trained-Joneses, and b) when potty training was such a dreadful thing for all parties involved, I should have thrown the diapers back on and said "let's try this again later" (which I did do eventually with my second kid).  It's not worth the fight, stress, or mess if they aren't ready.  And, mine just weren't ready.
3 – Feeding my first born processed foods.
I really think I messed up my oldest kid's palette from very early on.  You can read more about my theory about and my thoughts on feeding babies here.  I have also wondered at times whether or not the way I fed him as a baby affected his health from early on.  Here's more about my son's illness and our family's journey toward health.
4 – Teaching my kids that God is quick to anger and impatient with their sin.
This is by far my most vulnerable mistake I'm sharing with you.  It's something I'm working on every doggone day to get right.
I never knew what an impatient person I was until I had lots of small kids needing me all day long every day.  My go-to sin when I'm tired and pushed to my limit is to get frustrated and raise my voice  at the little people I love most.  Perhaps the most frequent and ironic example of this is when we're late for church:  "Get in the car! Now! I said NOW! Stop touching your sister! What are you doing?! Get in the car!"
Well, you know what?  Thankfully, you can't get away with this sort of behavior long.  That's because before you know it, you get to hear one of your kids saying the exact same thing in the exact same tone of voice while playing with his/her stuffed puppies.  And it cuts you to the quick.  Or, you have a 5-year-old tell you with tears in his eyes, "Mommy, I don't like it when you raise your voice at me."  Dagger to the heart.
When I'm impatient with my children's sin and quick to anger over little or big things, my kids are learning something about God.  Nathan and I are their first representatives of God.  As a parent, I'm a picture of their Father in heaven, their Protector, their Savior to them.  And, when they see me treating them that way, they are learning exactly the opposite of what is true of God…at least to some extent.
Psalm 103:8, 10, which is posted over my kitchen sink right now, says, "The LORD is merciful and gracious, slow to anger and abounding in steadfast love…He does not deal with us according to our sins, nor repay us according to our iniquities."   I desperately want my kids to know that God and trust Him and follow Him and love Him all the days of their lives.  I pray, by His mercy, that would be true of them despite all my shortcomings.
There are more.  Lots more mistakes.  But, I'm humbled enough for one day.
Here are a few things I'm striving to do in order to help me fight against my parenting blind spots.  These are much easier written than done, as I know well!
Pray that God will reveal your parenting blind spots.
Reflect on and confess to God or others the mistakes you've already made, so you can learn from and move past them.
Read the Bible.  Allow God's Word to transform your heart and mind as a parent.  I often use on the job meditations.
Be open to others pointing out your blind spots as a parent.  Often your spouse will point these out (perhaps with bad timing, but that doesn't mean he/she is wrong!).
Apologize to your kids when you mess up.  Let them know you need God's help and forgiveness just as much as they do.  They know you aren't perfect, but this lets them know that you know that too.  (Note: Here's an added bonus.  Since doing this more, I am seeing my kids apologize more freely and quickly when they mess up.)
Try to find other parents you respect who are ahead of you in the parenting journey and be around them.  And/or just listen to some of the advice your own parents give you.  Yep, they are right sometimes!
Read a good parenting book like Spiritual Parenting or Loving the Little Years.
Trust God with your children.  He's given us an undeniable responsibility to parent them to the best of our ability.  But, they are ultimately in His care.
This post linked to:
https://thrivinghomeblog.com/wp-content/uploads/2019/10/thrivinglogo.png
0
0
Rachel Tiemeyer
https://thrivinghomeblog.com/wp-content/uploads/2019/10/thrivinglogo.png
Rachel Tiemeyer
2012-03-06 06:00:41
2020-01-05 15:05:27
4 Mistakes I've Already Made As a Parent