Rachel's 5 Random Good Reads (and Some Confessions)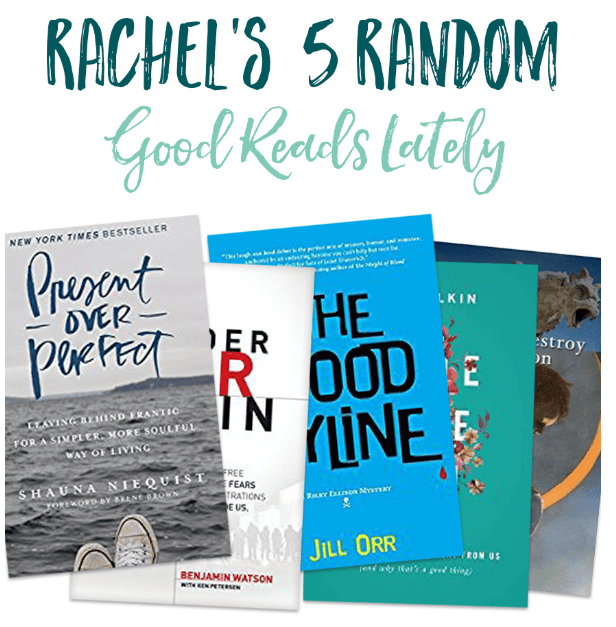 It's that time again when I dig through my rather full end table and pull out my good reads as of late. Today, I'm sharing some favs from this past winter and spring that I think are worth picking up. In case you missed it, here were three books I couldn't put down last summer.
Apparently, I'm also making several unplanned confessions in this post. They just came out as I got writing about the impact these books are having on me. Please let me know if you end up reading any of my random picks below. I'd love to know what you think!
Note: We are a participant in the Amazon Services LLC Associates Program, an affiliate advertising program designed to provide a means for us to earn fees by linking to Amazon.com and affiliated sites. Read our full disclosure policy here.
I had a chance to meet Jen Wilkin in Fall 2015 when she came to our church for a conference, and, let me tell ya, she is HILARIOUS and the real deal. I've decided that we would totally be friends if she lived near me (not sure she feels the same way). I digress. One of her newer books, None Like Him, was the perfect mix of storytelling, Scriptural teaching, and life application. I enjoyed the short chapters that focused on one attribute of God (her theology is rock solid, by the way), how knowing that about God can change my life, and then ended with some reflection questions. It's amazing how when my view of God gets bigger, my own problems seem so much smaller. And that's a very good thing! This book worked well for a book discussion we did at our church, too.
Jill Orr is yet another author I might have an author crush on. And, she happens to live in my own town and our husbands went to school together! Her debut book in the Riley Ellison Mystery series is fantastic so far. I'm actually not done with it, because it's my "reward read" at the end of the day. I'm portioning it out so it lasts longer. I think you'll love her "bless your heart" heroine, 24-year-old Riley, who finds herself wrapped up in a small town murder mystery while also being caught in a bit of romantic drama, as well. My husband laughed at me the other night when he came to bed, because he said I don't stop smiling when I'm reading it.
Get this. I have an insider tip, too. Jill is already working on her next two books in the series. So there's more goodness to come!
Ok, shifting gears here. I'm just going to be really honest with you all. Over the past two years, this white girl from a small rural town has had her eyes opened. You may have heard about my town of Columbia, MO, because my alma mater, the University of Missouri, was the center of racial controversy about a year and half ago. You can read about it here. And, of course, only two hours east of us was the scene of the Ferguson, MO riots only a few months before that. (I know both of these events were quite complicated, but nonetheless, they were eye-opening to me.) It sounds naive, but I didn't "get" that racism still existed (other than maybe those Confederate-flag-waving crazy dudes in some back hills somewhere…see naive, I know) and hadn't taken a close look at my own heart on this issue until more recently.
Enter Benjamin Watson–an incredibly intelligent, well-spoken, evangelical Christian, African American, dad of five children, who also happens to be a tight end for the Baltimore Ravens. Our church and several other pre-dominantly African American churches in town brought him in to speak on the issue of race in America this past winter. Not only is this guy flat out funny and smart, but he knows how to help build bridges and sure helped me see this issue–especially the notion of systemic racism–in a new light.
I HIGHLY recommend his book. It didn't leave me feeling guilty (which is a stupid fear of mine when reading on this subject), but instead I felt more educated and empowered to battle racism in my own heart and in our world. Even my 10-year-old son read it and said he learned a lot about racism in America and how we as Christians can begin to help heal our country. You can read more about this book here.
Wow, this post is turning out to be confession time for Rachel. Here's another one for you. I live a pretty packed–no OVER-packed–life almost every.single.day. And have most of my adult life. I'm the girl who just can't sit, as my mom or my BFF, Kelley, will tell you. I'm guessing many of you can relate. Between juggling work projects, ministry endeavors, being full-time mom to three kiddos, and managing our home…friends, I sometimes feel like I'm doing myself in. I can't sleep many nights and have struggled with headaches for the past five years. I know something has to change, and my body is finally letting me know that loud and clear.
That's why Shauna Niequist's story has resonated so deeply with me. She has lived most of her first forty years of life doing what she thought she was supposed to do–saying "yes" to every new opportunity, running herself ragged, and yet leaving the people she loved most behind in the wake of her performance treadmill. Her short reflective essays hit home the lesson she has learned and is continuing to learn: to leave behind busyness and frantic living to rediscover the person she was made to be.
Niequist invites you and me to consider what it might look like to leave behind the pressure to be perfect and begin the life-changing practice of simply being present, in the middle of the mess and the ordinariness of life. I'm thankful for how her book has reminded me of the importance of grace, rest, silence, simplicity, prayer, and connection with the people that matter most to us.
Now this is one of those books I've been reading for many, many months. I pick it up, think on it (it's not "light" reading), put it down, and then pick it back up later. As a parent, Anthony Esolen's honest, sometimes bitingly funny, observations about the culture of childhood today are absolutely fascinating and a bit frightening, but have been helpful to me.
His thesis: almost everything we are doing to children in our society now constricts their imaginations, usually to serve the ulterior motives of the constrictors. The Amazon description reads, "Ten Ways to Destroy the Imagination of Your Child confronts contemporary trends in parenting and schooling by reclaiming lost traditions. This practical, insightful book is essential reading for any parent who cares about the paltry thing that childhood has become, and who wants to give a child something beyond the dull drone of today's culture."
This book has motivated me to honor unstructured play outside and keep many of the extracurriculars at bay for my children (it's getting harder as they get older). We've discovered fairy tales, Greek myths, and world history together. At Esolen's prodding, I've given my kids hammers and screw drivers and old, broken machines and let them get to work pulling them apart. And I'm more okay letting them be bored. Because that's where the imagination begins.
You might not agree with Esolen on every point (I didn't). If I had one critique, it's that he holds "tradition" on a pedestal it does not always deserve. But, this book definitely helped me rise above the cultural parenting air I breathe each day and look at what I'm doing as a mom from a new angle.
What books have you enjoyed or been impacted by lately?
https://thrivinghomeblog.com/wp-content/uploads/2017/04/Rachels-good-reads.jpg
1000
869
Rachel Tiemeyer
https://thrivinghomeblog.com/wp-content/uploads/2019/10/thrivinglogo.png
Rachel Tiemeyer
2017-04-19 02:13:47
2020-01-05 15:52:46
Rachel's 5 Random Good Reads (and Some Confessions)