5 Tips for a Stress-Free Summer Party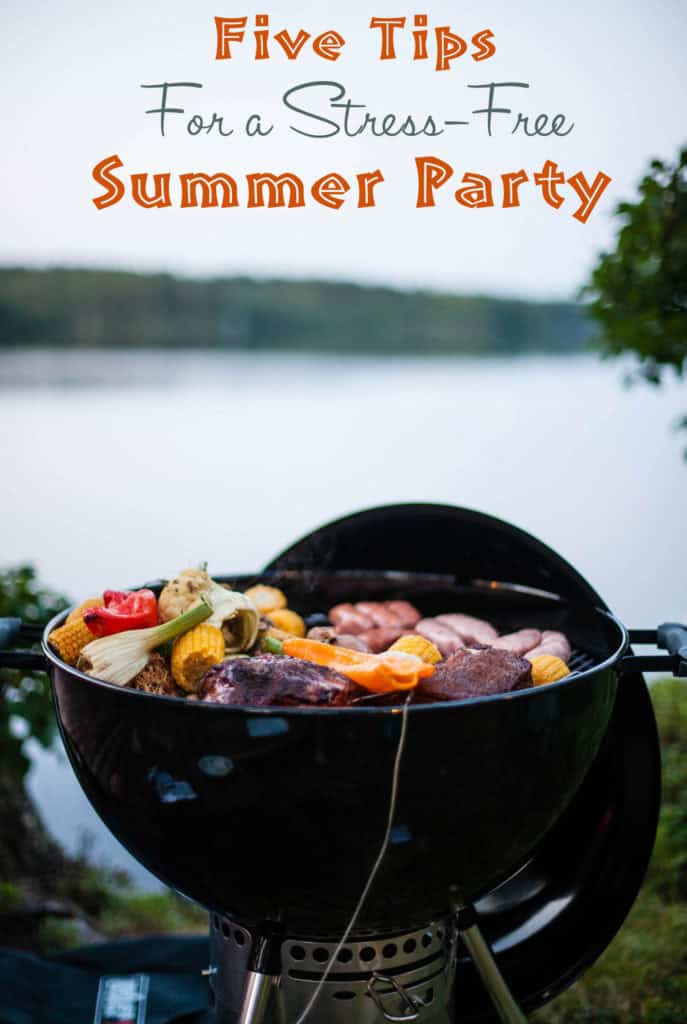 Disclaimer: This article was created in partnership with Frigidaire. Don't worry, the opinions are all mine!
One of my favorite things to do in the summer is grill out with friends. I love the fun atmosphere of being outside, the smell of the grill, kids running around burning energy, yard games, cold drinks, you get the point.
Summer parties are just plain fun. That is, if you're not hosting them, right?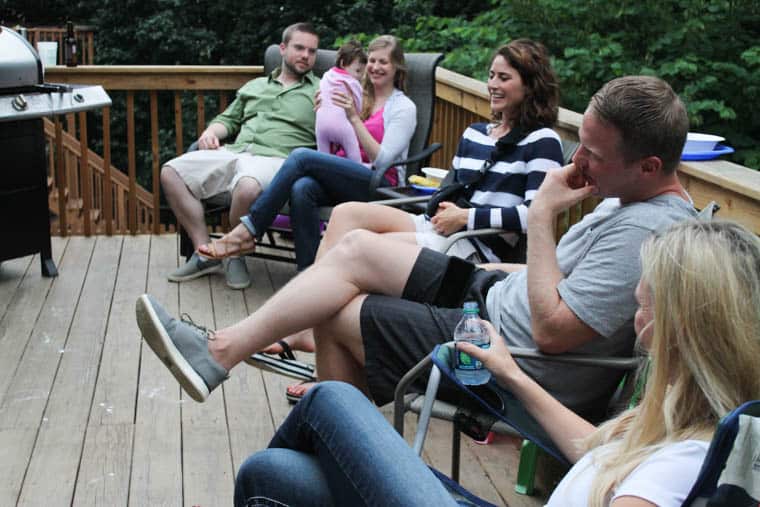 Even though I love having people over–especially in the summer, I know full well that hosting people can be a lot of time and work. While I would love to make all of my food from scratch, serve well-rounded meals on seasonal dishware while eating at my elaborately decorated table in my spotless home, the truth is… this just ain't happening. This mama is not about to be in the kitchen cooking all day or cleaning for hours when there is a pool calling my name.
So, how does one host people in the summer time and not work themselves up into a frazzled, sweaty mess?
Do not fear my hostess friends. I've got some solid, insider hosting tips to share with you. Just in time for the 4th of July too!
Here are 5 simple ideas on how to take a little stress out of your summer get-together.
1. Pick simple foods that everyone will like.
Rachel and I obviously love cooking. I for sure prefer my own recipes in lieu of store-bought ones. I love to cook and bake and feed crowds of people. However, with a husband that has only one working knee and a party co-host (Rachel) with only one working arm, compromises must be made. For whatever reasons, sometimes you just need to keep things simple. As a host, I can save loads of time by being strategic about what I buy at the store. Buying things that are pre-assembled or even pre-cooked saves me from a lot of cooking time, dishes and cleaning up the kitchen. Here are some practical ways you can keep the food simple at your summer parties:
Buy pre-assembled kabobs at the store and just throw them on the grill. While I am in love with our Honey Garlic Chicken Kabob recipe, I skipped all of the chopping, marinating and assembling and just bought the kabobs that are made at the store. All you have to do is put them on the grill. Brilliant!
Serve corn on the cob. I mean, who doesn't like corn on the cob?! It's great for all ages, takes very little preparation beforehand and can be thrown on the grill with your kabobs. You could also break them in half and boil them or use this microwave trick if you prefer. Either way is easy peasy.
Another great option is getting twice baked potatoes at the store. Again, I would prefer to make my own recipe at home but time is of the essence. Twice baked potatoes are very reasonably priced at the store (ours were 2/$3.00) and just require some cooking time in the oven. They are filling and family friendly.
Pick easy things to grill. Grilling something simple like kabobs, hamburgers or even bratwursts will save yourself some headaches by not having to prepare much! A great option is to use our Mini Italian Burger recipe.
Provide simple appetizers.  Some good options are fruit and veggie trays. At our party we had chips with guacamole and salsa. You can get both of these straight from the store or if you have time, make your own salsa or make your own guacamole. I still had some roasted corn salsa from when Rachel and I made it and canned it a few months ago.
Provide easy to grab drinks. Skip the pitchers and coolers and stock up on canned and bottled drinks. While this isn't the most earth-friendly approach, it will save you some hassle!
For dessert, set out an ice cream sundae bar. This is one of my best hosting tricks. Not only do people of all ages love it, the dessert is super easy! Simply buy toppings like: chocolate chips, sprinkles, cookies (crush them up), chocolate sauce, caramel, peanut butter chips, and of course, ice cream. When dinner is wrapping up, set out all of the toppings and let people have their way with them. Kids LOVE this by the way.
2. Get organized.
Ever played what feels like a jig-saw puzzle game with the food in your fridge? Yeah, me too. It's not fun. Just when you get everything somehow fitting into your fridge, someone shows up with a lovely side dish that needs to be refrigerated. Joy.
Moral of the Story: Having an organized fridge that can accommodate an influx of food and drink is key to a stress-free party.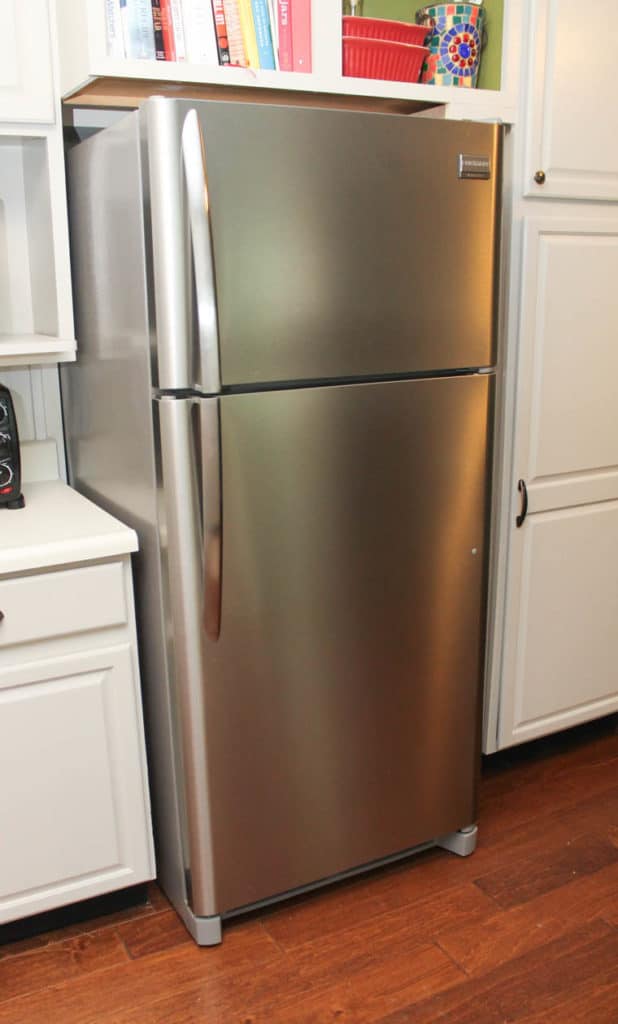 Reason is, being organized will save you time (and stress!).
One of the key ways I can stay organized for a gathering like this one is by customizing my fridge's storage to accommodate the food and drinks I have on hand.
"Hold up. How do you customize your fridge, crazy lady?"
You're right. It sounds a little "out there," but it's totally possible.
I'm excited to share with you a new storage feature that Frigidaire has come out with: Frigidaire Gallery Top Freezer Refrigerator with Custom-Flex Bins.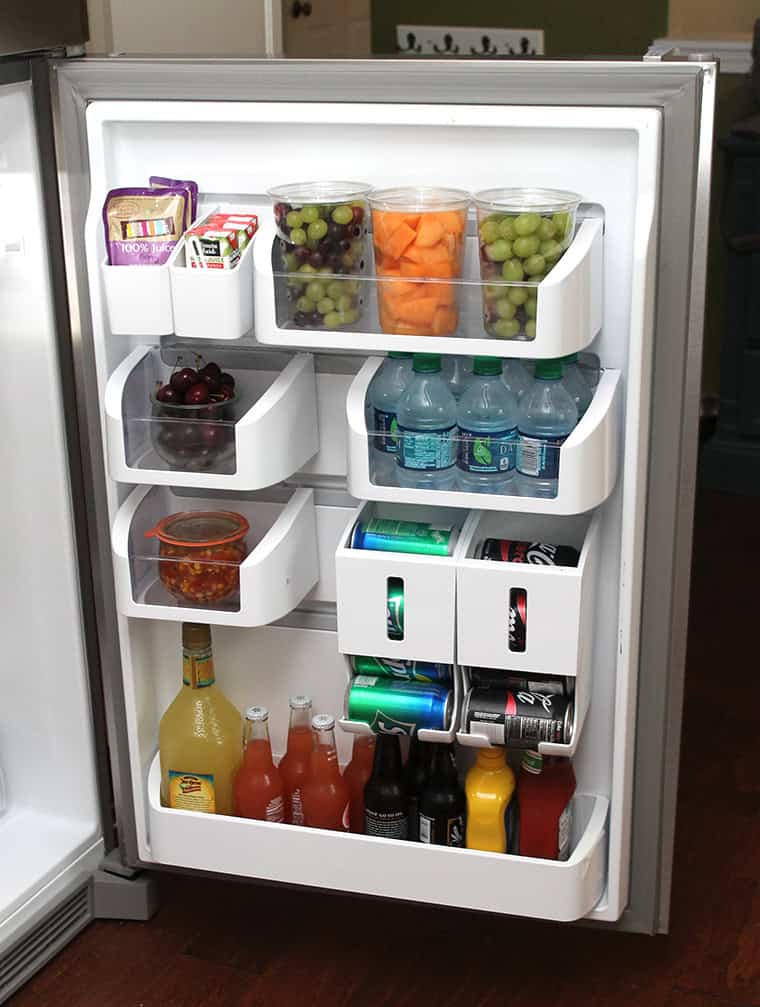 In short, with the Custom-Flex system, I can slide my storage bins around, add or remove bins as needed and adjust them to meet my current storage needs. It's pretty darn awesome.
Since Frigidaire decided to give both Rachel and me one to try out, we thought we'd both share how the Custom-Flex organization system accommodated the extra food and drinks we both had to get for our summer party.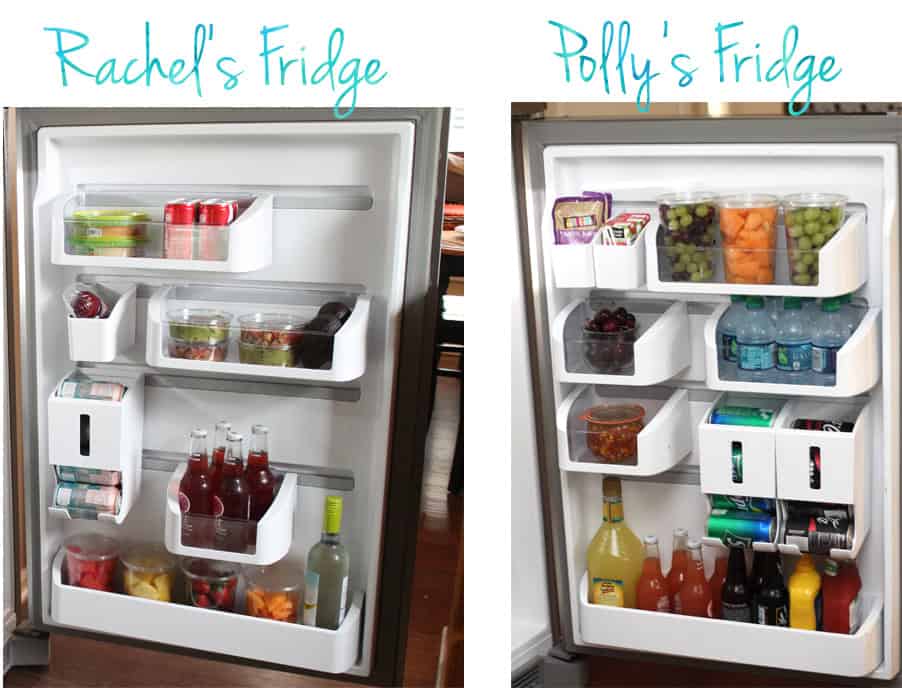 As you can see, we both used the Custom-Flex system in different ways. Since the party was hosted at my house, I needed to have lots of drinks that were easy to grab. I adjusted my bins as I needed and even added an extra soda dispenser.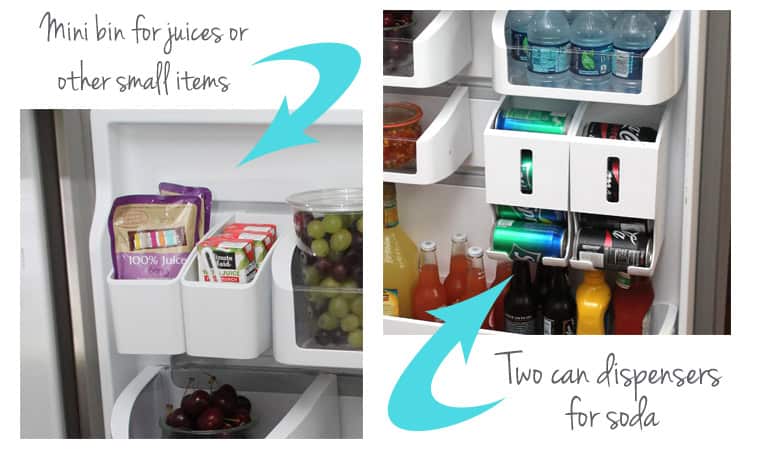 I was able to create a space for our tall drinks, store easy to grab appetizers and snacks and make on-the-go drinks available for kids to get on their own.
Not sure why fridges haven't been making this easy all along. Just sayin'.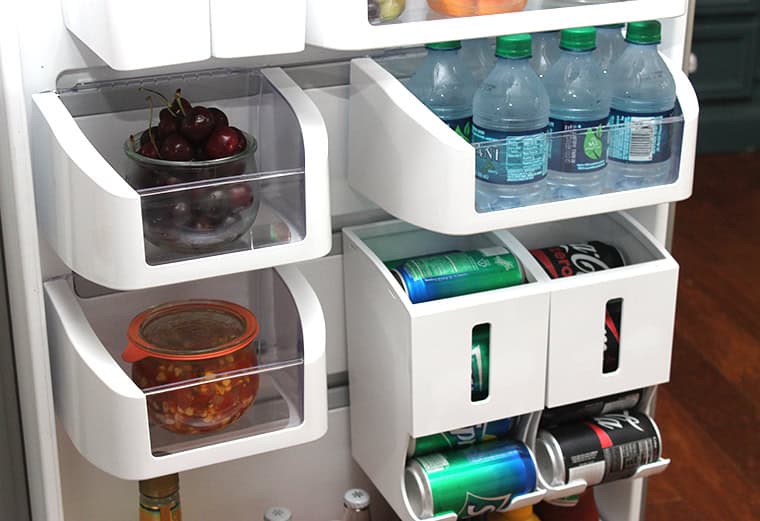 If you're itching to learn a bit more about this Refrigerator with Custom-Flex Bins, swing by the Frigidaire website to take a gander… if you dare!
3. Delegate.
Don't be afraid to ask for help when hosting. Seriously.
Whether it be preparing food, setting the table or even cleaning up, people are usually more than willing to contribute in one way or another. In fact, I personally think people feel more comfortable at a get-together when they're helping rather than just attending. It gives them a task and helps people relax a bit when they have something to do.
Having people help in one way or another also takes a lot of pressure off of the host. By delegating out, you as the host, lose a little control which actually helps lower any perfectionistic tendencies. Maybe that's thinking too deeply about the dynamics of hosting but I truly think this is an unspoken result of letting people help.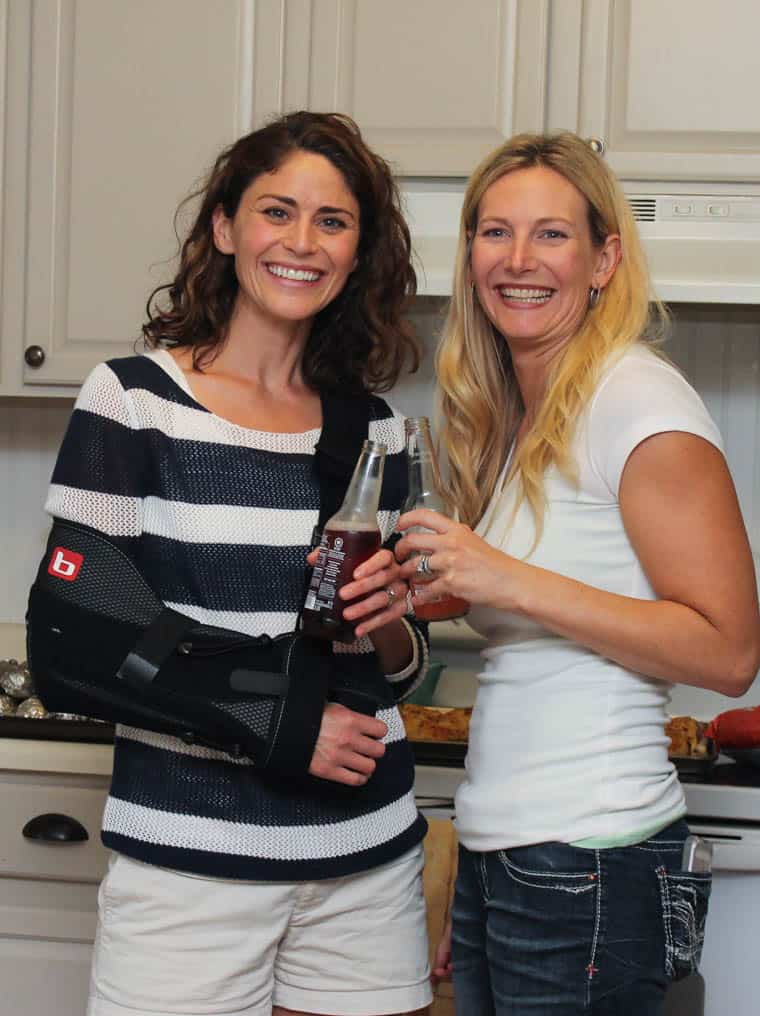 It's also pretty standard to ask attendees to bring a side or dessert. Don't be shy! Another way I delegated is by asking some other friends to bring any outdoor games that their kids might like. This takes the pressure off of me to organize and/or facilitate activities for kids. If our guests bring the games, they will be more likely to set them up and stir up interest in them.
4. Make clean-up simple.
One of the bummers of hosting is being stuck with cleaning up. After a busy day of preparing and hosting, your feet are tired, your mind is moving slower, and motivation to clean up is usually lacking. At least this is the pattern I usually fall into. I've hosted enough to know this about myself, so I make efforts to make the clean up process simple. Here are a few practical ideas on how to make the clean up quick and easy.
Use a thin plastic table cloth on surfaces that food will be on. Once the party is wrapped up, you can wad it up with any crumbs, food smears or even trash and just throw it away.
Use paper products. As much as I advocate green living, I still haven't changed my ways in this department. When we host, we use paper everything. Paper plates, bowls, utensils, cups, napkins, etc. This saves SO much time. I personally loathe doing mountains of dishes after hosting and have learned that disposables are worth it.
Speaking of disposable, a little trick that has proven to be helpful (especially when there are kids at the party) is to have on-the-go drinks easily available. You can provide a cooler or just put them in the fridge. Having a bunch of open cups with lots of kids around is just asking for a spill. Do yourself a favor and buy the pre-bottled drinks. Don't forget to have your kids write their name on their drink!
Ask for help! Don't be a hero and volunteer to do the cleanup all by yourself. Ask for help or take people up on their offer to help. Most people are more than willing to chip in a bit before they leave. Let them! Many hands make a light load. You'll be amazed how quickly things will tidy up if other people are helping you. Don't feel bad, k? Glad we had this chat.
Oh, one last really practical tip: make trash cans easily available. I'm serious. Things are way more likely to make it to the trash cans if they are visible versus an discretely hidden trash can. Put a trash can out where people can see it and watch the magic happen.
5. Make your home inviting but not perfect.
Many people hesitate to host because their home isn't ____ enough. We can all think of someone else's home that is much bigger, better, cleaner, better decorated, more organized, etc. However, I am here to personally tell you to shush. Well, at least most of you. Some people do have legit reasons or are in difficult seasons of life, but for the most part, people miss out on the blessing and beauty of hosting because of worry and comparison.
Here's the deal. Your home doesn't have to be perfect. Not even close to it. It's a place that you live and a place where all of your stuff resides and it's ok to invite people into that. Most people don't care if your ceiling fan has a layer of dust on it. If they do, well, I won't go there.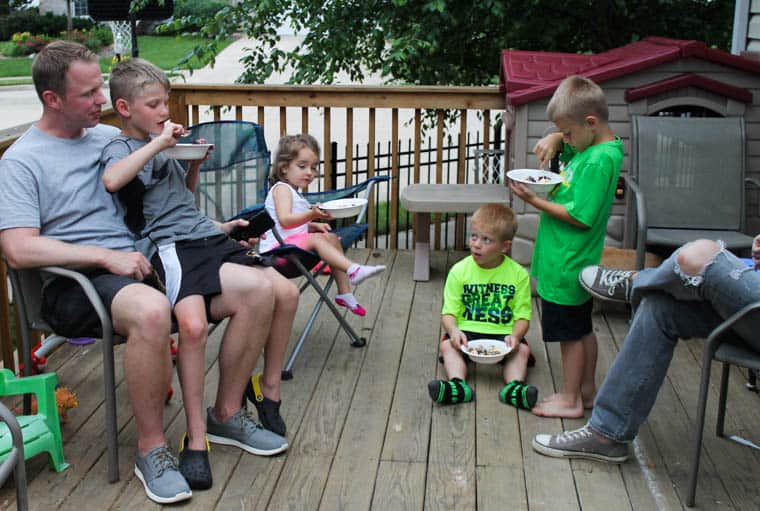 You want your home to be tidy and clean enough that someone is going to feel comfortable and relaxed. But to think that everything has to be perfect is defeating and exhausting–especially if you have kids! So yes, tidy up. Tuck some clutter away in a closet. Wipe the goopy hand prints off the front door and clean up the dog poo from your yard. But don't get stressed about the things that don't really matter. What matters is people, quality time and good conversation. Focus on THAT, not the one corner of your kitchen you forgot to bleach.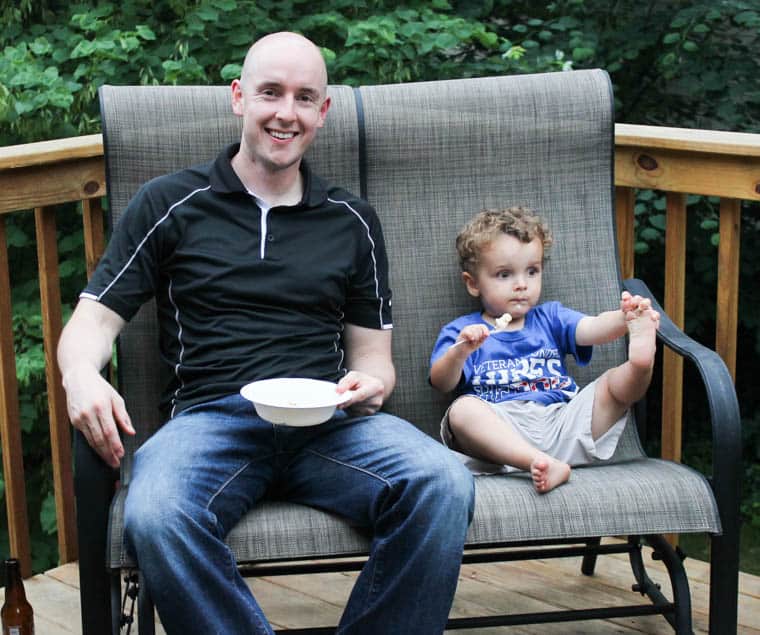 Hopefully these party tips will help you in the future. They are simple but if one of them is skipped over, a simple summer party can become quite a burden for the host.
Happy hosting!
https://thrivinghomeblog.com/wp-content/uploads/2015/06/Tips-for-a-Simple-Summer-Party-5.jpg
507
760
Polly Conner
https://thrivinghomeblog.com/wp-content/uploads/2019/10/thrivinglogo.png
Polly Conner
2015-06-29 06:00:00
2018-01-27 14:37:54
5 Tips for a Stress-Free Summer Party