A Birthday Party for Jesus on Christmas Night
Updated: 11/13/20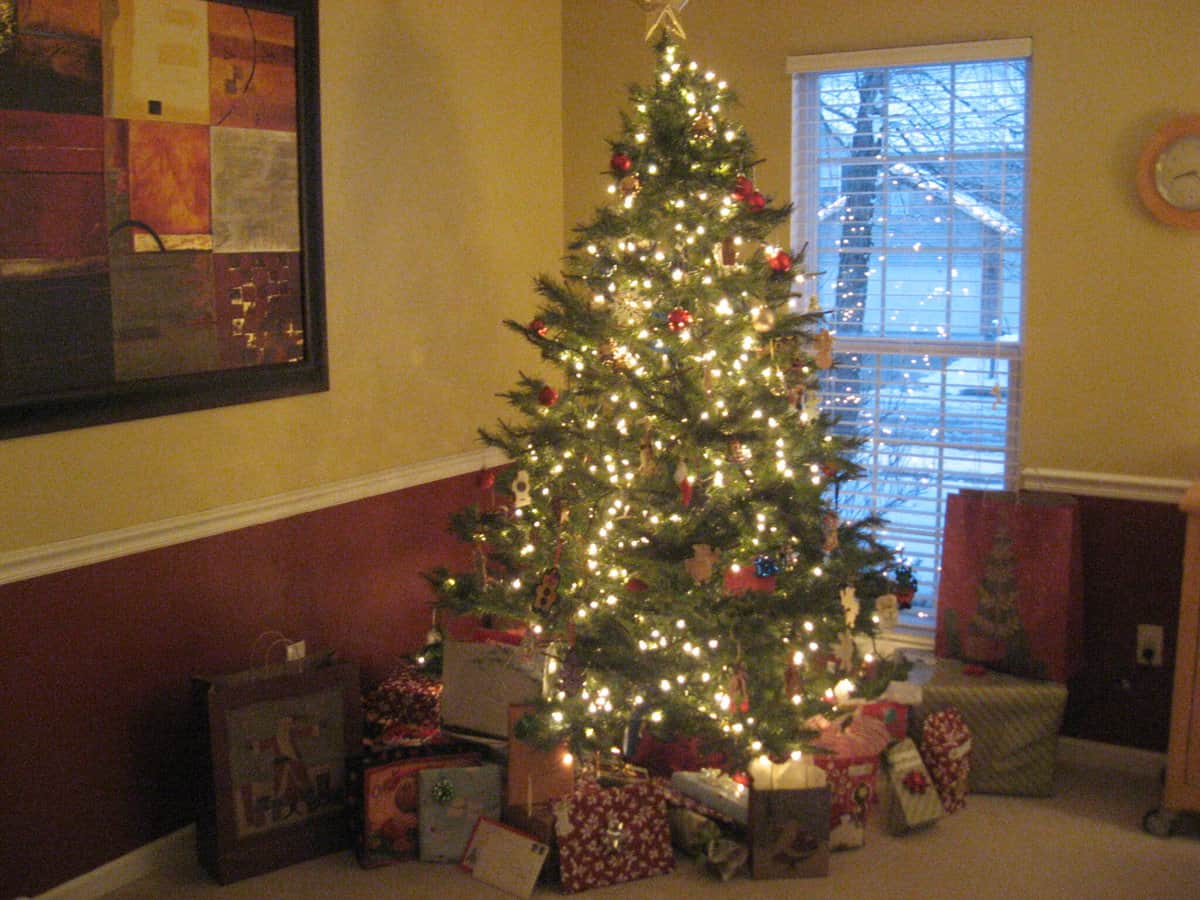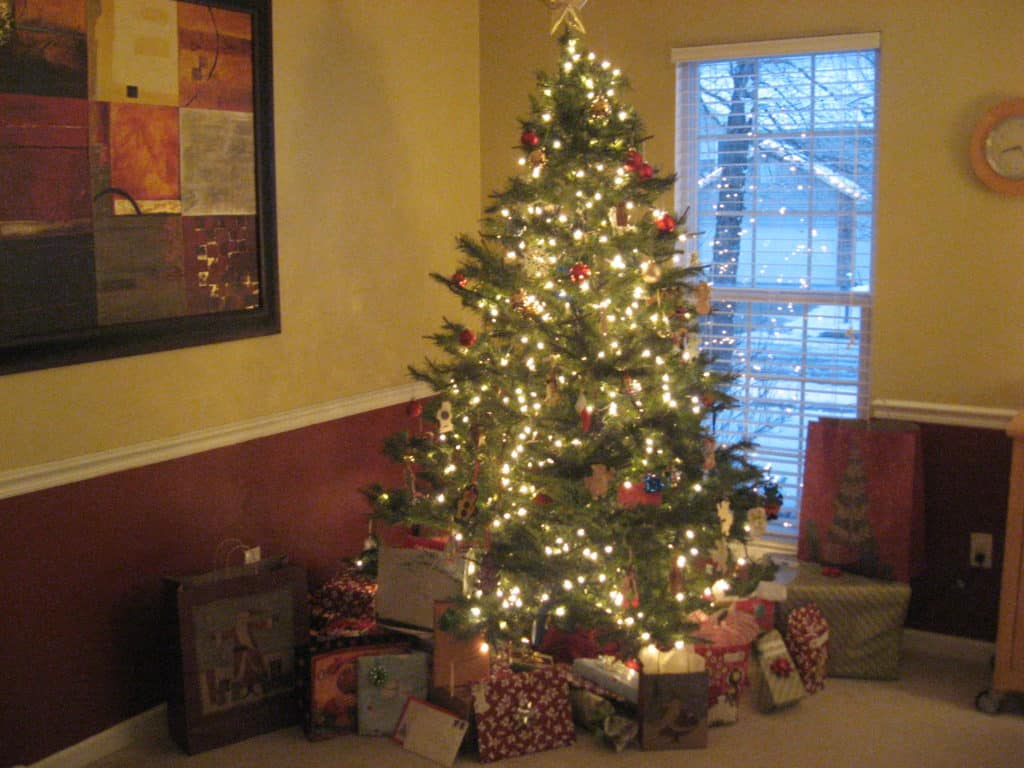 When the gift opening frenzy is over, all toys have been played with, and everyone has sufficiently stuffed themselves on Christmas dinner..there's still one more Christmas tradition my children can't wait for each year: our birthday party for Jesus on Christmas night. I love that our celebration ends with setting our hearts on the true meaning of Christmas each year.
On Christmas Eve, I have my kids help me make THE BEST CHOCOLATE CAKE EVER by Ina Garten. If you read our blog, you know I'm a huge believer in feeding my family healthy foods. But, on Christmas, we CELEBRATE and indulge with great joy in this rich, decadent chocolatey cake every single year. It's a little embarrassing how many sub-par pictures I've taken of this cake over the years.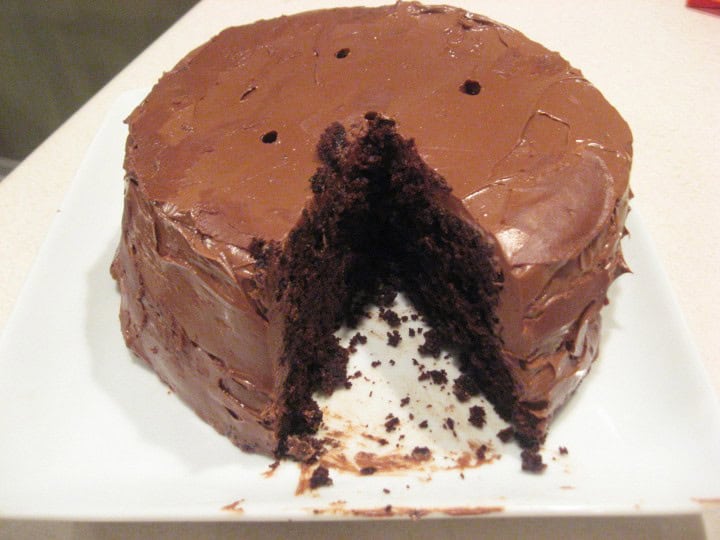 It takes about 2 hours to make from start to finish, so be sure to carve out some time if you give it a go. You may also want to use all decaf coffee in the recipe, since you'd probably prefer that your kids (who have been up since 5 a.m.) will go to bed at a decent hour.
Sometimes it's a little lop-sided, but no one cares…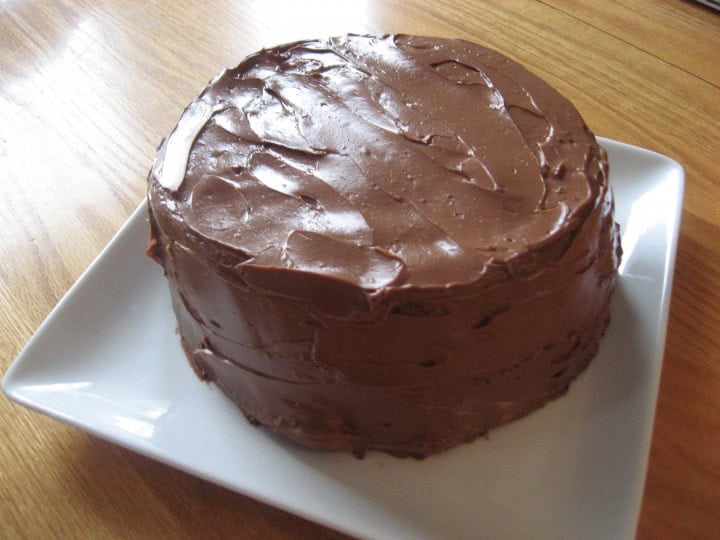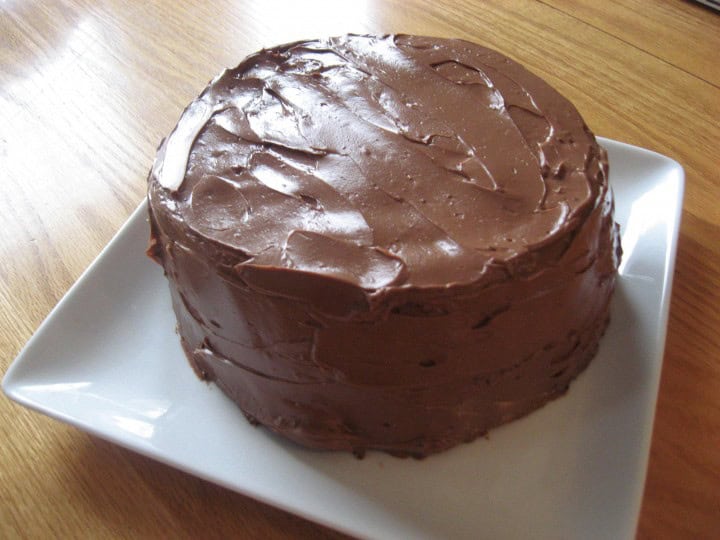 As my 2-year-old daughter (at the time this older pic was taken) demonstrated, my kids line up and eye the cake for a good 24 hours before it's time to partake. Oh the anticipation.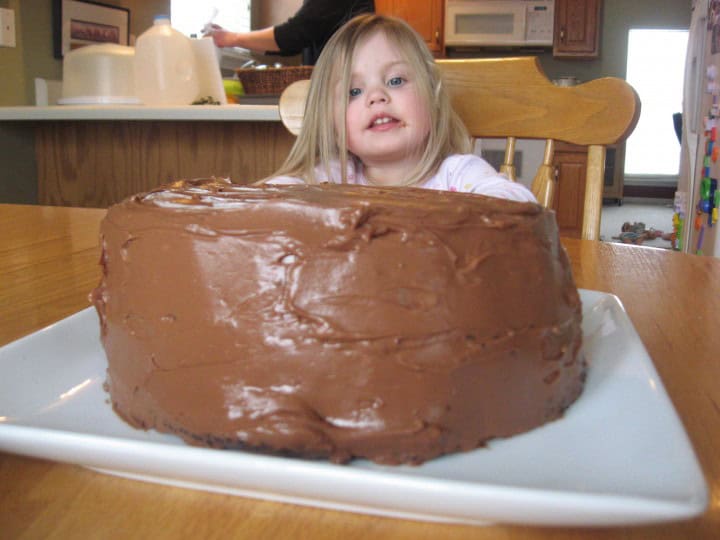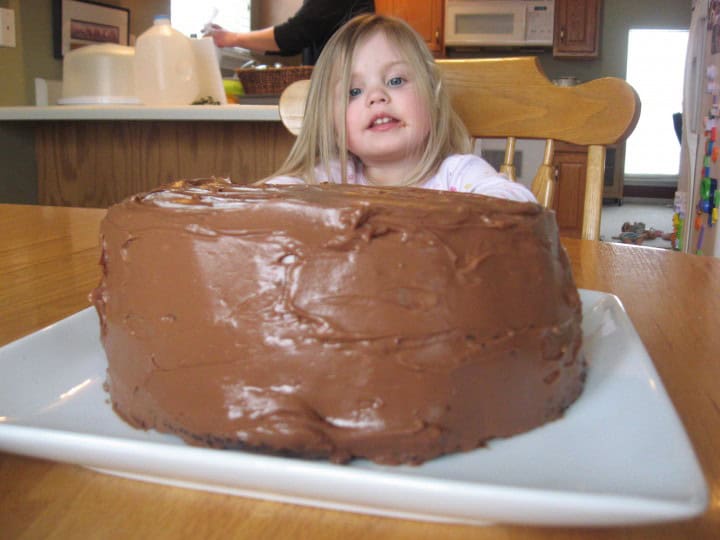 Then I have the littles help me decorate the cake for Jesus on Christmas Day. As you can see, all you need are some sprinkles, a little icing, and a few candles. My son told me one year that we needed over 2,000 candles, but we opted for just a few representative ones since we decided that Jesus is eternal. 😉
By Christmas night, they can wait no longer. So, right after dinner, we sing "Happy Birthday" to Jesus and eat cake in his name. I hope we do this until the day I die! It's such a precious time together.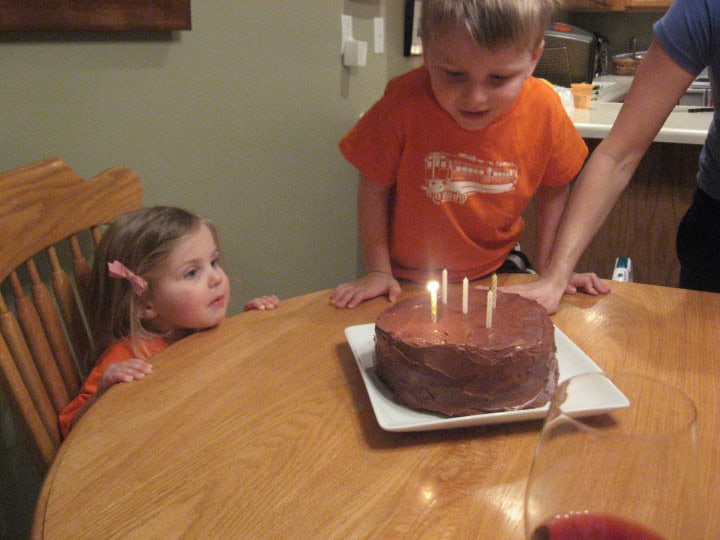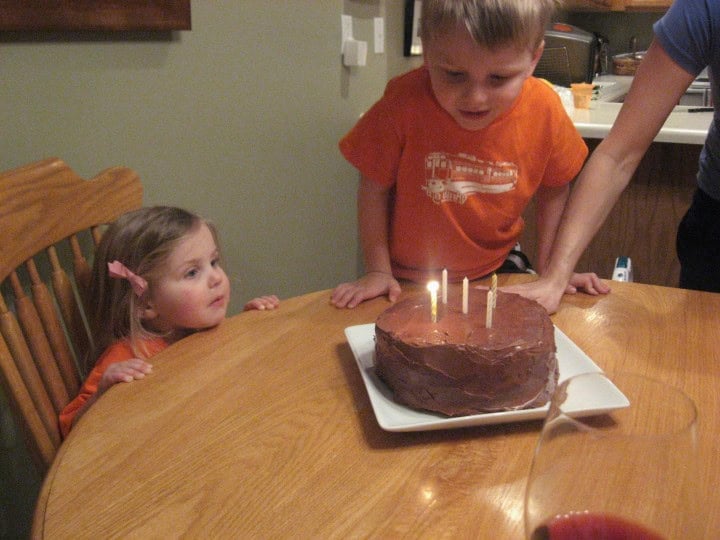 Each year, while we eat cake, we read the Christmas story from the Bible or last few years we have read a spectacular book called Song of the Stars by Sally Lloyd-Jones.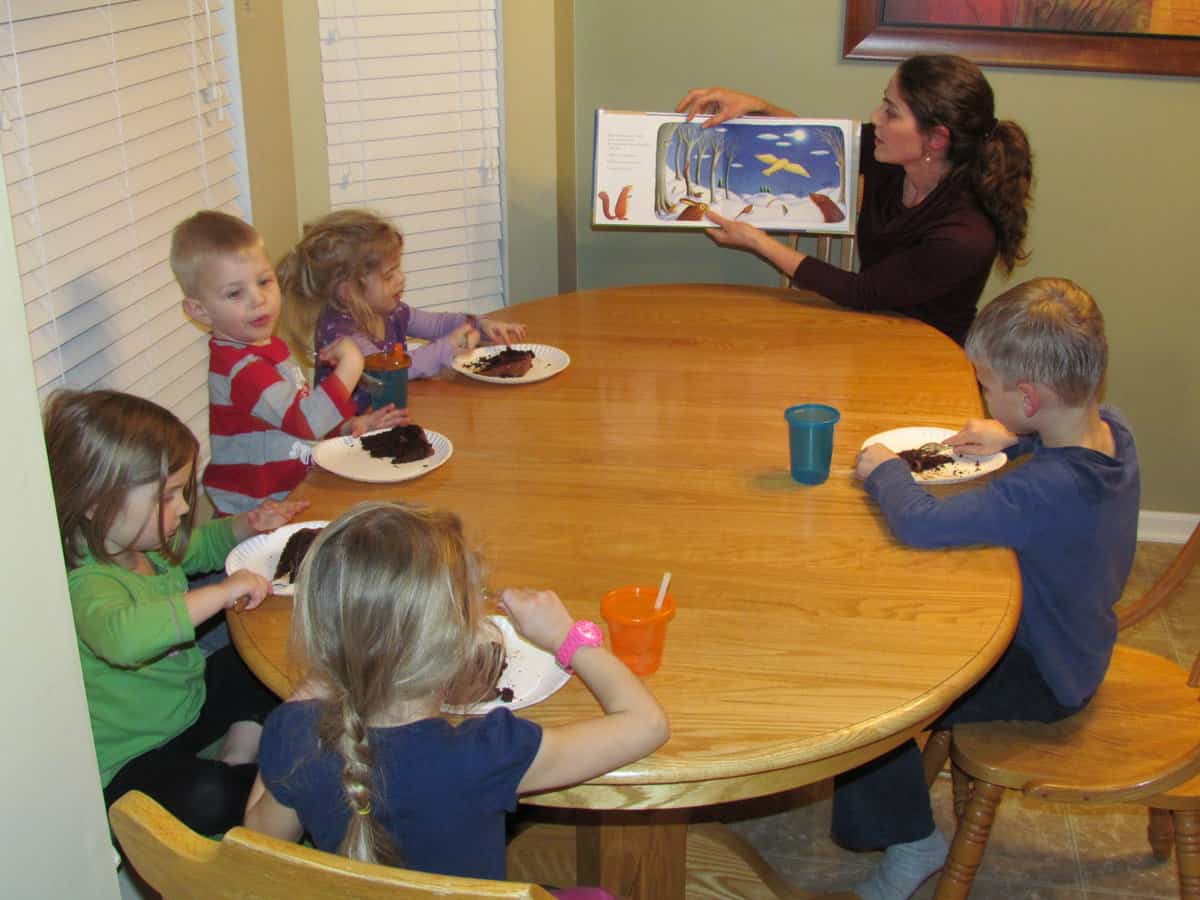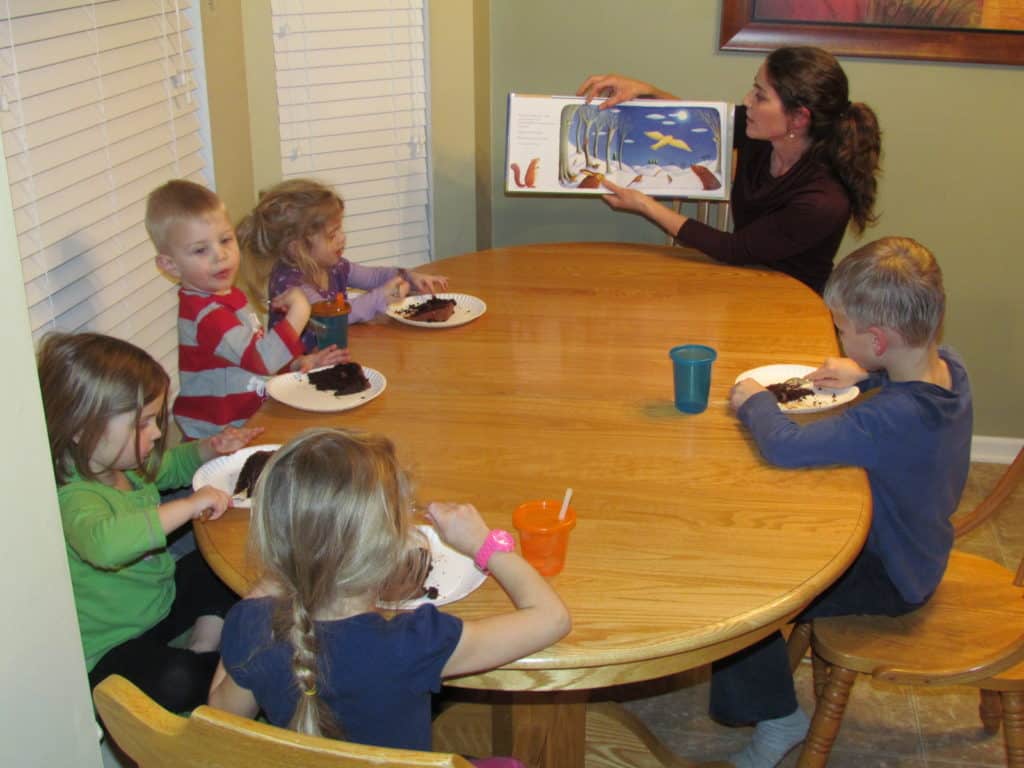 Please, please buy this for your family if you have younger kids. I plan to keep this one for my grandchildren.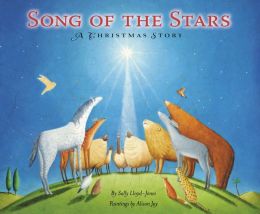 This beautifully illustrated read-aloud "refreshes the Nativity story by placing it in the context of the animal kingdom, and not just the familiar sheep and cows at the stable. White whales sing, salmon leap, every single blade of grass around the world "squeak and hum" the news of the coming of "the One who made us," says the publisher's description. Here's a preview of this book…
Merry Christmas to you and your family. I will pray that you will all know him more this Christmas season and rejoice in the gift God sent us on Christmas Day!
P.S. It's not too late to do some fun Advent activities with your children before or on Christmas. Purchase and download our Advent Devotional now for story, discussion, and hands-on activity ideas for the Christmas season. I go back to it every year for inspiration.