A Few Truths to Remember During Trials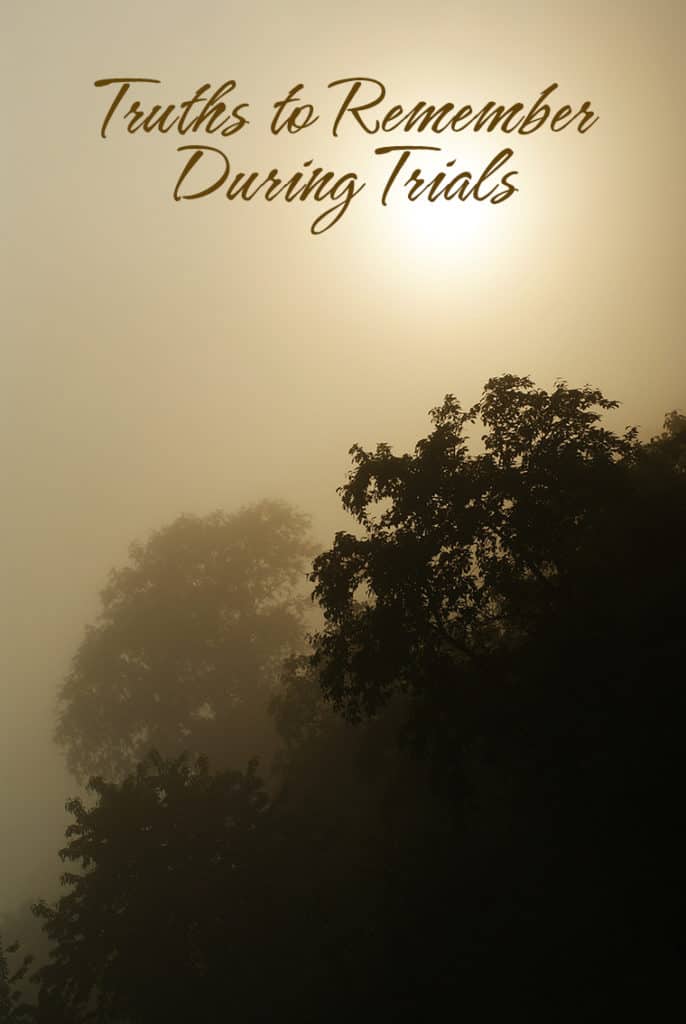 Dear readers, life is just HARD sometimes.
I don't know why I'm surprised by trials when they come but I always am. I become all melodramatic when my comfort and easy life is interrupted as if it's an abnormality. When in fact it's actually an abnormality to live in the comfort bubble I've become accustomed to.
A string of events have happened in the past few weeks that have my hair all in a frizz.
Unfortunate Event One
A few weeks ago, I got a very unfortunate call from my husband.
It went something like: Basketball game–his knee–screaming in pain–swelling–call the doctor.
After spending a morning in various doctor's offices, we now know he has a torn ACL and torn meniscus. Surgery is scheduled, but not for another month or so. Until then, this mama is on overtime taking care of a husband in MAJOR pain who needs my assistance with every move he makes. Oh wait, there is a 2 year old and 4 year old in the mix who kind of need me to keep them functioning and alive.
Here is my three year old expressing her sympathy.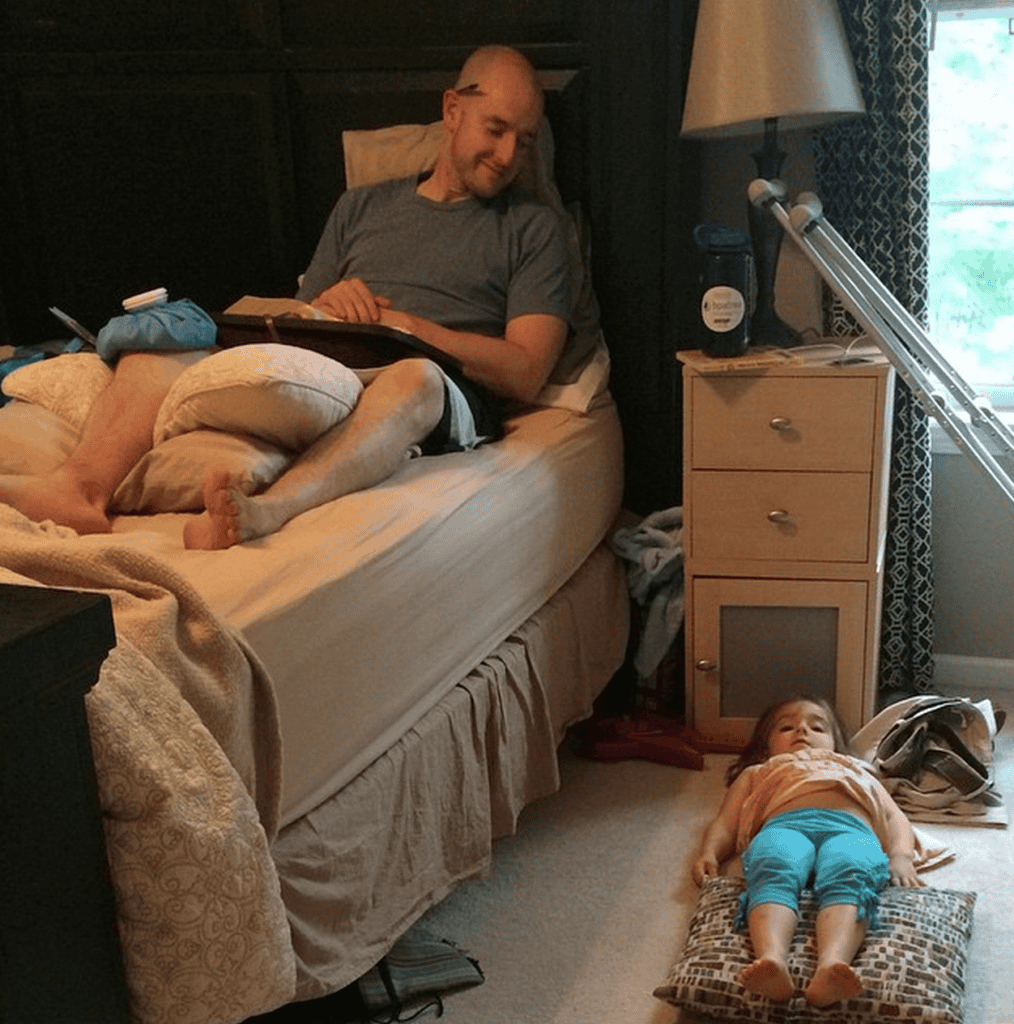 Unfortunate Event Two
So, I might have pushed it a little too hard. In a matter of one week I helped build a tree house, finished the entire landscaping project that my husband and I had started before kneepocolapse (I can't handle unfinished projects staring me in the face), moved furniture around to make room for some new flooring, been the project manager for 1,500 t-shirts for our church's Kids Club, repurposed a changing table and on top of all that taken care of my one-legged husband and two kids. Yeah. I know.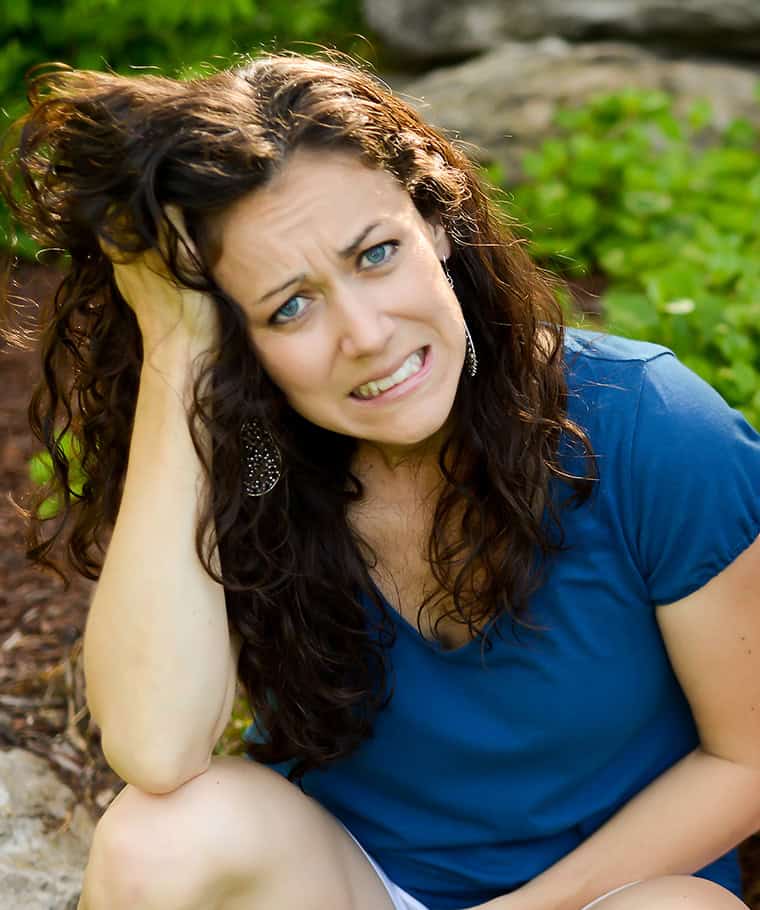 Well, since common sense didn't seem to get through to me to tell me to slow down, my back did. Literally.
You guys. If you've ever thrown your back out, you know what I'm talking about. If you haven't, I advise you to avoid it at all costs. I simply bent over to pick up a basket of laundry and all of the sudden my back went into stage three, active labor. Except the major contraction DID NOT STOP. I almost blacked out from the pain,  somehow crumbled to the floor and had a literal, "I've fallen and I can't get up," commercial playing out in my daughters bedroom.
I was out of commission for days.
That night as I tried to find a comfortable position in bed (impossible by the way) and my husband laid there with his knee propped up wrapped in ice, we just laughed. Kind of a crazy laugh, but what else can you do?
P.S. You know your family has problems when your 3 year old delays obedience because, "I hurt my knee," or "I hurt my back," is her primary excuse.
Unfortunate Events Three, Four & Five
My dryer goes out, my son gets sick and my blogging partner dislocates her shoulder. (You'll hear more about that in the future.)
Anyway. I am humbled.
Oh, life.
So, what is God up to here? Heaven only knows but I became well aware that I need to be reminded of some perspective of how to handle trials and hardship. I'm writing this post for a few reasons. 1) I need remind myself of truth and get some solid foundation under my feet. We have a long road ahead with my husband's surgery coming up and life is not going to be a cake walk for a while. 2) I have no doubt many of you fine people are going through junk. Probably stuff harder than mine. Despite the level of suffering we may be experiencing, my guess is we should be clinging to similar truths through trials. So in an effort to help myself and anyone else who is floundering around a bit, here we go.
Truths to Remember During Trials
Trials are not a surprise to God
I find it comforting to remember that the knee, the back and all the other junk isn't a surprise to God. Not at all. My heavenly father has numbered the days of my life and is not standing back watching my days unwind, unsure of what events will unfold. He knows. In fact, these events are somehow threaded into his larger story of redemption. Knowing that he is the author AND he is good makes him the place I want to run to. He is the only solid ground right now.
Trials shouldn't be a surprise to us either
One of the effects of living in a developed country is entitlement. We feel as though we are entitled to a comfortable, pain free life and are thrown up in arms when things don't go as we would like. We are led to believe that trials and suffering are abnormal when in fact, the Bible guarantees a healthy dose of suffering in our lives. We shouldn't be surprised or mad when it happens. We should live with a healthy perspective that life just doesn't go as planned.
Keep perspective
It's easy for me to get wrapped up in the drama of my little life and think this is a big deal. It's easy to throw a pity party about how hard this season is going to be on all of us. However, there are much harder things that life throws people. MUCH harder. If I let my mind wonder outside of my little home and think about the people of Nepal after the devastating earthquakes, the frightened refugees in the middle east, the ravaged villages in Africa or even the people close to home struggling with chronic pain, cancer, or loss, I can gain some perspective. I don't suggest always trying to minimize your pain by comparison, but for people like me, who get a little wound up about discomfort, this is good for me to remember. Take a step back and ask if this really is as big of a deal as it feels.
We are blessed
While life does throw some curveballs, we are pretty darn lucky to live where we live. Praise Jesus for health care. For pain medication. For knee braces. For qualified doctors. For helpful family. For flexible jobs. For friends who have helped us. For insurance. For the encouraging texts and phone calls. I could go through each one of these and elaborate how lucky we are to have every single one but I'll save you the gushing. Finding things to be thankful for in the midst of trials is a game changer though.
His mercies are new every morning
This has been my mantra. At this point I am forcing myself to take one day at a time and remind myself that God will give the me the grace and mercy I need for THAT day. I don't have to worry about if I have the strength for tomorrow, or for the coming week. I just need to trust that God will give me what I need for the day at hand. This keeps us dependent on him. One of the beauties of trials in our lives is it brings us to our knees, reminds us of our lack of control and lifts our eyes to the author of our lives.
God uses trials to remind us that this is not our home
When things are going well, it's pretty easy to love this world. I know this is my tendency at least.  I can get pretty cozy and comfortable in my life when things are going nicely. Unless life gets interrupted, I remain on cruise control and blinded to my love for the world and its comforts. However, when things get icky, it is then that I start to want more than what this world has to offer. Suffering, pain, loss, sickness, hardship are all ways that God reminds us that this is not our true home. It keeps us from worshiping shadows of his actually glory and loosens our grip on temporary things. Hardship really challenges us to evaluate what life is about.
Dear reader, I don't take your trials lightly. I have dear friends suffering greatly right now and I almost didn't share this post because I feel as though I don't have a right to complain about my achy back or injured husband. However, like I said before, we all need God's help in trials. My friend struggling with cancer needs grace from God as much as my friend with morning sickness. Grace needed is grace needed, and truth is always needed no matter the depth of suffering.
I hope these little nuggets of truth give you the strength you need for today or for the future when (not if) you go through trials.
Much love for you all.
https://thrivinghomeblog.com/wp-content/uploads/2015/06/Truths-to-Remember-During-Trials.jpg
1135
760
Polly Conner
https://thrivinghomeblog.com/wp-content/uploads/2019/10/thrivinglogo.png
Polly Conner
2015-06-15 05:01:08
2020-01-05 20:55:47
A Few Truths to Remember During Trials