A "Taking It Easy" Christmas Menu: Cook Ahead and Freeze
I love to cook. I also love to play with and hang out my family. But, it's hard to do both at the same time, as you probably know…especially when younger kids are involved. That's why this year for Christmas Eve and Christmas Day, I'm planning ahead and doing a lower-key menu that will still be mostly real foods and delicious.
The Plan
We're hosting my husband's parents and some other family both nights, so I don't want to be stuck in the kitchen on those days.  Instead, over the next two weeks I'm going to prepare two soups and one casserole and then freeze these simple, yet comforting meals for those nights. One or two days before we eat them, I'll put them in the fridge to thaw.
I've also selected easy side dishes and breakfast items, taking a little help from the health food store. And, I'm going to make our Jesus' Birthday Cake the day before Christmas Eve and keep it in the fridge. Like I said, I'm all about working ahead so I can enjoy time with my family!
Christmas Eve Night Menu

Dinner Plan: Before the Christmas Eve service, I'll throw my soups in crock pots on low. We'll head to the Christmas Eve service and then come home to crock pots full of soup. I'll serve them in bread bowls from Panera Bread (no dishes!), and pull my pre-prepared veggie and dip tray out of the fridge as an appetizer/side dish. Powerball Cookies and assorted other cookies from a neighborhood cookie swap will round out the menu.
Here are the tried-and-true soups I'm making…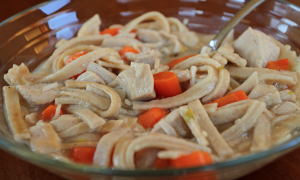 Christmas Day Menu

Breakfast: Oven Omelet, cinnamon rolls in the tube (get one with no trans fats or preservatives from health food store), fruit salad
Lunch: leftover soup and veggies
Dinner: Beefy Baked Ravioli*, Wheat Bread, Autumn Chopped Salad
Dessert: Jesus' Birthday Cake (along with our annual birthday party for Jesus)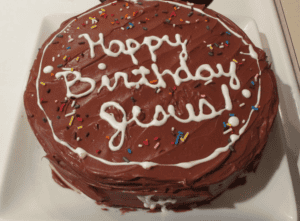 *Christmas Freezer Meal Directions
The dishes with the asterisk (*) above are the dishes I am making and freezing in advance. For the two soups, you can fully cook them in advance. That means all you'll need to do later is thaw and warm them up. For the casserole, you'll prepare the casserole and freeze it uncooked. Make sure to thaw it completely before baking.
So, what's on your Christmas menu this year??
Photo credit at top: http://www.freedigitalphotos.net/
https://thrivinghomeblog.com/wp-content/uploads/2019/10/thrivinglogo.png
0
0
Rachel Tiemeyer
https://thrivinghomeblog.com/wp-content/uploads/2019/10/thrivinglogo.png
Rachel Tiemeyer
2012-12-11 05:13:51
2015-08-12 10:00:48
A "Taking It Easy" Christmas Menu: Cook Ahead and Freeze