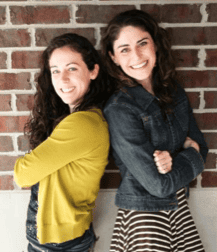 Thanks so much for taking the time stop by our blog. We're friends and stay-at-home moms in the process of raising young kids and striving to create thriving homes–ones that are full of laughter, love, creativity, and health.
Do we have this concept of a "thriving home" all figured out?  Absolutely not.  We are in this messy process just as much as anyone.  But, we love to share what we're gleaning along the way, as well as hearing and learning from our readers.  You can check out more about Polly here and Rachel here. Join us on our journey and sign up for our weekly email updates or follow us on Facebook.
What do you blog about?
Here are just some of the things you'll frequently find posted on our blog:
healthy, kid-friendly recipes
DIY, craft, and sewing ideas and tutorials
parenting resources
natural health resources
book recommendations
ideas for saving money
growing in our faith in Christ
Why do you blog about those things?

We blog about those things because Thriving Home is all about…
…taking baby steps to live well, eat well, create well, and parent well.
A thriving home isn't perfect, but it is a growing home.  Part of our responsibility is to take intentional baby steps to grow in important areas such as: spiritual health, parenting, physical health, managing our homes, and spending wisely. We hope to encourage you to take small steps toward a flourishing home right along with us.
 …doing what we love for the people we love.
Every one of us has been given unique gifts and talents. We can identify, grow in, and use them well for those we love.  As we do this, we'll be a blessing to our family and others around us.
…starting with God as the foundation of our homes.

God has given us our home, our family, our talents…all we have.  He offers the ultimate rest, safety, and satisfaction that we seek for all of eternity. With his help, we hope to create homes that reflect his attributes to our families and others.
Want to come along?
We invite you to join us on our journey of striving to create thriving homes. Sign up here to receive weekly email updates or follow us on Facebook.
You can also connect with us at Google Plus +Thriving Home
Photo Credits:
A big shout out to Bethany Jones from Bethany Michaela Photography for taking the photos of Rachel and Polly on the sidebar and standing pages!