Alphabet Soup: Preschool Learning Game
This post may contain affiliate or sponsored links. Please read our disclosure policy.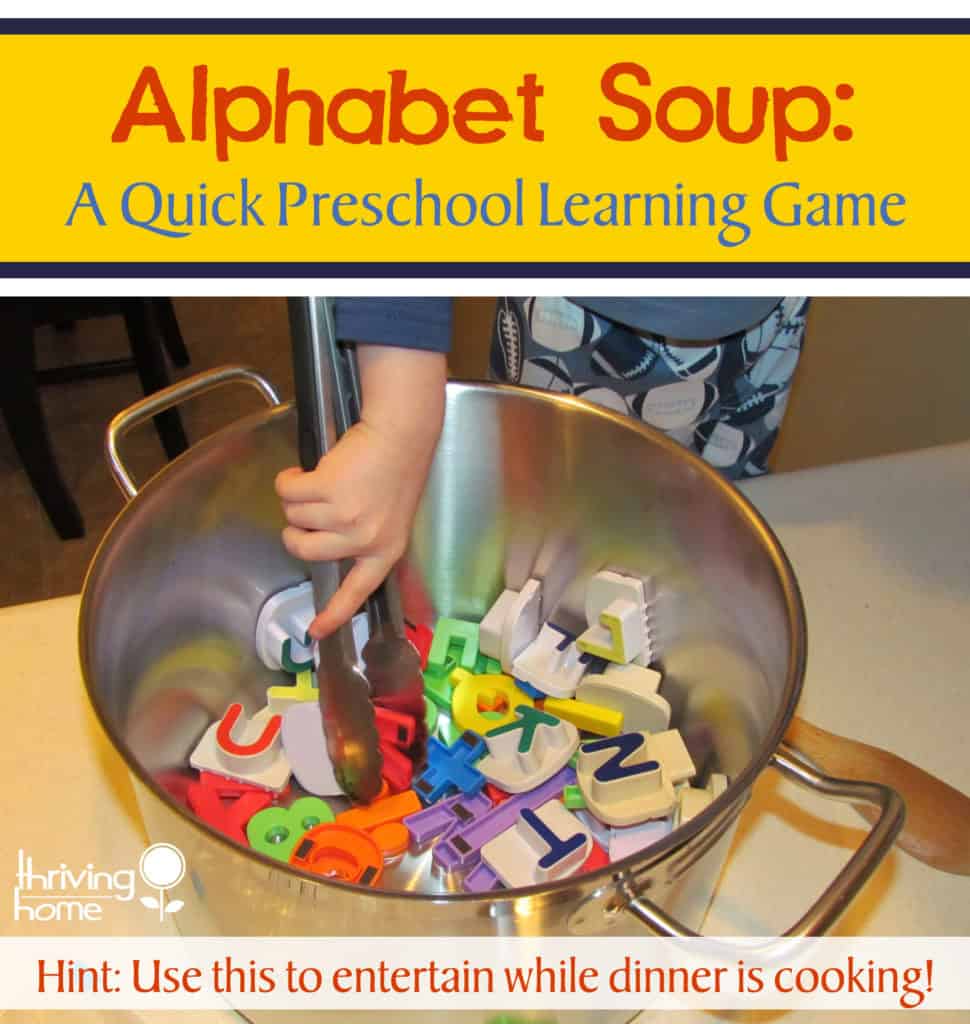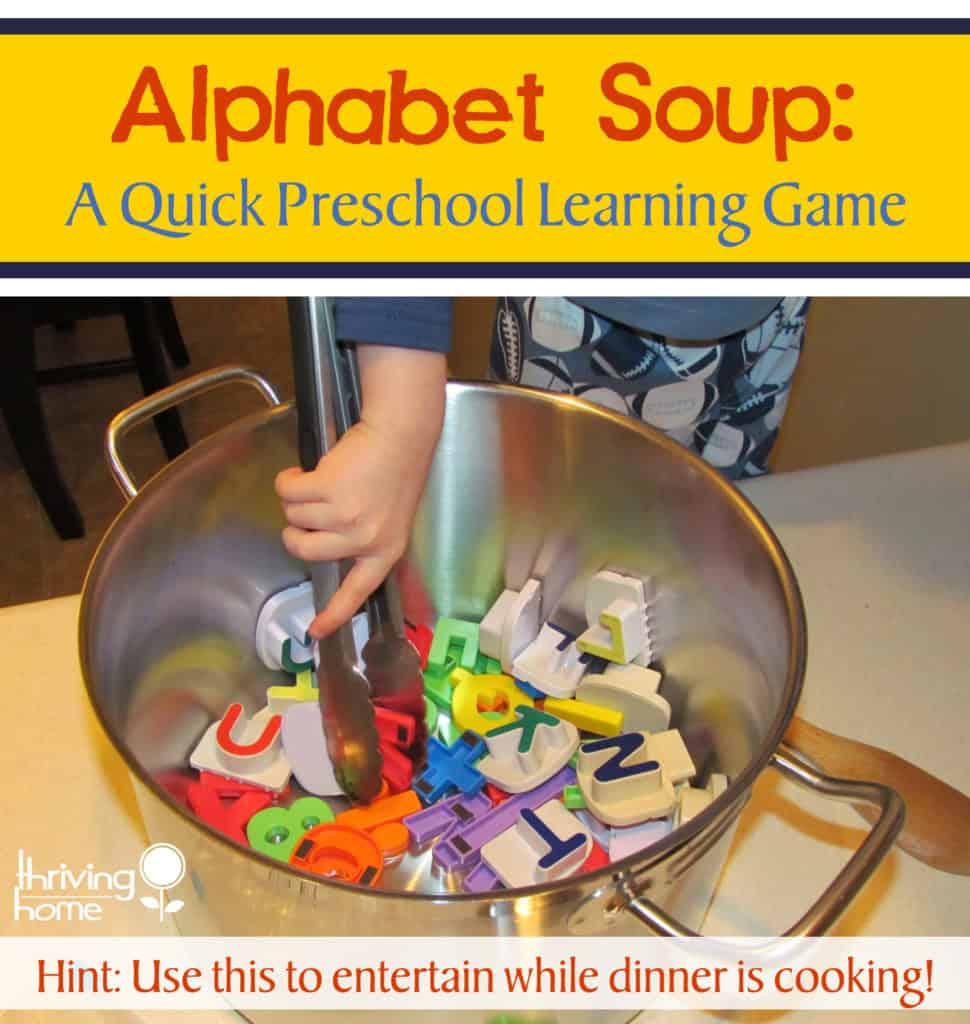 Dinner is going–pots boiling, oven cranked and chopping knife in hand. And the only thing the kids want is to be near mommy. I mean right on top of me. Know that feeling?
Years ago, we coined the term "counter activities" in our house. These are small learning activities that I drag from the toy closet for the kids do at the kitchen counter from 5:30-6:00 p.m. This is the time period while I'm finishing up dinner when everyone is strung out and dad isn't home quite yet. AKA: The witching hour.
For counter activities, I've got a basket of different little manipulatives, craft items, and learning activities that only come out during that time, so they are fresh and new. Most of these activities are simple but they give the kids and me something to dialogue about while I'm cooking. And, they keep little hands busy and hungry stomachs distracted. Examples would be different ziplock bags with these items: small lego sets, string and various beads, magnetic letters (that we put on a metal cookie sheet), stencils and paper, Melissa and Doug sewing toy, flash cards, etc.
This week the kids and I came up with a new counter activity using the magnetic letters that we coined "Alphabet Soup." This game teaches letter recognition, letter sounds, and allows kids to work on fine motor skills. My 3-year-old and 5-year-olds loved it!
We dumped all our letters into a big stock pot. Then, I said, "Time to stir up the Alphabet Soup." They took turns stirring with my wooden spoon. (What kid doesn't love using adult kitchen utensils?)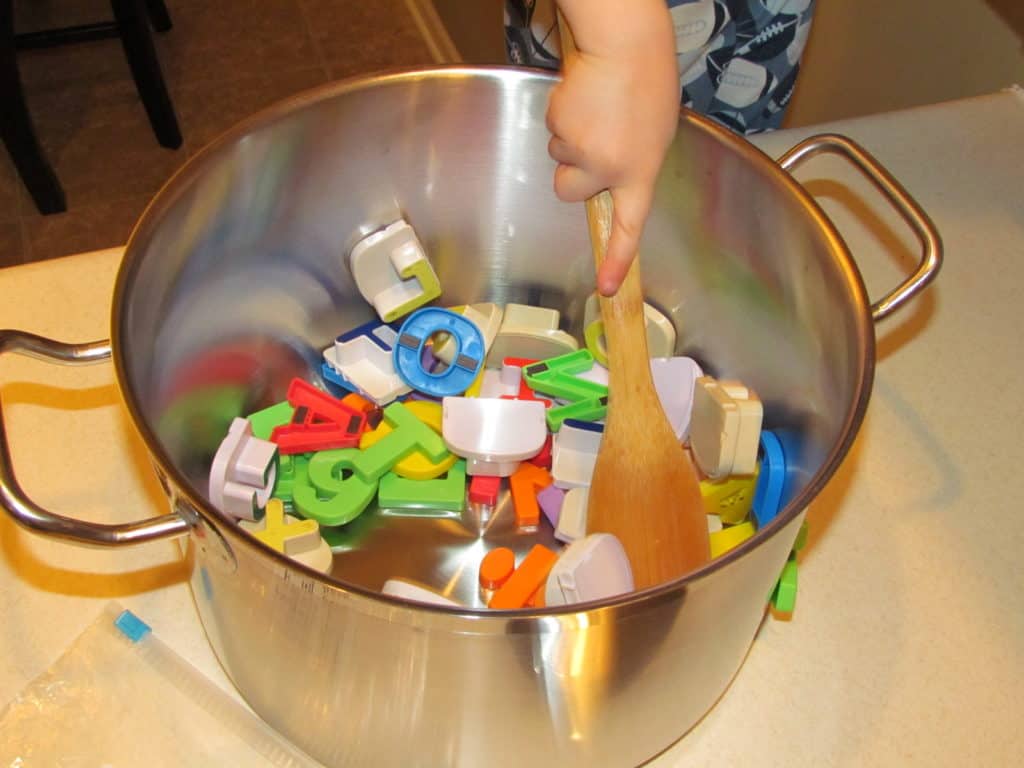 Next, I would give them a letter to find. "Alright, Ben, can you find the letter O?" He had to use the tongs (their favorite kitchen utensil of all time) to find and extract the letter O.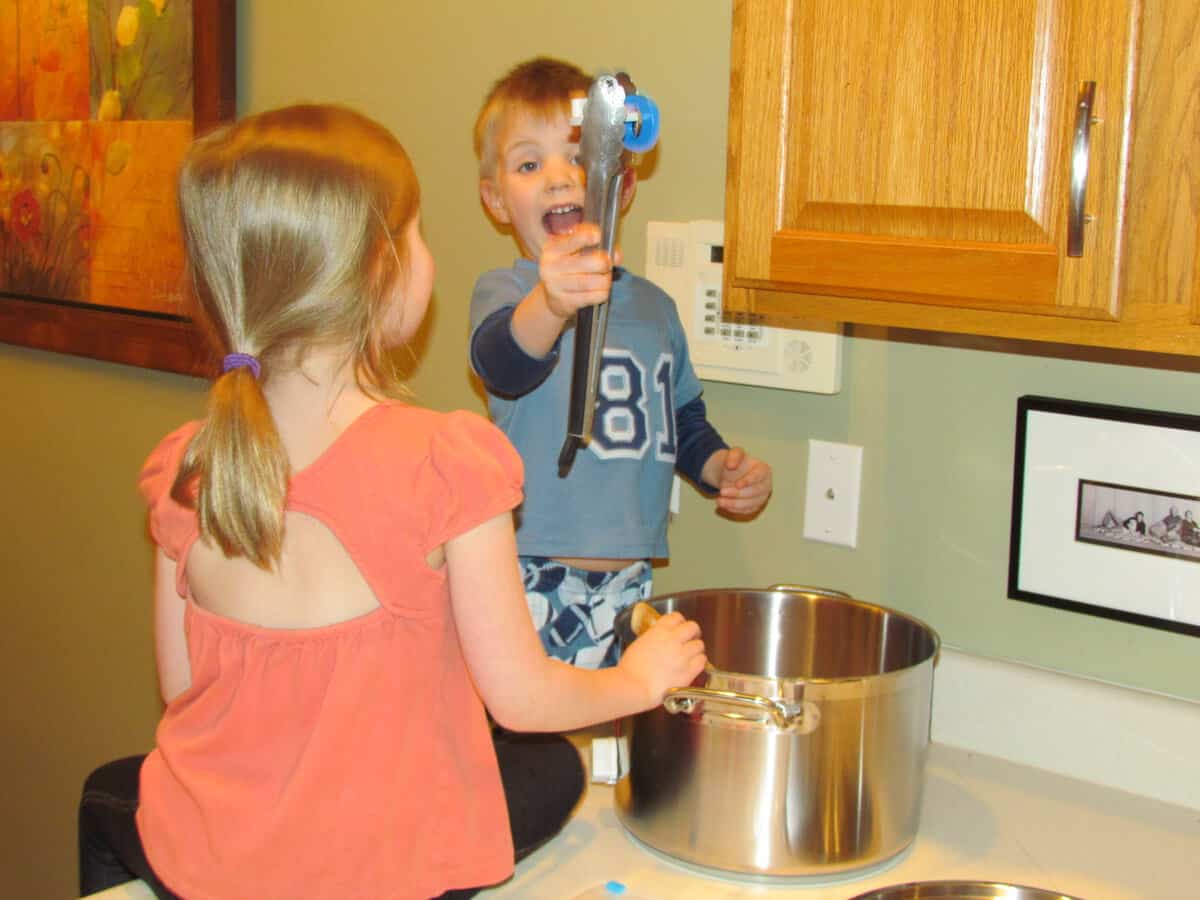 This was very exciting to successfully withdraw an "O"! Then, we discussed the letter sound. "Do you know what sound the letter O can make?" Of course the 5-year-old took over and began teaching the 3-year-old.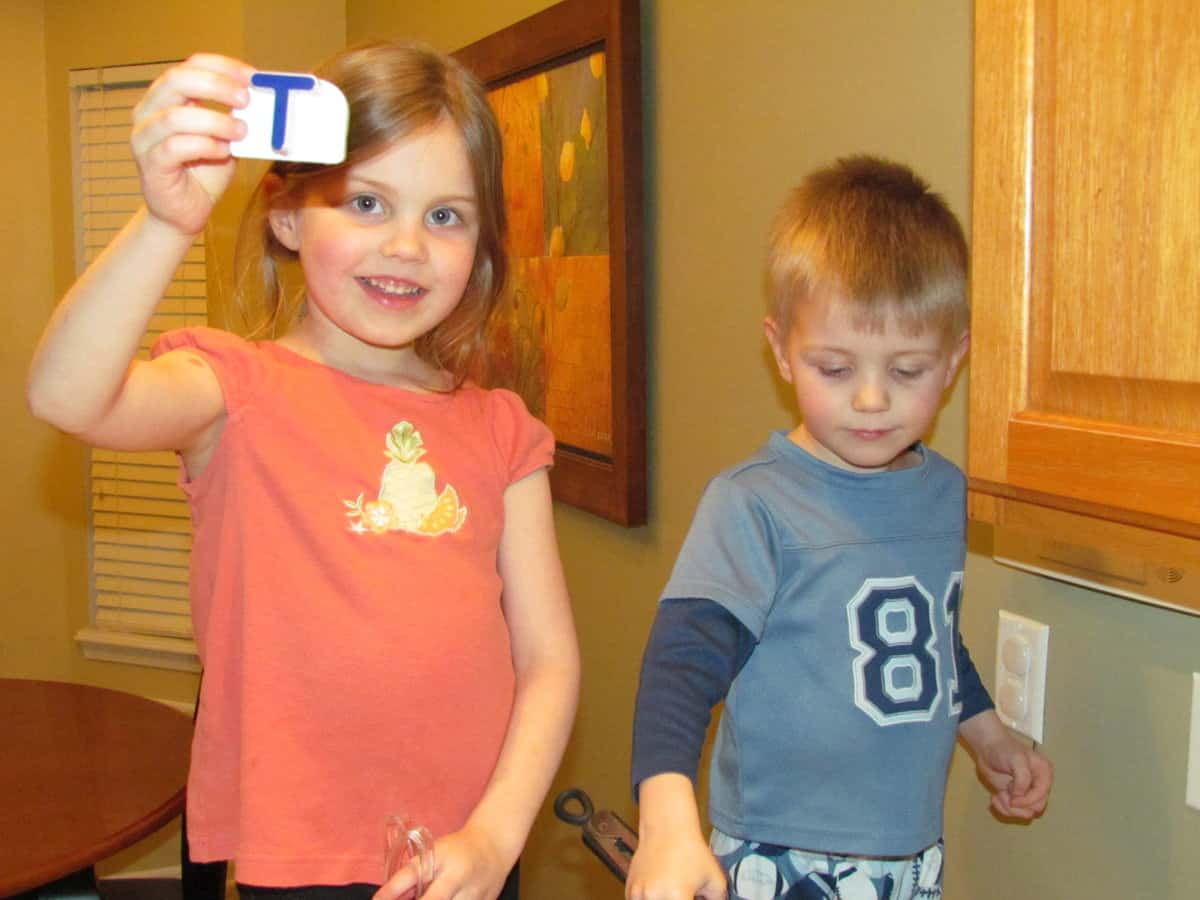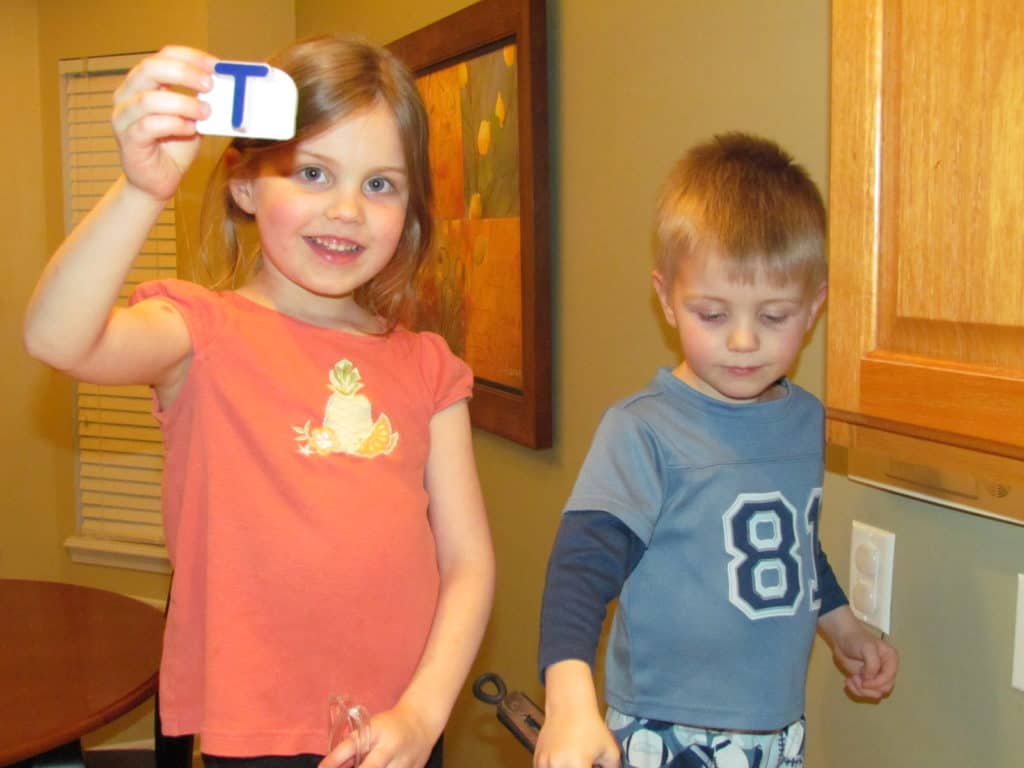 Lastly, as a challenge for the older of my two, I asked her to try to find a word in the kitchen or house that started with the selected letter.
Here's a variation of this game: Have a child pull out any letter of their choosing and then tell you what letter it is. You can also ask them to tell you the sound that letter makes or you make the sound for them.
I hope this gives you a solid 10 minutes of fun during the witching hour!