And the Cookbook Cover Winner Is…
Two weeks ago, we did something crazy.
We let YOU vote and decide which cookbook cover we would end up using. Well, the people have spoken and we have a major announcement.
I present to you, the winning cover for our upcoming cookbook….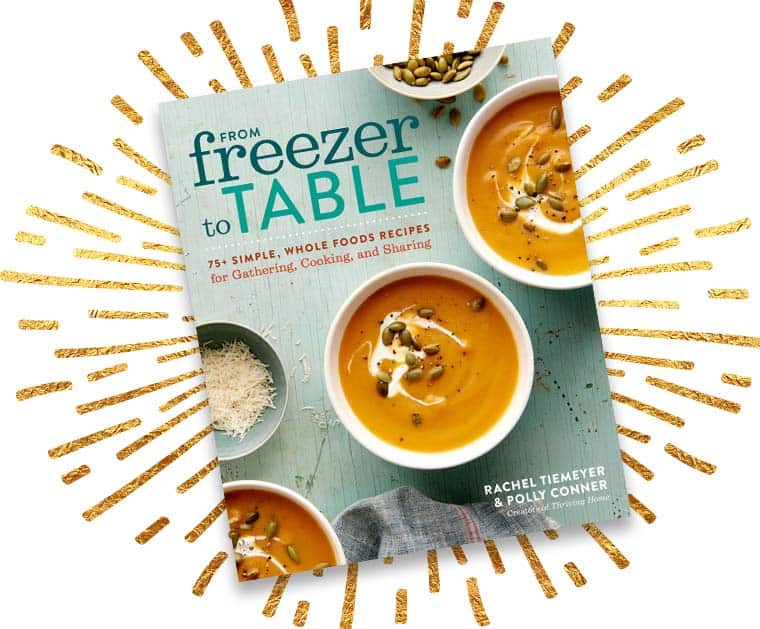 Thank you SO much to those who voted. It was incredibly helpful to get your feedback and opinions. We read each one of your comments and really took your suggestions to heart. Here are a few takeaways we learned from you all:
You want simple, approachable meals. This cover was appealing because it features a great recipe that isn't too intimidating. We really want to emphasize that freezer cooking is doable for anyone and we think this recipe communicates that.
Some liked the Shrimp Coconut Curry cover because it was a surprising freezer meal. We are right there with you! We will be sure to feature a few surprising meals on the back cover just so people don't think our cookbook is full of soups and casseroles.
You were drawn to the color contrast of this cover. We agree! We think this one is going to catch more eyes in the bookstores. It's so pretty!
Some of the feedback we received suggested putting both recipes on the cover. One dear reader even went to the trouble of whipping up a draft in photoshop to show us what it would look like. While we would have loved to feature as many of our recipes as possible, having two meals that don't quite go together on the same table didn't quite make sense to us. We love that you were thinking outside of the box for us though!
All in all, this was so fun for us. We loved hearing from you and hope this continues to build some excitement for when our book is released THIS SEPTEMBER.
Get ready people. It's about to get crazy around here!
Much love for you guys.
Publishing a Cookbook Series
In September 2017, we released our first cookbook: From Freezer to Table: 75+ Simple, Whole Foods Recipes for Gathering, Cooking, and Sharing. We have done our best to document what the process has been like to write a cookbook. Don't miss any of the posts in this series. Below is the order they go in…
Part 1: Landing the Cookbook Deal
1. What Our Cookbook is All About
2. The First Steps to Publishing a Cookbook
Part 2: Writing the Cookbook
Part 3: Launching the Cookbook
9. Our Pre-Order Push – Pre-order sales are a big deal in the publishing world. Here's how we began that campaign.
10. Launch Week Giveaways – To encourage people to share about our book, we gave away big prizes all week long on the blog.
12. Our TV Debut
Bonus: 13 Things You Didn't Know About Our Cookbook
https://thrivinghomeblog.com/wp-content/uploads/2017/02/cookbook-cover.jpg
629
760
Rachel Tiemeyer
https://thrivinghomeblog.com/wp-content/uploads/2019/10/thrivinglogo.png
Rachel Tiemeyer
2017-02-20 10:00:00
2020-01-03 15:34:24
And the Cookbook Cover Winner Is…