One of the things I've been learning on our family's journey to a healthier home is that not all cosmetics and personal care products on the market are safe.  Everything from baby shampoo to sunscreen to the mascara you wear may contain chemicals that are toxic for the human body. Did you know the U.S. government doesn't even review the safety of products before they're sold?
Not sure you're buying what I'm proposing?  I encourage you to take a few minutes to watch this 2 1/2 minute video or read this article from The New York Times. This is very important health news for your family.
Please don't feel overwhelmed by this information.  Instead, think in terms of taking a small first step. Like many of you, I didn't know ANY of this until just a few years ago.  Our family has made slow and steady changes to the products we use as a result.  We still have quite a way to go, I might add. Here are two easy first steps you can take:
1 – Utilize EWG's Website
A great first step in ridding your bathroom drawers and cabinets of unsafe products is visit the Environmental Working Group's website called EWG's Skin Deep.  The site describes their database as an:
…online safety guide for cosmetics and personal care products, launched in 2004 to help people find safer products, with fewer ingredients that are hazardous or that haven't been thoroughly tested….The database provides easy-to-navigate safety ratings for tens of thousands of personal care products.
Many of the products you already use will be listed in their database.  EWG has given it a safety rating based on the evidence they can find.  This site also will point you to some of the safest products in almost all personal care categories. I plan to share some of my favorite safe personal care products in a subsequent post soon.
2 – Make Your Own Household Products
For many products you use, making your own is simple, safe, and much cheaper! We now regularly make our own foaming hand soap, all-purpose disinfectant spray, and Drano, among many others. I wrote a post highlighting my favorite 10 DIY All-Natural Household Products that you may find helpful. These are so easy! I hope you'll give at least one of them a try.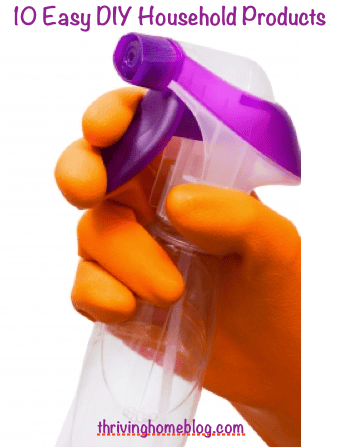 Photo Credit for Top Photo: http://www.freedigitalphotos.net/