Baby Gear: What Do You Actually Need?
Note: We are a participant in the Amazon Services LLC Associates Program, an affiliate advertising program designed to provide a means for us to earn fees by linking to Amazon.com and affiliated sites. Read our full disclosure policy here.
I recently found out a friend of mine is 7 weeks pregnant with her first baby. As we excitedly talked (and squealed) about all that is store for her she asked me if we have a resource on Thriving Home that helps new moms figure out what they actually need to register for.
Nope. Not until now anyway!
Before I jump in I want to say I'm a little hesitant to write this post for a few reasons:
1) Every mom has a different experience and therefore different opinions. I fully expect other moms to disagree with some of the items I declare as necessary or unnecessary. Please comment (kindly) at the end of this post if you have anything to add.
2) I don't want to sound materialistic and say you NEED all of these things. Mamas in third world countries have healthy infants without 90% of this stuff. I use "need" with a grain of salt.
3) My opinions will likely change. When Baby 2.0 arrives in three months I plan to add and remove things from this list as I see necessary. In fact, here is a post on things I plan to do differently with my second child.
Lastly, just because something worked for me doesn't mean it is the best for your home or baby. I write this simply to serve as a resource for new mamas who feel lost in the seas of registries and baby products. Hope it helps!
Must Haves
Infant Car Seat: I have loved the Graco Snugride 32. It's easy to carry and easy to snap into the car seat base. The 32 represents how many pounds the carseat can safely hold. Money Saving Tip: There is no need to spend money on the bigger ones. Can you imagine yourself lugging around a 30lb+ child in an infant seat? By the time they are that much you will have moved them to a convertible car seat.
Pack 'n Play: If you plan to travel anywhere or have the baby sleep anywhere other than their crib, you'll want a pack 'n play. We still use ours all of the time for our toddler. Money Saving Tip: No need to get the upgraded Pack 'n Play with all the bells and whistles. We did just fine with the basic one.
Changing Table/Changing Pad: Your little one will be spending a lot of time on this so make sure it's functional. To save space and money, I repurposed a dresser into a changing table. I like having the drawers of clothes right there and I also like that we can use the furniture in the future. You'll also need a contoured changing pad to go on top of the table to keep your little one from rolling off.
Diapers: Thinking about cloth diapering? Check out my post, Cloth Diapering 101 for more information. Either way, you'll need a stash of newborn diapers- but not too many! They grow out of those really fast and my pediatrician said to move to size one when you can because the extra space helps prevent diaper rash.
Breast Pump & Storage Bags: If you plan to breastfeed you'll need some sort of pump. I had two. One was a Medela double pump. I was so glad I went with the double instead of single pump. Because of my daughters acid reflux and other breast feeding issues I ran into, I had to pump A LOT. The double pump cut my pumping time in half. I also had a Medela Manual Pump. I probably could have lived without this but it was nice to have during those times I didn't want to take the big 'ol breast pump bag with me. The manual pump could easily be thrown into a diaper bag or purse. You'll also need a some storage bags. I used the Lansinoh brand and liked them just fine. Update: With my second child, I ended up using the manual pump WAY more than the double. I've found that with two kids I need to pump on the go quite a bit more so having a small one has worked much better.
Bottles: Depending on your situation, you may not need that many bottles. We did fine on 4-6 bottles- especially since we hand washed them. Looking back I wish I would have splurged a little and gone with glass bottles but we didn't and probably won't at this point. I would recommend getting one brand and sticking to that. When you get different brands, it can get confusing on which top goes with with bottle. We went with Advent bottles. We had about 3, 4oz and about 3-4 9oz bottles. They worked great for us. I know a lot of people swear by Dr. Browns bottles too. Most likely your baby will do just fine with whatever brand you give him or her.
Burp Cloths: Please don't spend a lot of money on these. They are made to clean up puke and drool. The BEST kind that I have found are the Gerber cloth diapers that I just use as a burp cloth. I have decorated and/or personalized these and given them as gifts to tons of new moms.
Crib & Mattress: Ready for my little soap box? I think it's silly to spend a lot of money on a crib. It's a crib – it doesn't do much except sit there. If it's built correctly (which if it's sold in a store, they all are since they have to meet certain safety requirements) than it is going to do it's job: provide a place for the kid to sleep. We went with the Graco Lauren Classic Convertible Crib. It's worked great for us so far. We also just got a basic mattress from Target. Trust me, your infant won't care what brand of mattress they are sleeping on.
Crib Sheets and Mattress Pad: 2-3 crib sheets should be enough. We were also advised to get two mattress pads in case of the event of a midnight blowout. We haven't had to pull out an emergency mattress pad quite yet but I'm glad we have an extra.
Monitor: Since we live in a one story house we don't use the monitor very much at all. It only comes in use if I were to go outside or when we travel. But if you can't hear your little one cry from most places in your house, you'll need a monitor of some type.
Diaper Bag: You'd be surprised how much junk you have to carry around with a kid. We have a JJ Cole Bag and have been very happy with it. In fact, when one of the clips on it broke, they sent me an entirely new bag!
Stroller: You'll want something to push the little one around in. I got so stressed out about what kind of strollers to buy. We ended up with three! We used the Snap and Go stroller like crazy in those first few months. It was so nice to just clip the infant car seat into the stroller and not have to worry about moving a sleeping, warm baby to a stroller. We also have a simple umbrella stroller that is light-weight and easy to throw in the car. Lastly, we have a jogging stroller (an In Step Safari Swivel Wheel) that we have used more than any other stroller. It folds up really easy and has worked great for us. If you get a little head support insert you can take your little one for walks when they are itty bitty.
Health and Hygiene Items: Nail clippers (or scissors), digital thermometer, diaper rash cream (we like Desitin), baby tylenol, shampoo, body wash, and lotion.
Cradle 'N Swing: This was a MUST HAVE for our first kiddo. She had reflux so she napped so much better when a little propped up. She took most of her naps in this until she was about 3 months old. Some babies aren't so crazy about the swing though. I'd recommend borrowing one to try out before you drop $100 for one. Or even better, get one second hand! I've seen them going for around $40 on Craigs List.
Sorta-Must Haves
Bouncer: A lot depends on the baby but our little one loved her bouncer. It's nice to have a place to prop up the baby so they can look around. I know a lot of babies really like the vibration option some of the bouncers come with. Here is the deal with this… buy this 2nd hand! They are stupidly expensive brand new and really don't show much wear and tear even if it has been heavily used. There are TONS on Craigs List if you take a look.
Boppy Pillow: This made nursing a whole lot easier. It also served the purpose of propping the baby up after eating or when they get close to sitting up on their own.
Sheets for Pack 'n Play: I suppose the mattress is fine to sleep on without sheets but it seems a lot cozier to have one on there. It also helps that you can wash the sheet after a few uses. We have really liked the Eddie Bauer Quilted sheet. It's a lot more cozy than a simple cotton sheet.
Bath Tub: There are lots of different options for this. We liked having a baby bath but I know others do fine with simply putting a hand towel down in the tub and filling it with an inch or two of warm water. I will say this, our daughter did not like the mesh one tub. I think it was too cold!
Playmat/Activity Gym: This fold up activity gym was great to have for those first few months. It was a great place to have the little one do their tummy time and also a great place to leave them to ooh and ahh at the little toys that dangle in their face. I like that it folded up so easily and was so mobile too. My little gal spent a lot of time on this!
Noise Maker: This could fall under the not necessary category but I am putting it under Sorta-Must Haves because that is what it has been for us. We live in a one story house on a busy street with two dogs. Oh, and hardwood floors that do not absorb sound. Needless to say, a noise maker has helped a lot.
Baby Carrier: I personally like the Moby Wrap and Ergo (which I bought 2nd hand). I found that the Moby Wrap worked great for 0-4 months and then the Ergo took over after that. I used a Bjorn carrier (also bought 2nd hand) for a while as well and liked it but I found that the Ergo offers more back support for when the baby gets heavier.
Nice to Have but Not Necessary at All
An extra car seat base: We did fine with just one base but some like to have a base in each car they own.
Itzbeen Timer: I've had friends who swear by this little gadget. It keeps track of how long it's been between feedings, naps, and diapers. You can use it for all of those or just one. If you're a mama who plans to aim for a schedule, this might be a good thing for you. If you want to go the cheaper route, I'm sure there are iPhone apps that would do the same thing.
Woombie/Swaddle Blankets: Our little one wasn't the most "chill" baby. She was pretty particular about things so when we found that she was soothed by being zipped up in the woombie, we were jumping for joy. It keeps their limbs snug and close to their body but also gives them a little wiggle room (kind of like the womb). We also regularly used velcro swaddle blankets that kept her snug as well. I put this under the not necessary category simply because if you are a skilled swaddler, you can probably achieve the same things with a quality blanket. Update: My second child didn't like the woombie. He did much better in a velcro swaddle blanket. It just depends on the kid, I guess!
Jumparoo: My gal spent so much time in her jumparoo. Even as a 4 month old who could hardly stay upright, she loved looking at all the bright colors and toys. We loved the Fisher Price Rainforest one.
Drying Rack for Bottles: Pretty handy to have but not all that necessary- especially if you don't plan to bottle feed a ton. We did a lot of bottles so it was nice to have a place for them to dry rather than all over our counter.
Nursing cover: It's nice to have a cover that you know won't slip down at an inconvenient time. Nursing covers have a strap that go around your neck and some structure in the front that allows you to easily see your baby. If you don't get one of these, you'll be fine. A blanket or burp cloth will do the job.
Video monitor: I have LOVED having a video monitor but I also realize it is totally not necessary. We love to peek in on her and see her wiggle in her sleep. It also helps you to determine the reasons for crying. Once our gal wouldn't go to sleep for a while. I checked the monitor to see that her leg had gotten stuck between the crib spindles. Glad I didn't try to make her tough it out! It's also just pretty fun to watch them when they think no one is looking (when they are a little older).
Shopping Cart Cover: I used to giggle to myself when I saw moms with these. I thought they were a bit excessive. However, as my gal got old enough to sit in the cart but not old enough to understand to not gnaw on the handle, I was glad I had one. We only used it for a few months so this is something you can for sure get 2nd hand and just wash.
Tiny Diner Placemat: This guy has come in pretty handy when eating out. It suctions to the table and serves as a plate for your little one. However, unlike real plates, your grabby goose can't fling it across the room. It rolls up and fits in your diaper bag easily.
Don't Waste Your Money
Diaper Genie: First of all the diapers don't even get stinky until you start solids. Secondly, specialty trash cans require specialty trash bags which of course cost more money. We just have a trash can with a step-lid in the nursery. We take poopy diapers to the kitchen trash since that gets emptied more frequently.
Wipe Warmer: Your baby will be just fine with a room temperature wipe, I promise. If you get one for free, sure, use it. But I wouldn't spend much money on something that wipes poop.
Bottle Warmer: You've got a free bottle warmer in your kitchen already! Got a glass? Fill it with warm water and put the bottle in it. Boomtown- a free bottle warmer.
Baby Towels: We found that the baby towels that we got were thin, cheap, and not warm. We now just use our own bath towels for our little lady and will do the same for any future kids. I do like the little hoodies that come with baby towels but not enough to spend extra money for one.
Clothes: Yes, you'll need clothes but don't go crazy at garage sales (like I did) or Target before your little one arrives. People LOVE to give you clothes rather than the necessary items you actually need. I find this particularly true if you're having a girl. Also, you hardly need any newborn/3 month old clothes because they grow out of them so fast! For Baby 2.0 I am getting less than half the clothing I had for my first and I am fully confident we will be just fine.
Toys: As much as you'll be eager to play with your little one, they are just as entertained by lights and fans than an expensive toy. Don't worry about toys for a while. When toy time does come, take the time to go to garage sales. You can get so much for so little!
Mama's Wellness and Happiness
For tips on healing up after the birth of your baby, check out our post on Understanding the Fourth Trimester.
Pads: Big pads for the first few weeks and then you can size down after that. After the baby you are blessed with a 3-5 week long period. Have fun.
Disposable Breast Pads: I didn't realize how many of these I would go through. They are expensive too! I've heard good things about Bamboobies (I know, hilarious name right?!) which are a reusable breast pad that aren't nearly as bulky as disposables. They are on my wish list. Update: Bamboobies are great. In the beginning I needed something with a little more absorbency but now I use them exclusively. Highly recommend!
Big Comfy Bras: You think your girls are big now, pregnant mama? Just wait. You'll look down and laugh at yourself about a week after birth. I was thankful to have a good stock of stretchy, bras that could flex and flow with the changes of my body. My favorite nursing bra came from Target. It was the Bravado! Design Seamless Nursing Bra.
Nipple Cream: I just wrote the word nipple on our blog… hehe. Anyway, hate to be the one to break it to you but your milk machines are going to need a little TLC in the beginning. I know a lot of people use Lansinoh Lanolin but I've also heard good things about the Earth Mama Brand. I'll be honest, none of them really helped me but other mamas swear by this stuff so I'd get some if I were you.
An Extra Water Bottle: You'll want to keep a full water bottle right next to where you plan on nursing the most. I can't explain it but as soon as that baby latches on, you'll be desperate for water.
A Good Book: I was amazed at how much time was spent nursing in the beginning. You can't do much when a baby is latched on to you so you either watch a lot of TV or do a lot of nothing. For Baby 2.0, I plan to stock up on a few good books to read while nursing. Maybe reading a thriller of some type will make those middle of the night feedings a bit more enjoyable. Need some ideas? We have a lot of book recommendations!
Whew! That's a lot of stuff- but nearly as much as the Babies 'R Us registry will tell you that you need.
Alright, mamas. Now it's your turn. What did I miss??
(Like this post? Check out other posts specifically written for pregnant women and new moms!)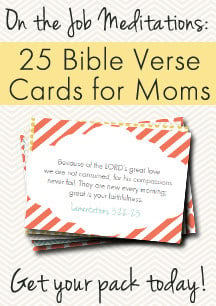 https://thrivinghomeblog.com/wp-content/uploads/2013/02/Baby-Gear.jpg
480
900
Polly Conner
https://thrivinghomeblog.com/wp-content/uploads/2019/10/thrivinglogo.png
Polly Conner
2013-02-01 05:55:05
2019-10-25 12:31:41
Baby Gear: What Do You Actually Need?