The Beauty of Female Friendship
This past weekend I gathered together with a group of 12 women made up of my best friends and various other women connected to our group in one way or another. While our initial reason for getting together was to live stream the IF Gathering, I look back on the two days and one night spent with these women and realize I was more refreshed and encouraged simply by spending unrushed, kid-free, quality time with women I love.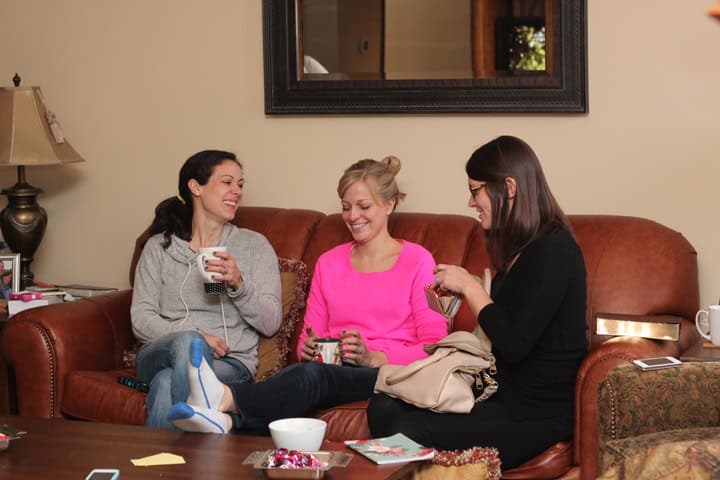 While I took SO much away from the teaching and experience of the IF Gathering, I think the most valuable part of the whole conference was processing the talks and scripture with these women. We all brought different life experiences to the table but could also relate and understand each others struggles and challenges in a way that only women can do.
I was reminded this weekend that we need each other. Yes, God designed us to marry and to be intimate and best friends with one man but he also designed the female heart to be in need of deep friendship and connection with other women in order to fully know Christ and to be free in him.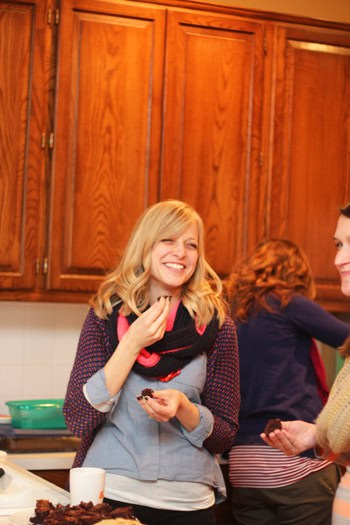 Think about it: only women can fully understand the struggles of motherhood, the pain of a broken relationship, the despair that comes with comparison, the fight to see and believe what true beauty is, the trauma of a miscarriage, the humor of being married to a man, the joy of cooking and eating together, the delight of painted nails, the humility it takes to stay home with children as your primary job, the laughable yet unfortunate side effects of childbirth, the joy of dark chocolate with red wine, the loneliness of not feeling known, the relief that comes through tears and SO many other things that I don't have the time or space to mention. My point is that women can relate, connect and understand each other in a way that no man ever will. God made it this way. We need each other.
However, as with all good things that God created, there is an equivalent damage and pain that it can reap in our lives. Every woman reading this has likely been hurt or betrayed by a friend. The havoc one woman can wreak on another is immeasurable. The enemy takes what is supposed to be beautiful, refreshing and life-giving and makes it the opposite: ugly, sinful and draining. Because of the pain we can experience in female friendship, it often feels easier to keep women at an arm's length away. You can't be hurt if you are never vulnerable and unfortunately many women live isolated and lonely in an effort to protect themselves from hurt.
That being said, I am encouraged by C.S. Lewis when he says:
"To love at all is to be vulnerable. Love anything and your heart will be wrung and possibly broken. If you want to make sure of keeping it intact you must give it to no one, not even an animal. Wrap it carefully round with hobbies and little luxuries; avoid all entanglements. Lock it up safe in the casket or coffin of your selfishness. But in that casket, safe, dark, motionless, airless, it will change. It will not be broken; it will become unbreakable, impenetrable, irredeemable. To love is to be vulnerable."
If we want to live in friendship as God intended us to as women, it will take risk. It takes effort. It takes sacrifice. It takes TIME. Most of all, it takes the Gospel. In order to have the beautiful friendships that we genuinely desire and REALLY grow from it requires knowing how be in it for the long haul which requires us to repent and forgive. It takes the ability to give grace and receive grace. We can only know how to do this if we look to Jesus as our example and for help. We need the gospel working in our own lives in order to be a good, life-long friend.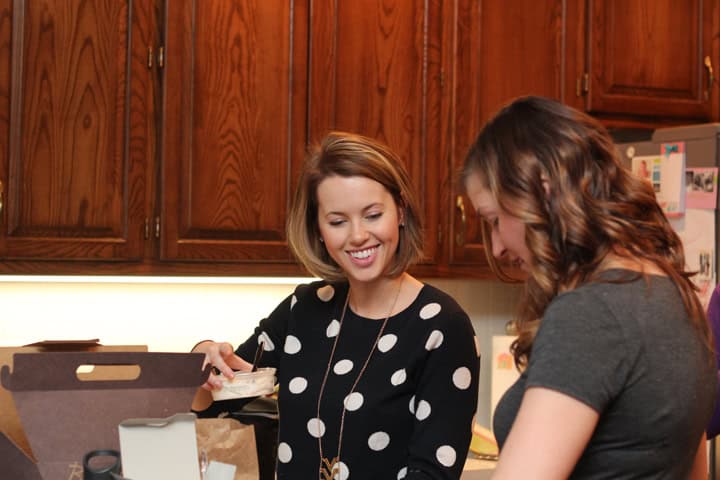 While I constantly struggle to be a friend like this to the women God has put in my life, I have tasted the fruit of friendship like this and have no other way to describe it but beautiful. It's beautiful because we can represent Christ to one another in areas of our lives in a way that a man cannot. We can speak truth into the dark places that only women can truly understand and walk with each other through the struggles that only women can identify with. Most of my big "ah-ha" moments in my walk with God and in life have come from talking things through with a friend.  There is just an understanding that women can have with each other that men will never be able to tap into.
If anything, I hope you are encouraged to pursue the women God has put in your life. No, they are not perfect. Yes, they have quirks and traits that will get on your nerves and no, you will not always be fully understood and perfectly loved. That role is for Christ. But the time and effort it takes to for real friendship is worth it. Reach out. Love those who are around you and stop waiting for the perfect friend to come along. God can do mighty things between two women who love him and want to grow together in doing that.
https://thrivinghomeblog.com/wp-content/uploads/2014/02/IF2.jpg
480
720
Polly Conner
https://thrivinghomeblog.com/wp-content/uploads/2019/10/thrivinglogo.png
Polly Conner
2014-02-24 05:16:38
2019-10-25 12:31:21
The Beauty of Female Friendship