Being On Live TV Is Like…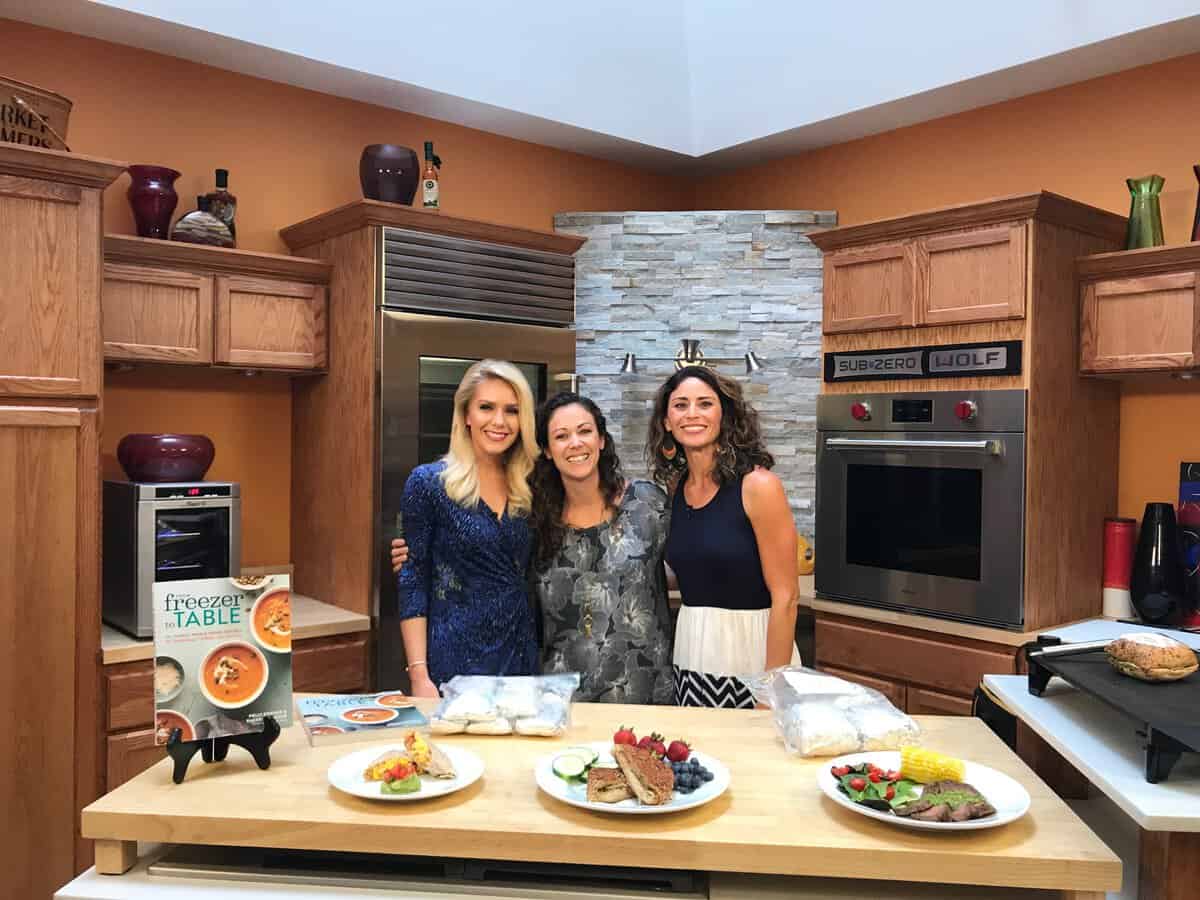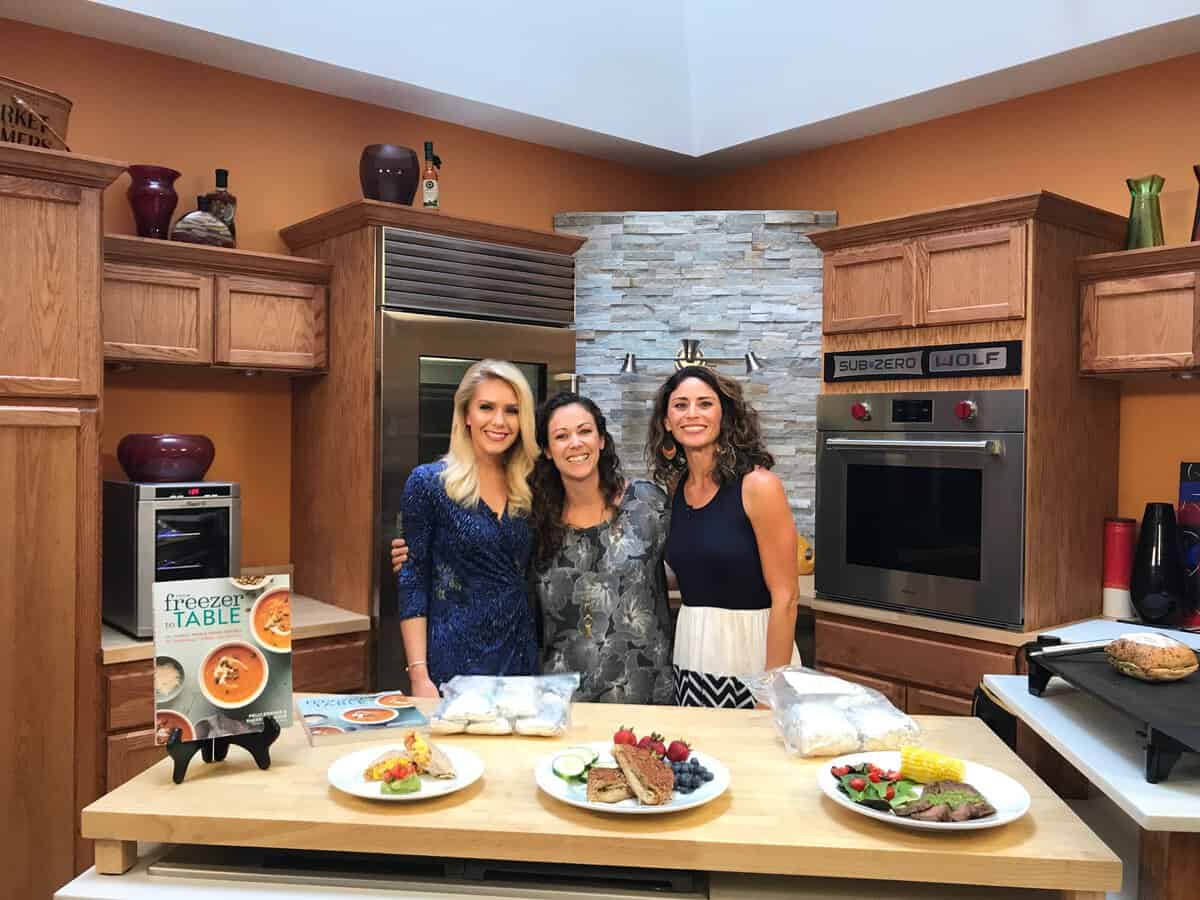 Last Friday, Polly and I made our debut TV appearance in St. Louis. Like with everything in the cookbook publishing world we've entered, it proved to be a brand new learning curve. If you haven't seen the clip yet, you can watch our 3 minute appearance here.
What was being on TV for the first time like?
In a nutshell: exciting, anxiety-inducing, fun, and soo tiring.
Polly and I are both somewhat used to being on social media videos and even speaking in front of groups. And if you're around us for long, you know that we don't mind talking about freezer cooking.
But, being live on TV was a whole different ball of wax for us. We've gotten quite a few questions about what our TV experience was like, so I thought I'd tackle a few of those on the blog today. Feel free to comment and ask any others, if you want.
How did you get the TV spot?
After searching for our own spot on local TV, we quickly learned that it really helps if you have a personal connection with someone at a station. Enter: Jenn McFerron from Comm Oddities, our hired PR guru from Denver, CO. Our pal, Clint from Start Right Foods, has had TV appearance after appearance thanks to her guidance and hook-ups in the TV world. So, he urged us to hire her which was a great decision. Jenn secured the spot for us, communicated to the producer about what we were doing, and then held our hand through the process.
Why was doing a live interview important for you?
The whole reason for the debut was to get a sampling of how Polly and I perform on live camera. (No pressure!) Why? Rodale, our publisher, wants to use it to "pitch" us to bigger shows in NYC. We have no idea if our little cookbook will make it on The Today Show or Rachael Ray, but, needless to say, it would be beyond cool to get our message out there to such a large audience that fits our demographic so well.
What time did you have to get up?
What time did we HAVE to get up? 4 a.m.
What time did we ACTUALLY get up? 3 a.m.
Neither of us could sleep well the night before. Our segment was at 9:40 a.m. and we were supposed to set up starting at 7:45 a.m. But, we had to get ourselves ready in the morning, pack up our cooler with all the fresh and frozen food for our segment, drive two hours to get there, avoid rush hour traffic (read: leave extra early), unload our food and supplies, prep all the food in their kitchen, and practice a few times. (See why I said it was a bit anxiety-inducing?)
We were on the road by 5:15 a.m. and throwing back the coffee (praying we didn't spill it on ourselves) and hoping our dark under eye circles weren't too prominent on camera! We arrived in plenty of time and were set up early and ready to roll.
Did you make your own food? How did you transport it and prepare it for the clip?
One of the hardest parts of the segment was thinking through what recipes to showcase and how to plate them so they looked good on camera. In the end, we decided to showcase a breakfast, lunch, and dinner option and show not only how they look fresh but also frozen. This meant Polly and I had a lot of food prep to take care of a few days in advance, in between caring for our three kids each at home. Ahh! We transported the fresh and frozen food in a cooler with ice, which worked fine.
One of the providential moments we had at the studio was that the next cooking segment "star" who was waiting to go on after us happened to be someone we knew! Eight Mile Kyle, as he is known to many of his former customers at the popular restaurant 44 Stone in our town, showed up at just the right time.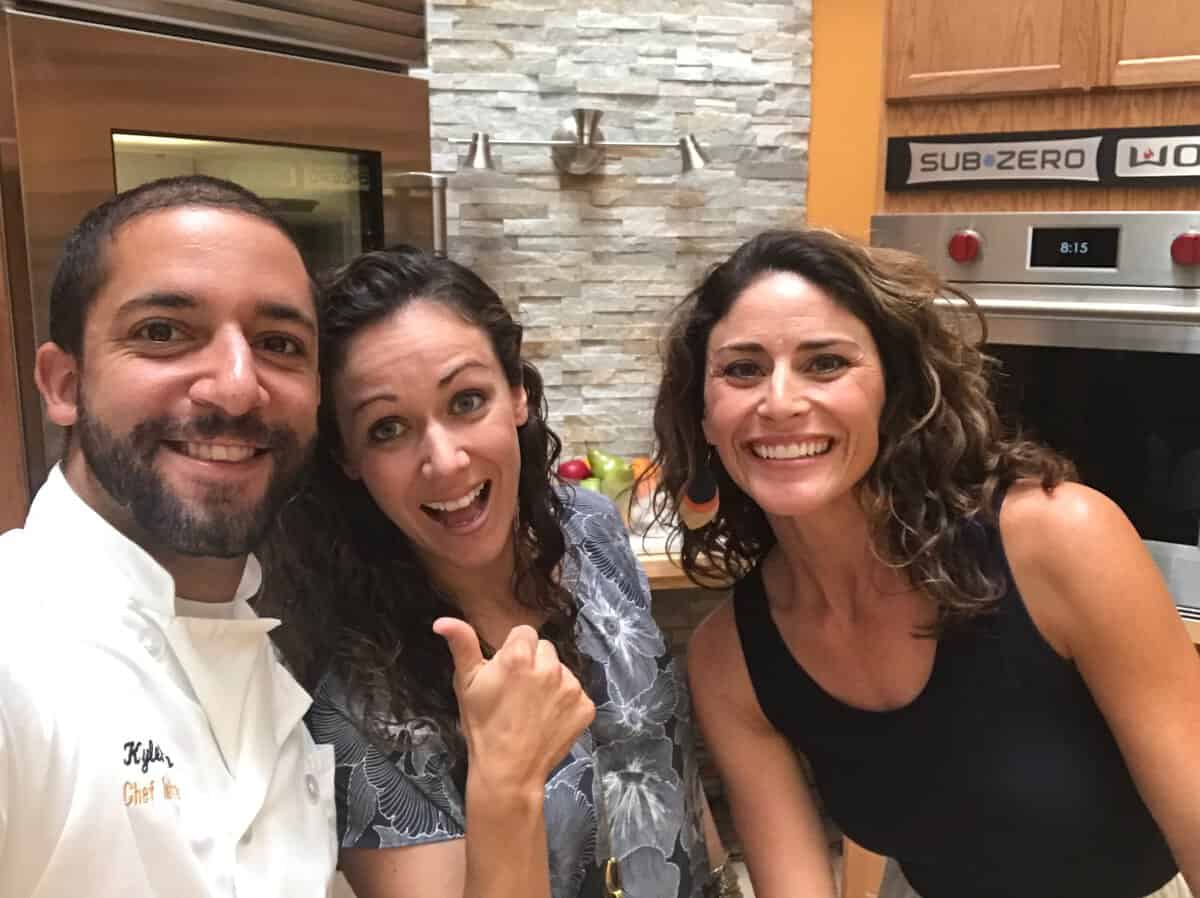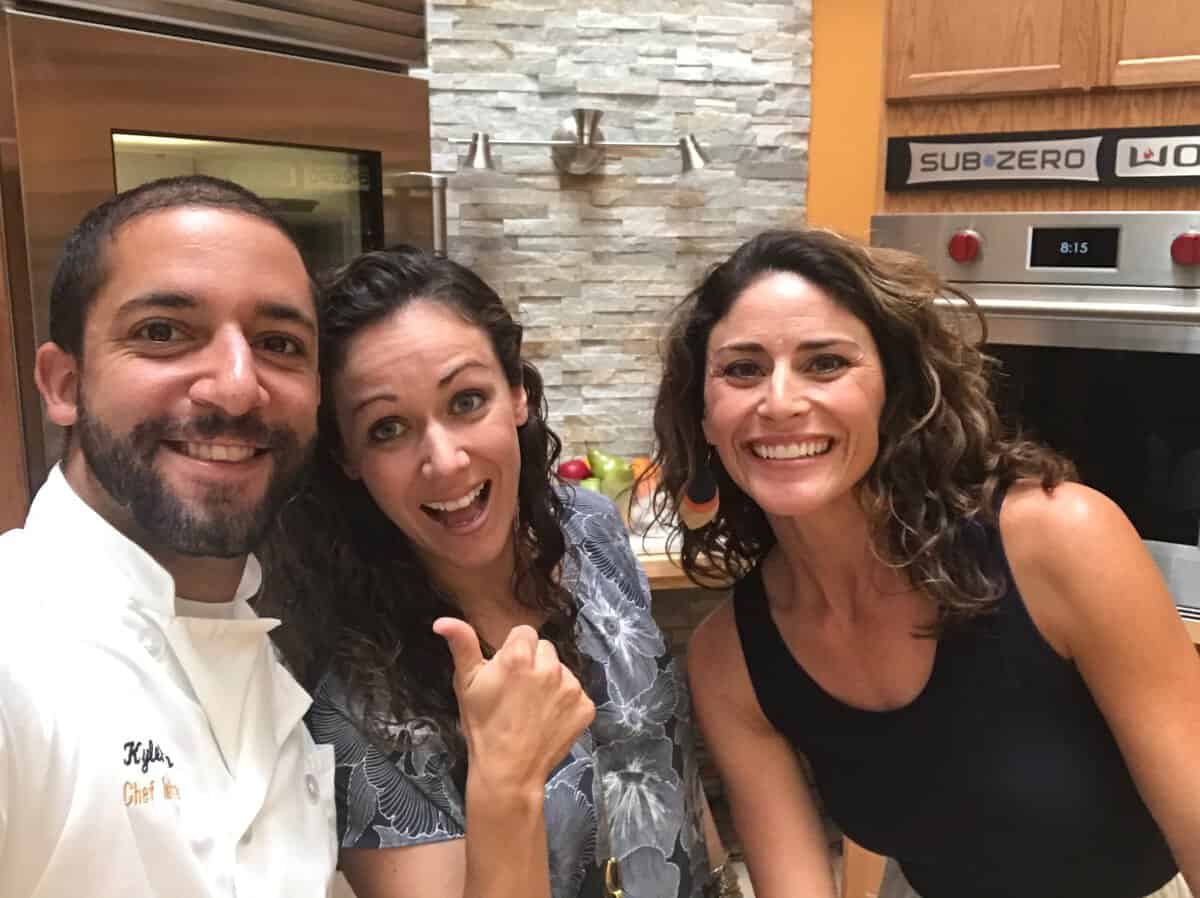 This once "best waiter in CoMO" turned culinary instructor at L'Ecole Culinaire, local TV chef star, and caterer in St. Louis, not only gave us the low-down about how the segment will work, but he even gave us feedback on plating the food. Kyle Parks to the rescue!
Overall, we were pretty pleased with how the dishes turned out on camera. I learned that height on the plate and lots of color is very important. One thing I will do differently next time is warm up some of the food right before the segment. We began a little too soon and some of the food was cold by the time the camera was on. To this scrutinizing home cook, it showed.
What was the studio like?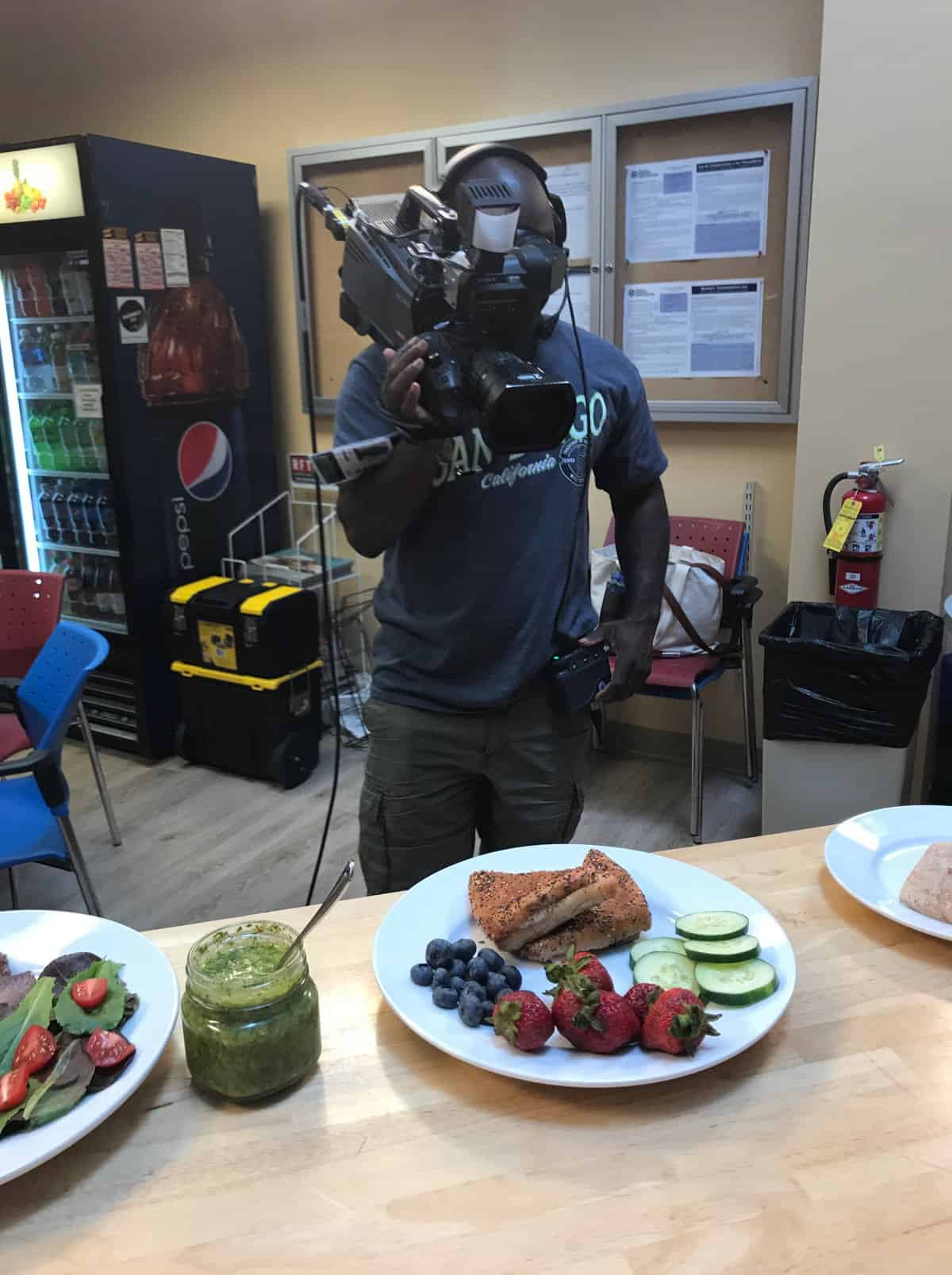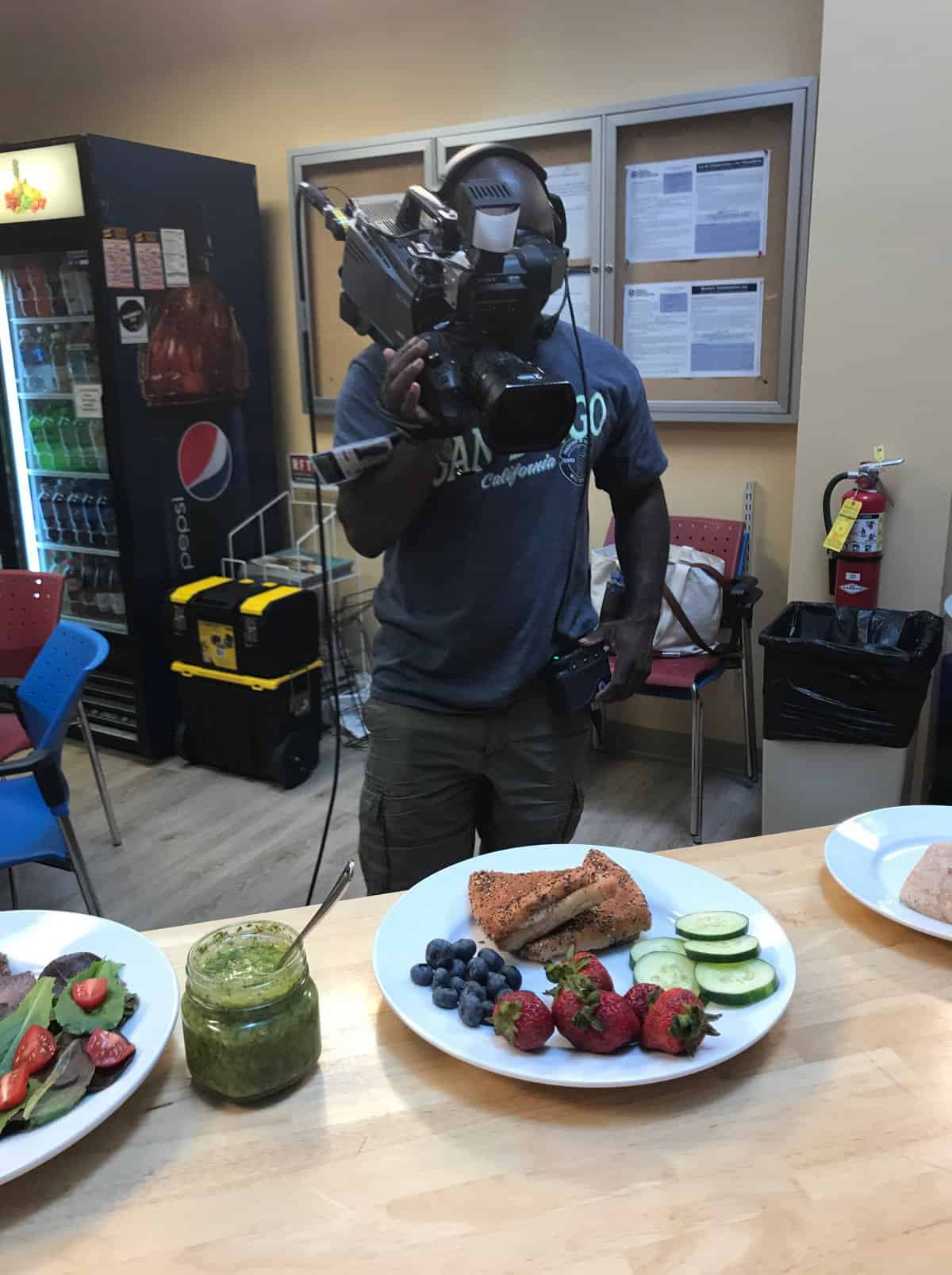 You might laugh at this. We did. The kitchen studio doubled as their break room. On one side sat a beautiful little kitchen with some stage lighting. Just a few feet away, sat some round tables, vending machines, and a coffee maker. In some ways, this made the whole experience less intimidating. It certainly wasn't what we expected.
Did you meet the host beforehand? How did you know when you were going on?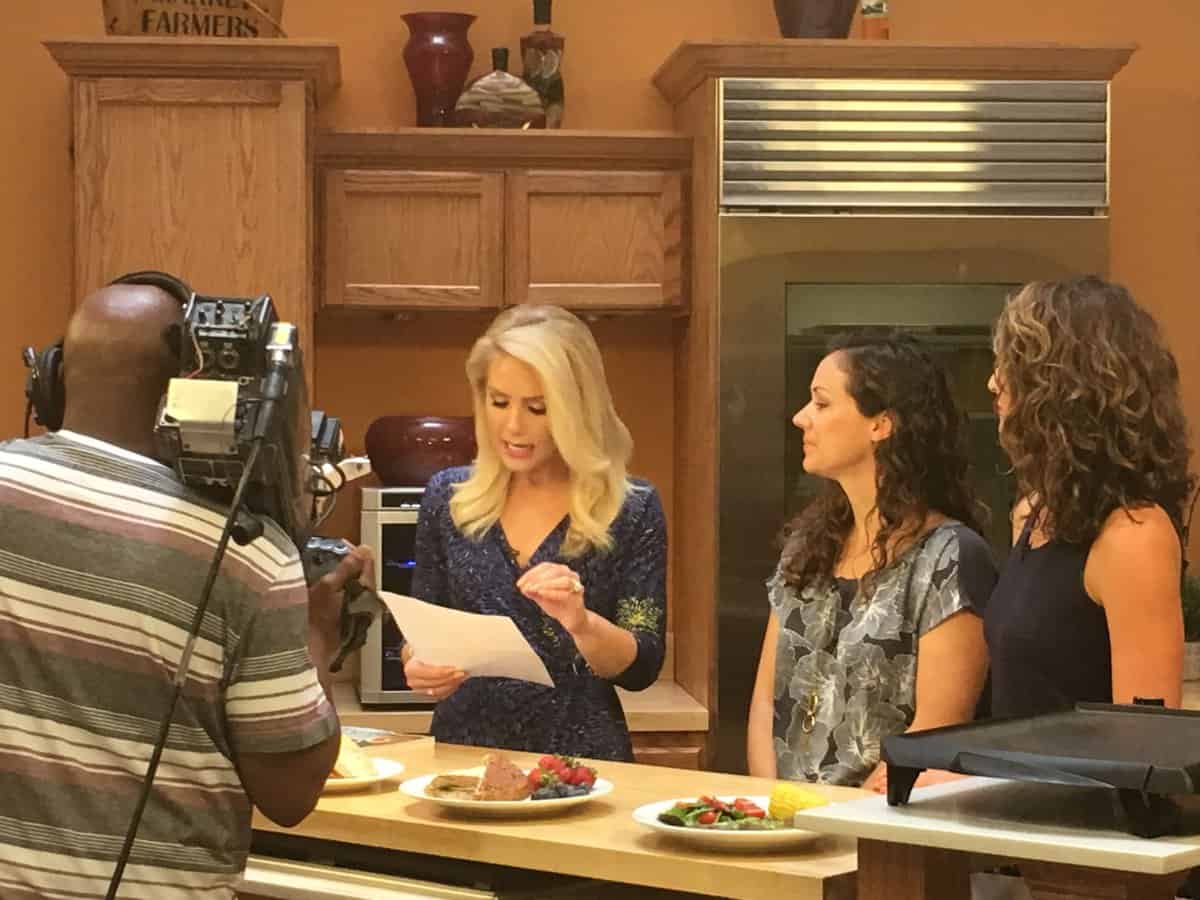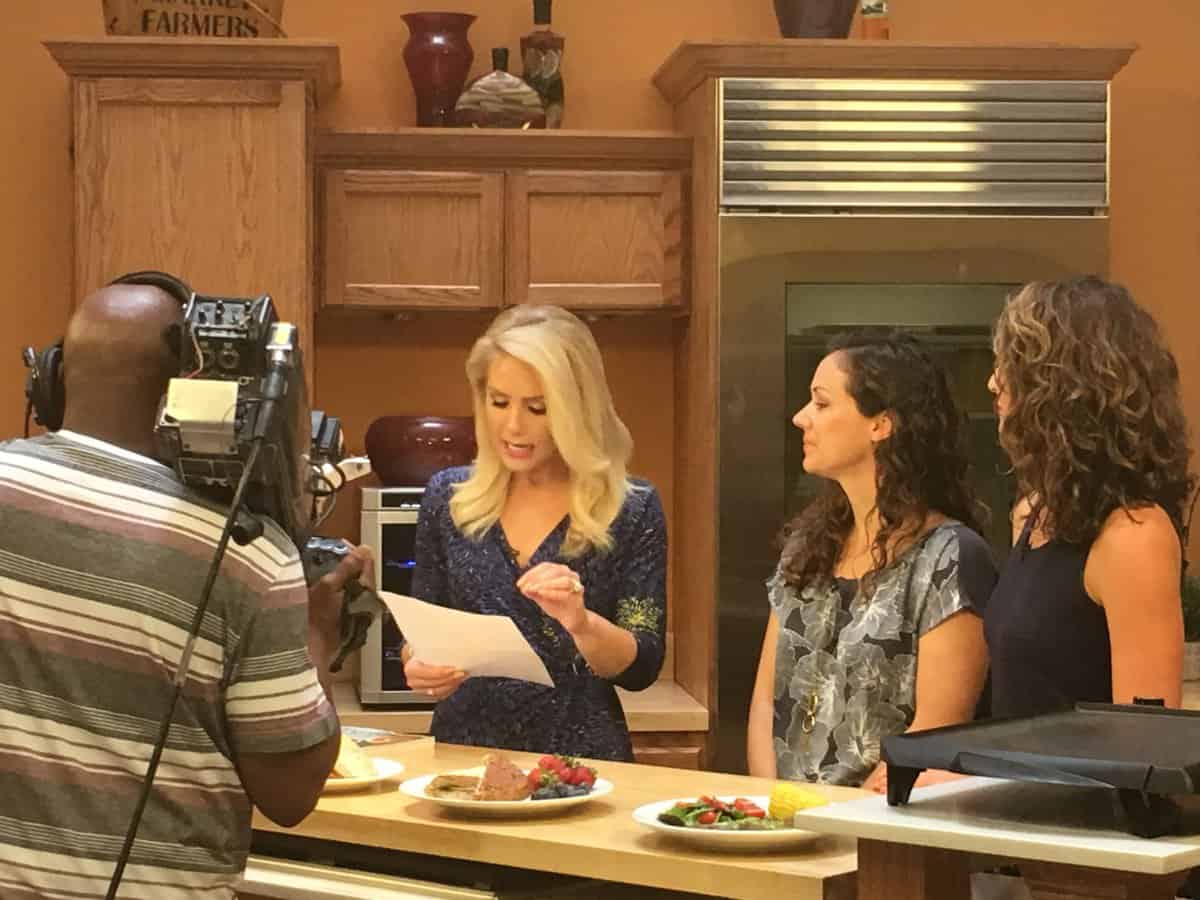 A camera man came in about 15 minutes before our segment, turned on the lights, and placed the audio packs on us. Then, we met the host literally one minute before the clip began. She introduced herself, we all celebrated that we were all Mizzou grads, and she quickly ran down how things would work (which wasn't quite how we had practiced on our own, but oh-well!). It was a complete whirlwind! And, she did a great job of guiding our conversation.
Did you do your own hair and make-up?
Yep. I know you're so surprised by that. Is it because of the awesomeness of our hair and our make-up? Jk.
What's funny is that I thought I had a LOT of make-up on, at least compared to what I normally do. Then, on camera, it looks pretty sparse.
Any beauty tips here from our readers who are better at this stuff than we are??
How did you decide what to wear?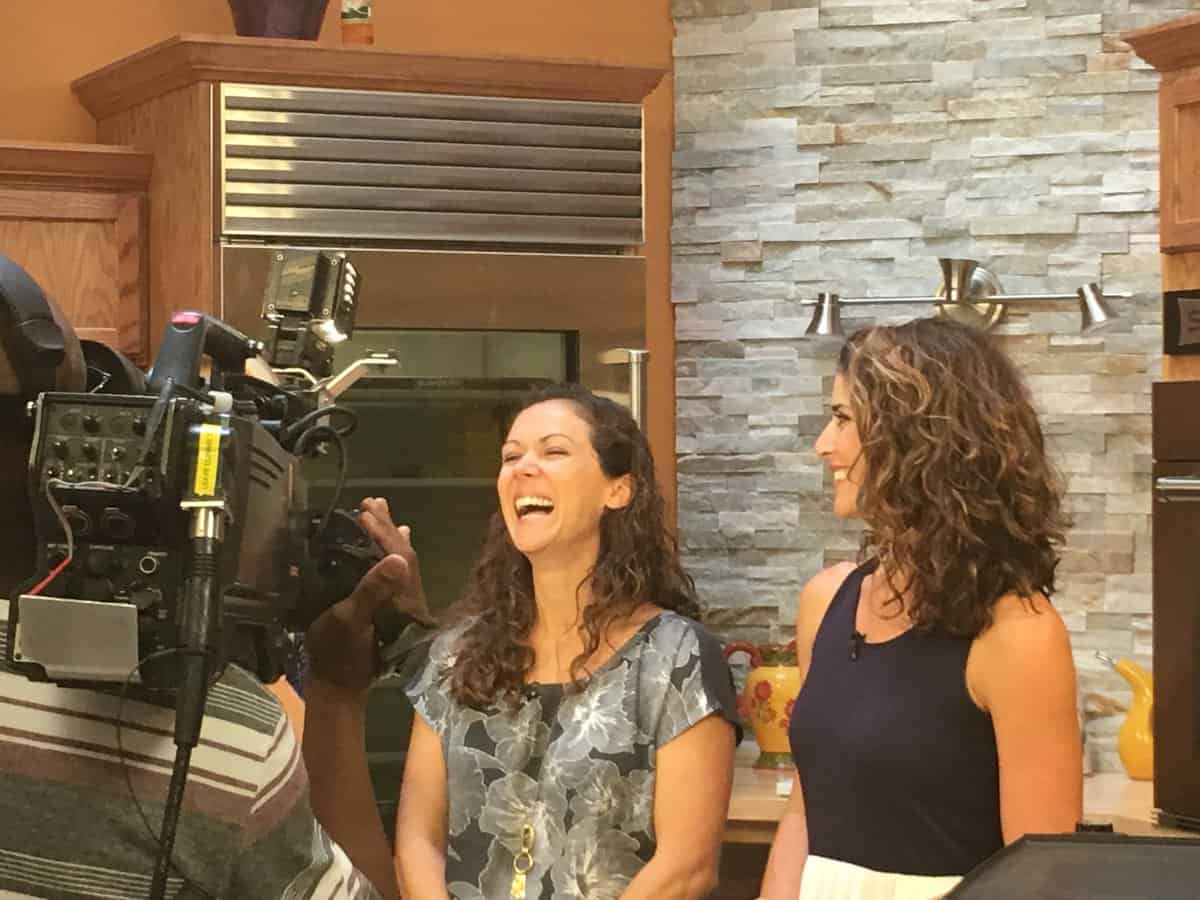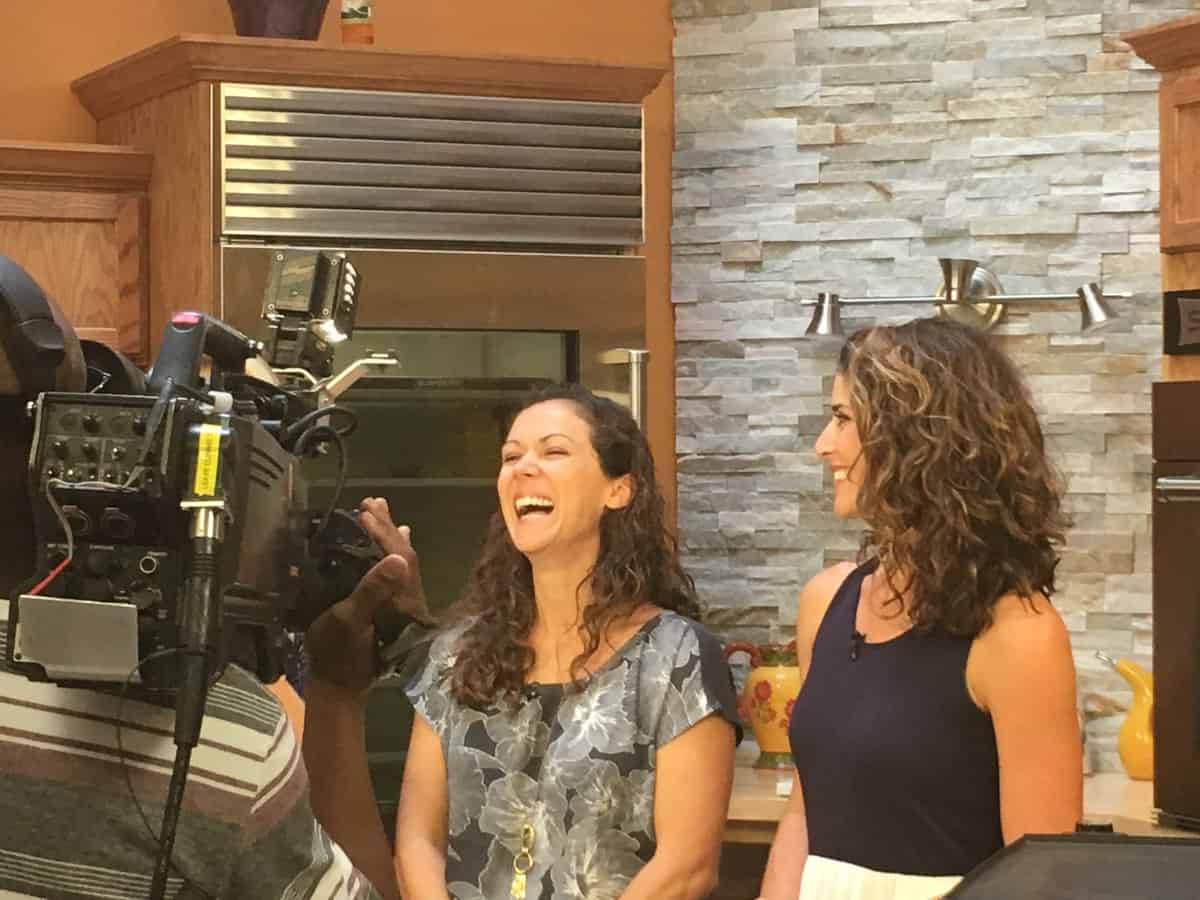 This may have been my least favorite part of the TV experience. Choosing what to wear on camera, especially when coordinating with another person, can be a challenge. Apparently there are quite a few tricks of the trade, of which these are just part of the suggestions when you begin googling about it:
no solid white
no solid black
wear solid jewel tone colors, if possible
avoid small busy patterns
avoid all stripes
don't be too trendy (Polly and I laughed about this. We've got this one down.)
Then, there's the problem of Polly and I mostly working at home in our yoga pants. We both looked in our closets and gave a collective "ugh". While I was able to find a summer dress I felt comfortable in, Polly had to squeeze in a quick shopping trip in between wrangling small kids and cleaning her house that is on the market. Again, not stressful at all.
Did you enjoy the experience?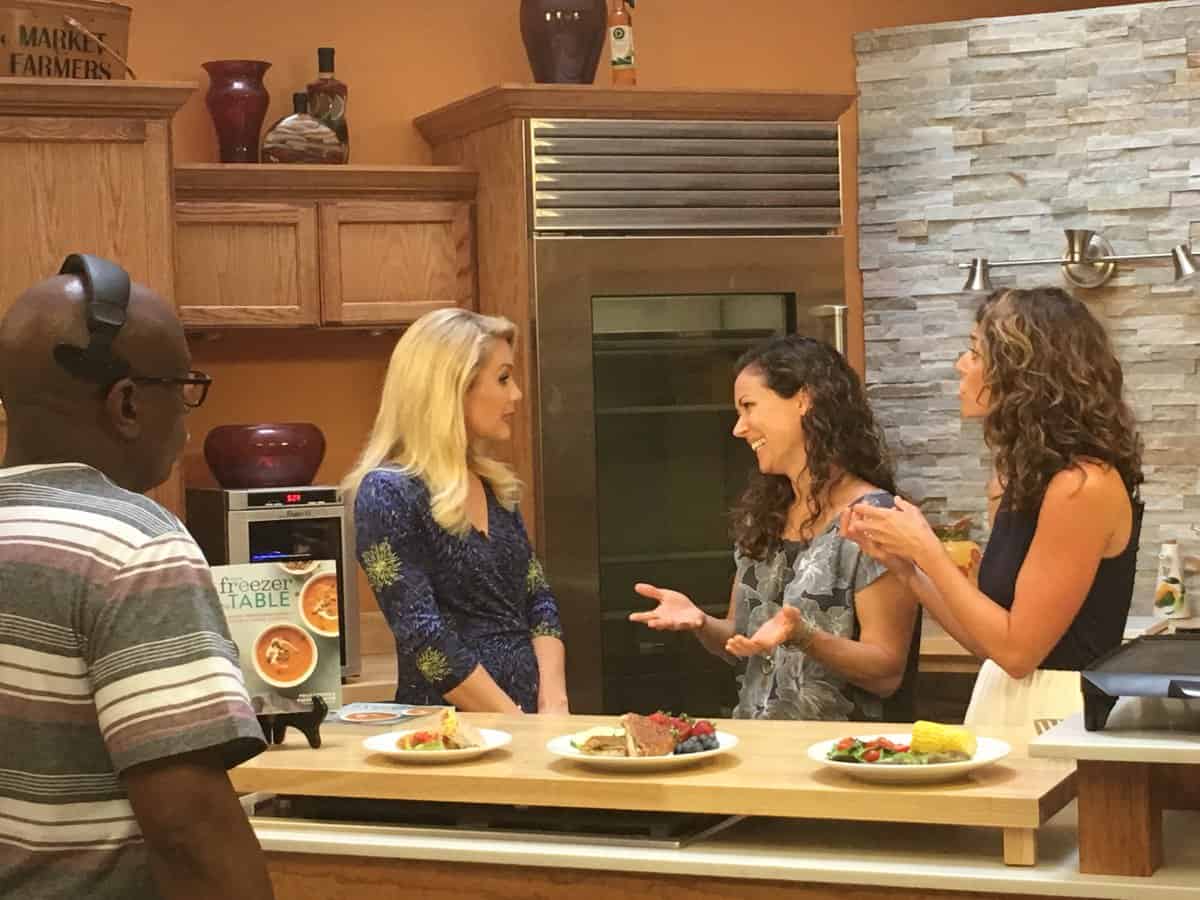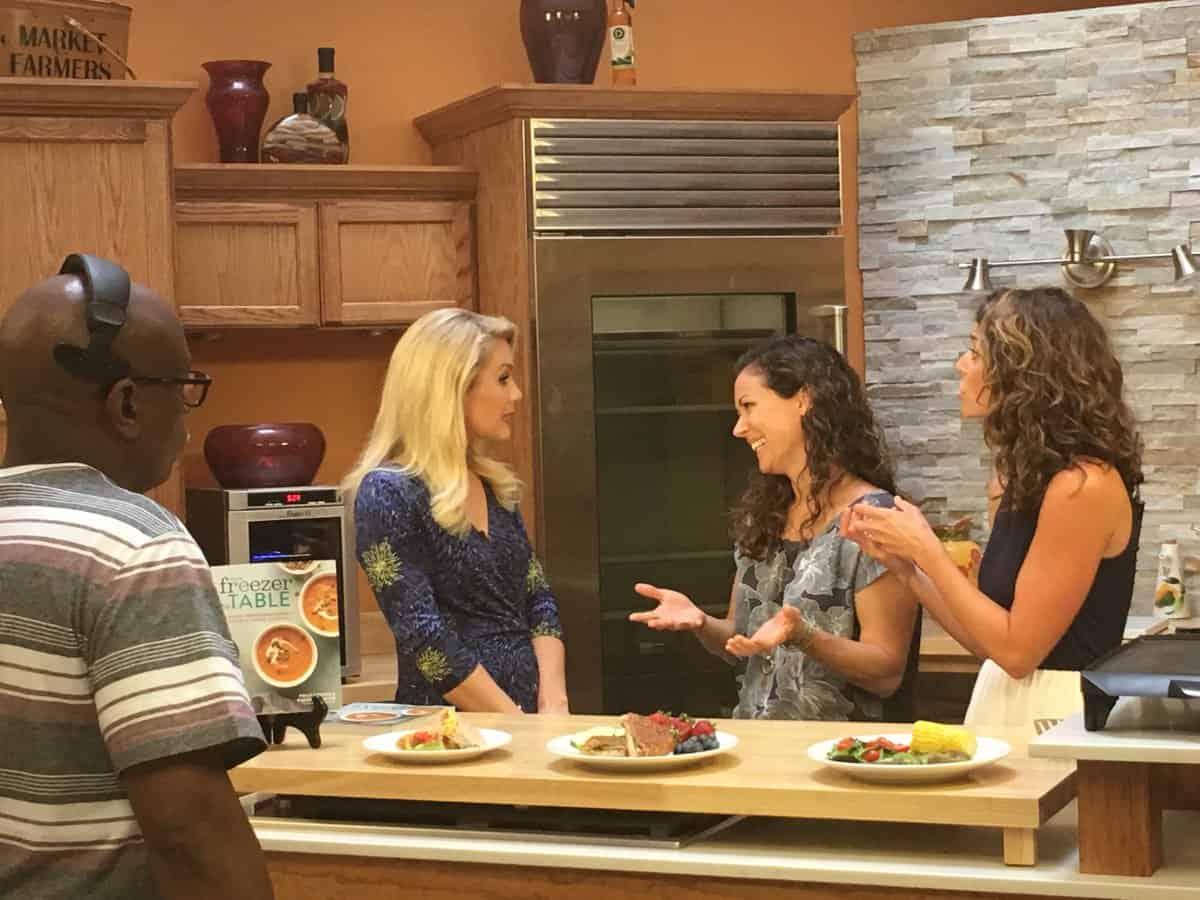 Although it took me about three days to recover from the whole thing, in the end, we really did enjoy it! We had practiced quite a bit beforehand, which helped us feel comfortable with our message and allowed us the freedom to spit ball along the way. The interview felt like we were just chit-chatting with a friend, really. You know if I get that "big eyed" look, that I'm excited about what's going on. 😉
Now that we have one live interview under our belt, I think the next time will be MUCH easier. Dare I say, I'm looking forward to it?
What's next?
We have two more TV segments lined up in August that we'll be sure to tell you about as we get closer. One of them is in Columbia on a smaller show called Pepper and Friends and the other is on the morning show called Show Me St. Louis.
Do you have any other ideas of TV outlets we should pursue? We'd love any leads for ideas to help get the word out about our book and our website. We're hopeful that our book can really be a blessing in so many households. Feel free to email us with ideas!
Publishing a Cookbook Series
As you may know by now, in September 2017, we released our first cookbook: From Freezer to Table: 75+ Simple, Whole Foods Recipes for Gathering, Cooking, and Sharing. We have done our best to document what the process has been like to write a cookbook. Don't miss any of the posts in this series. Below is the order they go in…
Part 1: Landing the Cookbook Deal
1. What Our Cookbook is All About
2. The First Steps to Publishing a Cookbook
Part 2: Writing the Cookbook
7. Choosing a Cookbook Cover
Part 3: Launching the Cookbook
9. Our Pre-Order Push – Pre-order sales are a big deal in the publishing world. Here's how we began that campaign.
10. Launch Week Giveaways – To encourage people to share about our book, we gave away big prizes all week long on the blog.
12. Our TV Debut
Bonus: 13 Things You Didn't Know About Our Cookbook
https://thrivinghomeblog.com/wp-content/uploads/2017/07/IMG_3998.jpg
1092
1456
Rachel Tiemeyer
https://thrivinghomeblog.com/wp-content/uploads/2019/10/thrivinglogo.png
Rachel Tiemeyer
2017-07-26 12:41:08
2021-01-07 10:13:10
Being On Live TV Is Like…