Blogging Basics: 5 Ways to Start Making Money on a Blog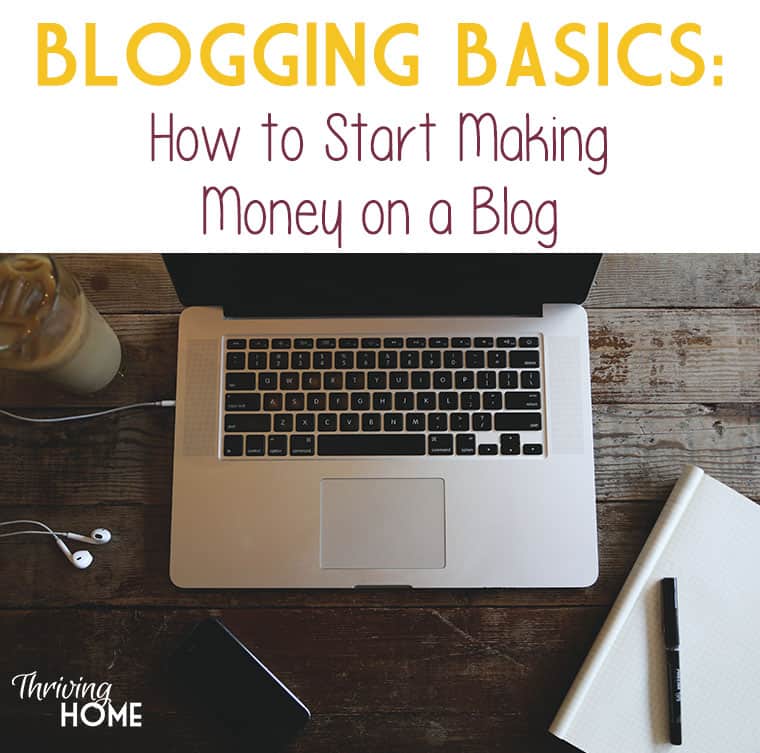 Disclaimer: Affiliate links may be included.
When you start to see traffic pick up on your site, it can be really exciting. I remember many ecstatic texts and phone calls between Rachel and me celebrating new milestones along the way. What was really fun for us was when we actually started to see a little money come in from ads we had up on our site that had previously paid us pennies. It wasn't much, but it was incredibly rewarding. Now, three years later, we're a bit farther down the income path yet still plugging away.
So, how do you start making money on a blog? Where exactly do you start?
Good Content and Connections

Once you've gotten your new site set up (start here to set up a site if you haven't), the priority for you is good content. Seriously. Good content with good, pinnable photos is what you need to focus on. Good content doesn't go unnoticed for long. If you're a decent writer and provide something that is relevant and useful to readers, you will eventually get some followers. And then more followers. And more…!
Your second priority is getting your content out beyond your blog. Submit articles as guest posts to other blogs. As you look around in your particular blogging niche, you'll notice that some bloggers actually ask for guest posts. Others don't. But if you ask nicely and explain that you're just starting out, many bloggers may do you a favor, especially if you do a great job on the article you submit.
A few bigger bloggers helped us out in the beginning, like Kitchen Stewardship and Meet Penny. Both of those connections have proven to be pivotal for us over the years. In addition, scratch other people's backs by sharing their content on your social media outlets or blog. So, connect, connect, connect.
Setting Up an Advertising Page
Now, once you've gotten some good content and good connections in the works, you can start thinking about monetizing your blog (i.e. setting it up to make profit). A great first step in that direction is to set up an advertising page. An advertising page lets potential advertisers or anyone inquiring about advertising know about you, your readership, your traffic and what advertising options you have to offer. As an example, here is our advertising page. Remember, this is your page to "pitch" to your potential sponsors about why your blog is worth their money. So put your best foot forward on this page and update it regularly.
5 Ways to Start Making Money on a Blog
We want to share five good income sources to consider trying out as a newer blogger. These five revenue streams are ones we ourselves use and are common on many blogs. We'll give you some practical suggestions about places to start within each area. Keep in mind there are many other income sources, like providing services, speaking engagements, an Etsy shop, book deals, and much more. But, these are easy ones to begin with for most blogs.
1) Display Ads
These are the typical ads that you see on most blogs. Display ads are most often sold by ad networks. We currently work with The Blogger Network to manage all of our ads but started out with Google Adsense and Blogher. Some networks like Google Adsense are easy to get into while others request an application and approval before they start working with you (Blogher, The Blogger Network, Sovrn). Google Adsense is probably the easiest place to start to get your feet wet.
2) Private Advertisers
Private advertisers are businesses or people that you've personally spoken to that pay you directly for your advertising space. For example, we currently have two paid private advertisers on our sidebar–our favorite realtor ever, Kim Schwartz and our favorite worship music for families, Seeds Family Worship.
For both of these sponsors, we reached out to them, gave them a pitch about why they would benefit from advertising on our site and charge them quarterly for the space. I like working with private advertisers, but it does take a little more work to keep up with their payments. I think our first private advertisers paid around $20-25/month when we had around 4,000 page views a month. We now charge $60/month for this space.
In the past, we've also have a private sponsor, Once a Month Meals, for our weekly email updates. They actually contacted us about partnering with us, and we threw this idea out to them. It was a win-win partnership, because their free freezer recipes and menu plans are genuinely useful for our readers. In return, we sent them traffic and some new membership sign-ups.
So think through who you know or what products/services you use and love. Ask yourself what you have to offer them. Then, don't be afraid to ask!
3) Sponsored Posts
If you've followed blogs for a while, I'm sure you are familiar with sponsored posts. In short, businesses are paying you to write about their product. In a lot of cases, the business will give you the product for free and pay you write about it. Most of our sponsored posts originally came through our ad network called Blogher. But, we also used to use Tomoson and IZEA to find these opportunities. You almost always have to apply for them and get approved by the client. Now days, we've honed in on two bigger brands that we wanted to partner with and pitched the idea to them. We started by being paid $50 for a sponsored post, but now regularly get paid $600-1,000 per post. Stay tuned because an email all about how to get sponsored posts is coming your way in the next few weeks.
So, don't be afraid to start small with review posts. Do a great job on it and word will get out.
4) Affiliates
An affiliate is someone who gets a cut from a sale just for referring the purchaser. Most major retailers (think Amazon, Target, Walmart, etc), book publishers and even bloggers who are trying to sell e-books offer this revenue opportunity to bloggers. We are currently finding success with Bluehost and Amazon
, as well as, a few smaller affiliates like MightyNest and Once a Month Meals. Find out if your state laws allow you to be an Amazon affiliate here. 
The key is to find an affiliate that has products that your readers are going to be genuinely interested in. In the beginning of blogging, this can be a challenge unless you have a specific niche you are aiming for.
5) E-Books or E-Products
Another great way to start generating some income on a newer blog is to sell some type of e-book or e-product. These are digital products of some kind that you sell online. For example, we currently sell a few in our store like 25 Encouraging Bible Verse Cards for Moms, Truth for Trials, Freezer Meal Labels, a Christmas Devotional and more on the way. The best part about e-products is that you own the product, the cost to create and manage it is very minimal, and no one else gets a cut (unless you start your own affiliate program).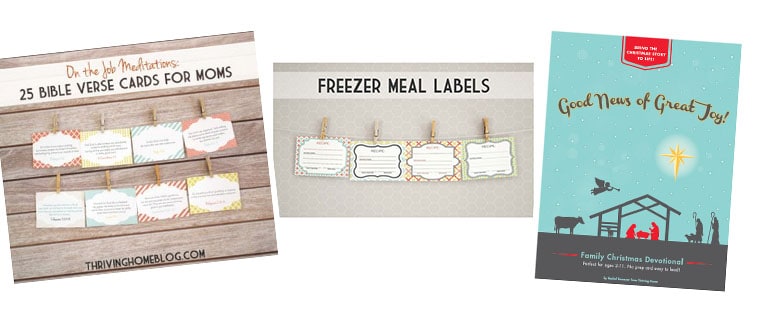 If you're interested in getting started, here is a great resource for writing an e-book. You'll also need a store in which to sell your e-products. We made the mistake of initially using a plugin to sell our products and ran into loads of problems. Skip the hassle and use Shopify or a reputable site to sell your digital products. So far, we have LOVED Shopify, though.
Keep Track of Earnings
Lastly, make sure to keep track of your earnings! If you make over a certain amount (check with your accountant), you have to legally report your income on your taxes. This also includes the value of products or services that were given to you in exchange for reviews. We used a good 'ol excel sheet for a while until we switched over to Outright, an online bookkeeping site for small businesses. This has been a game changer for us. We also have an accountant do our taxes for us just to make sure we don't mess anything up or miss any small business deductions.
Don't Overdo It
It's tempting to add more and more advertisements and sponsored posts on your site, thinking they will increase revenue. But, keep in mind that building the trust of your audience and building a useful, easy-to-navigate site is the MOST important part of building your business.
Littering your site with ads and clogging up your content with too many sponsored posts and affiliate links can come across unprofessional, disingenuous, and can become downright annoying to readers. So, think carefully about the "when, where, and why" of where you place revenue streams. Know your values and your readers and be loyal to them first.
More Blogging Resources
We hope you've been inspired through our Blogging Basics series to take a step toward your own dream of blogging for profit. Please feel free to ask questions!

Make sure to check out the other posts in our Blogging Basics series:
And you can swing by our
Blogging Resources page
for a thorough list of everything we use and recommend for blogging.
Sign Up for Our FREE Blogging Basics E-Course!
There is SO MUCH blogging information that we want to share with you. We want you to skip the mistakes we've made along the way, learn about all the different ways you could potentially make money from your blog, know which plugins, websites, and software that we have found most helpful and so much more insider information. To share this valuable information, we have created a FREE E-Course. When you sign up, you will receive one, bite-sized email a week that will equip you to get started on the right track. What are you waiting for, get yourself signed up!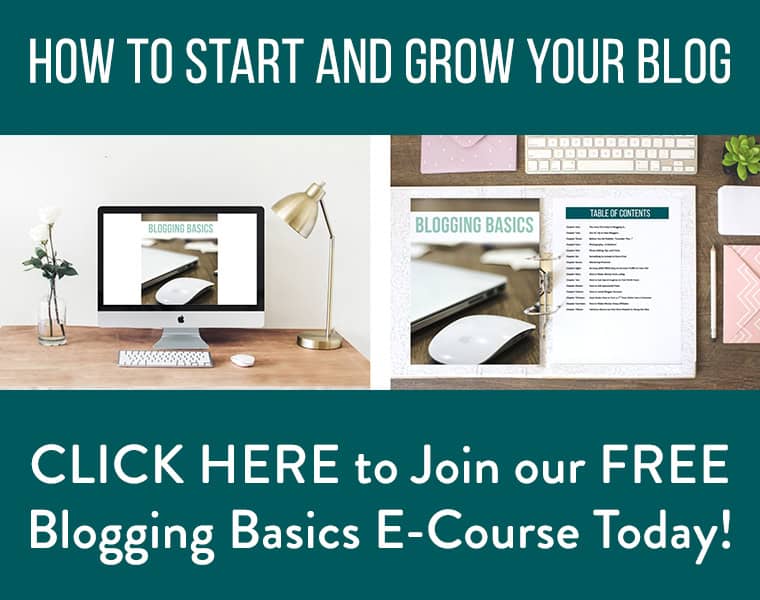 https://thrivinghomeblog.com/wp-content/uploads/2015/04/How-to-start-making-money-on-a-blog1.jpg
753
760
Polly Conner
https://thrivinghomeblog.com/wp-content/uploads/2019/10/thrivinglogo.png
Polly Conner
2015-04-30 05:00:00
2020-01-03 14:12:42
Blogging Basics: 5 Ways to Start Making Money on a Blog