Candace's Transformation Story
Meet Candace. She's my friend from work.
Kids and adults alike love her. (Don't you already?) She's truly one of the most beautiful women I know inside and out.
Today, I want to share with you about the transformation Candace has gone through over the past two years.
It dawned on me the other day, when I saw an old video of her, just how much her body and even her demeanor, to some extent, have changed. The change was so slow and so healthy that I barely noticed. But, you'll notice.
Candace went from a size 10-12 to size 4-6 in the last two years. She lost almost half the inches she had!
Her story isn't just about losing weight, though. (In fact, she didn't even know how much total weight she had lost when I asked.) It's about slow, steady, life-style changes. It's about persevering when she felt like giving up. It's about glorifying God most of all.
Candace was gracious and brave enough to put herself out there so that we can benefit from her experience! Check out some BEFORE pictures from two years ago…
Ready to see sweet Candace now?
Here is Candace AFTER her slow and steady transformation and shrinking from a size 10/12 to a size 4/6…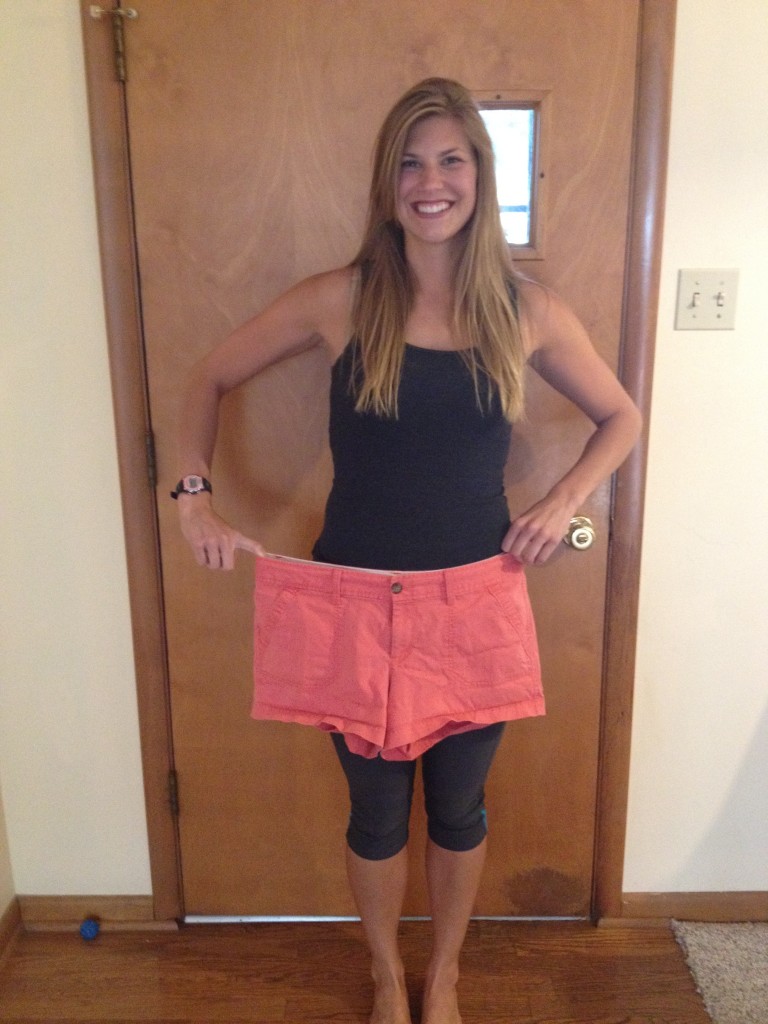 Wondering how her amazing transformation happened? Well, I was too. Here's what she told me.
Rachel: Candace, we'd love to know how you were able to get so fit this past year or so.  But, first, can you tell us…what was your motivation for change?
Candace: A couple of years ago I struggled a lot with acne and other face blemishes. This affected my overall body image, making me feel insecure. I began to do a lot of research on random outbursts of acne and came across a book that related the acne to poor diet and digestion. The book essentially encouraged a cleansing of the body but also had a lot of information on how diet not only effects acne, but also overall health. As I read more about the importance of a healthy diet, I became very interested in researching more.
I began to learn a lot about what different kinds of foods can offer your body and how they can harm you as well. I realized that I needed to make a change and was hoping to clear up my face in the process.
Rachel: You mentioned to me at one point that your external change mirrored some changes going on inside. Can you tell us more about that?
Candace: As I became excited about reading more on the need for a healthy diet consisting of eating right and exercising, I began to slowly make changes in my diet. However, I wasn't seeing a change in my acne issues. Knowing that I was doing the right thing by eating right and exercising, I had become passionate about continuing to take care of my body in this way. So, in order to deal with my self-esteem issues regarding my acne, I knew that I simply needed to turn to the Lord for comfort. I began to pray that God would help me to love the body that He has given me, both inside and out. I prayed that regardless of my outward appearance, I would see myself as a piece of his artwork, created perfectly in his image. God really answered this prayer in such an unexpected way.
I began to really see myself through the eyes that God sees me. God revealed to me many of my gifts and personality traits to love about myself and reminded me that my body is a temple that is delicate and to be cared for. As I learned these things, I became more motivated to care for the body I have been given. I completely changed my diet and began to exercise regularly and as a result, I not only love myself inwardly, but I have seen major results in my outward body as well.
Eating right and working out has become an opportunity to worship God through taking care of myself. I have found that working out is the best time for me to spend real time in prayer. I look forward to those moments.
Rachel: So, how has your body changed? How long did that change take?
Candace: I began really making changes to my diet about two years ago and would slowly see small changes. It wasn't until this spring that I really decided to commit myself to the change completely. I had seen a dermatologist for my face, I had lost a decent amount of weight, and was feeling satisfied in my body. Unfortunately, the more comfortable I became with how I looked and felt, the less motivated I was to continue on this path. I eventually had a day when I felt sick to my stomach and I had put back on a few pounds, and realized that I hadn't been to a gym in two weeks. That is when I realized that this is a life-long process.
Taking care of my body requires work all the time and not just because I am dissatisfied with how I look or feel. I need to do this because it is glorifying to God. I don't choose days to be Christ-like and other days not to. I choose every day to strive to be more like Christ, and taking care of my body is part of that. We have to choose every day to love the body that God has given us and to take care of it.
I had a friend complete The 17 Day Diet
earlier this spring and when I saw amazing results for her, I decided to give it a try. I lost 14 pounds in the first two weeks. But the best part is the book gave more information on how different foods affect your body and that was enough to refuel my desire for healthy diet. I have been consistently eating well and exercising for about six months now and I have never felt so great. Not only do I love my outward appearance, but I have energy, sleep well, feel healthy, and my spiritual life has grown so much, too.
Rachel: Any specific tips on how you were able to lose weight? 
Candace: I really started to lose weight when I finally put together a consistent routine of working out and my new healthy, lower carb and vegetable-rich diet this past spring.
To initially lose the weight, I cut out carbs from my diet. This is how I lost so much weight in the beginning and after two weeks, I slowly began to reintroduce them. The key now is eating all things in moderation.
I've found that the less I eat of sweets and processed foods, the easier it has become to control my intake of them. I have found that I enjoy the taste of my fruits and vegetables so much more when I am not putting all of that stuff in my body.
As for working out, over the past 7 months I've gone from the most minimal amount of working out possible to now working out six days a week.  It all began when a friend (Rachel, in fact!) recruited me to wear a pedometer for something she called Pedometer Challenge last February (editorial note: see Part 2 and Part 3 of Pedometer Challenge, too). I found myself running in place, taking the long way everywhere I went, parking farther away so I could walk. I had so much fun exercising and felt so much more energized!
After that, I got into running. I could hardly run a mile at first, but I kept practicing, practicing, practicing.  Now, I run up to a couple times a week and up to 8 miles sometimes.  On other days, I like to lift weights or take classes at the gym and ride my bike a lot.  Changing things up makes working out fun and keeps my body toned.
By the way, I don't feel like every day has to be an intense workout, but that something is better than nothing.  There are so many days I don't feel like working out at all.  But, if I can get myself there, I find I enjoy it.
Also, keeping myself busy is key. I find that when I take a lot of time to sit on the couch and be lazy, I have more cravings and a lack of self-control. Keeping myself busy whether it be through crafting, spending time with friends, reading a good book, or even cleaning my house, takes my mind off of those cravings.
Rachel: Besides eating in moderation and working out consistently, how is your lifestyle different now than it was before your transformation began?
Candace: I cook a lot more than before. The great thing about this is that it has also contributed to a growth in community. My friends and I love to cook together and anything made from home is better than going out to eat it.
There really is a spiritual correlation to healthy dieting. The more I care for my body properly, the closer I feel to God. I think a lot of this is because as we work out, it really is a renewing of the mind. It gives us a chance to clear our thoughts and focus. If you are anything like me, organizing thoughts is a task (as is organizing anything in general) so working out naturally does this for me. I like to spend my time working out in prayer and I find myself praying for things I didn't even realized I needed to pray for because my mind is being cleared of all sorts of things.
Rachel: Anything else you'd like to share?
Candace: I am the last person I ever thought would be motivated for this life change. I remember sitting in my kitchen with a dear friend a few years ago telling her, "I just don't see the point in eating differently. I think all this hype is silly and I am perfectly happy with my body". It wasn't long after that when I began to struggle with acne. Maybe God was trying to teach me a lesson.
The point is, I was skeptical and God transformed my heart so that I can love His creation. It's the best decision I ever made and I can't imagine ever going back. I say that because anyone can make the change if they are willing to work for it. It is hard, yes, but it is also what we are called to do. It doesn't just take the physical perseverance, it also takes prayer for strength and to see ourselves the way God intends for us to be seen.
I'm so proud of Candace! If you enjoyed her story and words of wisdom and encouragement, you might find our very own Polly's story inspiring, as well.  Check out Polly's transformation story here (psst…she lost 25 lbs!).
Photo credits: The first two pics of Candace were taken by Lana Eklund of Art & Soul Photography Inc. What great photography, huh?
Shared at: Curb Alert
https://thrivinghomeblog.com/wp-content/uploads/2019/10/thrivinglogo.png
0
0
Rachel Tiemeyer
https://thrivinghomeblog.com/wp-content/uploads/2019/10/thrivinglogo.png
Rachel Tiemeyer
2012-08-24 05:00:00
2020-01-03 17:08:14
Candace's Transformation Story