Celebrate Fall with Decorating Pumpkin Cookies!
Updated: 11/13/20
This post may contain affiliate or sponsored links. Please read our disclosure policy.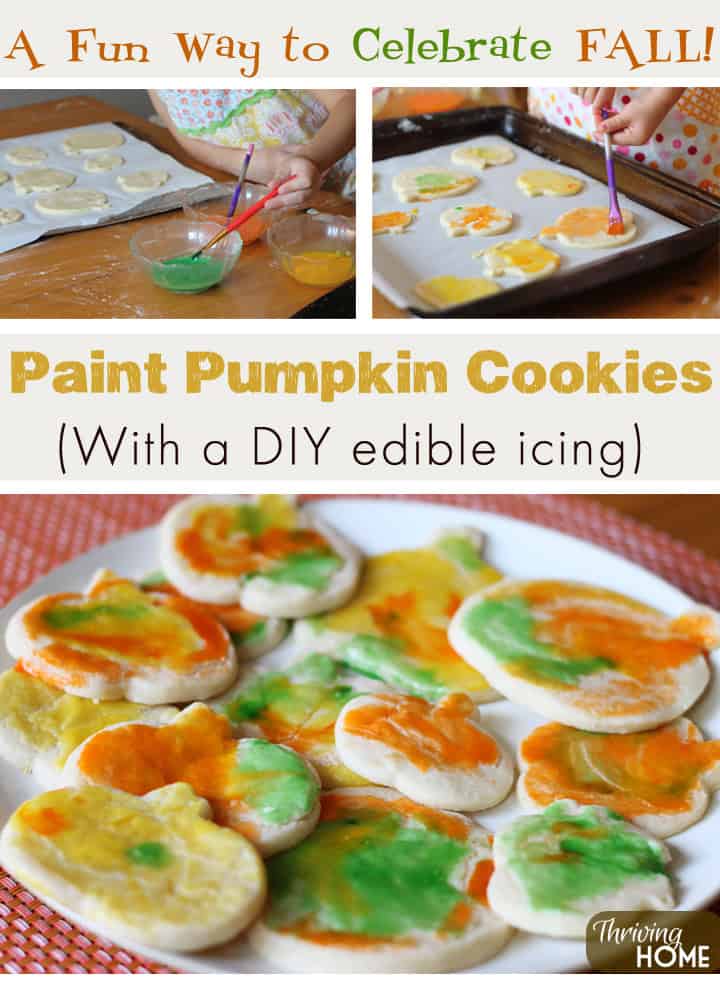 Fall is by far my favorite season. I love it. In an effort to appease my inward celebration of the season, I recruited two chefs in training to help me decorate pumpkin cookies. We had a blast! Decorating cookies with this DIY egg wash "paint" was SO fun for the kids. If your looking for a fun fall idea to do with almost ANY age of kiddos, look no further.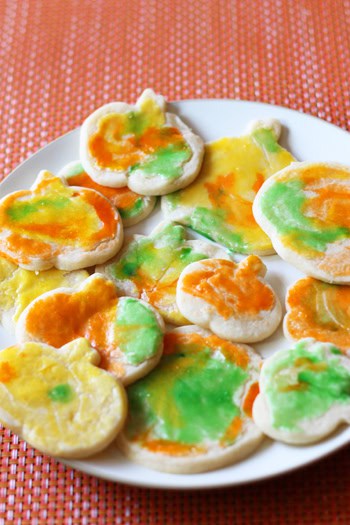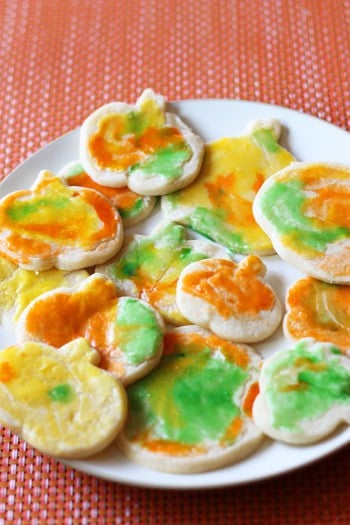 You can probably tell but the cookies above were decorated by a 3 and 5 year old. They are imperfectly perfect in my opinion. They both LOVED being part of the process from beginning to end.
Step One: Make cookie dough and let it chill!
I used Pioneer Women's sugar cookie recipe. This recipe contains some shortening so feel free to use your own sugar cookie recipe if that offends you (cough…Rachel..cough). Not the most real-food kind of thing to use. Everything in moderation, I say. It's a simple recipe but it really does need to chill in the fridge for at least an hour. I got a little rushed and ended up with slightly sticky dough.
Another great suggestion was splitting the dough in half and letting it chill in wax paper after flattening it out a bit. Makes it easier for rolling.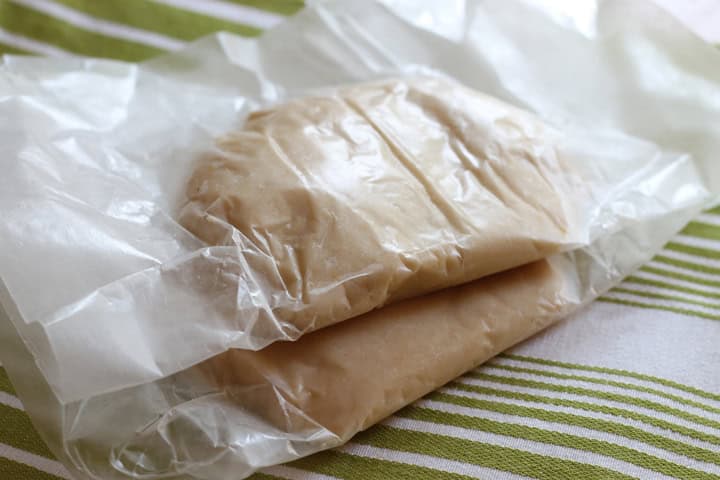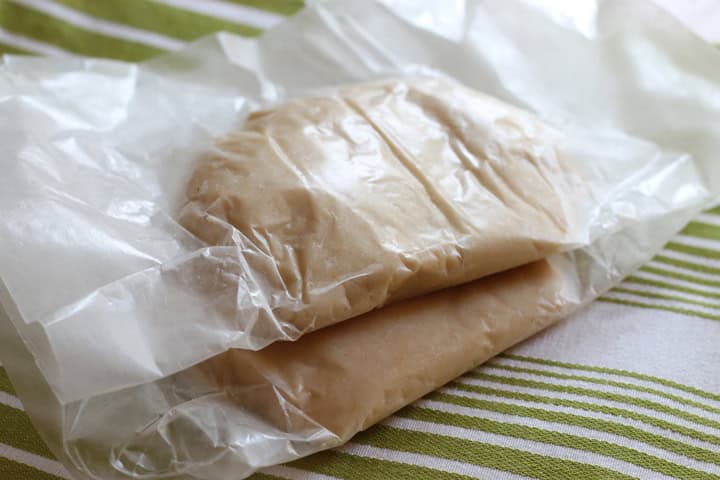 Step Two: Roll out your dough
Flour your surface and roller and roll out your dough. Not too thick, not too thin. I didn't measure how thick the dough was but I'd guess it was a little less than half an inch.
As you can imagine, I had lots of help with this step. My two chefs both claimed to be expert rollers. I also had to flour my dough quite a bit so that it wouldn't stick. The chefs didn't mind throwing flour everywhere either.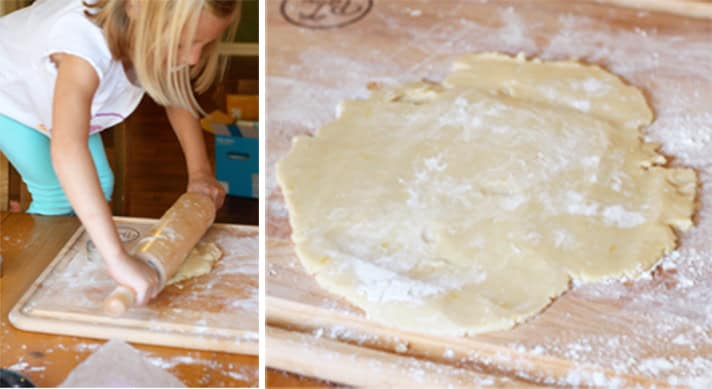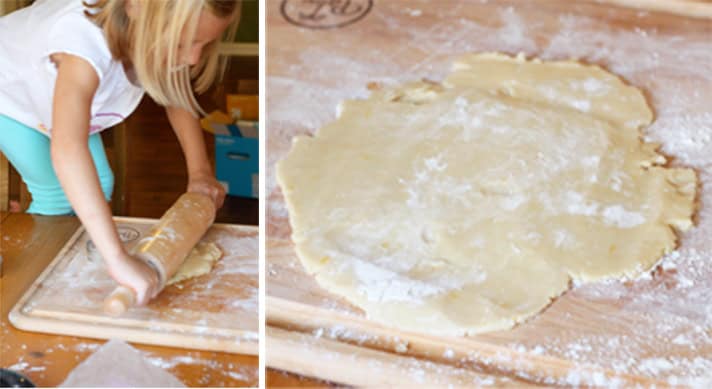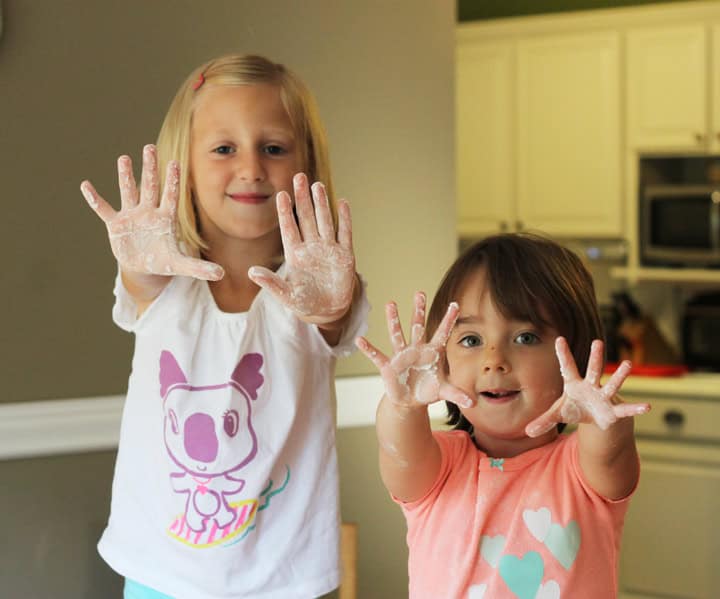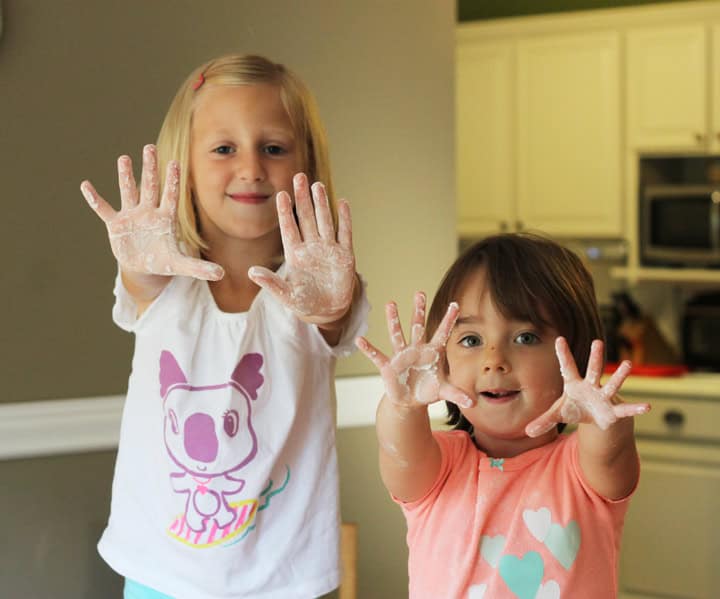 Step Three: Cut Out Pumpkin Cookies

Using a pumpkin shaped cookie cutter, cut out your cookies. I scored a package of cookie cutters that had pumpkins in four different shapes. I liked the variety.
Place them on parchment paper on a cookie sheet. This will soon be where the artistic endeavors will take place.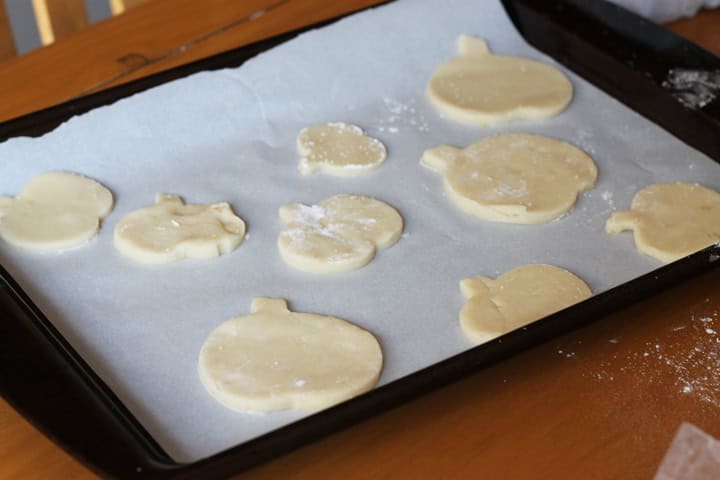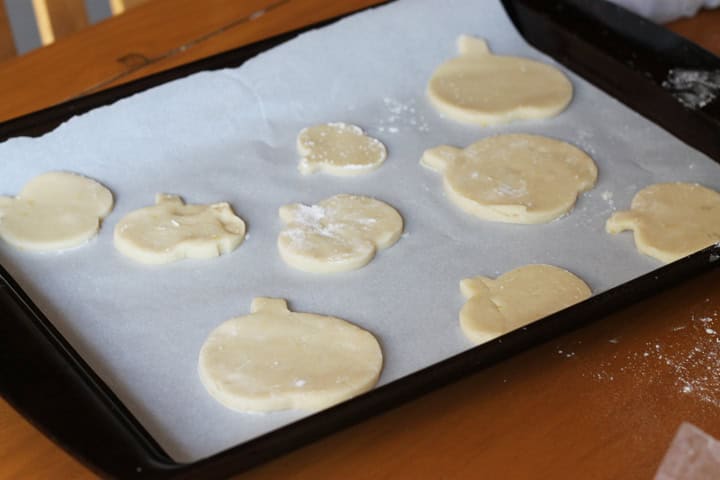 Step Four: Mix up your "paint"
Mix together one egg yolk, one teaspoon of water, and a few drops of food coloring to make your paint. I made three different colors but you could easily do more.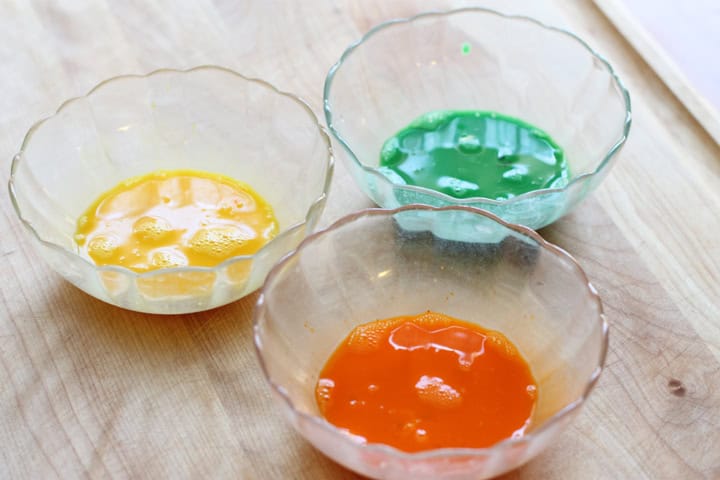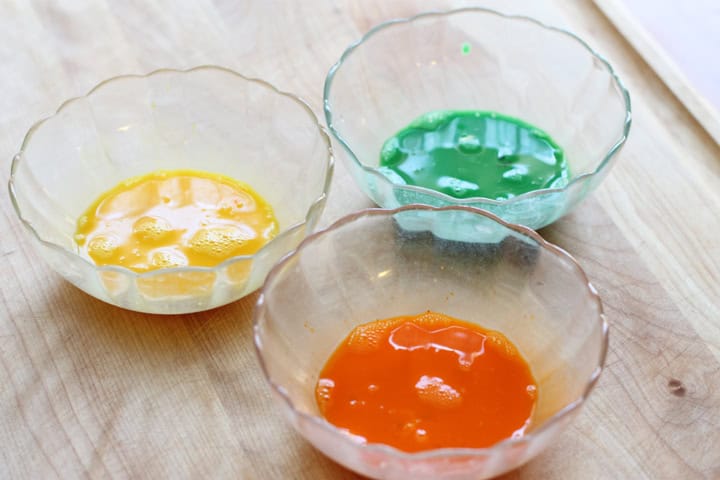 Step Five: Paint your cookies!
Now the fun really starts! Before even baking the cookies, you get to paint them! Using simply watercolor paint brushes, unleash your creativity. This is the part that he kids with LOVE.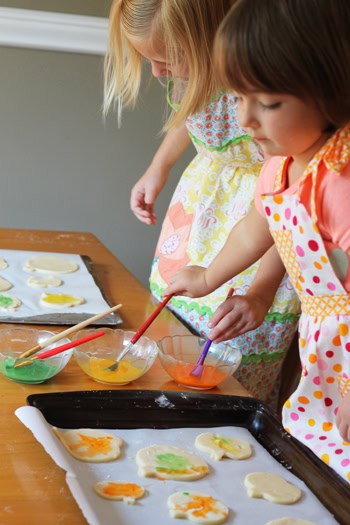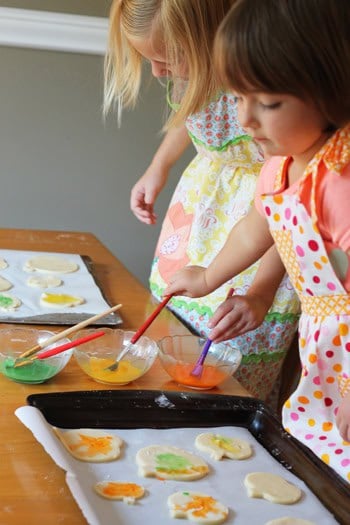 I quickly learned that my little chefs (now artists) needed aprons. They didn't object.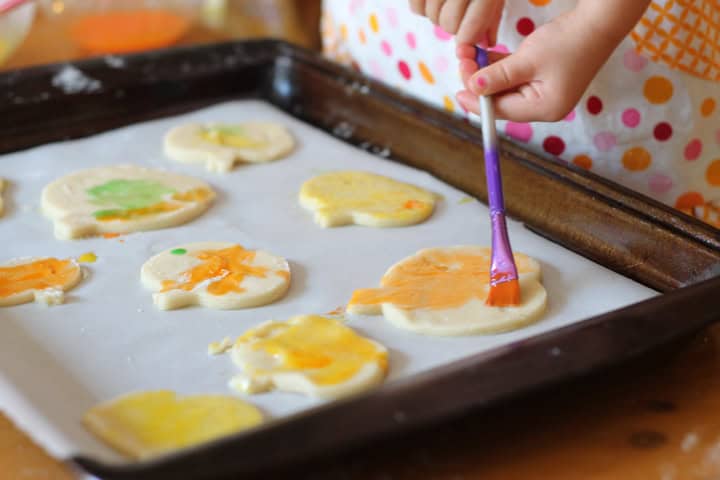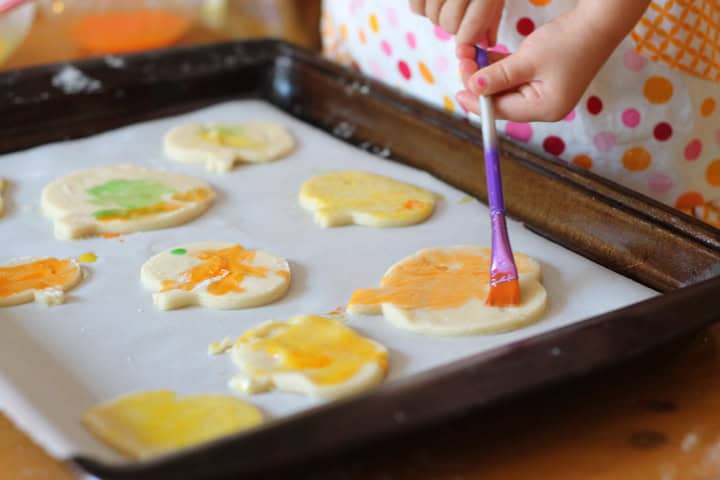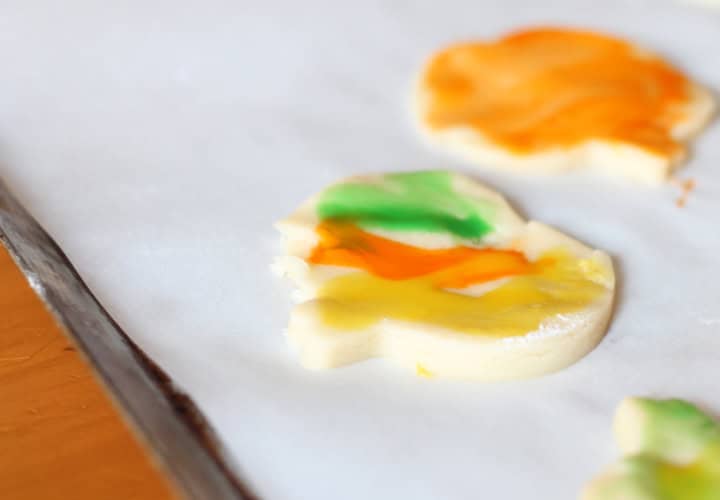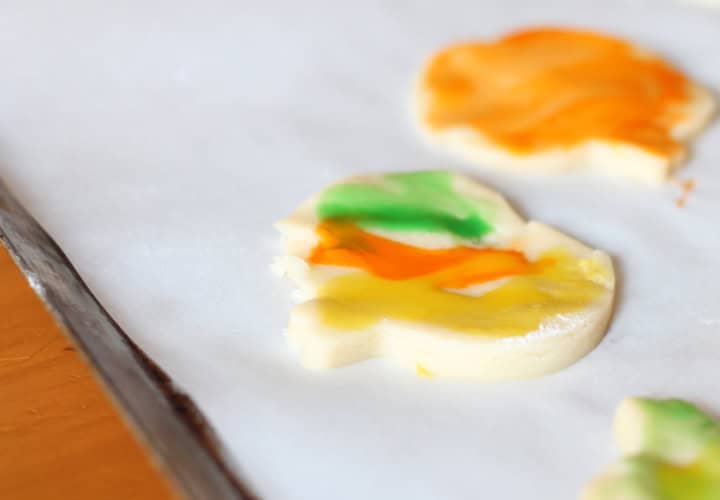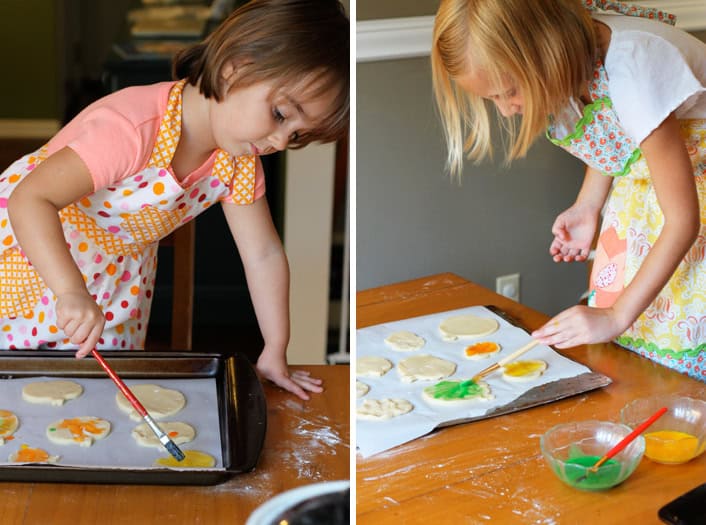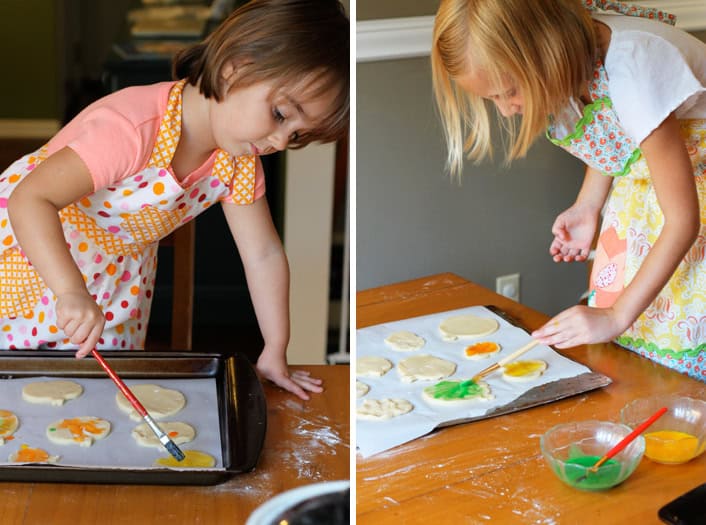 Did I mention how fun this was? We painted designs, faces, rainbows, dots, globs, stripes, and much more. The end product doesn't quite illustrate the creative genius that went into the decorating but we saw it.
Step Seven: Bake Your Cookies
Lastly, pop your decorated cookies in a 375 degree preheated oven for about 7 minutes. (Or whatever your recipe calls for). Since my chefs-turned-artists didn't have a long attention span, the short cooking time was appreciated.
Let them cool a bit and then devour!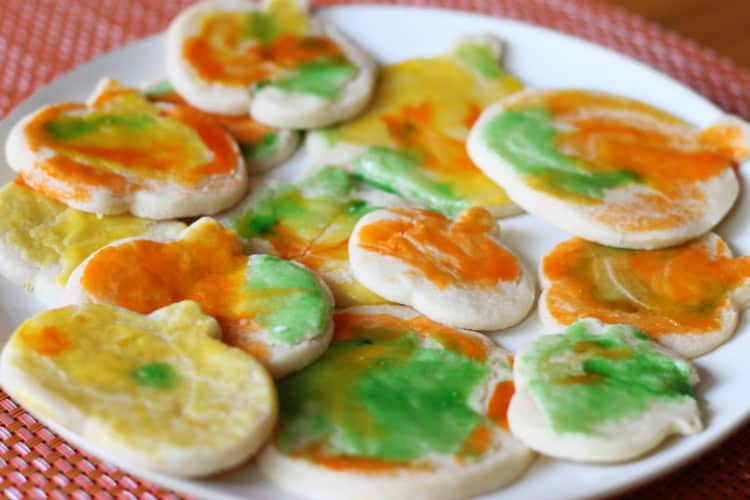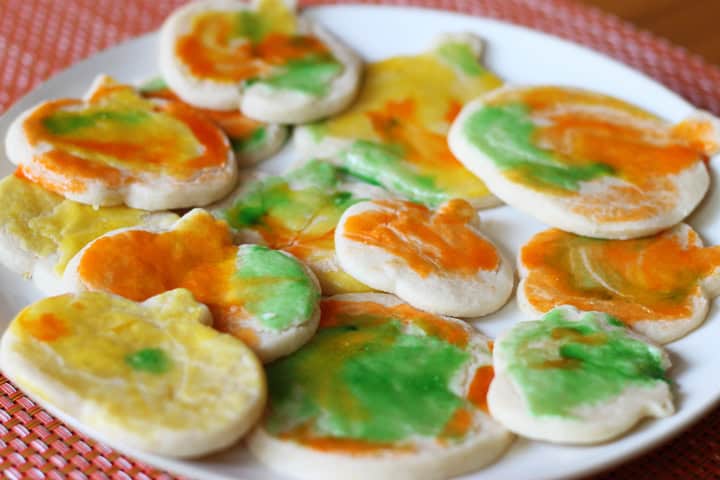 If your looking for other fall ideas to do with kids, check out these 31 Halloween Crafts to do with Kids!