This post may contain affiliate or sponsored links. Please read our disclosure policy.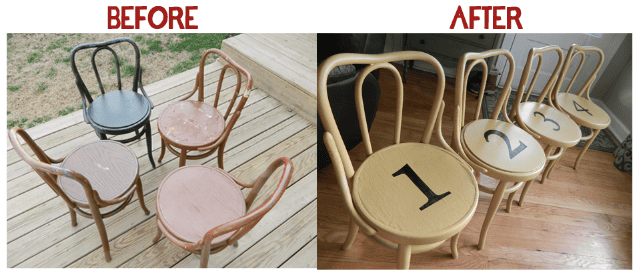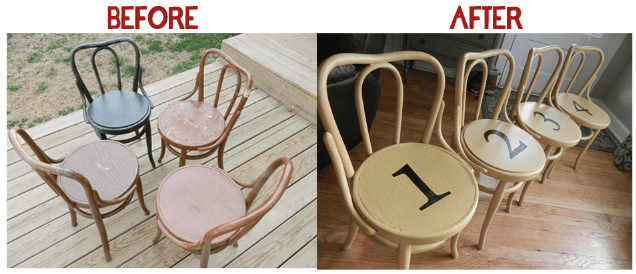 What is it with numbering things? Everywhere I turn, it seems like someone is numbering a household item and making it look cool.
I'm not quite sure I get it. What's funny though is that I've jumped on the bandwagon without even knowing if I like numbering things. I wanted to branch out a bit so I gave it a shot. Here are how some chairs that my parents gave me turned out when I got down and dirty with some paint and my Silhouette Machine.
Keep reading if you want the full story on how I got from these rough looking brown chairs to my numbered friends on the right.
As you can see, these chairs were in rough shape. I don't know their history but I can guess they wouldn't want to talk about it.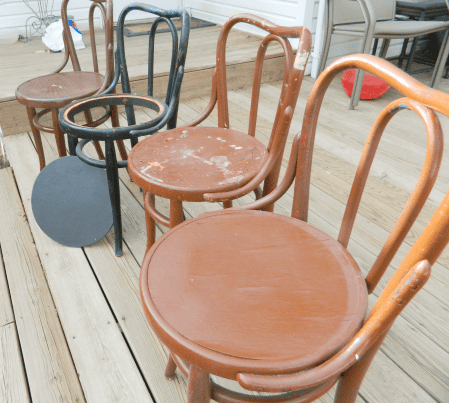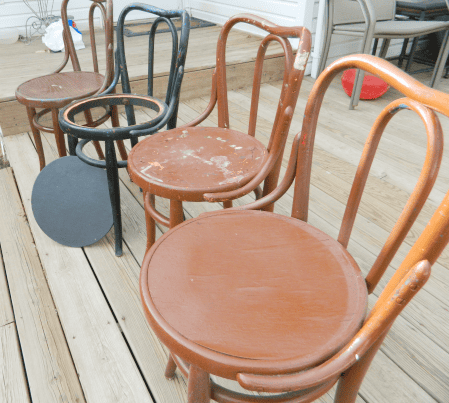 Look at the seat of this one (soon to be my "number one" chair. This was going to take some work!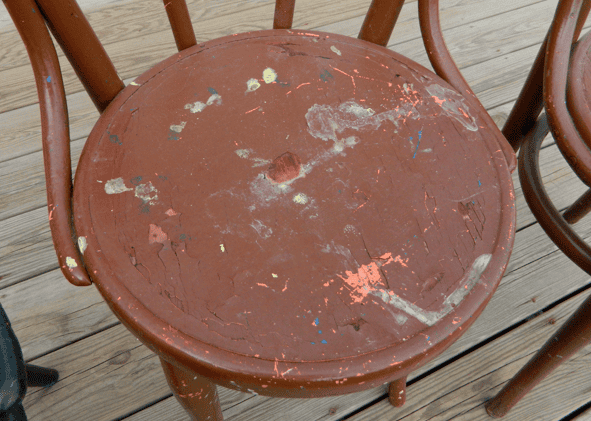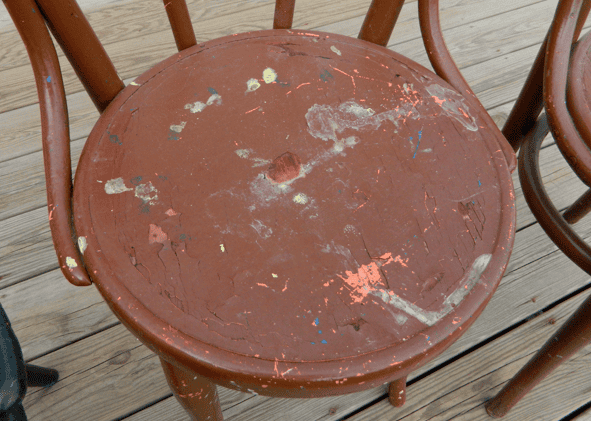 This one lost its seat. I'm sure that made it feel very blue. 🙂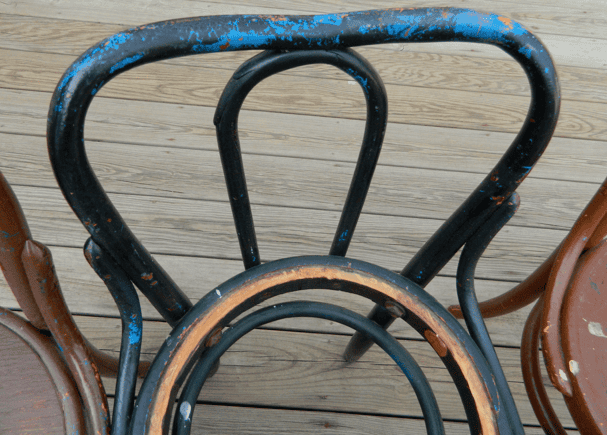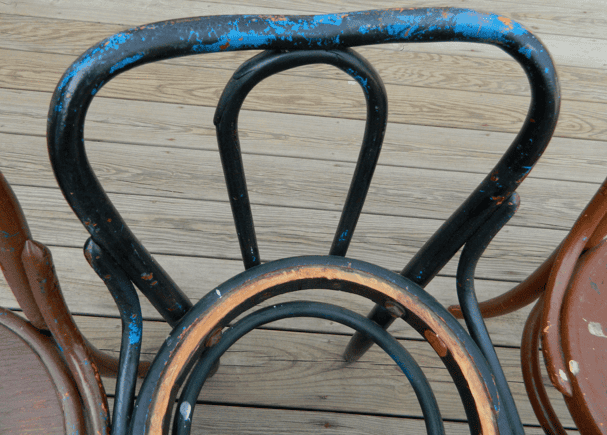 Like most furniture projects I do, I started by sanding with course sandpaper to smooth out the major rough spots. I then go over it with a finer grit to smooth it out even more. In this chair's case, I had to chip away some flaking paint before I even sanded it down.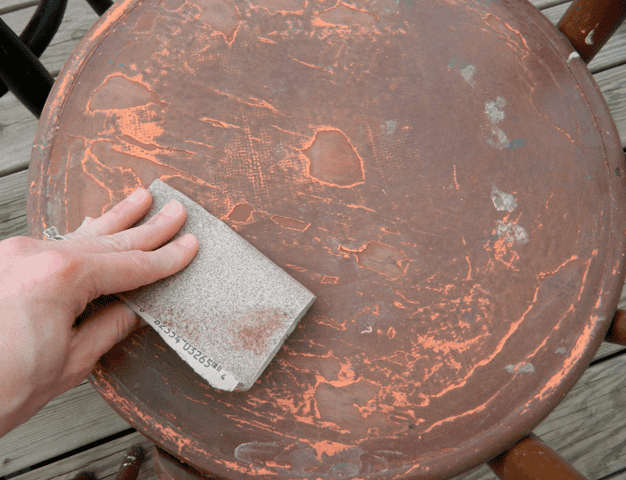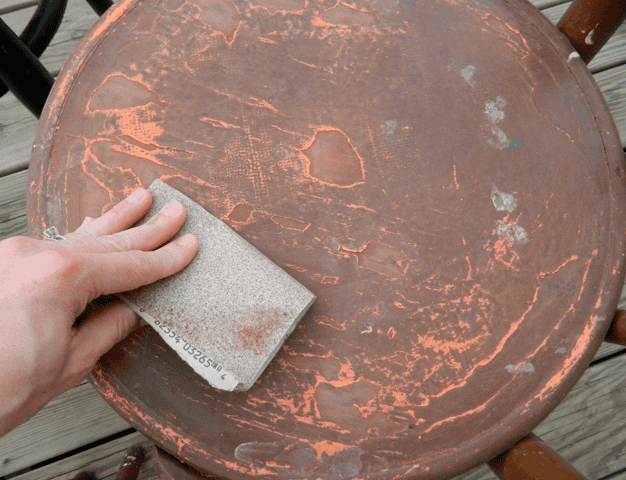 After the chairs had been sanded and wiped down (sanding creates a lot of dust), I primed the chairs. I usually prefer to use my Kilz spray primer but since these had a lot of surface area that would be hard to reach, I figured it'd be easier to hand paint them.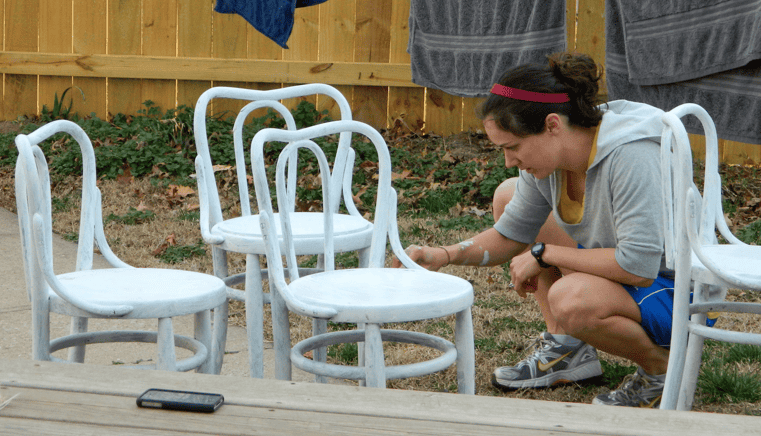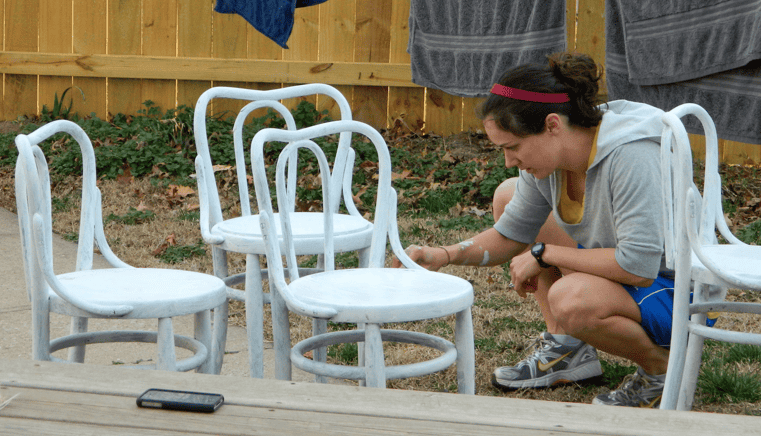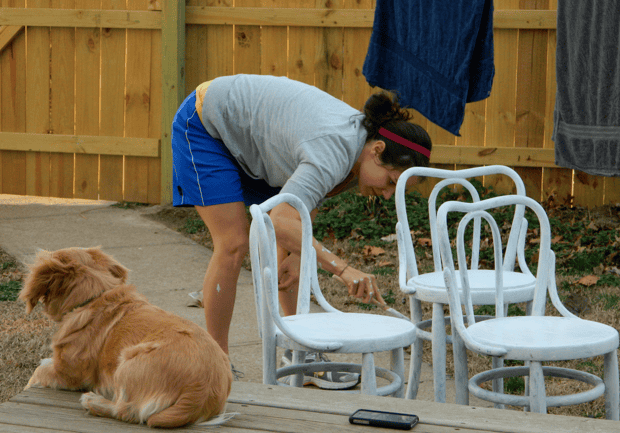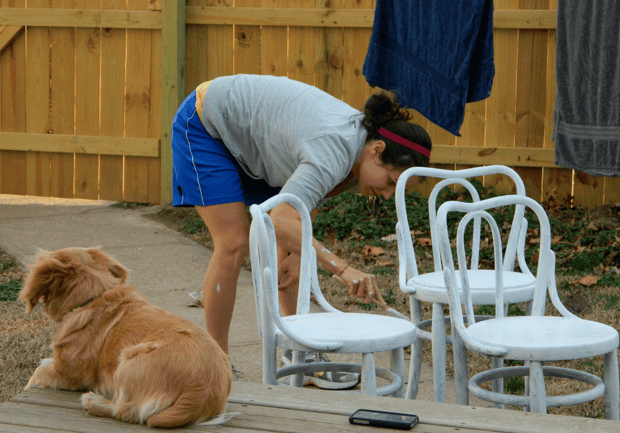 It was a messy job… I still had paint on my arm 4 days after this project!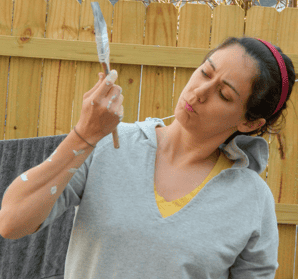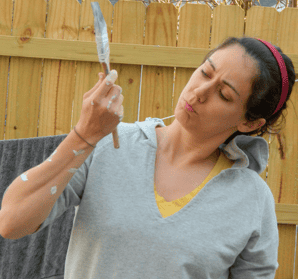 After the primer had dried outside for a few hours, I continued my work inside (while the little one was in bed and American Idol keeping me company). I was really careful to have something below me at all times when painting. I also recommend having a wet rag handy for those unexpected splatters. Painting indoors is risky but projects like this almost have to be done when the little people are sleeping.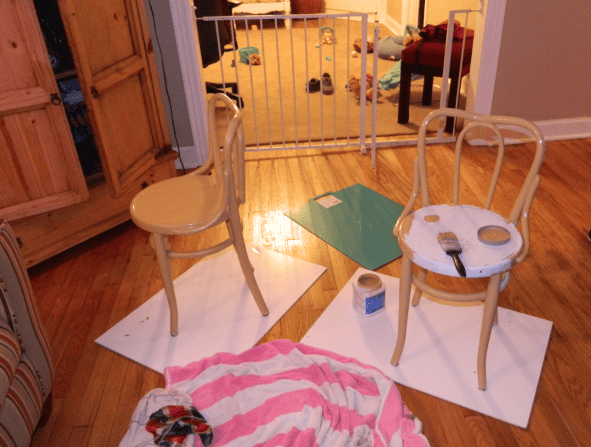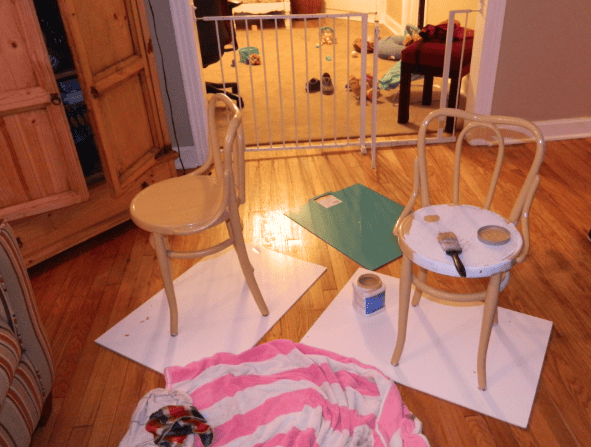 It was slightly tedious but I decided that painting projects like this are therapeutic for me. I just took my time and enjoyed the work.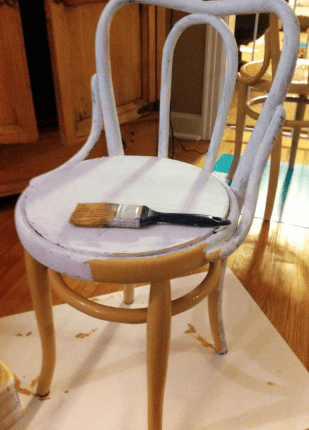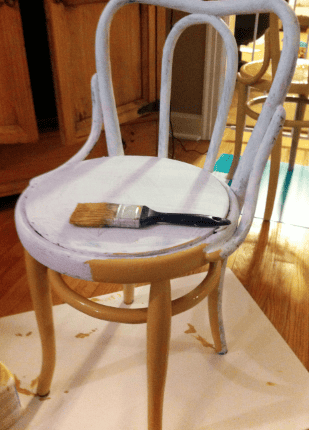 After the paint dried overnight, I cut out some numbers via my Silhouette Machine on vinyl paper. I used it as a stencil and painted numbers on the chair seats.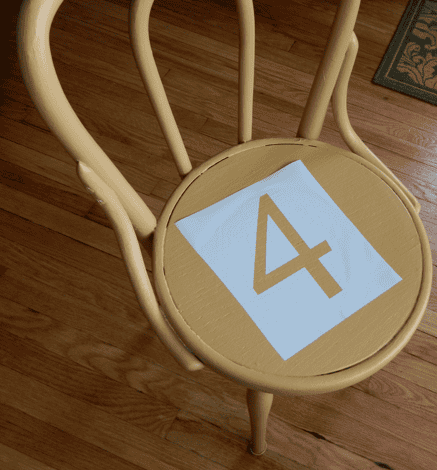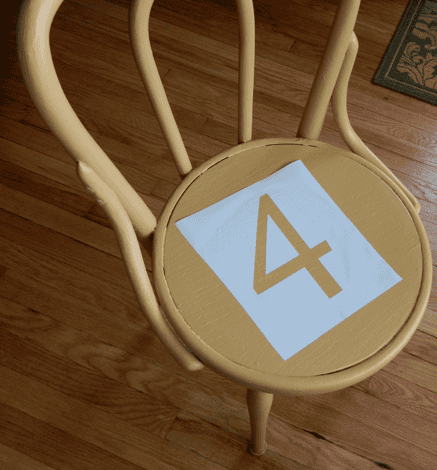 When stenciling, less is more. What I mean by this is that you don't want to have a heavy layer of paint because it will end up sneaking under the stencil and smearing. I just used a simple foam brush and painted on a light layer of black paint. I only did one layer.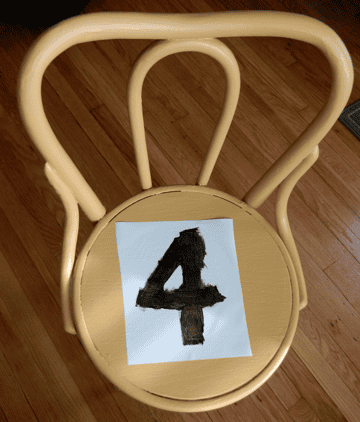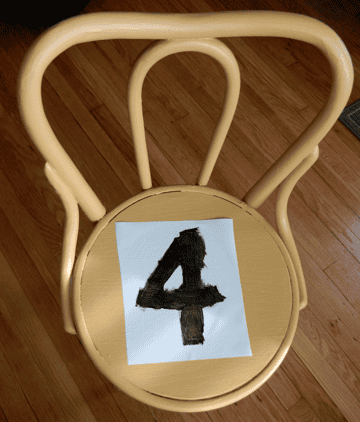 After painting on all of my numbers, I lined the chairs up to take a look.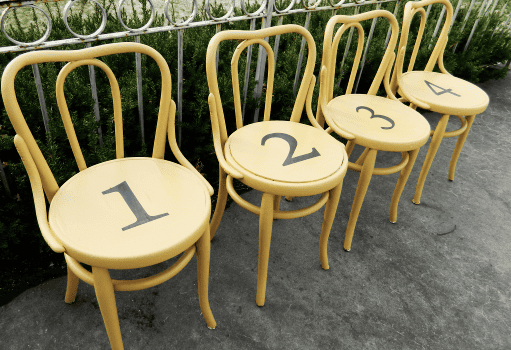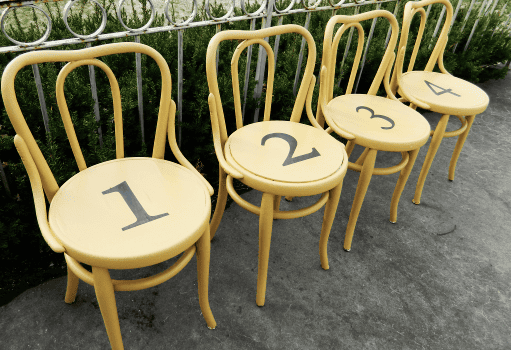 I loved them! I still plan to either paint or spray on a light layer of polyurethane, especially over the numbers so that they won't smear if water gets on them.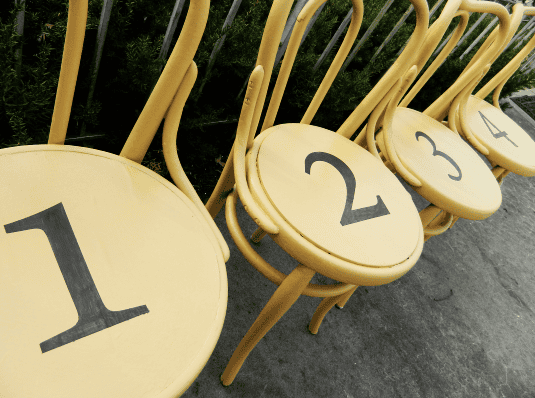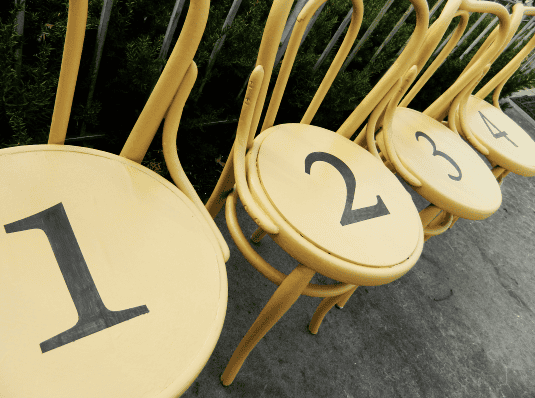 What's funny is that I have no place in my house for these. I never planned on keeping them, even though I wish I had a spot for them! I'm going to try to sell them on Craig's List or at a garage sale this Spring if no one wants to buy them before then (If you're interested, send me an email!).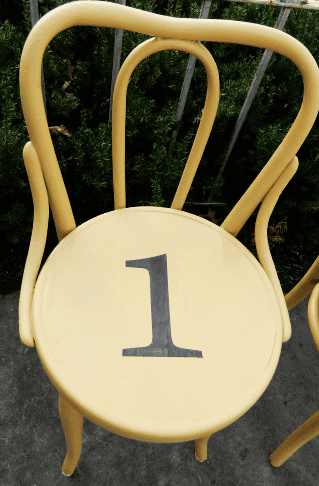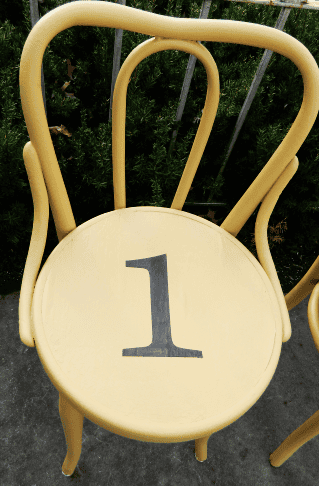 Chair makeovers like this do take a lot of time but they are VERY worth it in my book. Hope you're inspired to pick up that rickety chair on the side of the street and make something pretty out of it!