DIY Chalk Paint Vases (or "Look, I Did a Real Live Craft!")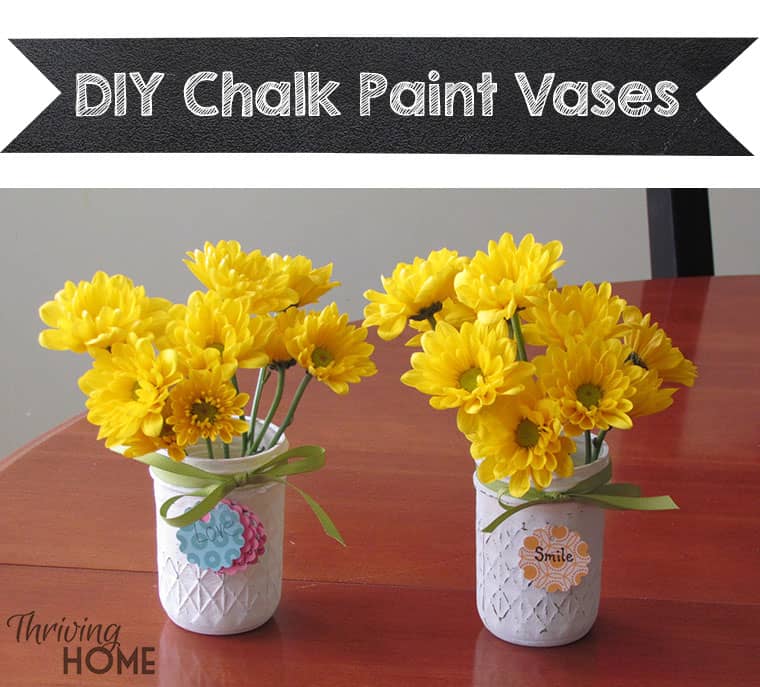 When it comes to DIY and craft projects, I am not your go-to blogger. I mean don't confuse me with this crafty girl.
But when you have a friend you love and that friend loves to craft…you learn to give it a go. That friend for me is Jeannette. Remember her from my Homemade Sandwich Bread recipe? She's near and dear to my heart. A truer friend hath none.
So when she invited me, my mother-in-law, and my 6-year-old daughter over for a "crafternoon", I took her up on it. If nothing else, I knew I'd get a fun snack out of it (because she is a super host) and some laughs (mainly at my own lack of craftiness). To my surprise, however, my DIY Chalk Paint Vase turned out PDC (pretty darn cute). All of ours did, in fact.
DIY Chalk Paint Vases is one craft a non-crafter can manage to not screw up! Hooray. And, even better it was one that my mother-in-law, who had her right dominant arm amputated last year due to cancer, was able to manage quite well. It bears saying that she has more creativeness in one left hand than I do in both of mine! Isn't she awesome!??
So, here's how easy it is to make DIY Chalk Paint Vases...
Supplies:
table covering (to protect your furniture or counter)
a few small CLEAN jars (i.e. mason, jam, pickle, or jelly jars all work)
1 small container of chalk paint, in the color of your choice
small sponge paint brush
small piece of sand paper
a piece of scrap book paper or colored paper
decorative round paper punch or scissors
fine-tipped sharpie or nice pen
hole puncher
thin ribbon, in the color of your choice
thread, preferably near the color of your chalk paint so it doesn't show
fresh flowers
Directions:
1) Cover your work surface to protect it from the chalk paint.
2) Hold your jar upside down in one hand. Then paint one coat of paint over the sides and bottom. I tried to follow the direction of the lines or pattern on the jar while painting. Let dry.
3) Paint another coat of paint. Let dry completely.
4) Sand lightly over the raised surfaces to create an antique effect.
5) Punch out or cut a small circle out of the decorative paper. Write a fun word on it like "Smile" using a fine-tipped sharpie or your favorite pen. Hole punch the top of your circle and fish the thread through it. Cut off enough thread to be able to tie it around the top of the jar. Then tie it loosely around the top lip of the jar, so it hangs down a bit.
6) Tie the ribbon in a bow around the jar (over the thread). The circle should hang down a little below the bow.
7) Fill with water and fresh flowers. Then smile.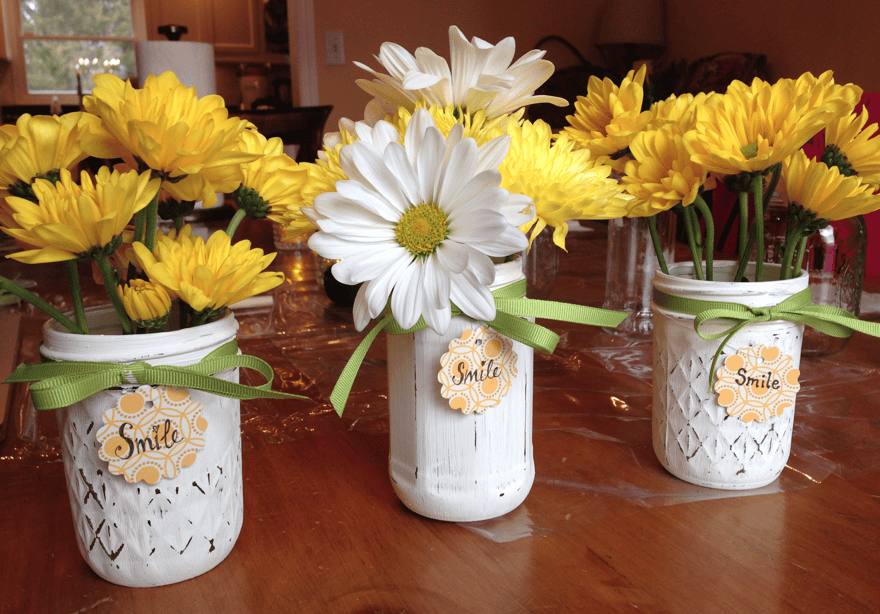 https://thrivinghomeblog.com/wp-content/uploads/2015/04/DIY-chalk-paint-vases.jpg
687
760
Rachel Tiemeyer
https://thrivinghomeblog.com/wp-content/uploads/2019/10/thrivinglogo.png
Rachel Tiemeyer
2015-04-24 05:16:16
2020-01-03 16:12:45
DIY Chalk Paint Vases (or "Look, I Did a Real Live Craft!")