Gather round, friends. I have a Christmas tale for you that is sure to bring some jolly to your day.
It is a tale of a young mother who had large Christmas tree ambitions. Ambitions that were thwarted by the brokenness in this world. Yet, she persisted. And ended up with more than she even wanted.
I'm getting ahead of myself.
Let's start at the beginning.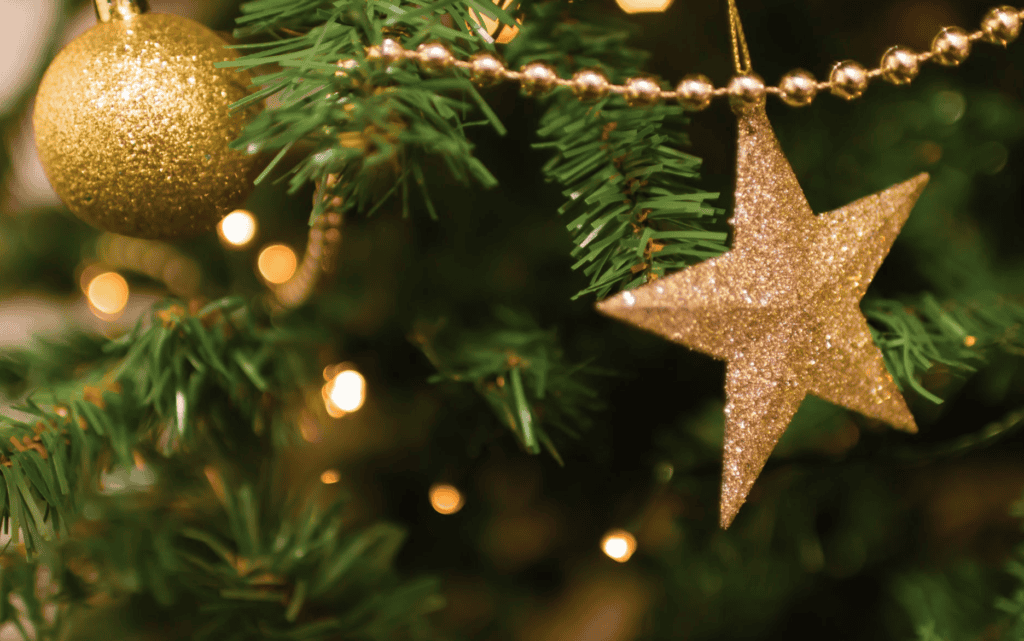 Once upon a time, I found myself at a large estate sale. At this particular sale was a large, beautiful, pre-lit Christmas tree. Priced at $50, I thought this was a great deal considering it would probably sell in the store for three times as much. Like any good thrifter would, I tested the tree out before purchasing. Perfect. All the lights sang with glee and it simply belonged in our home.
What I didn't anticipate was that I now had the task of getting the tree to the car by myself. It was quite the scene, I assure you. And no one seemed to think this 5'3 woman needed any assistance in dragging a 7 foot tree around corners, out the door, and into the back of my van. I about cried when halfway to the car, the tree came apart in the middle, only being held together by the strands of lights.
After a legit wrestling match with my new tree, I somehow squeezed it in the back of my van. I was a sweaty mess by the end but my mission was accomplished.
Anyway, my estate sale treasure sat in the basement for a few months until last week. We had built up a lot of anticipation about decorating the tree and the kids were giddy about the thought of it. Finally, the time had come and we brought the tree up to the main level for its debut. As we assembled it, kids were squealing, hot chocolate was brewing, and Christmas music was playing. It was perfect.
Except, it wasn't.
When we plugged in the tree, only one strand of lights worked. One of 8 strands, mind you.
Surely this isn't right. I was confident that my husband had not plugged something in correctly. I mean, it worked wonderfully when I bought it! He quickly gave up and left me alone with my broken tree. I tinkered with plugs, I shook lights, I checked outlets, I flicked bulbs, you name it.
And then I recalled my wrestling match with the tree just a few short months before it. It didn't occur to me in the sweaty moment that I was potentially damaging the lights. I just wanted to get the dang tree home! Well, apparently it did not fare well through the transportation because we had a very broken, dark tree.
My husband suggested just putting more working lights on the tree. While this probably would have been ok, I was on a one-mind track to have a quality tree. One that we could use for decades. And I had made up my mind that this was not going to be it. I would not have hundreds of dead lights on my tree.
Kids, get in the car. We are going tree shopping, dang it.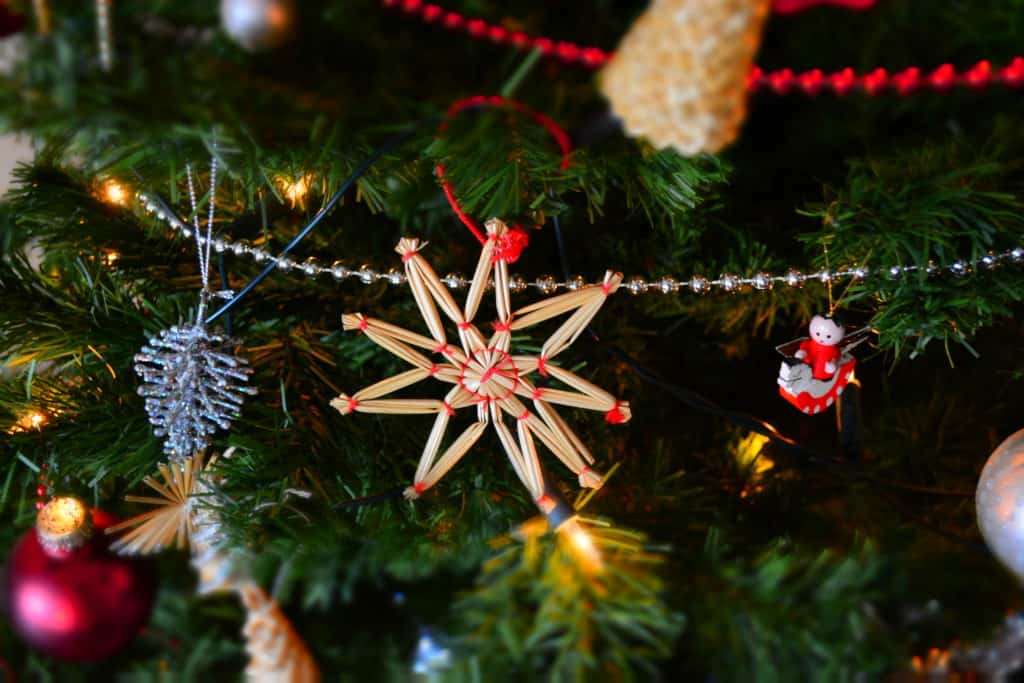 After some whining and complaining, they complied and piled in. I go to start the car and it made a strange, strange noise. It tried and tried to turn over but simply couldn't get started. After three failed attempts, the car was smoking and just not having it.
You have got to be kidding me.
Dead tree. Dead car. This is going really well.
My husband had gone to the gym in the other car so after a flurry of cheery texts from his wife (ha-yeah right) he kindly cut his workout short in order to bring home the working vehicle.
Onward!
So off to the store I go with three tired young kids (who were currently working through grandparent house hangover btw). You know what's NOT smart to do with 3 tired children? Take them to the Christmas section of Wal-Mart.
I can hear the experienced mamas shaking their head from here. You would think I was new at this or something.
But dang it, I wanted a Christmas tree and nothing was going to stop me.
And you know what, my kids wanted a Christmas tree too. Apparently EVERY tree in the store. And every blow up yard ornament in sight. And every light up reindeer. And the glittery seahorse ornament. And the train that goes around the tree. And. And. And. So while I was fending off a, "Can we get a…?" every 3 seconds, and kids darting further and further away from me towards the next shiny thing, I was trying to do diligent research on each tree to decide which one we were coming home with.
After working through the tree section, we had found one that at least 50% of us approved of. It was 7 feet tall, pre-lit with lights that you could change the color of with the press of a button. Boom. Winner. Except it wasn't a winner when the nice young man working there informed us that this was the only one that was out of stock.
Awesome.
By this time, my kids were in full blown crazy. One was bored in the cart and barely hanging on to his emotions. Another was fully laying out under the cart singing at the top of his lungs. He was dragging his hands on the floor when I would move and yell out when my feel got close to his fingers. The other was trying to sneak shiny ornaments in the cart when I wasn't looking. My quiet, face-to-face interventions were not doing the trick with this wild bunch so my vocals and bad mood were escalating. Yes, we were those people that you talk about at Wal-Mart. You have my permission to feel better about yourself and your well-behaved children. Mine were a bunch of over-stimulated banshees.
Anyway, as I stared in disbelief at the empty space where our chosen Christmas tree boxes had been previously stocked, my daughter suggested just getting the one next to it. I mean, it had to be similar, right? A wise shopper would know that this suggestion was foolish. A wise person would go back to the display and check out what this tree actually looks like. A wise person would just call it a loss and try again tomorrow when everyone is a bit more sane. I am not this wise person. I told my daughter, "What the heck." And single handedly lifted the "team lift" box into my cart.
We were doing this, dang it. And we're having fun, dang it. And making memories, dang it. It's the most wonderful time of the year, dang it. And so we bought the mystery Christmas tree along with a star that didn't end up fitting it in the end.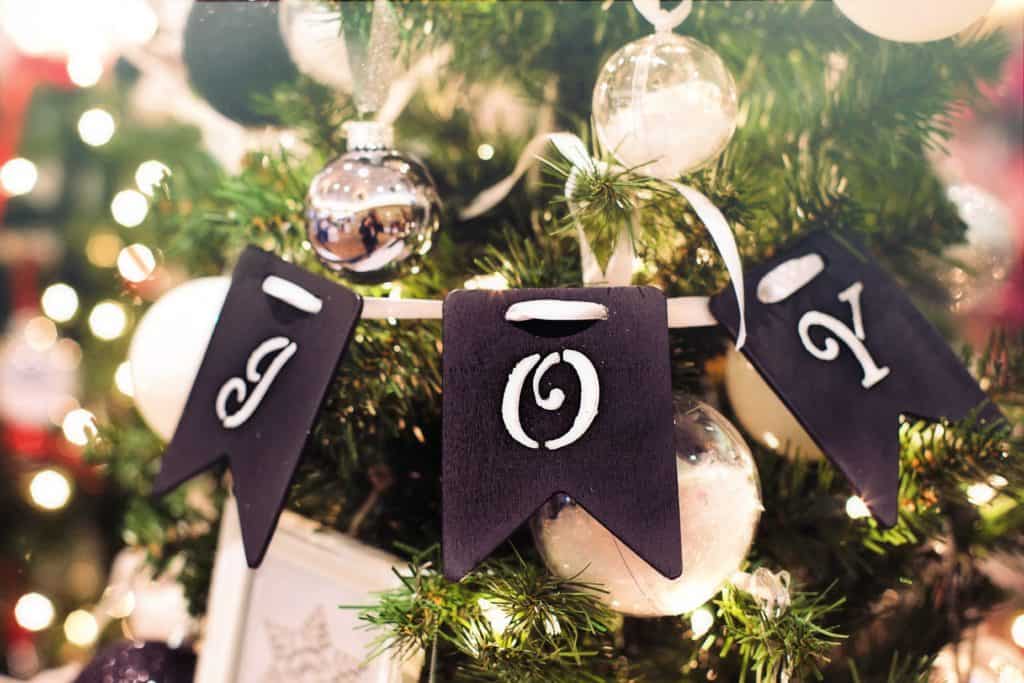 On the way home, my mood began to lift a bit. This actually was quite the story. The events of the afternoon were actually were quite laughable. The fact that we were coming home with a mystery Christmas tree was quite the adventure. My kids sensed that their happy mama was coming back and they seemed to grow more cooperative as well. Funny how that happens. 🙂
Fast forward an hour or two and we are unboxing our tree. I stick part one on the stand and start the tedious effort of fluffing each branch. I follow suit with the next two sections and pray to Jesus that the lights on it work.
I plug in the tree and it lights up beautifully! We all celebrate a little that we have a working tree. And then, we notice something. The tree is moving. It's rotating. Wait-what?
At first I thought it was settling in or something. No, the tree continued to rotate. And rotate. And rotate. Turns out, we got a rotating tree and didn't even know it!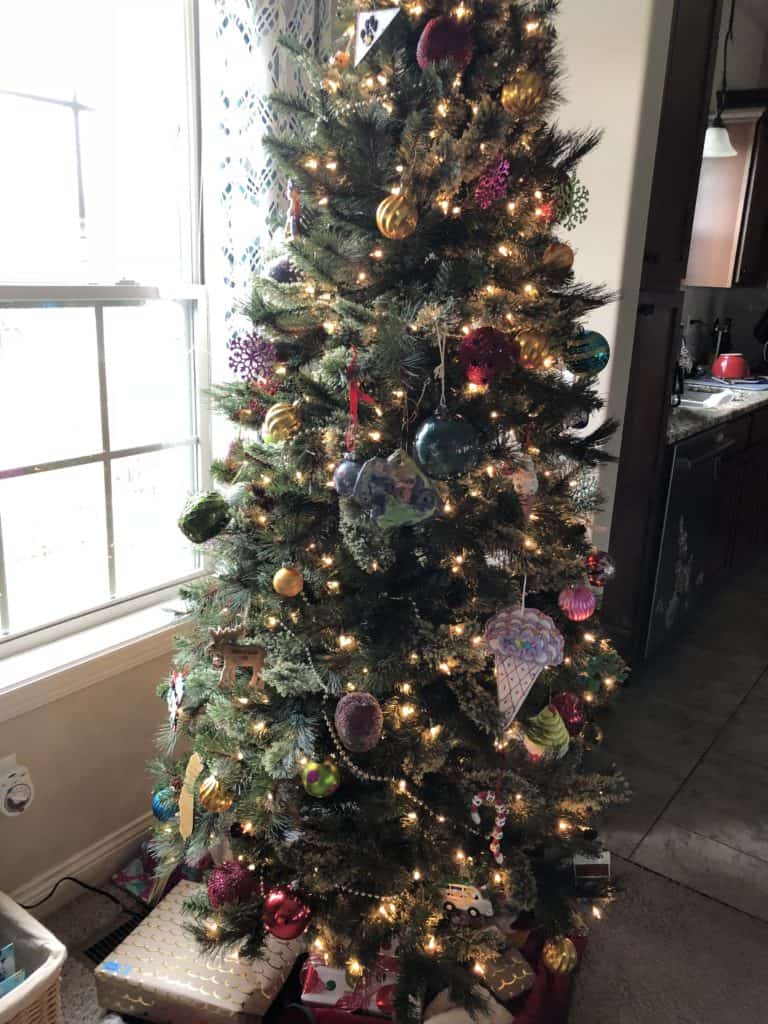 And you know what, the kids LOVE it. And I kind of do too.
We had our hot chocolate. We had our Christmas music. And we had a great time decorating it.
So now we have a rotating Christmas tree along with a non-working tree in our garage that I need to figure out something to do with. Any takers?
https://thrivinghomeblog.com/wp-content/uploads/2017/11/Screen-Shot-2017-11-27-at-3.10.56-PM.png
1172
1872
Polly Conner
https://thrivinghomeblog.com/wp-content/uploads/2019/10/thrivinglogo.png
Polly Conner
2017-12-04 07:37:26
2020-01-05 21:21:23
Christmas Tree Troubles