Compared to Her: A Book Review
Updated: 11/13/20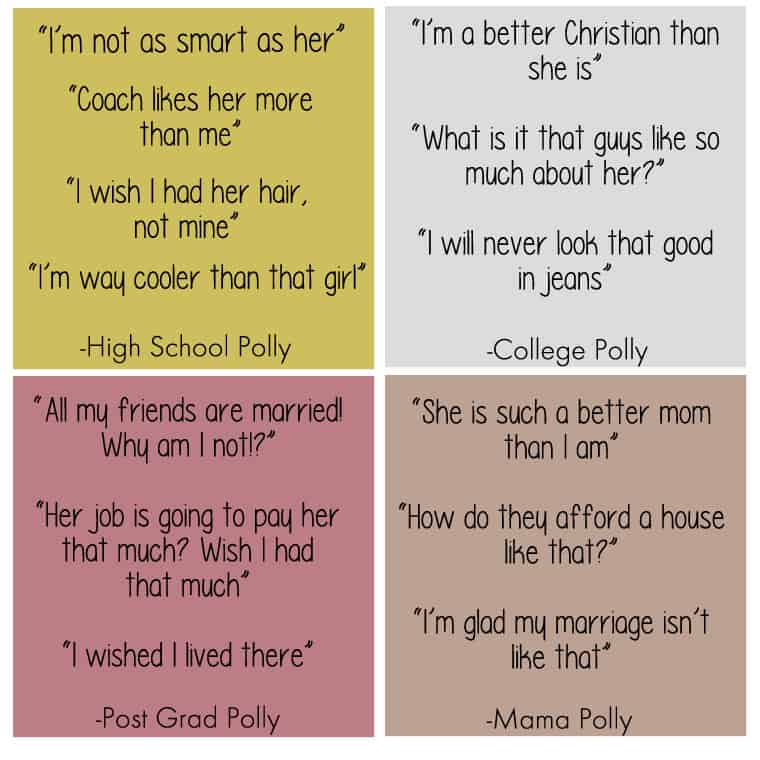 Disclosure: Affiliate links included.
We all do it.
We all compare. Some are more aware of this tendency than others but since sin entered the picture, we have been sizing ourselves up based on the people see around us. Comparison rears its ugly head particularly in the areas that we are most insecure in. Appearance. Motherhood. Financial success. Marriage…. shall I go on?
In the comparison game, sometimes we win and sometimes we lose. It's an exhausting game that we play in our heads that never seems to end.
The perplexing thing about comparison is that it does not get better with age. I was hoping my image above illustrated this by sharing thoughts that have gone through my head at every stage in life. The point is, no matter where in life we are, we find ourselves in a quiet, secret battle of comparison with everyone around us–even people we don't know!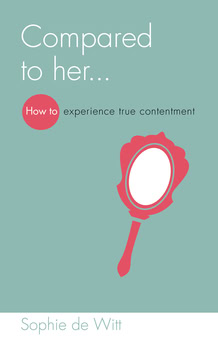 I feel a little more free to say these things because I just finished a great book called Compared to Her that boldly acknowledges the issue, diagnoses the cause of this infectious sin and (thank goodness) gives us hope in fighting it and breaking free of its deadly grasp. It effectively lays out how we are all looking for significance, satisfaction, and security and unless we find that in Christ, we will be left empty and insecure.
Compared to Her is a short, easy read that I found to be a gospel centered approach to such a seemingly hopeless issue in a woman's heart. It doesn't just identify the problem but walks the reader though the process of taking ourselves out of the center of our lives and proactively putting God back in that rightful place. It makes for a great discussion with other women and can be a book to hand to any woman no matter the stage of life they are in.
I recently had the opportunity to lead a discussion on the book with a group of women. It is one of those books that reveals itself in deeper ways when discussed with other women. When I heard what other readers got out of the text, I realized I missed a lot and was thankful to intentionally talk through and apply the main points.
If a book like this sounds appealing to you, I'd encourage you to snag a copy and invite friends to read it with you. To make it even easier for you, I am including a Compared to Her Discussion Guide that myself along with two other friends put together for each chapter.
You don't have to follow the guide word for word but hopefully it can give you tracks to run on and a boost of confidence in gathering some women together to work through this very personal issue.
In conclusion, I'd encourage you to take an honest look at your heart, recognize that comparison likely resides there in one way or another. If you're willing to dig into that mess and begin the work of addressing your sin, this book is a good place to start. Team up with a few other gals and being the journey together!