Dingy Dresser Transformed into Kitchen Hutch
Updated: 11/13/20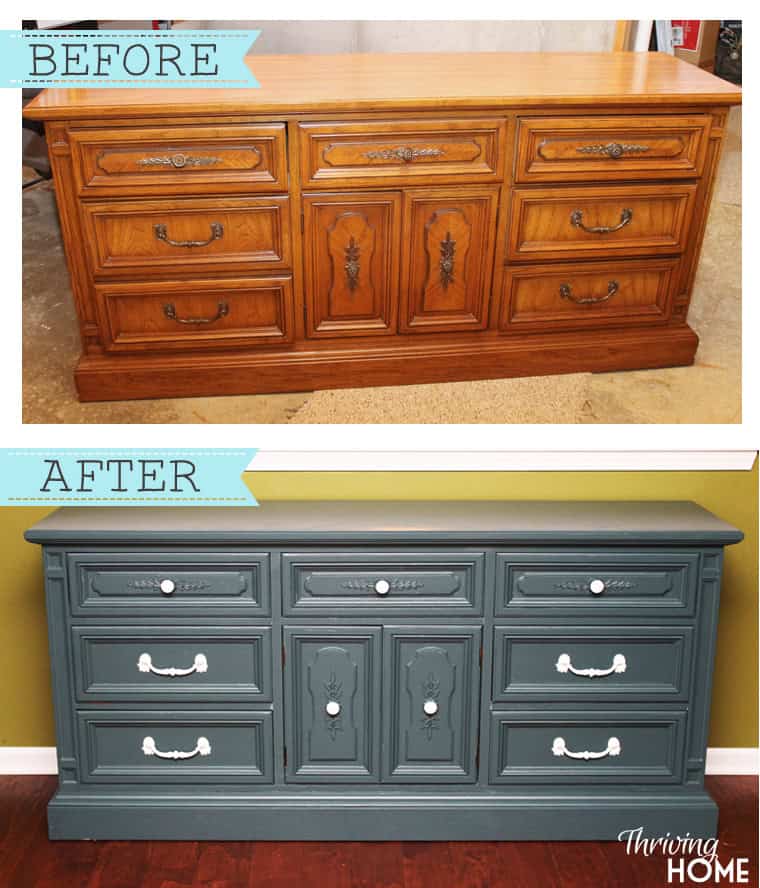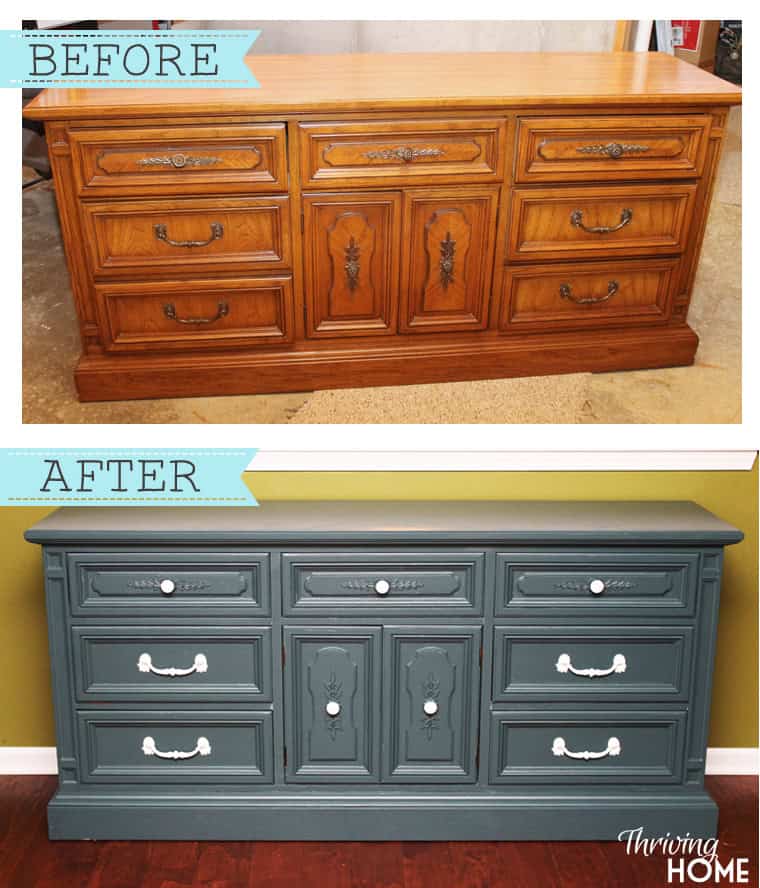 Furniture makeovers are one of my favorite things to do. Before I had kids I had a knack for finding great furniture deals at thrift stores and garage sales, giving them a facelift, and then reselling them for more. It is a fun hobby that has slowed down a bit but I still like to get my hands dirty every once in a while.
This dresser to hutch makeover probably is my favorite I've done. I LOVE how it turned out and the piece is perfect for our kitchen. Keep reading to find out more about how I revamped this dinky dresser into a pretty awesome, much needed kitchen hutch.
I have been keeping an eye out for a piece of furniture that would fit a particular space in my kitchen. I ran into this beauty (well, not quite a beauty yet but I saw potential) at a small thrift store. It was priced at $100 which is pretty good considering how big it is AND that it is solid wood. It came with a big mirror on top but I didn't have any use for that.
Initially I thought it was TOO big so I passed it up and left the store without it. However, I couldn't stop thinking about it and decided to go back for a second look. After doing some measurements I realized it would be perfect. I went back to the store and claimed it as my own. I told the store they could keep the mirror that came with it. One less thing for me to worry about.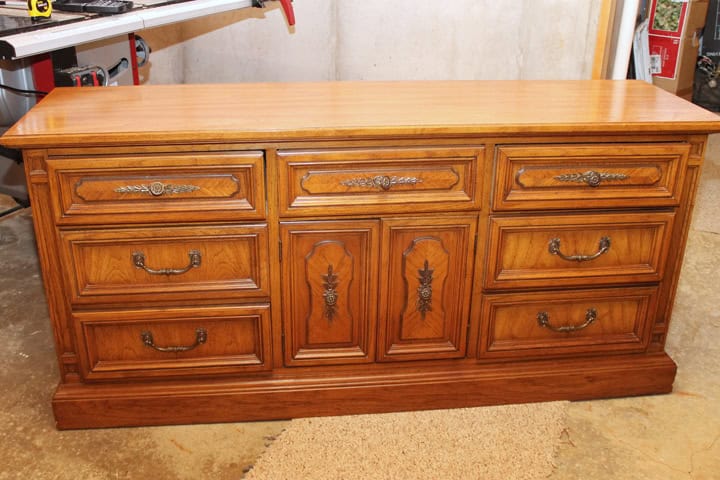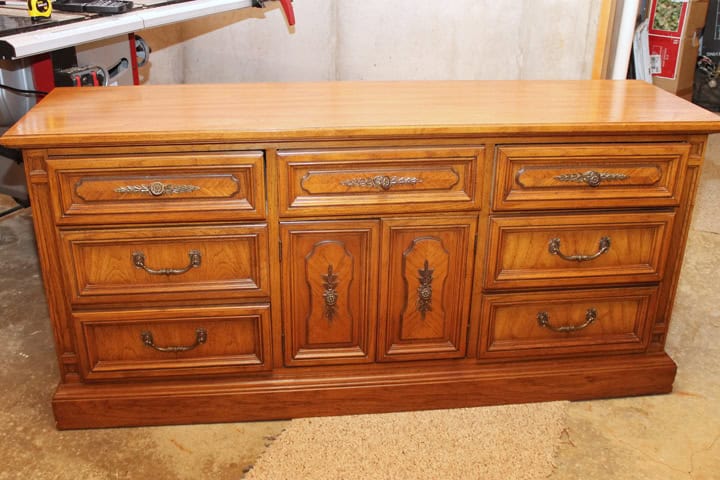 After the store delivered it, I was laughing at myself because it was SO big. My husband came home from work that day, walked in the basement (where I had the delivery guys put it so I could paint it), took a look and simply walked out. He's become somewhat accustomed to my purchases of random furniture but this one was a bit too much. Did I mention it was huge? And SUPER heavy? I wasn't even sure how the heck we'd get it up into my kitchen but figured we'd cross that bridge when we go there.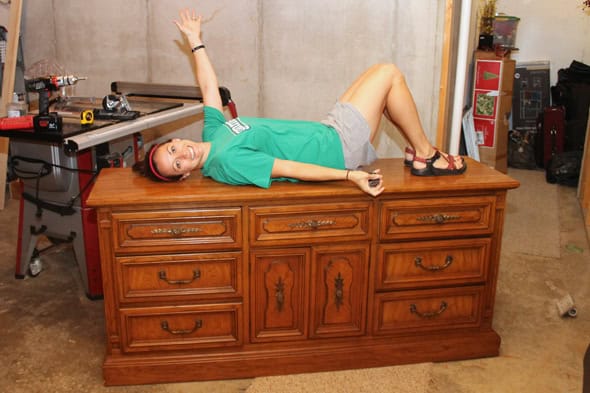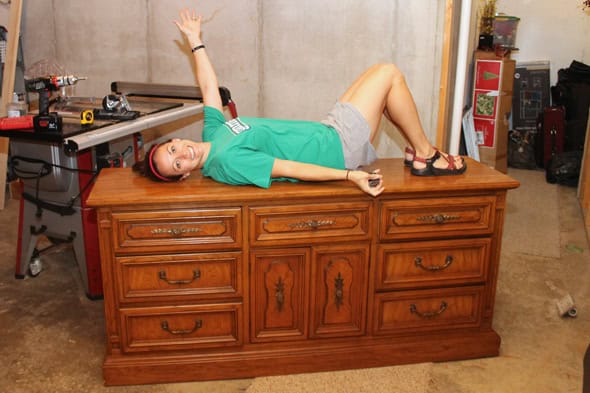 So first step to any furniture makeover is taking all the drawers out, removing all the hardware, and sanding it down a bit. Sanding wood not only gives the primer something to grip to but it smooths out some of the imperfections.
Using my palm sander, I gave everything that I could a light sand with 100 grit paper.


After wiping off the dust with a damp rag and letting it dry, I then moved on to the next step of my dresser makeover: Priming.
When we painted our kitchen cabinets, I learned that the RIGHT way to repaint something like this is to use a quality oil based primer. However, I HATE oil based primer. Hate it. It not only makes me somewhat dizzy and nauseous but it is also a huge pain to clean up.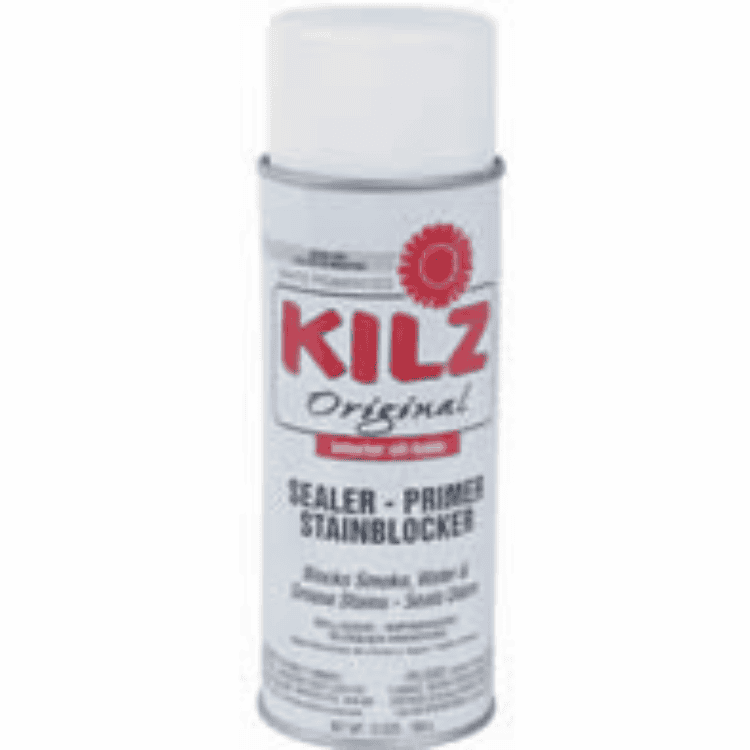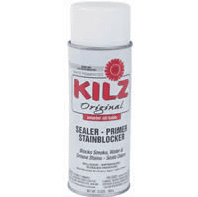 Since I didn't want to lose 1/4 of my brain cells using oil based primer I chose to use the next best thing in my book: Kilz Spray Primer. I love this stuff. It has never done me wrong. It took about 1.5 cans to cover all the surfaces of the dresser but it was totally worth it.
I gave it one solid coat of Kilz primer and let it dry overnight.
After this, I got to work painting. There were a lot of areas on the dresser that a roller wouldn't get to so I had to paint a lot by hand.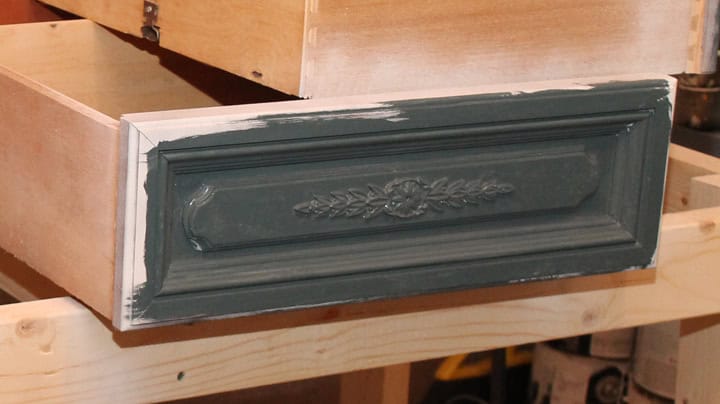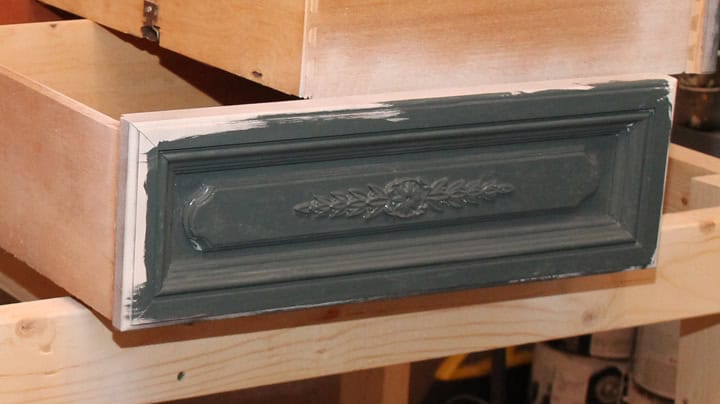 After I hand painted all of those nooks and crannies with a paint brush, I busted out my foam roller. I've learned (the hard way) that using a roller is the way to go when painting furniture. The paint goes on much more smoothly and evenly.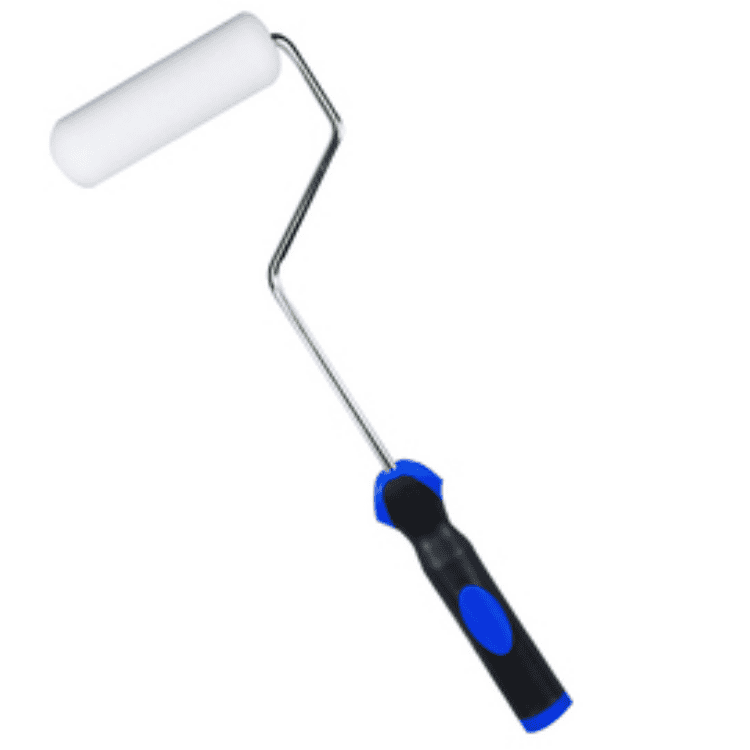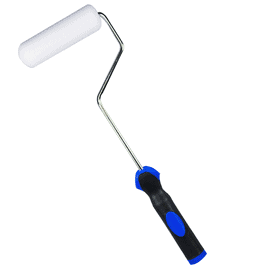 It took two coats of Benjamin Moore's Vandenburg Blue with a semi-gloss finish. I got it color matched at Lowes so it was cheaper. A quart of this paint cost around $15.00.
For the hardware, I just removed it from the drawers, painted it white and let it dry. Spray paint is probably the easiest way to do this but I didn't have any so I painted it the old fashioned, messy way.
I let the paint dry for about two days in the basement and then we moved the dresser up to the kitchen. (How we managed to do that is a story in itself but no time for that today.)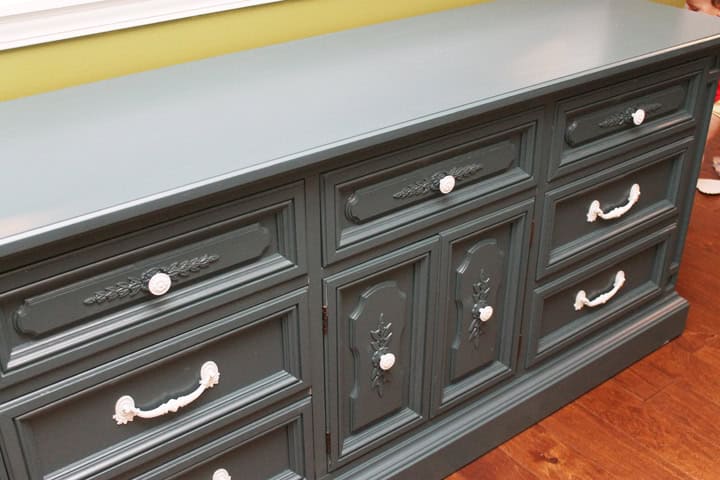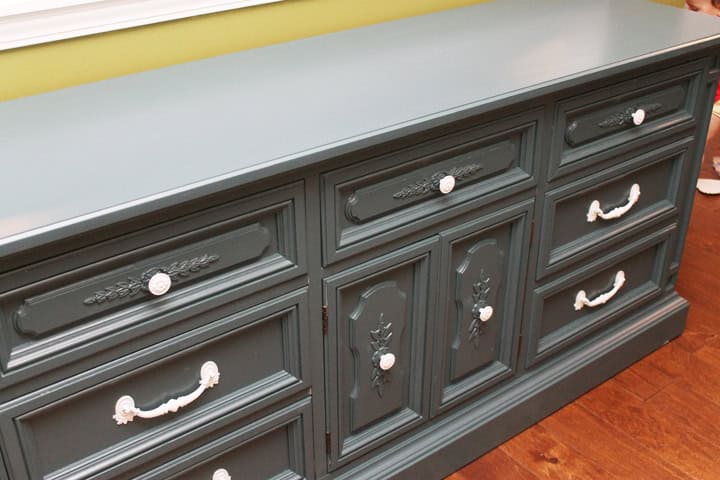 Ah, much better.
One thing worth mentioning is that before we moved the dresser up to the kitchen, I painted the sides of each drawer. I love the clean look of the white verses the raw wood.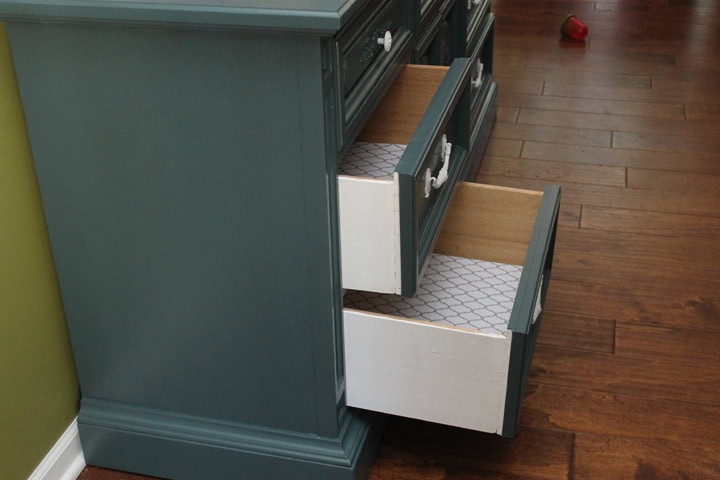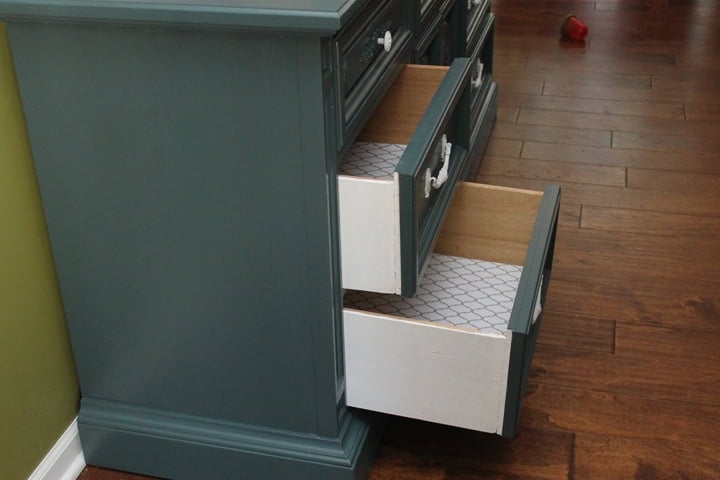 You might notice something else pretty in that picture above… drawer liners!
I got a roll of this adhesive drawer liner at Lowes as well. I simply measured the inside of the drawer, cut out the paper to fit it, and carefully laid it in there. Pretty pretty.


What I love most about this kitchen piece is that it cleaned up the look of our kitchen. Check out the difference of what we had before and after.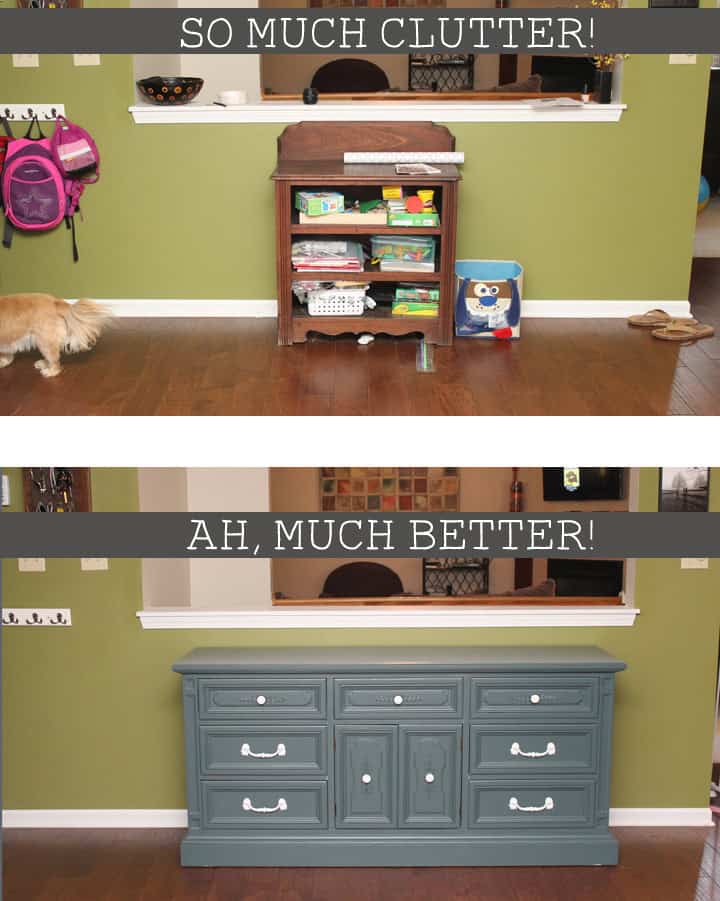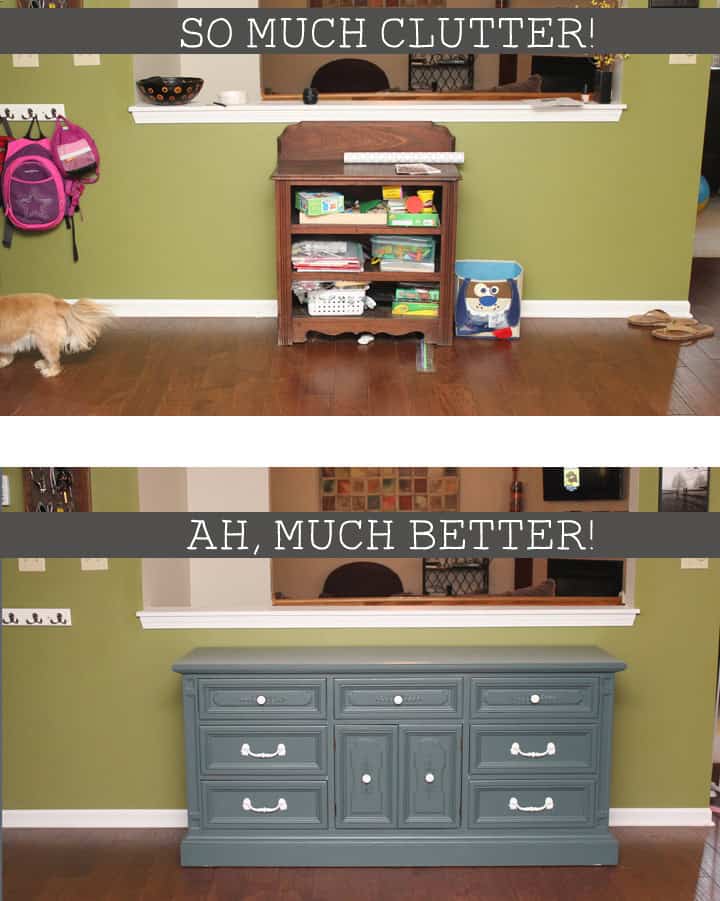 One last surprise… There are two drawers in the center of the dresser that can pull out and serve as storage. I thought it'd be fun to have a pop of color or something on those. Since I had some drawer liner left over, I just used that!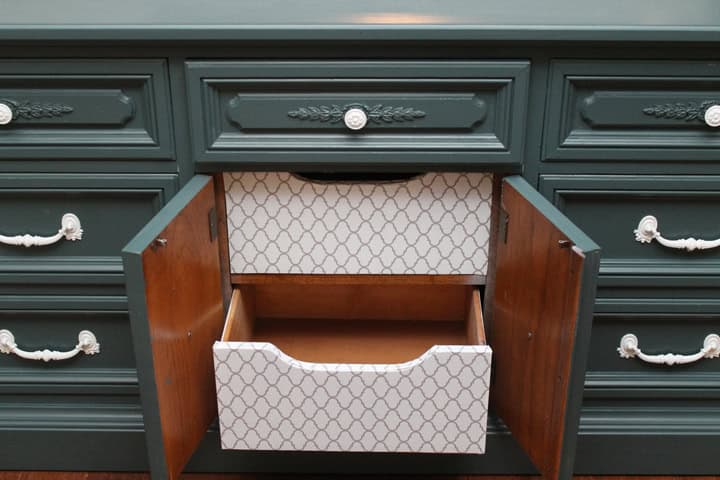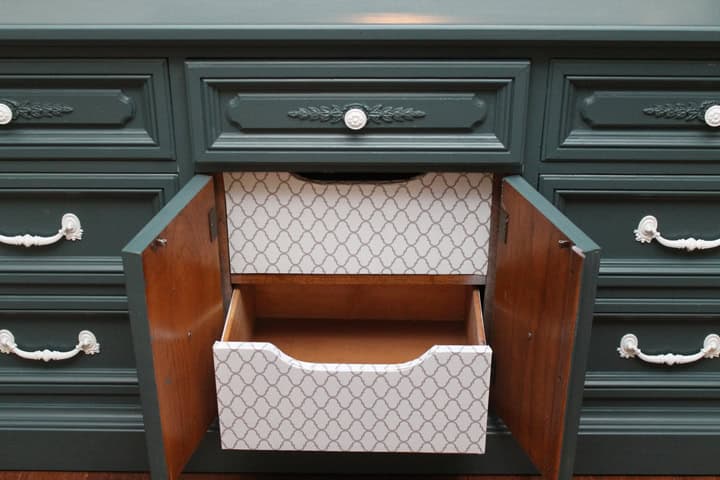 So there ya go. Done and done.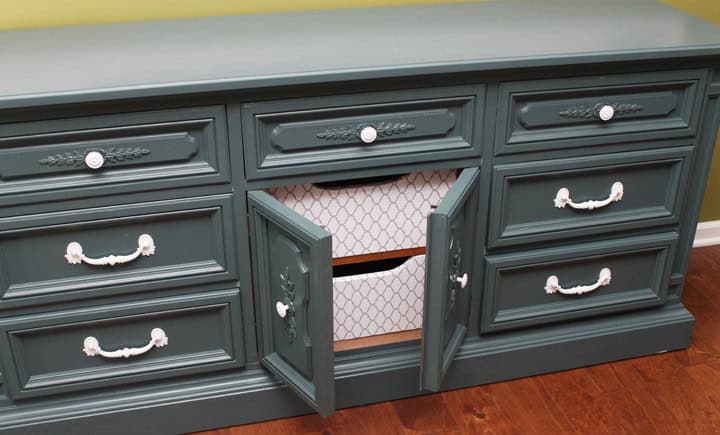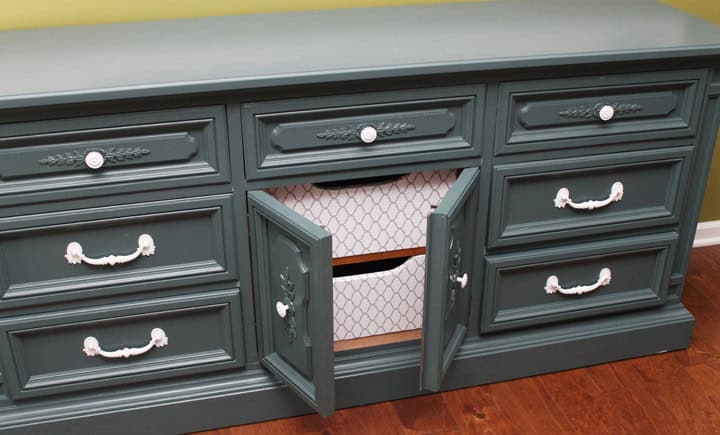 Here is the estimated cost of the project:
Desk & Delivery: $130
Paint & Primer: $20
Supplies & Drawer Liner: $16
————————————–
Total Cost: $166.00
Me happy.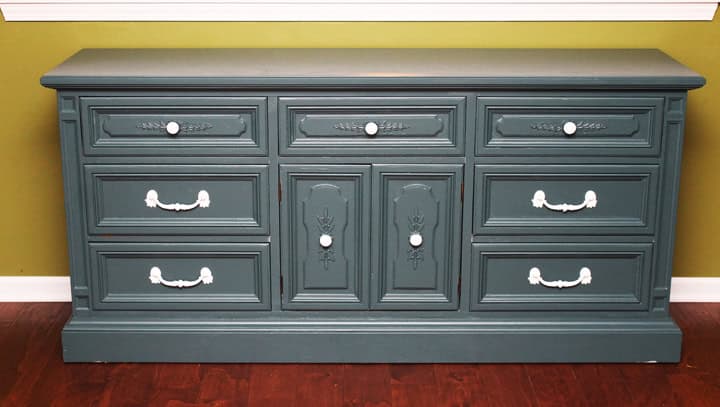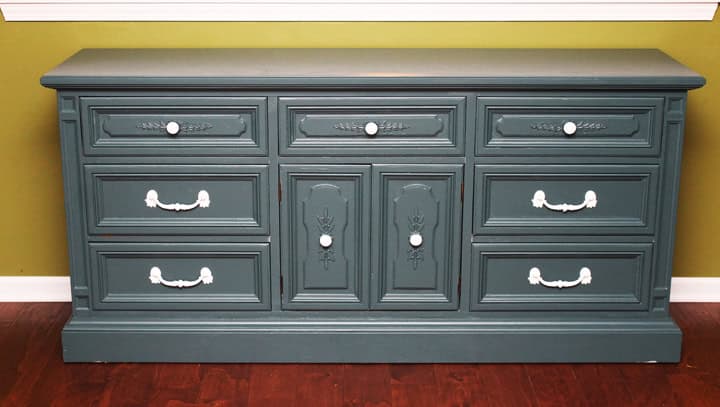 Check out my other furniture makeovers! Warning: it may give you the itch to do one yourself!
Oh, one last thing. Pin this to your inspiration boards, will ya? We heart Pinterest love around here.