DIY Baby Girl Onesies
Updated: 11/13/20
This post may contain affiliate or sponsored links. Please read our disclosure policy.
If I would have known how easy these baby girl onesies were to make, I imagine my daughter's drawer would have been full of them. This is a fun project for someone with beginning sewing skills. It also makes a great gift for any upcoming baby shower (assuming it's a girl on the way). All it takes is a few plain onesies and some lace or quality ribbon. Ready to get started?
Decorating Baby Girl Onesies
I got my lace from Hobby Lobby–some by the roll and some by the 1/2 yard. You don't really need 1/2 yard but I like to have leftovers.
I'm going to go through each onesie that I made and tell you how I did each one.
Onesie One: Cream Lace
This was the easiest one out of the set. All I did was measure how big my onesie neckline was, cut the lace to that length, pin it in place and sew! Make sure you pull back the little shoulder flaps to get the lace underneath that. Look at my second picture if you don't know what I'm talking about.
Onesie Two: Brown Lace
For this one I ruffled the lace before I attached it to the onesie. To make the ruffle, I did a baste stitch (a stitch with the longest settings possibly on your machine) along one side of the lace. I then tugged on one of the strings hanging off it to create a ruffle.
I had to use a lot of pins to keep it in place, but it worked. This one turned out to be my favorite.
Onesie Three: Doubled Lace
As you can see, this onesie has two layers of lace.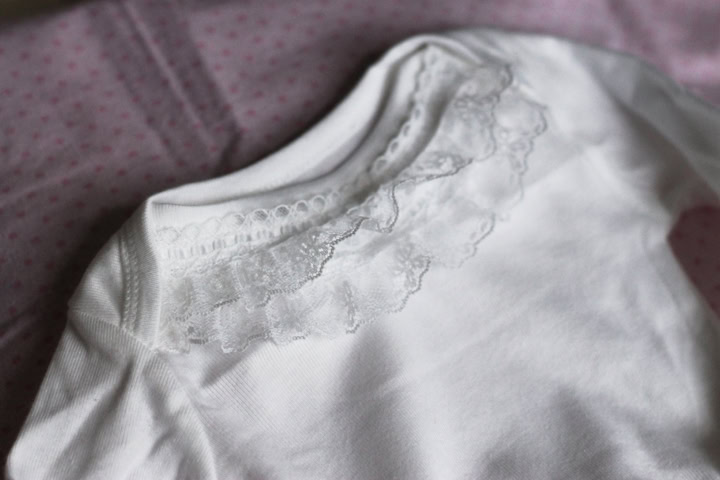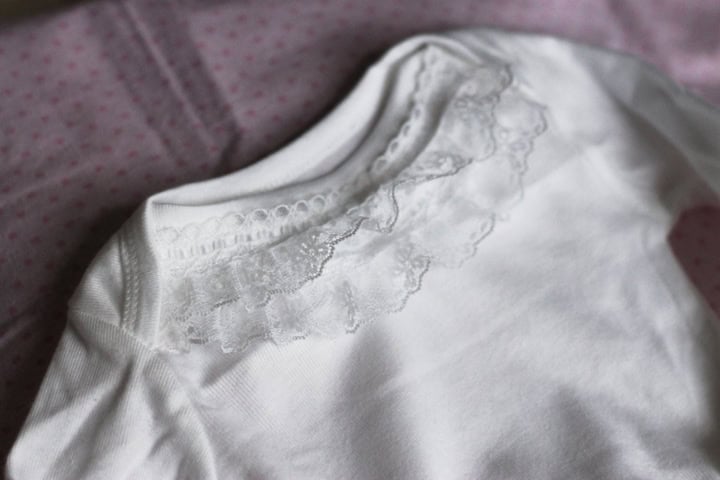 Here are the steps on how I did this:
1. I pinned and attached the first layer of lace.
2. I flipped back the first layer and pinned and attached the second layer underneath it.
3. Since this lace was a bit more frilly than the others, I secured the lace down with a straight stitch on each side under the shoulder flaps.
Onesie Four: Teal Ribbon
This one was made with some high quality ribbon. When I say high quality I am just making sure you know it's not the type you buy in the gift wrapping section. I gave this ribbon a little ruffle like I did with onesie two and attached it.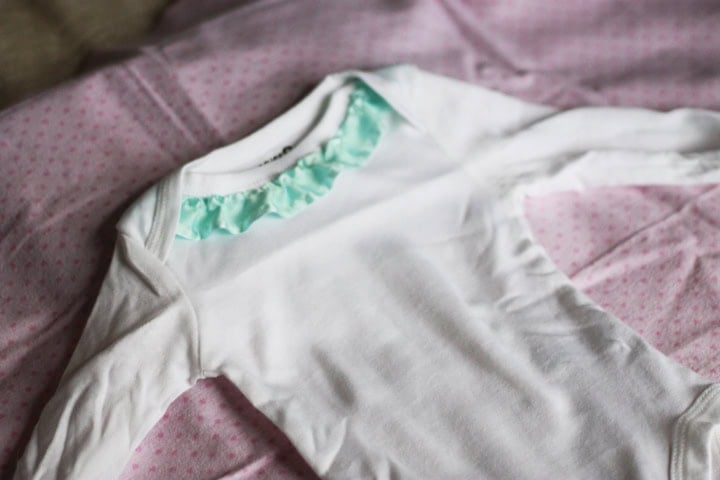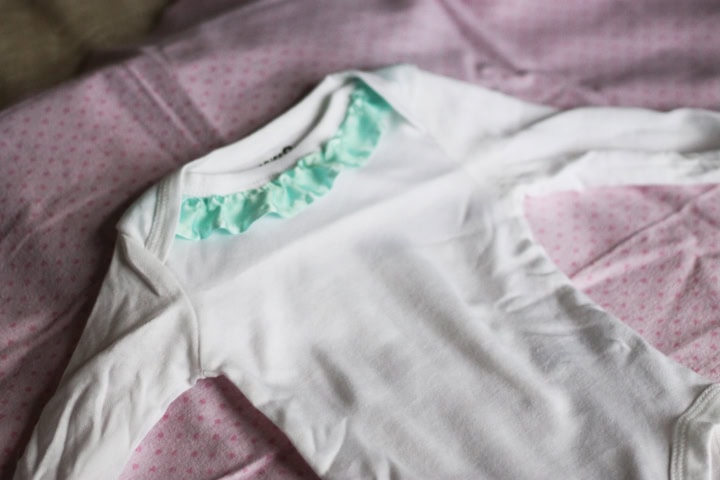 When you put them all together, they make such cute baby gift!