DIY Yarn Spider Garland: Easy Halloween Decor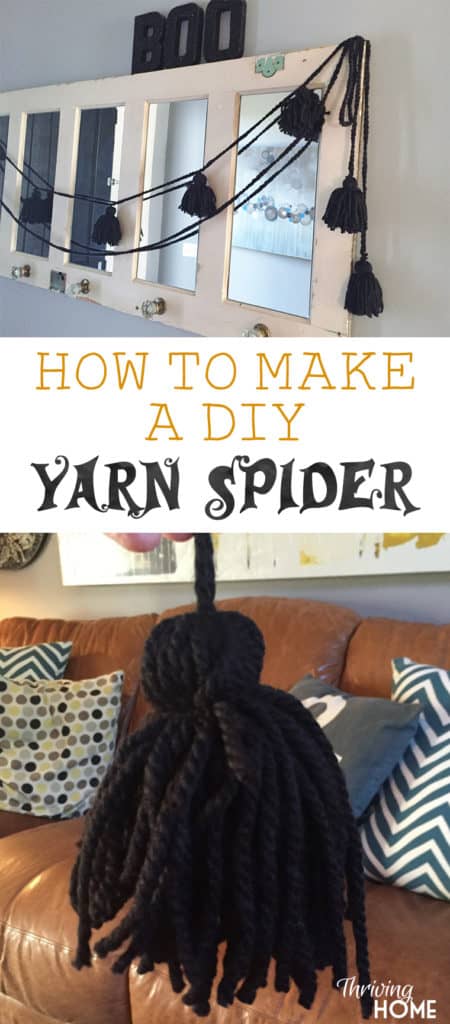 by Kelly Gilion, Contributing Author
Hi Ya'll! Kelly from Plume here doing a little blog bomb! Rachel and I have been friends for years, since before she was a blogger and I was a shop owner. And now we live on the same street and our kiddos play almost every day. You can hear a little bit about our story and get a glimpse of our little people here.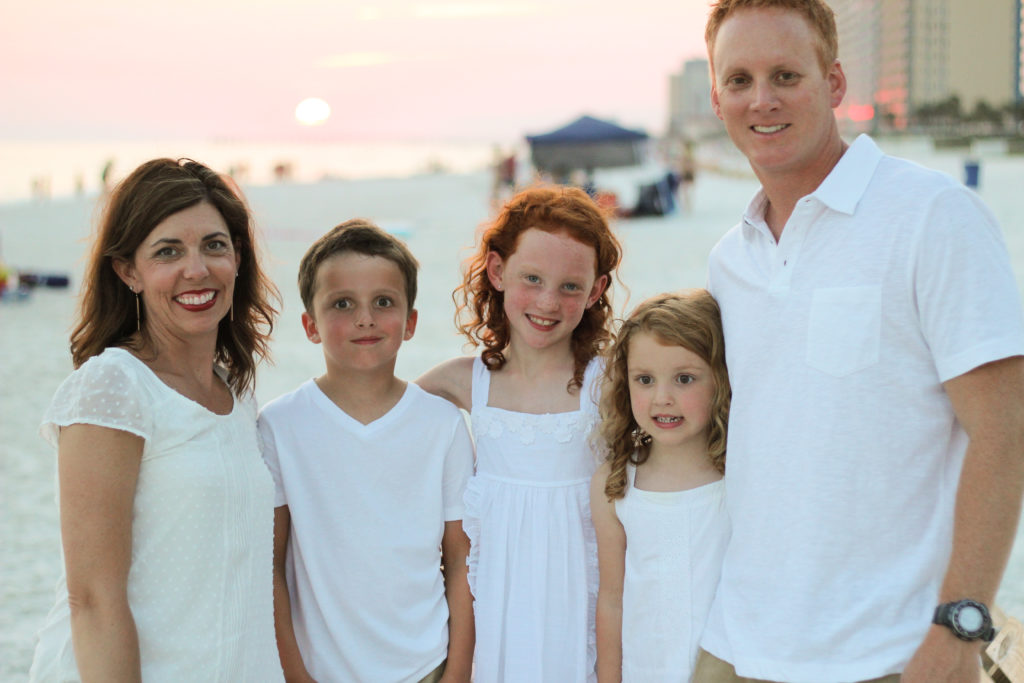 October has always been my favorite month.  The crisp weather, hayrides, pumpkin patches. Jeans. Boots. Flannels. Give it to me! Halloween was extra fun for me growing up because instead of being let down as I walked away from the final house after trick or treating, I would run home, crawl into bed, and know that when I woke up it was my BIRTHDAY on November 1st!  
God decided to make October even more special by surprising me with the birth of my twins on October 30th…(they weren't due until January 5th…but that's another story for another day). I was destined for little pumpkins, and one more reason to celebrate this beautiful month!
I couldn't resist when Rachel asked me to share some of my fun Halloween "Hang-Ups" with you. Today I want to show you how to make a DIY Yarn Spider Garland. Homemade Halloween decor doesn't get much easier than this! Check out my entryway…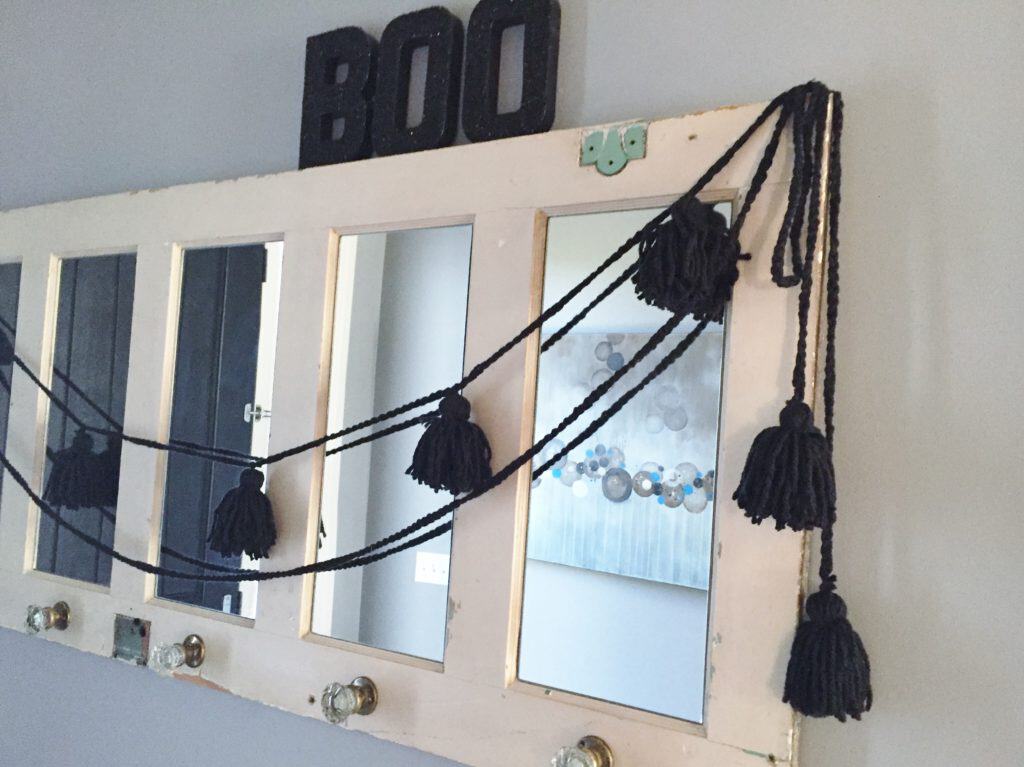 My hubby had this old 5-panel door converted to a coat rack for me for Christmas one year by having mirrors inlaid in the panels and then he added our vintage crystal door-knob collection (garage sale finds from years ago). I love to change out the garlands and other decor seasonally. The "BOO" letters were made for me using black german glass glitter (pic below), which we sell at Plume, by my friend and fellow maker at Plume, Jana from Studio J.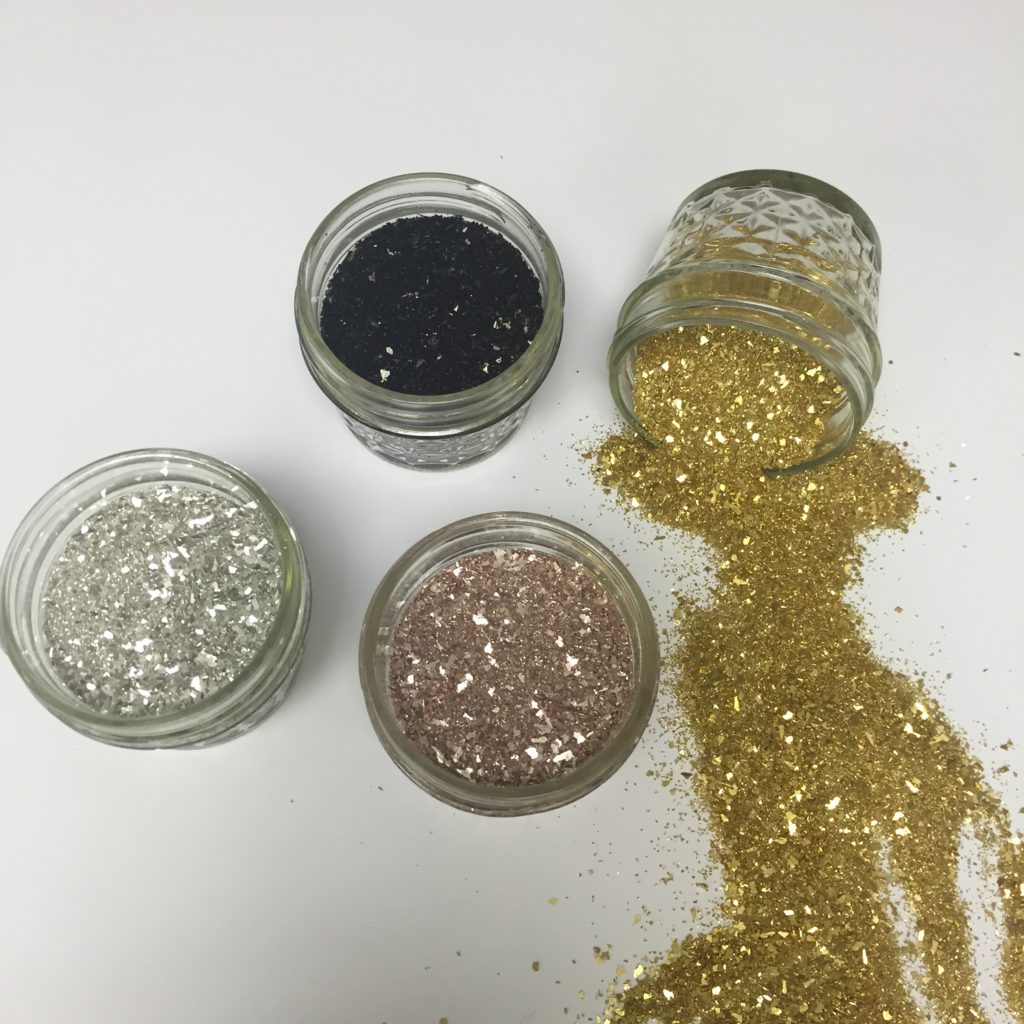 Really anything with lots of texture and tassels are very popular right now. I actually have an ivory yarn garland that's been hanging in my bedroom for over a year…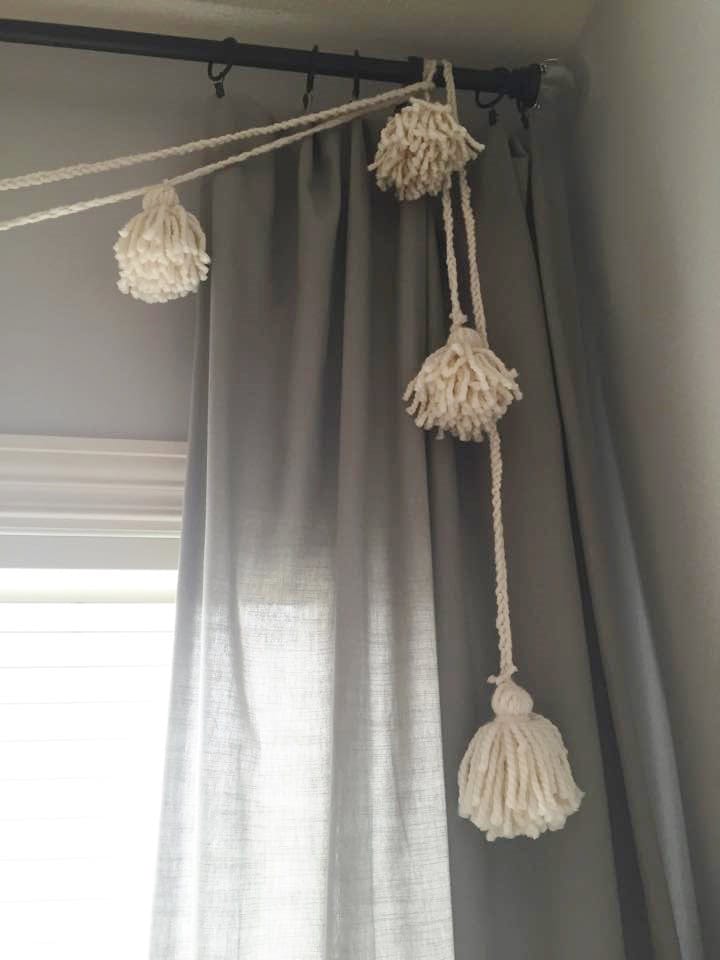 The color options are limitless on garland projects like this one. You can also combine multiple colors for school parties, tailgates, etc. 
For Halloween this year, though, I decided to try using fluffy black yarn. I made the easy Halloween decor below very quickly in an evening. The tassels kind of remind me of ghosts, although when my kids saw them they said, "Oooo spiders"! Spooky mission accomplished. My project became a DIY Yarn Spider Garland.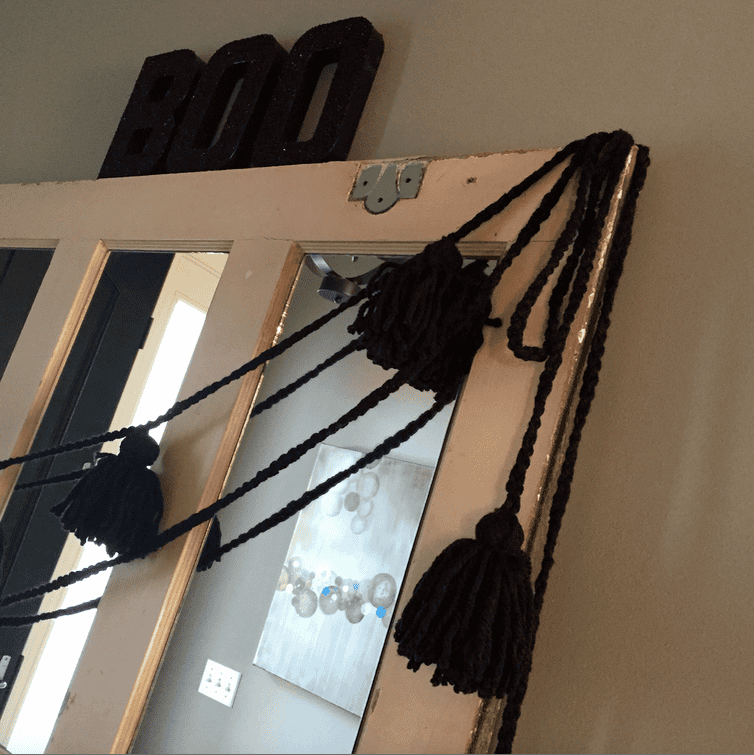 My style is very much imperfect. But if you like it, here are the steps to make a DIY Yarn Spider Garland yourself.
How to Make a DIY Yarn Spider Garland:
Step 1: Select your yarn (you'll need 2 skeins and thicker works better) and single crochet (2) separate 9-foot chains. Tie off and put aside. Note: If you can't crochet, no worries.  Just braid multiple strands of yarn together for the same thick rope look.  Single chains are the one and only thing I know how to crochet…so don't expect any future guests posts from me on making a hat, scarf or anything else of the crochet or knit variety.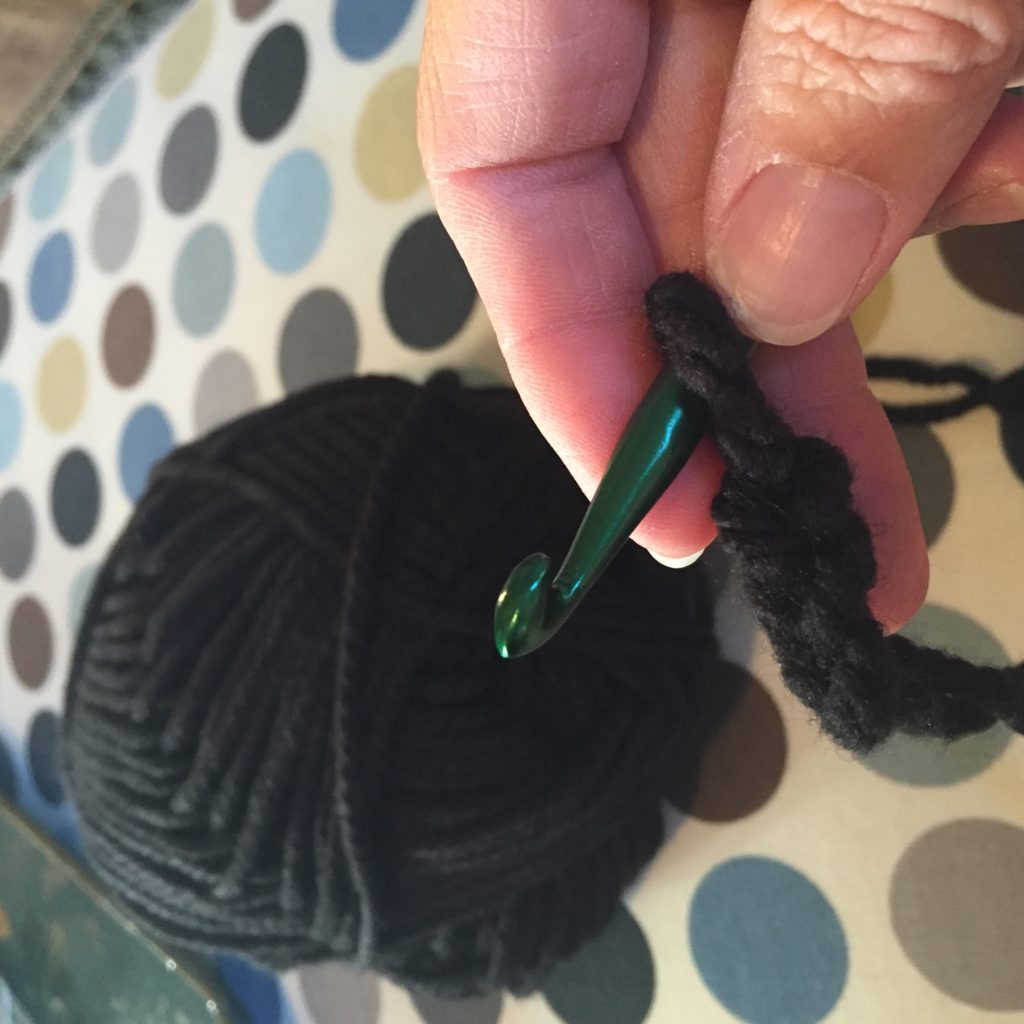 Step 2: Begin tassel by wrapping yarn around the object of your choice about 50 times. When you're done wrapping, cut it loose from the remaining skein. Then cut 2 extra pieces of yarn about 6 inches each. (Pardon my lack of technical skill and fancy tools here. I used a 4 x 4 lid to a rubbermaid container that falls out of my cabinet every other time I open the door.)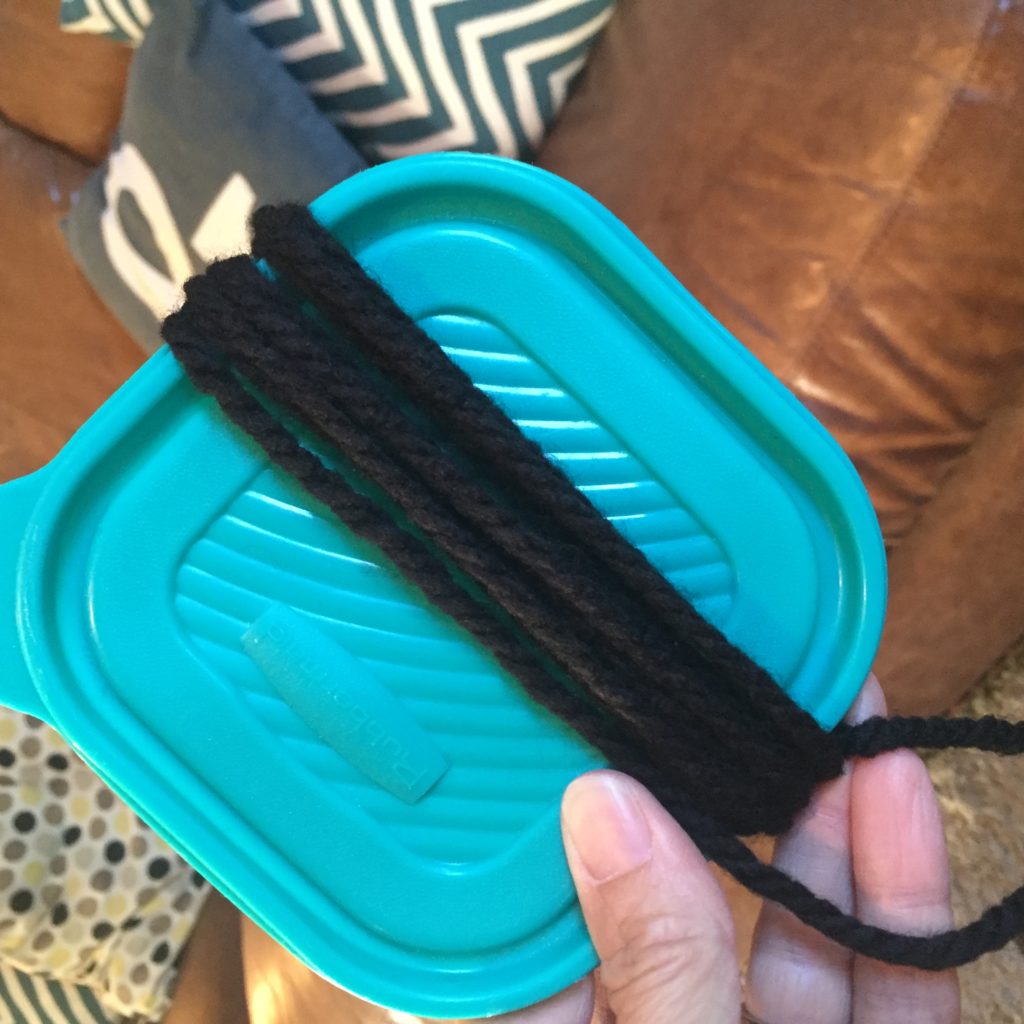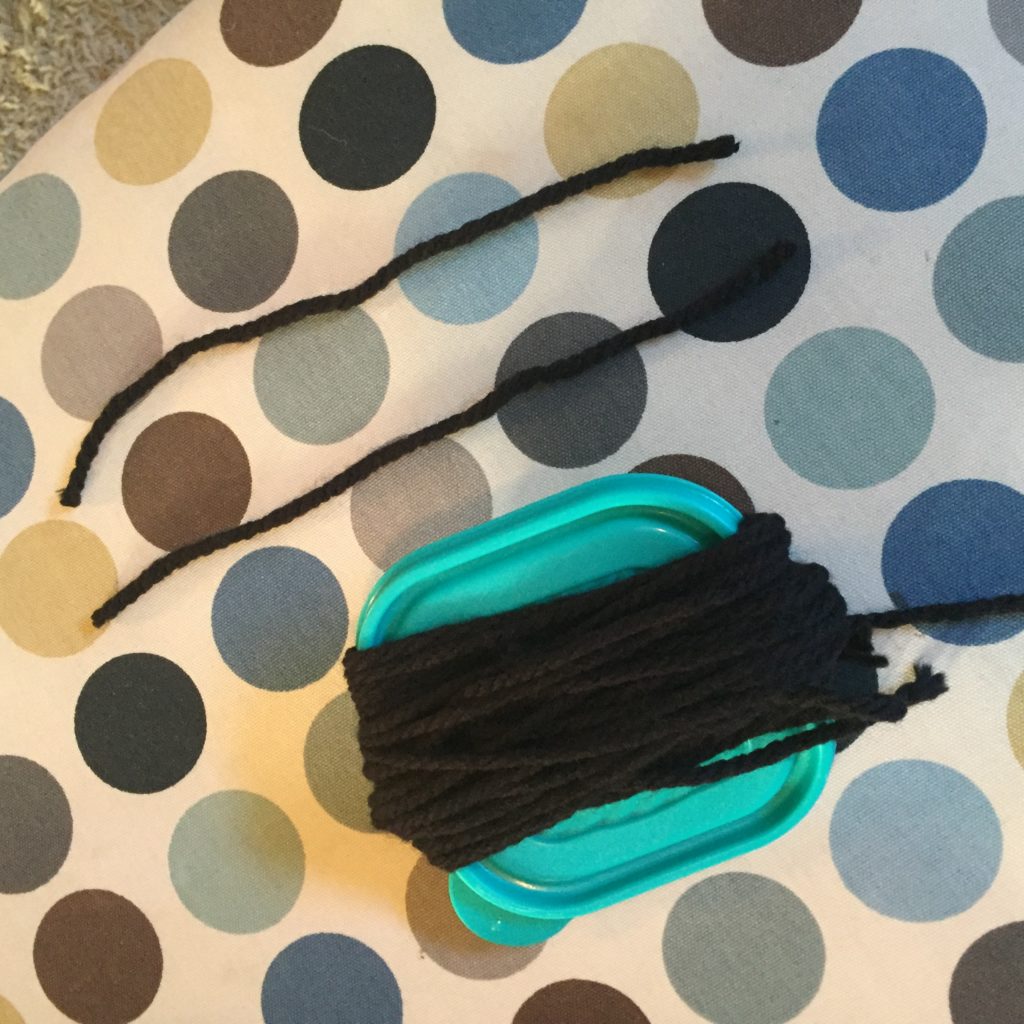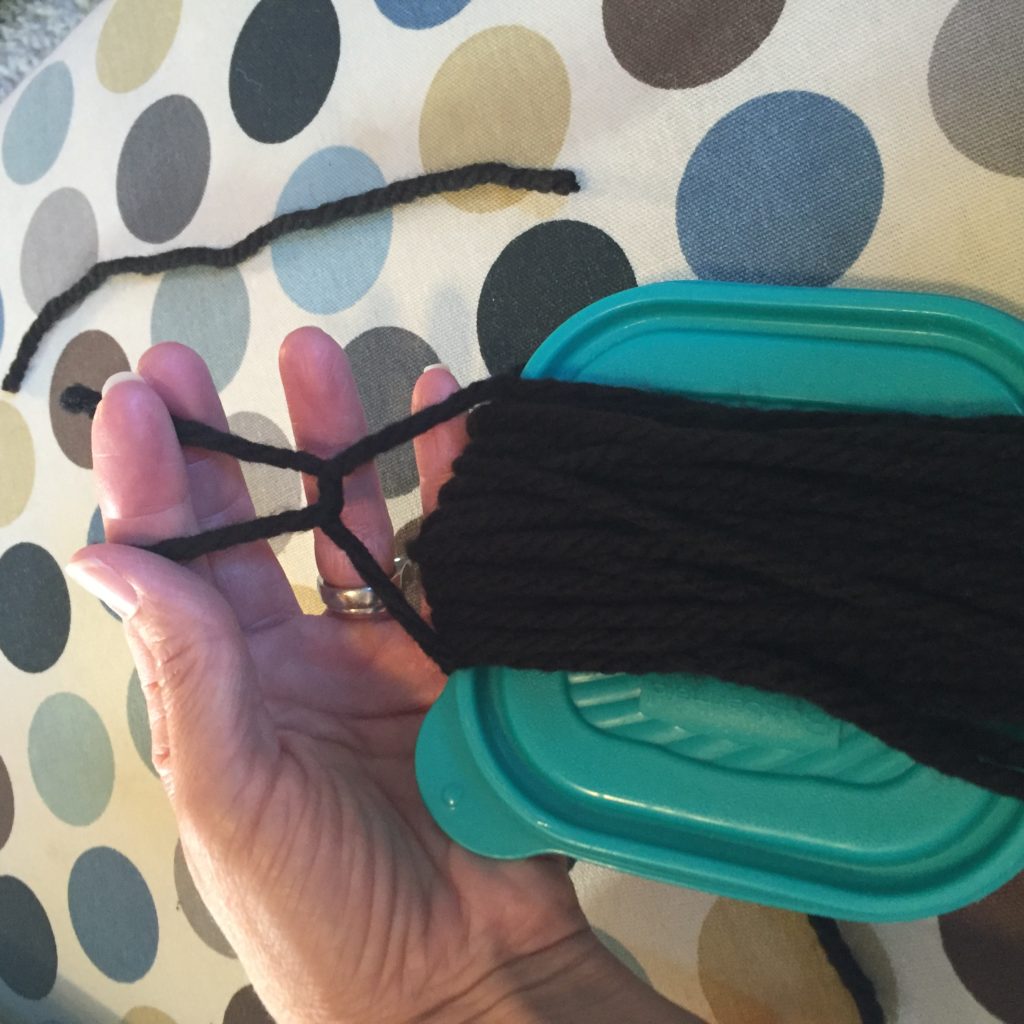 Step 3: Run one small piece of yarn through the top your wrapped yarn and tie it tight. Then slip your loops off of the fancy tool you used. Take the other small piece of yarn you cut, and tie it around the upper center section of yarn to make the round "head" of the tassel. At this point the bottom of your tassel will still be in "loops".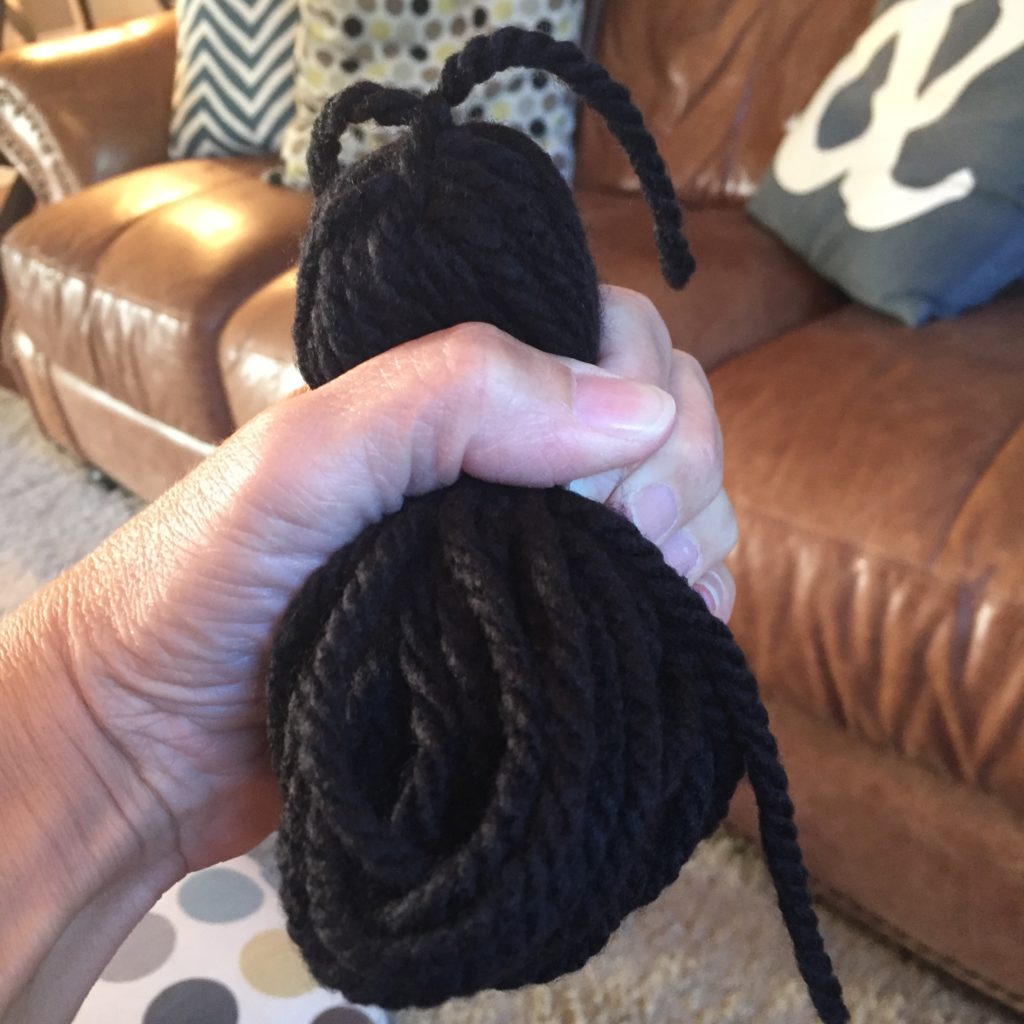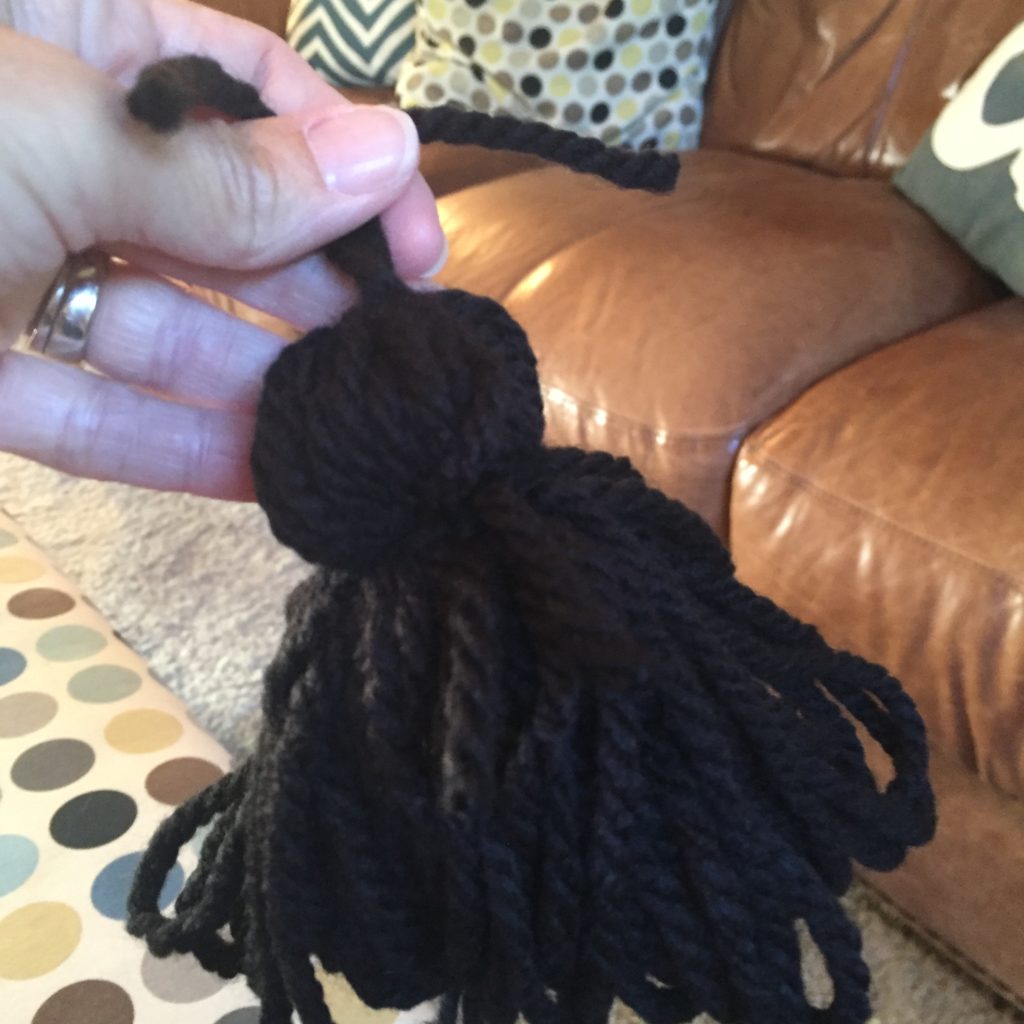 Step 4: Cut the loops at the bottom of your tassel apart, trying to cut evenly. Then trim up the tassel to your preference. Again, mine are not the straightest, but I'm ok with that. You can trim yours as much as you like.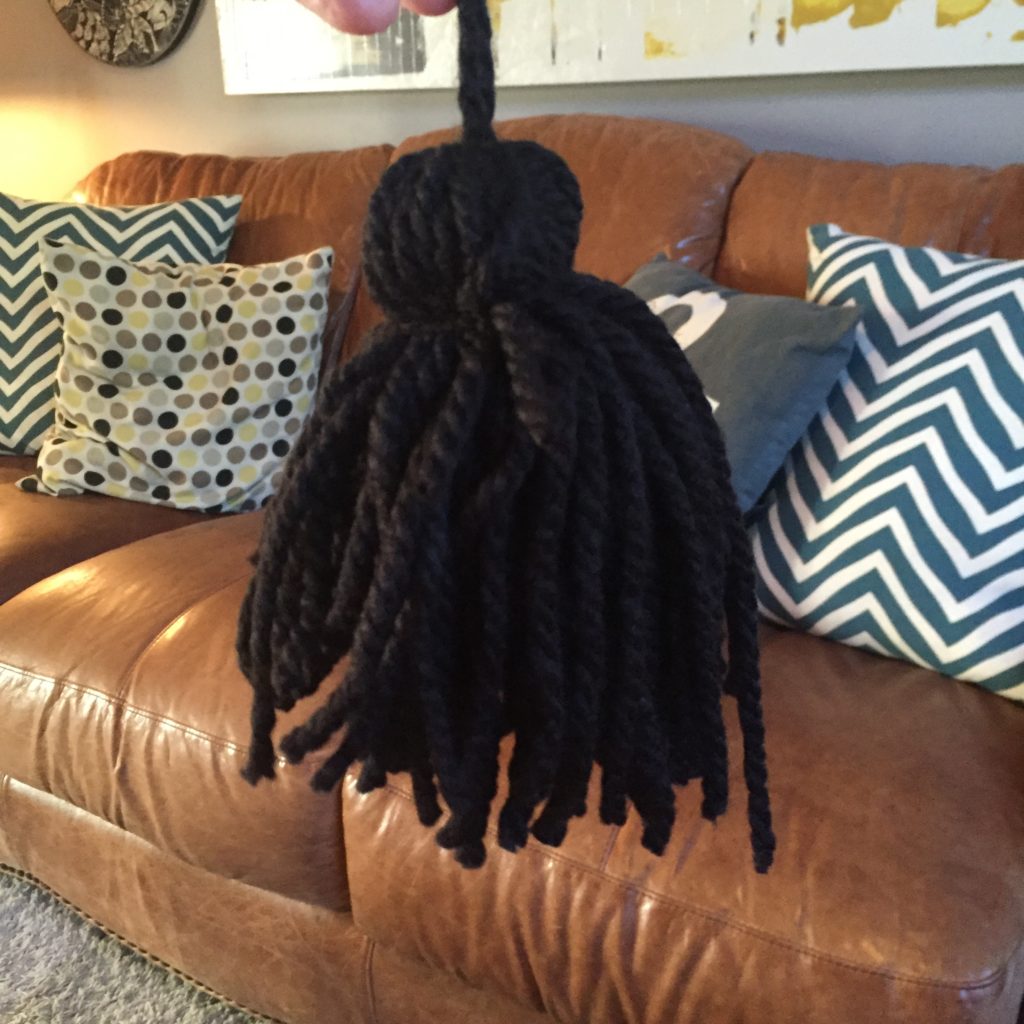 I ended up making about 9 tassels that I tied onto the 2 single crochet chains at various places. There really is no right or wrong way to do this. Just tie them on using the small piece of yarn you used to tie off the top of your tassel loops.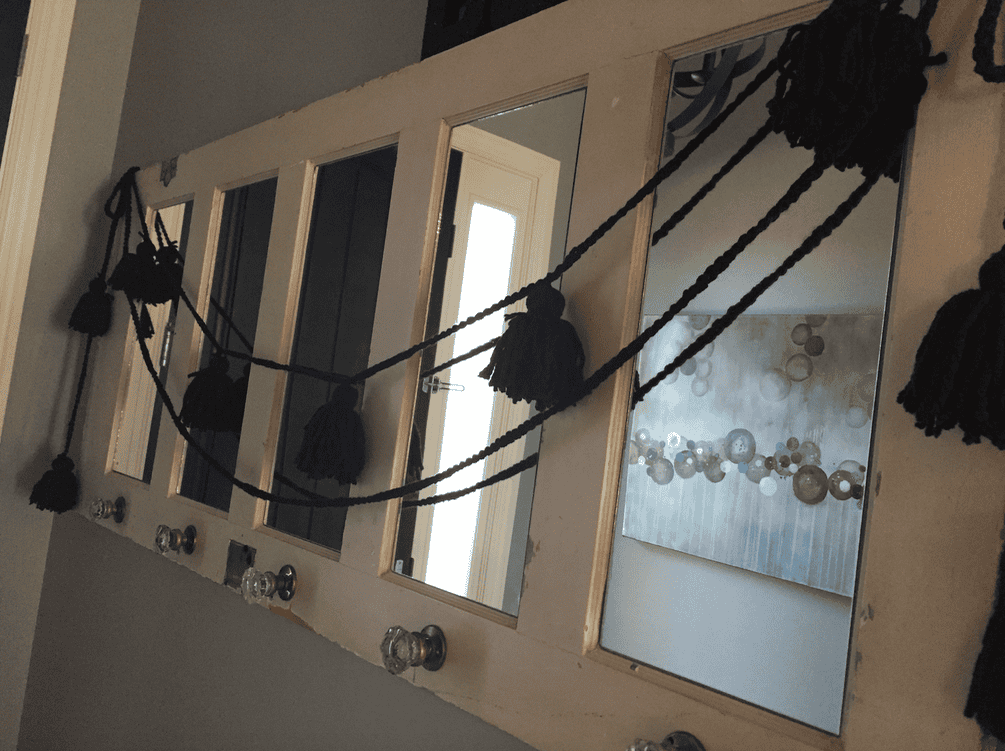 Happy Tassel-ing! P.S. Here is a sneak peak of another Halloween DIY, you can catch over on my website…
Or follow me on Instagram to see more of my projects. And if you happen to be in the Columbia, MO area…please pop-in to Plume and say "Hi!".
Learn more about Kelly here.
https://thrivinghomeblog.com/wp-content/uploads/2016/10/yarn-garland-final.jpg
2349
3135
Rachel Tiemeyer
https://thrivinghomeblog.com/wp-content/uploads/2019/10/thrivinglogo.png
Rachel Tiemeyer
2016-10-19 07:40:00
2020-10-04 13:10:37
DIY Yarn Spider Garland: Easy Halloween Decor