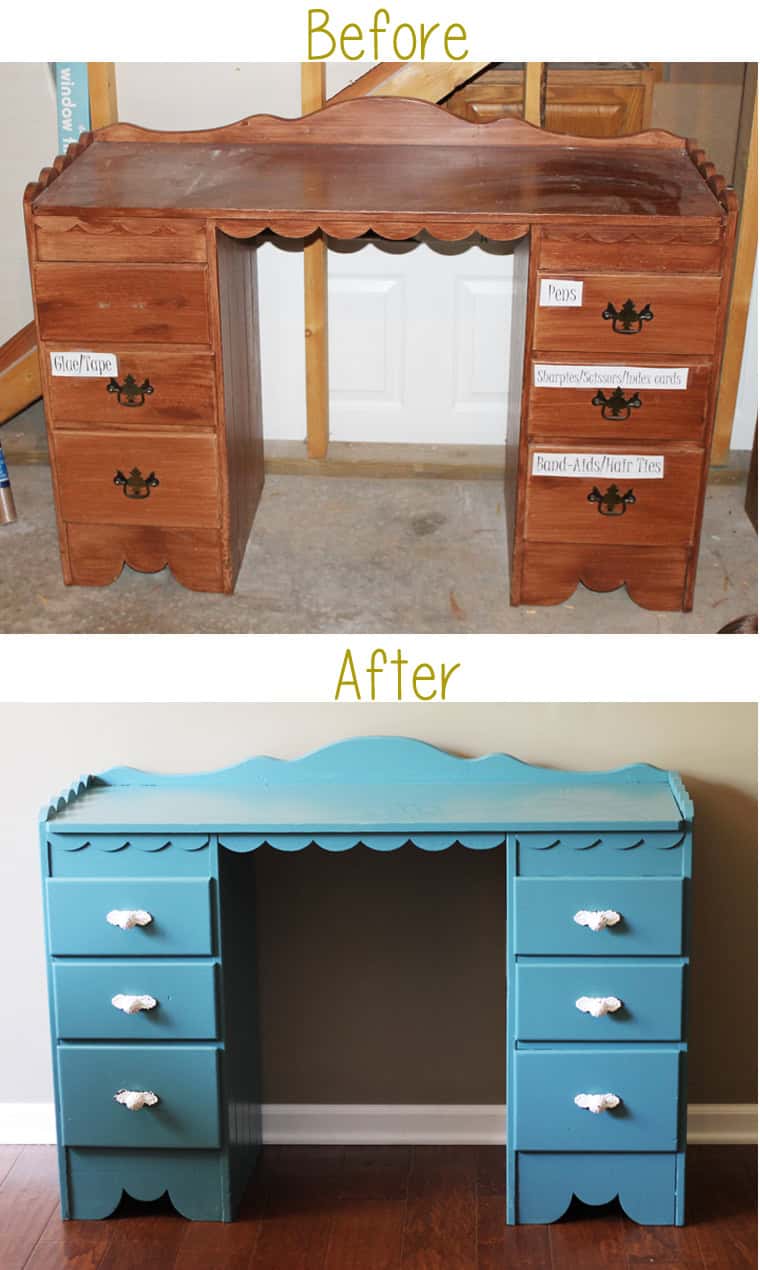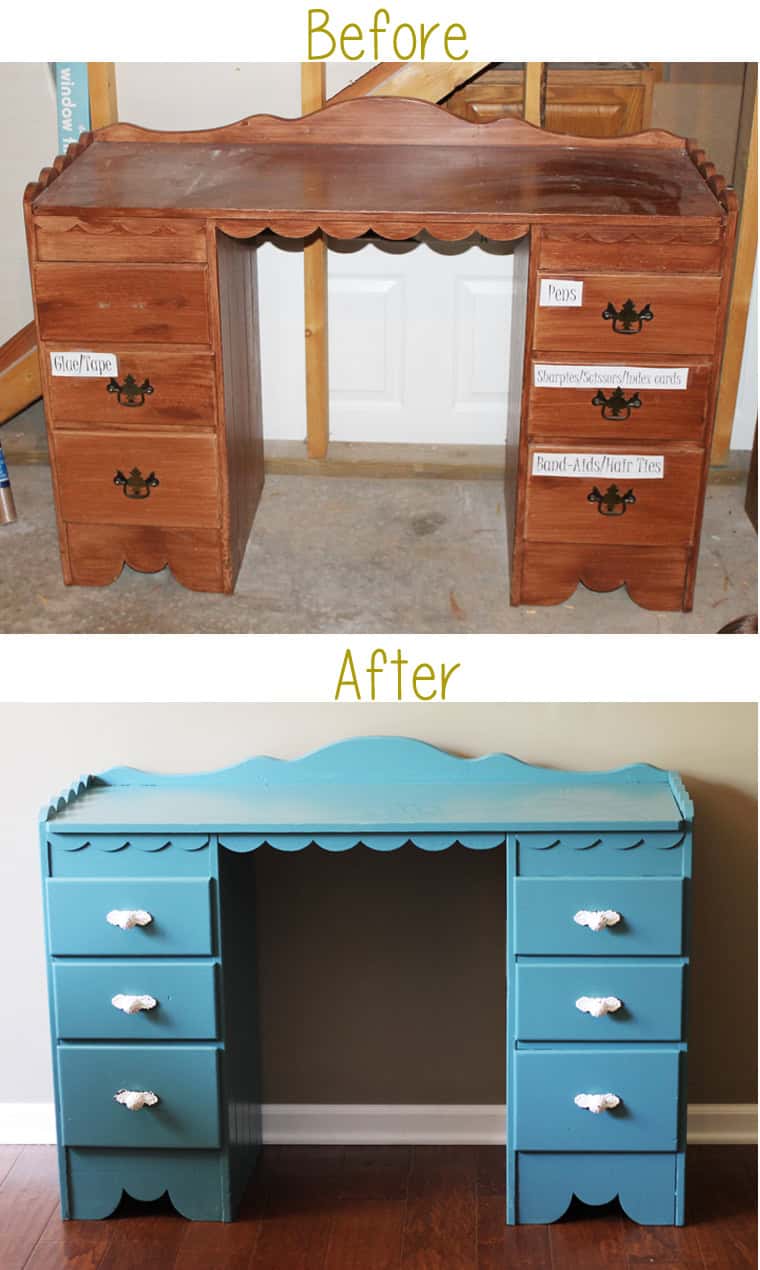 It's pretty safe to say that after this furniture makeover, every piece of furniture in my house is at risk of being painted teal. This is probably my favorite furniture makeover I've ever done. Before I jump into how I picked the color and fixed up the desk, let me share a bit of the history of this guy. This desk was left in the basement of our house by its previous owners. I can see why. It was in very rough shape. I almost sold it on Craigslist but after giving it a little more thought, I decided against it. This desk was in rough shape but it had so much uniqueness and character. I love the paneling on the sides and all the fun detailed curves. I thought with a little work, it could make a great desk for my little girl's room.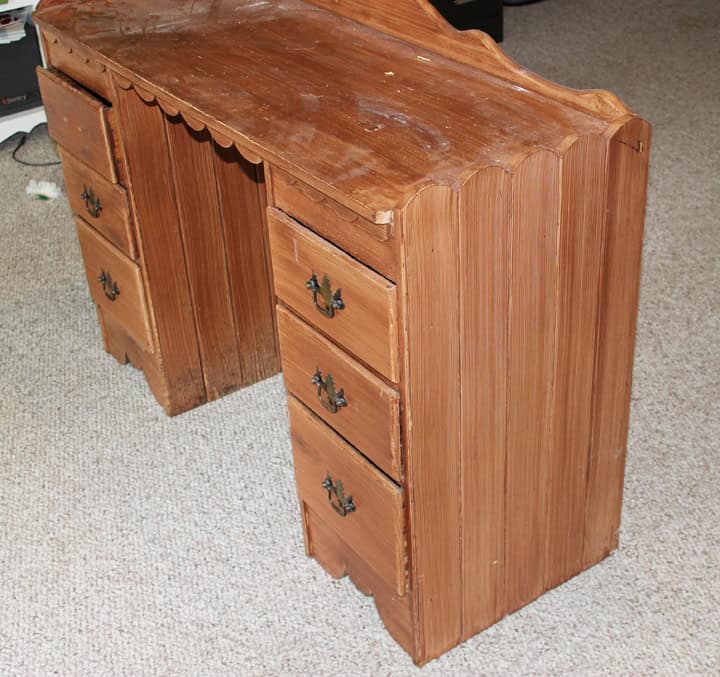 What I also didn't realize about the desk was that it is solid wood. It was the real deal, people. It's hard to find quality furniture like this anymore.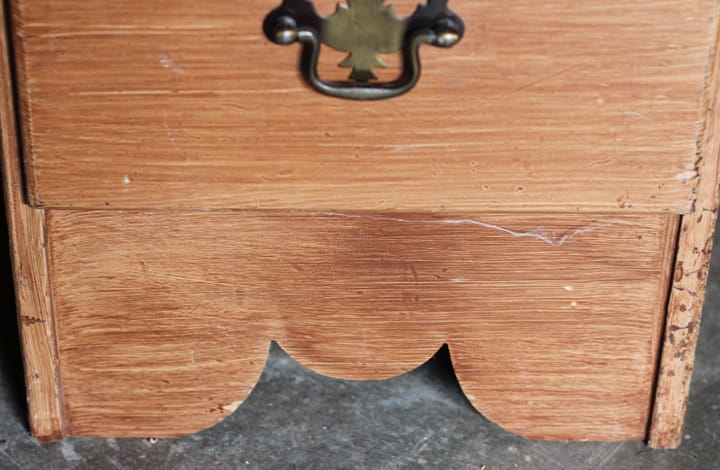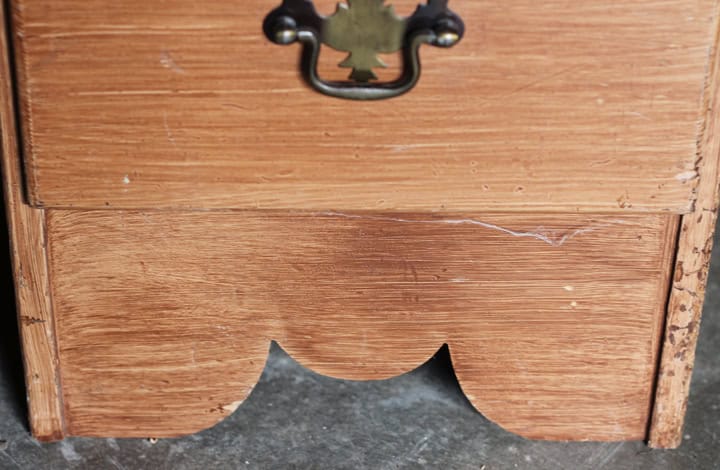 This pretty little guy needed some TLC fast. The first thing that needed to happen was to give it a good clean up and remove those icky drawer liners. I'm pretty sure they had been in there since the early 80's.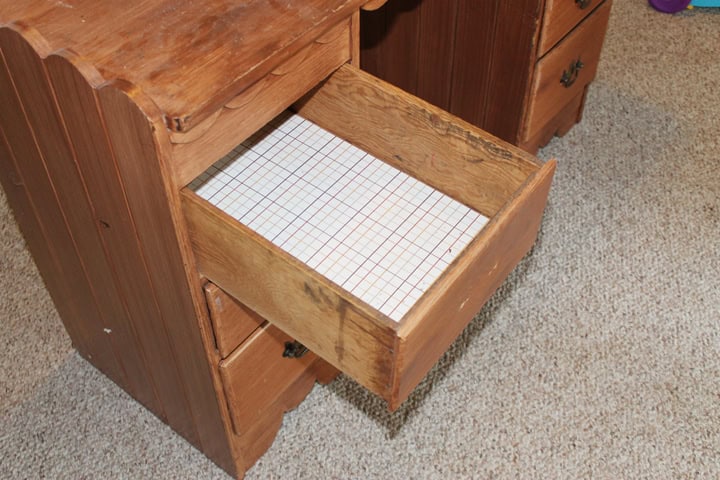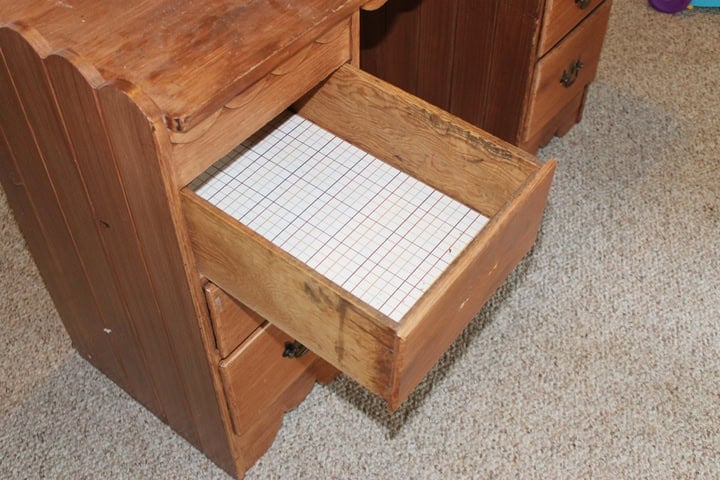 Luckily they peeled off fairly easily. It was very satisfying to rip that ugly plaid out and see the bare wood underneath.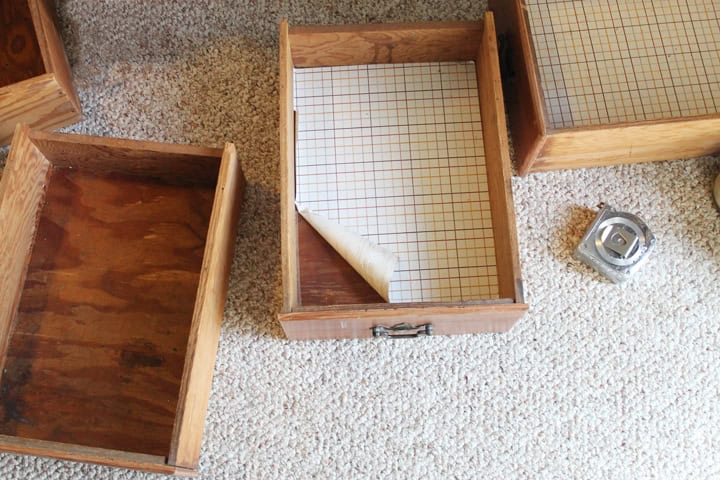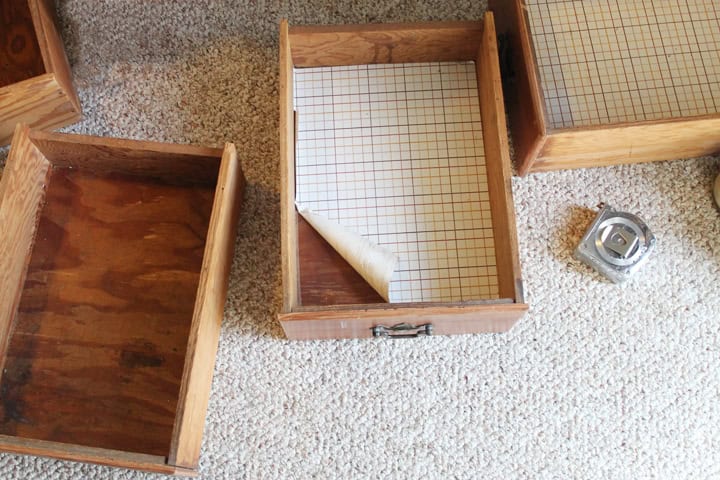 I was also lucky to have a little helper in this process. My two year old would promptly measure the drawers after I had removed the old liners. Good thing. Someone needs to be double checking measurements around here. 🙂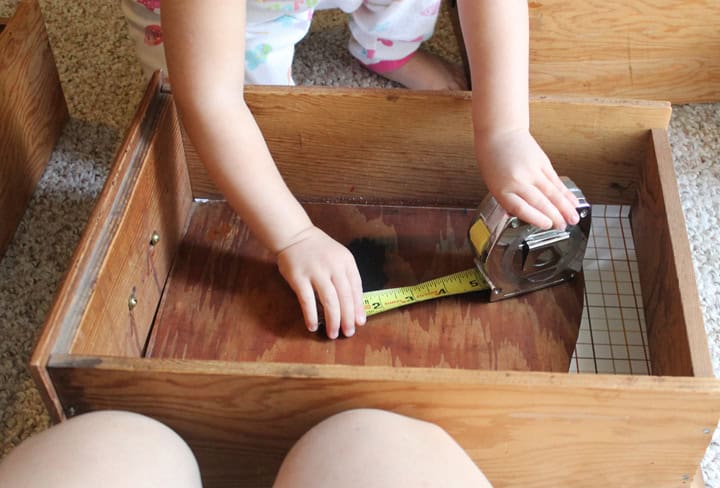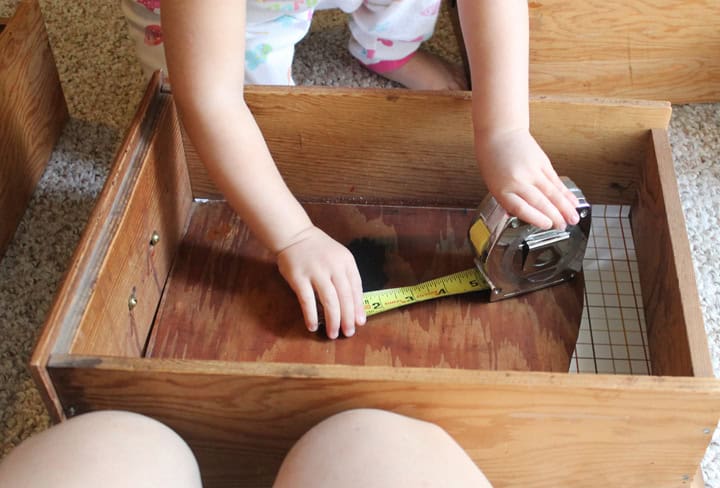 At this point I started to seek out some inspiration for my desk. I have always loved the color teal so I started an
inspiration board on Pinterest.
More on my color choice later. I found some handles that I loved at Hobby Lobby so I had my dear husband drill some holes that I would need to install those when the painting was done. What's funny is when I removed the existing handles, I saw that there were already two sets of holes. This told me that this desk had already gotten a makeover in its previous life. Now it was on its third set of handles!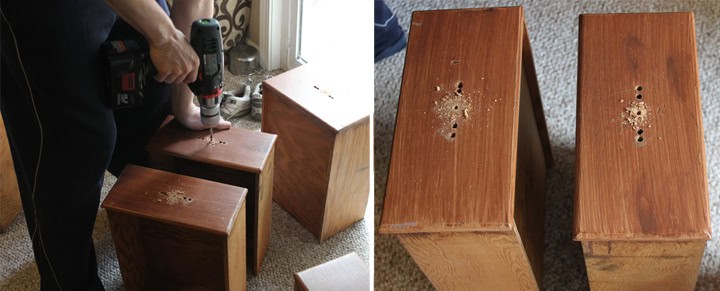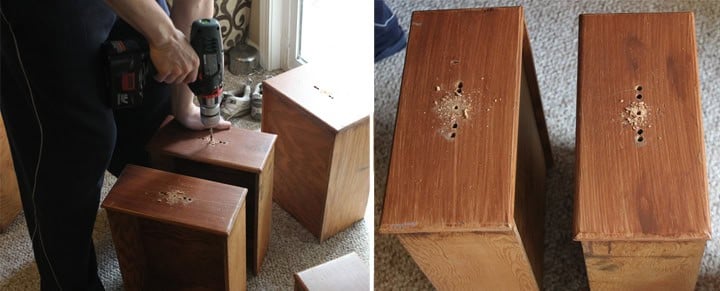 Oh, and don't worry. I had help with that too. A two year old is NOT going to miss out on drilling holes in something.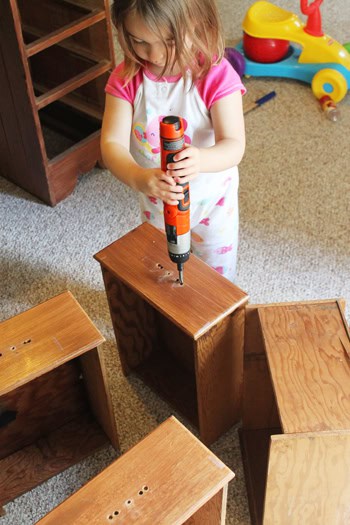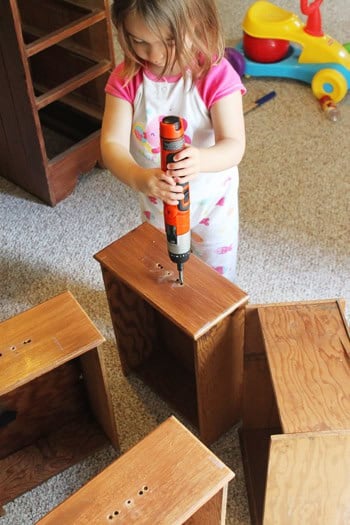 After all the holes were drilled, I busted out my palm sander and got to work. The desk had tons of bumps, scratches and unevenness so I wanted to try to sand some of those out. I also am a firm believer that paint just sticks better when things are sanded. I used an 80 grit sand paper to start with and then another round with a 120 to smooth it out a bit. I did the most sanding on the top of the desk because that was where the most damage was but other than that I didn't sand it all down to bare wood. Just roughed it up a bit.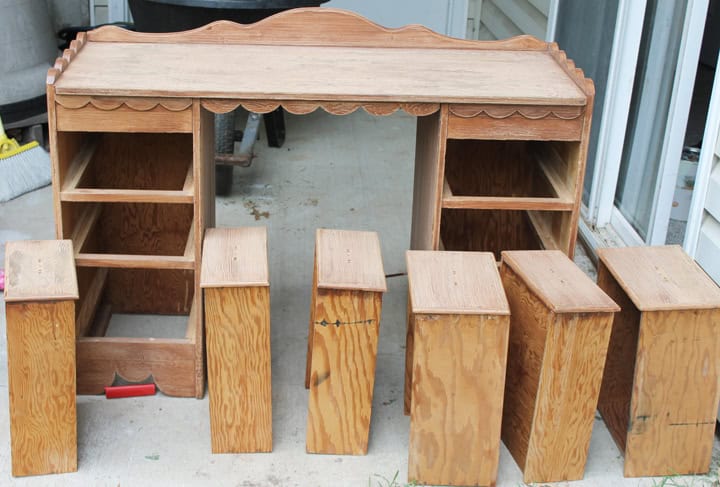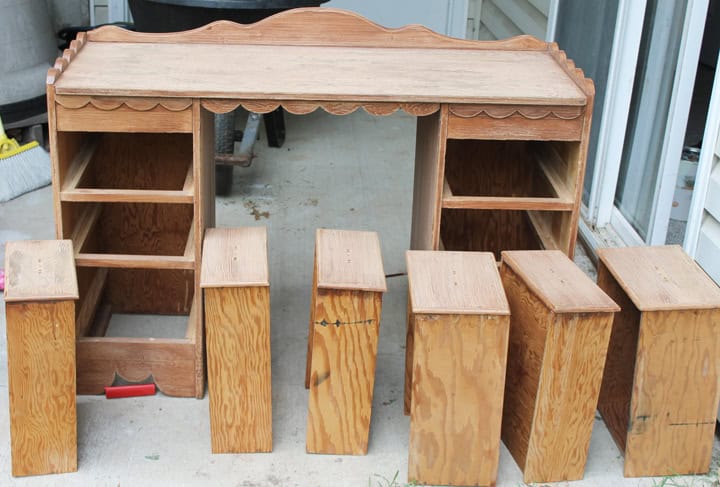 After wiping off all the dust from sanding with a wet rag, I gave the piece a coat of quality primer (that I had leftover from painting our kitchen cabinets). Again, this probably wasn't necessary but I knew this desk was going to get roughed up a bit in my 2 year old's room so I wanted the paint to really stick. I let it dry for about 24 hours.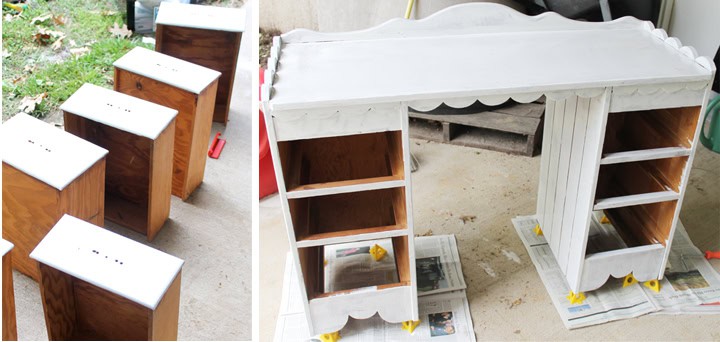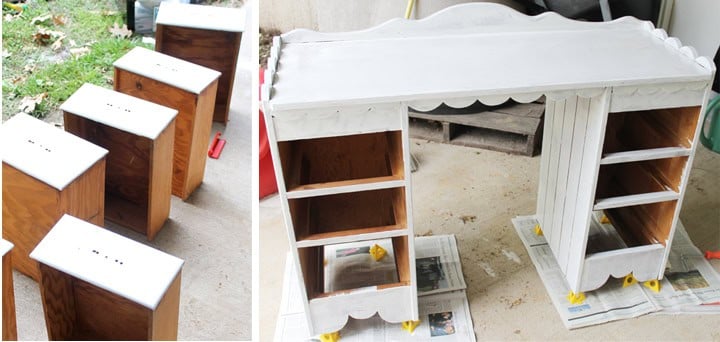 Now the fun part begins: PAINT! Thanks to my inspiration board, I had no doubt I wanted to go with a fun teal. The color I ended up going with was Teal Lake by Glidden DUO. I got a quart of it at Home Depot and had plenty leftover. What I really liked about going with Glidden paint is that they didn't have 50 different teals to pick from. Their simplified color palette made it super easy to pick the right teal. I love that I didn't waste any time fretting over the different shades. I picked a semi-gloss finish because I wanted a little shine and semi-gloss is pretty durable.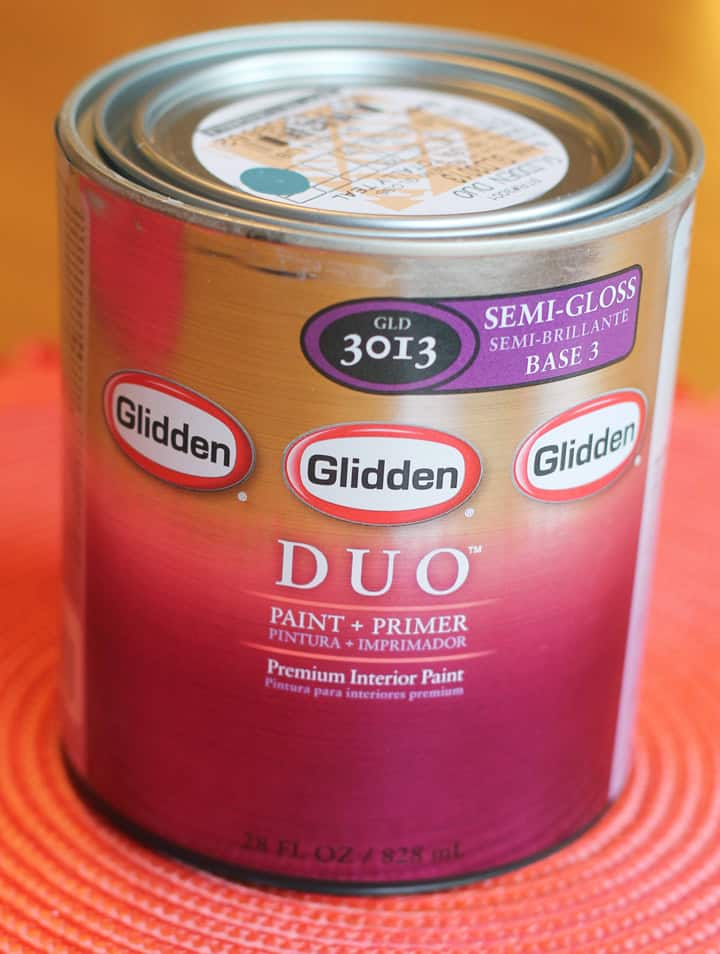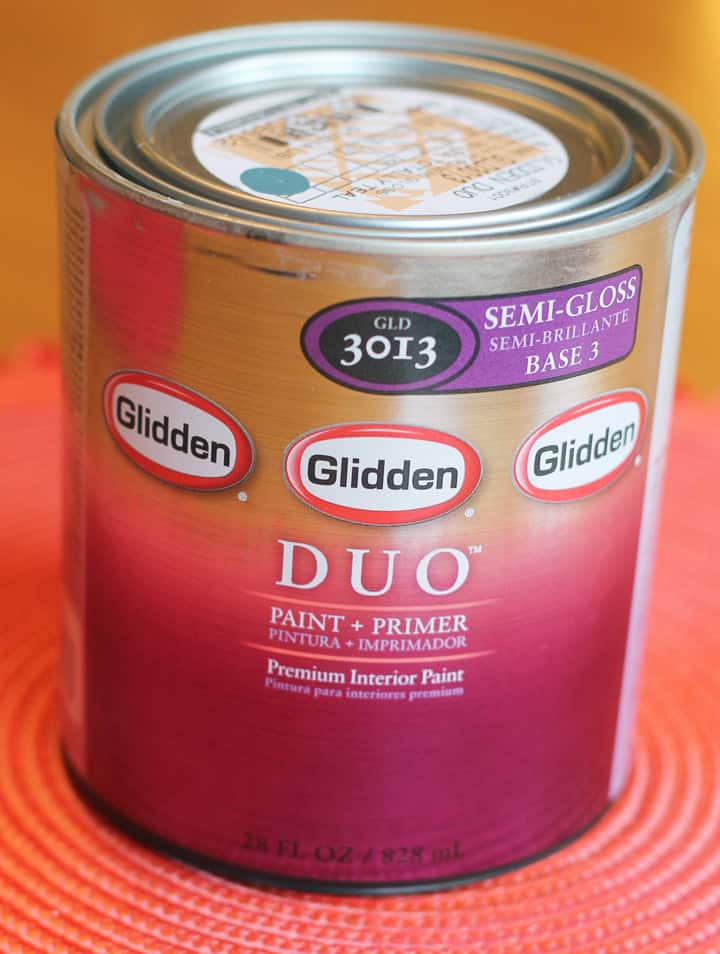 I used a 6 inch roller for most of the painting. As soon as I started painting the desk, I fell in love with the color.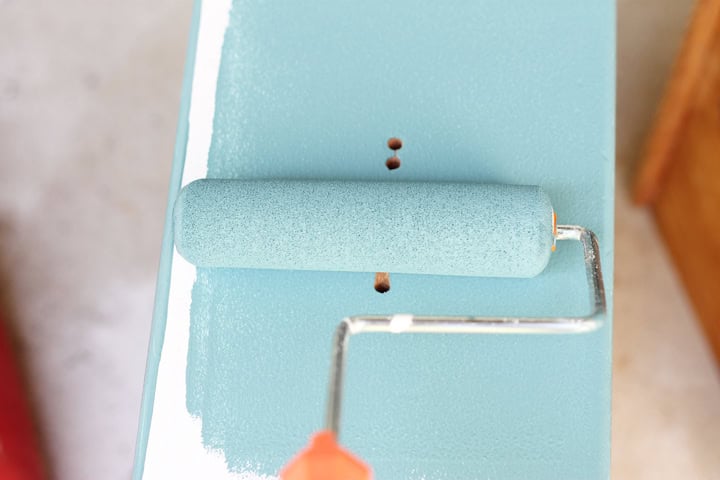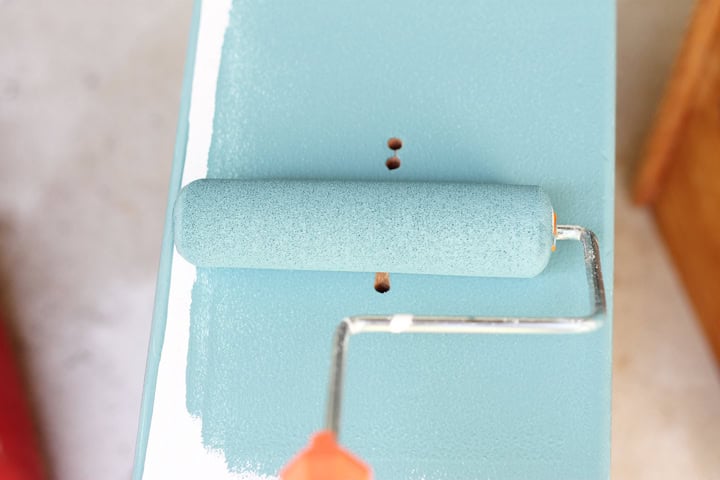 Using a roller made the paint go on smooth. I did have to use a 2 inch brush to get into the hard to reach areas of the desk though. I would just make sure to smooth my paint strokes out with the roller. The Glidden paint went on smoothly and I was more than happy with how the color was turning out. (Sometimes you never know what it's going to look like until it's dried!)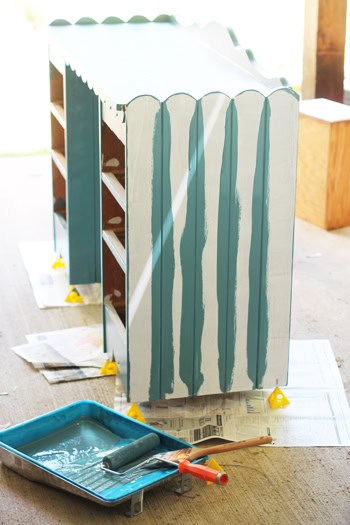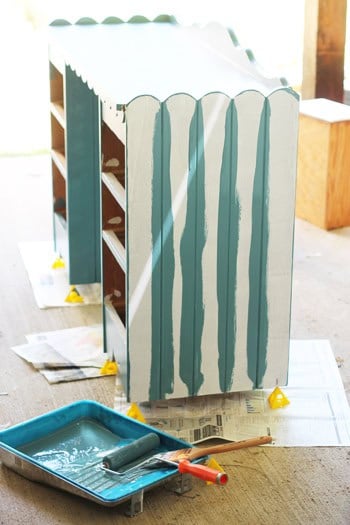 After two coats of the paint, I gave it a day to really dry. Meanwhile, I started working on relining those drawers. To make this process go quickly, I measured the bottom of one of the drawers and made a template (since all the drawers were the same shape).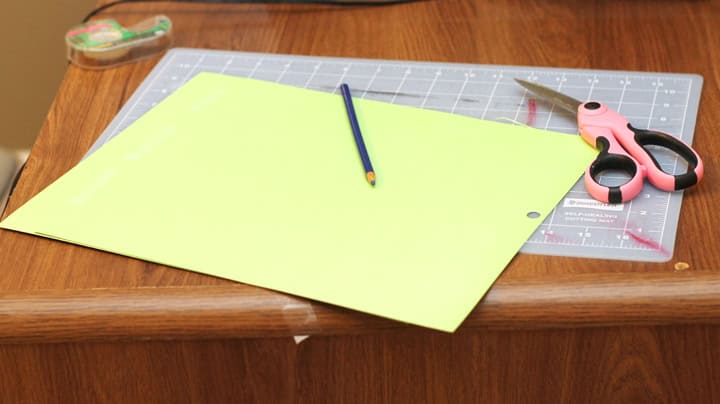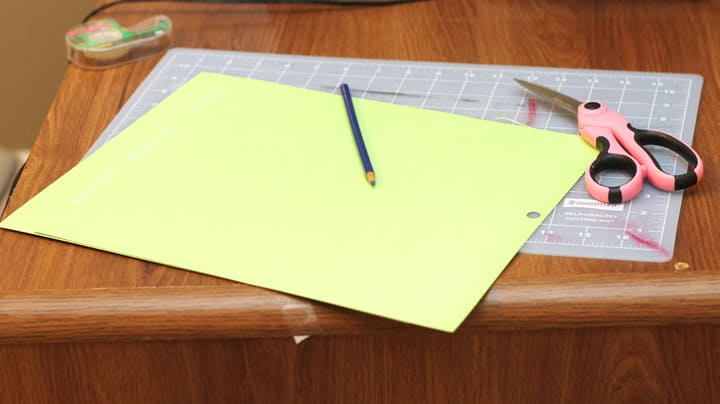 I had some contact paper that I had previously snagged at a craft store a while back and decided this would work perfectly for this project. Using my template, I cut out 6 rectangles that fit into each drawer.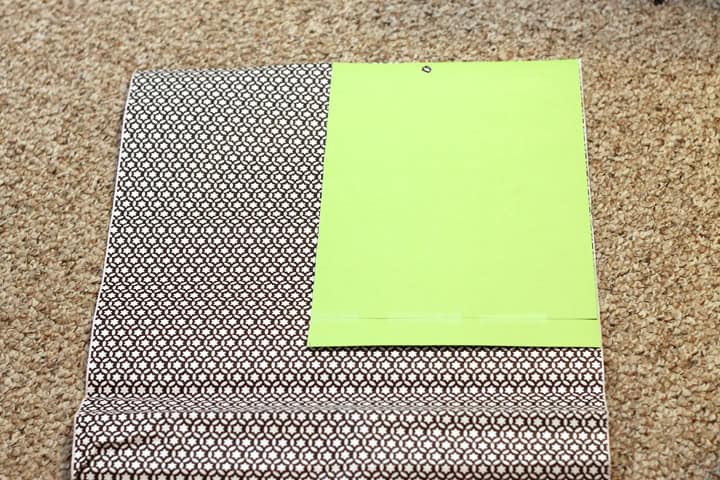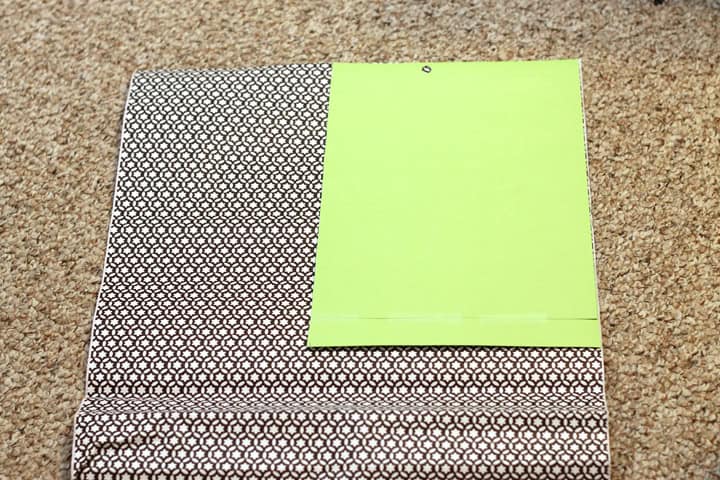 I wanted the drawers to pop out a little more so I ended up painting the outside of them a light gray color that I had leftover from painting a room a few months ago. It's always a good idea to keep that extra paint around!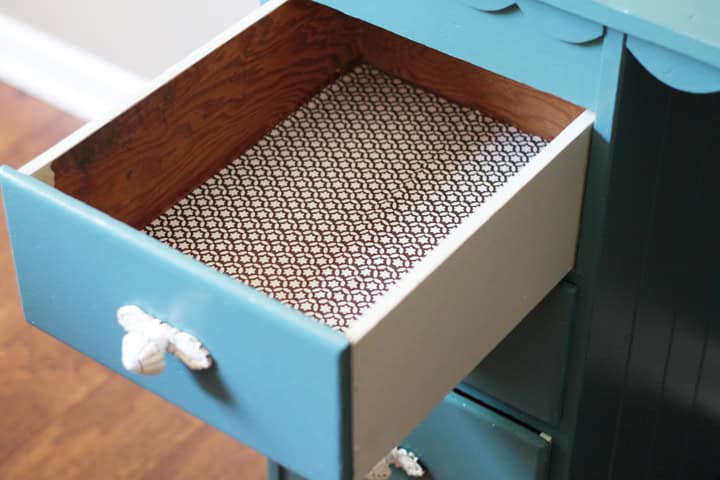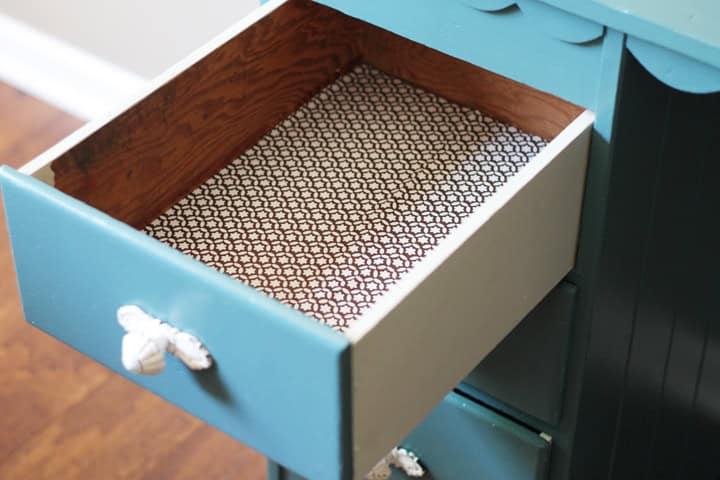 Ready to see it all done!?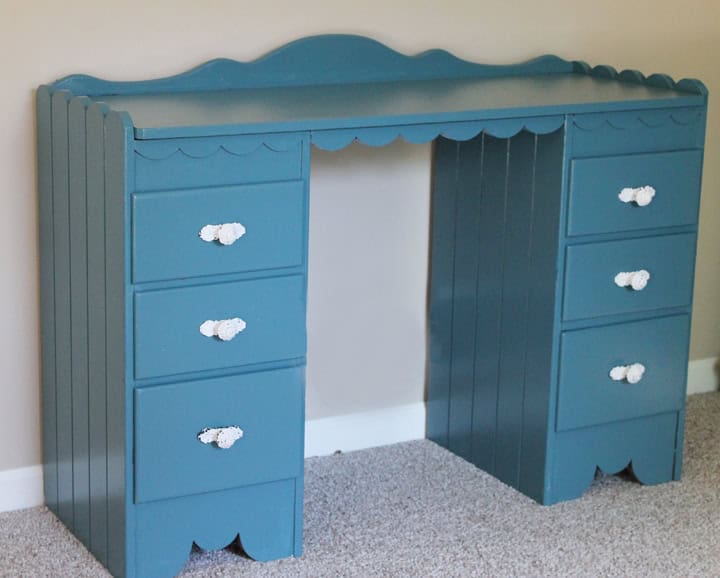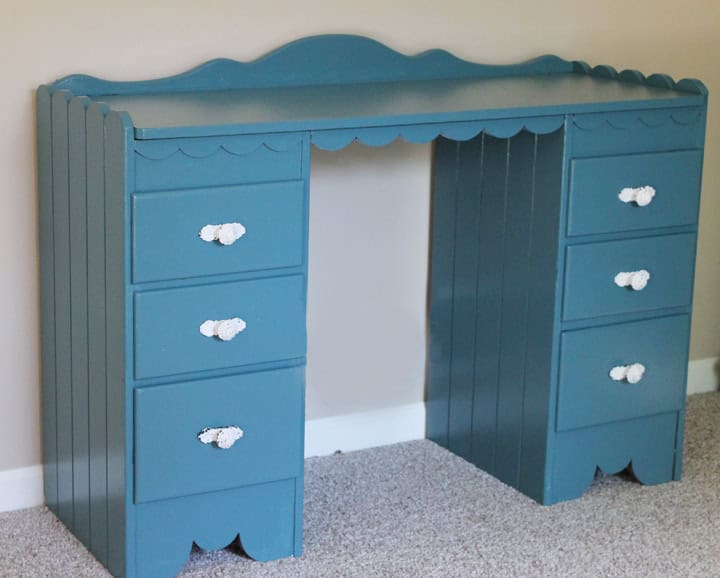 Aren't those handles cute? They were 50% off too!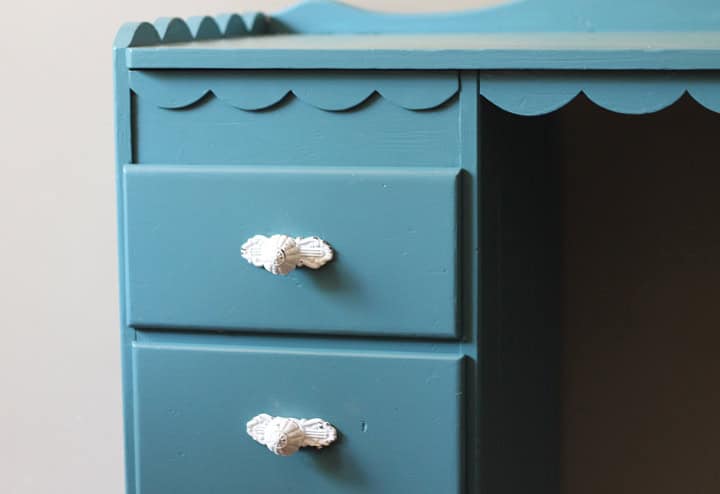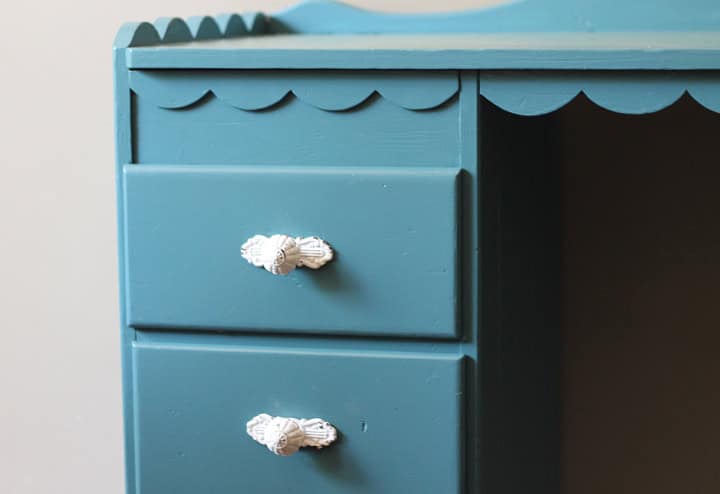 You can see the semi-gloss finish in this shot. Doesn't the right paint make such a dramatic difference?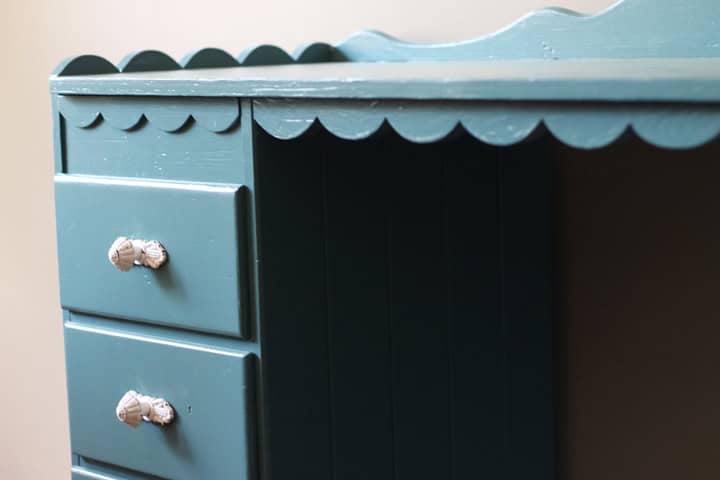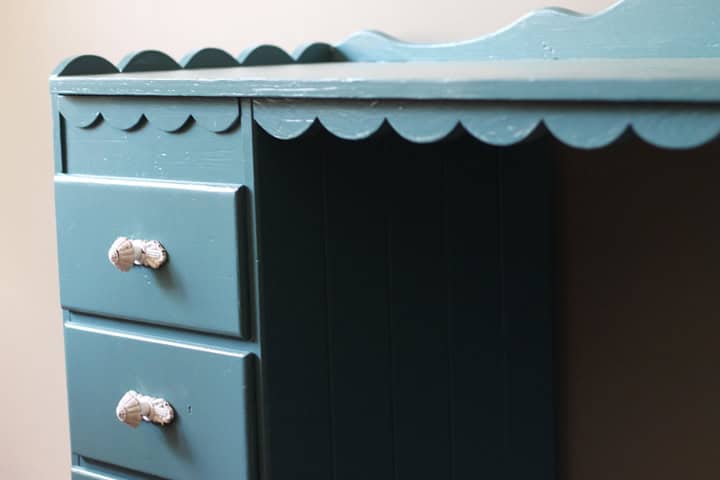 I love how the drawers turned out. I love the pop of color on the outside of them, as well as the fun lining paper on the inside.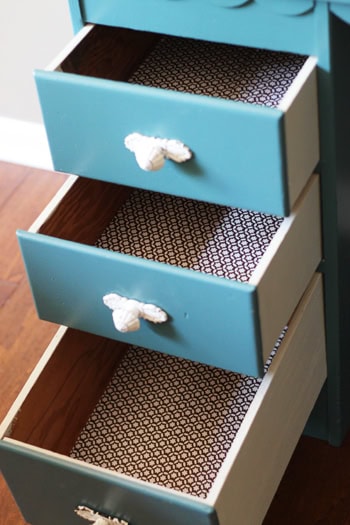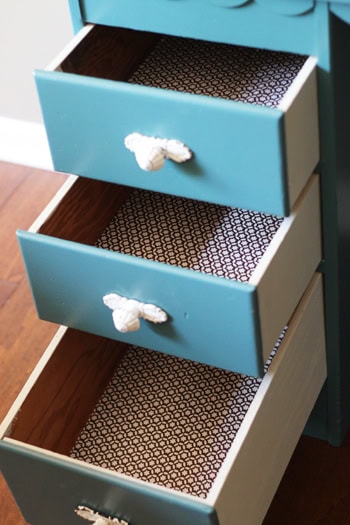 Anyone can do a project like this. Glidden paint can help by walking you through the color picking process (if you need it). They have lots of fun tools on their website to guide you.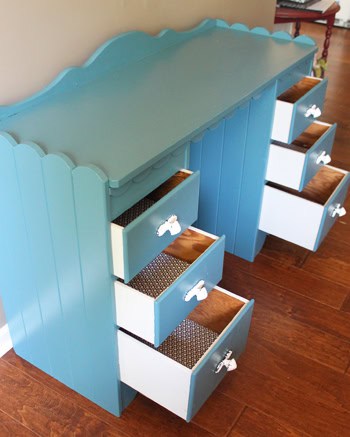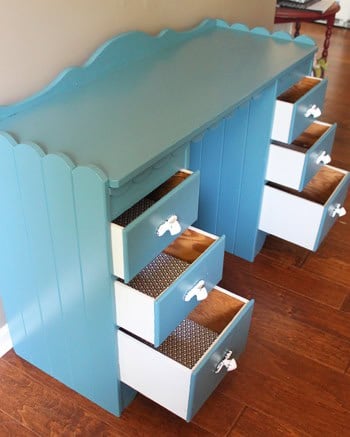 We just got the dresser moved into my little gal's room. She loves it and we are busy stocking it with toys.
https://thrivinghomeblog.com/wp-content/uploads/2014/05/before-and-after-desk.jpg
1270
760
Polly Conner
https://thrivinghomeblog.com/wp-content/uploads/2019/10/thrivinglogo.png
Polly Conner
2014-07-07 05:05:34
2020-11-13 06:52:23
Dramatic Desk Makeover