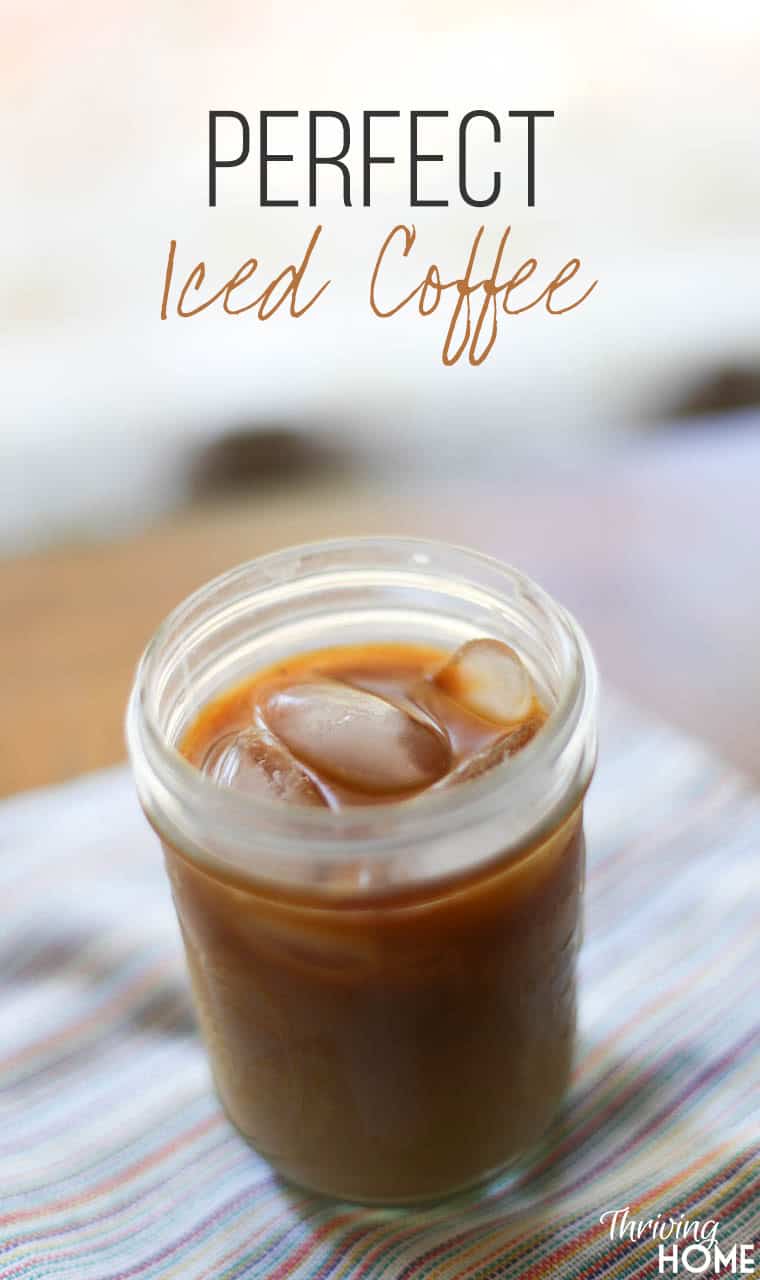 Summer of 2016 will forever be remembered in my life as, "The Summer of Iced Coffee."
I'm serious.
Anywhere from around 1:00-3:00 pm, I start to feel sorry for my tired self. I'm tempted to throw a little pity party for my tired self. I remember how many times I was up last night with a newborn or other kid shenanigans. I reminisce on the days when my kids actually napped. I start fantasizing about a long, uninterrupted nap and then feel even more sorry for myself when I realize it's probably not going to happen for at least another five years.
But then. I remember.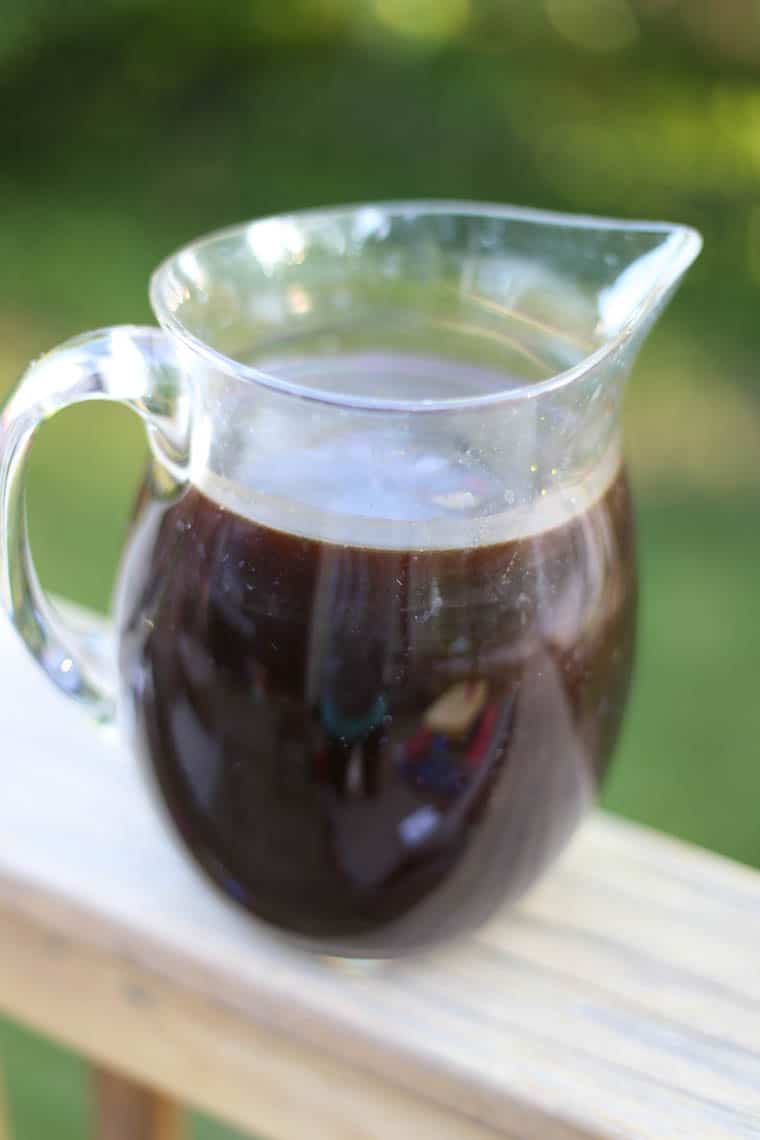 I have iced coffee in the fridge.
It's not a big deal, but, it's kind of a big deal.
So, sleepy mama friends of mine, perk up. Iced coffee is on the way. Here's how to make your own batch that can hang out in the fridge for weeks–weeks I tell you!
How to make your own iced coffee
In a large container of some type, dump in one pound of strong, ground up coffee.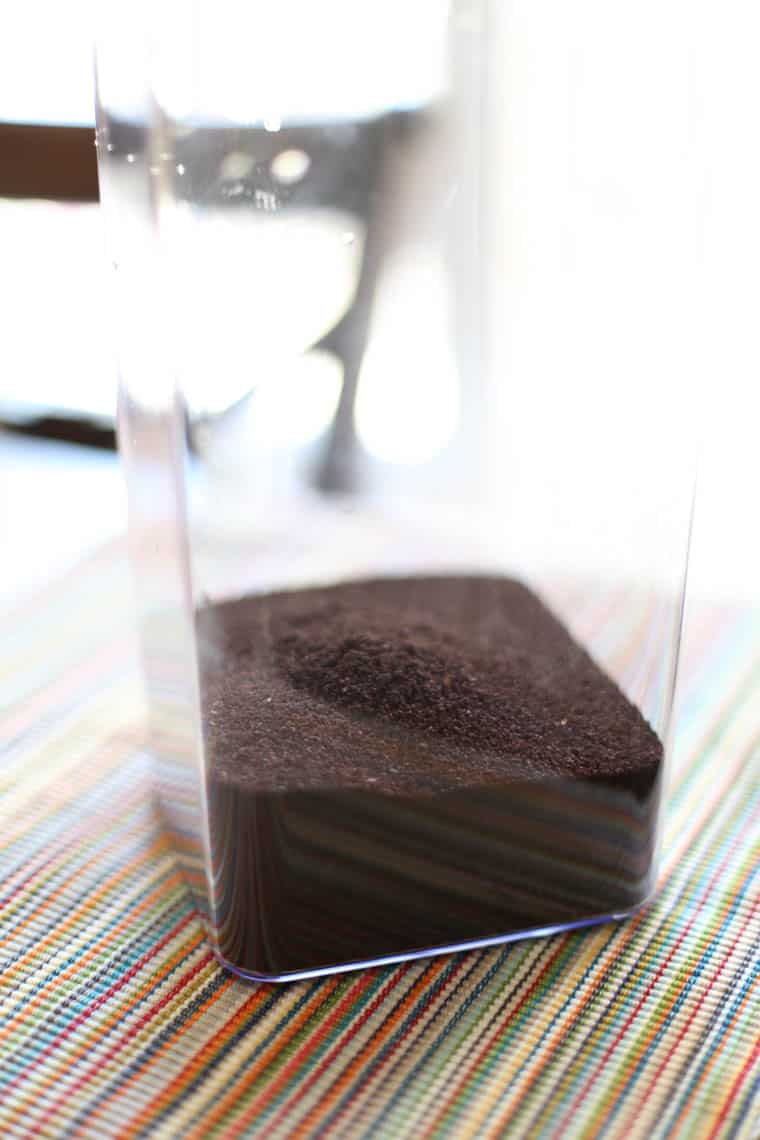 Add 16 cups of water. Everyone does it a little different but I've read that most people recommend a four to one ratio. So four cups of water for every cup of ground coffee. It doesn't have to be perfect. Experiment to see what kind of concentration you prefer.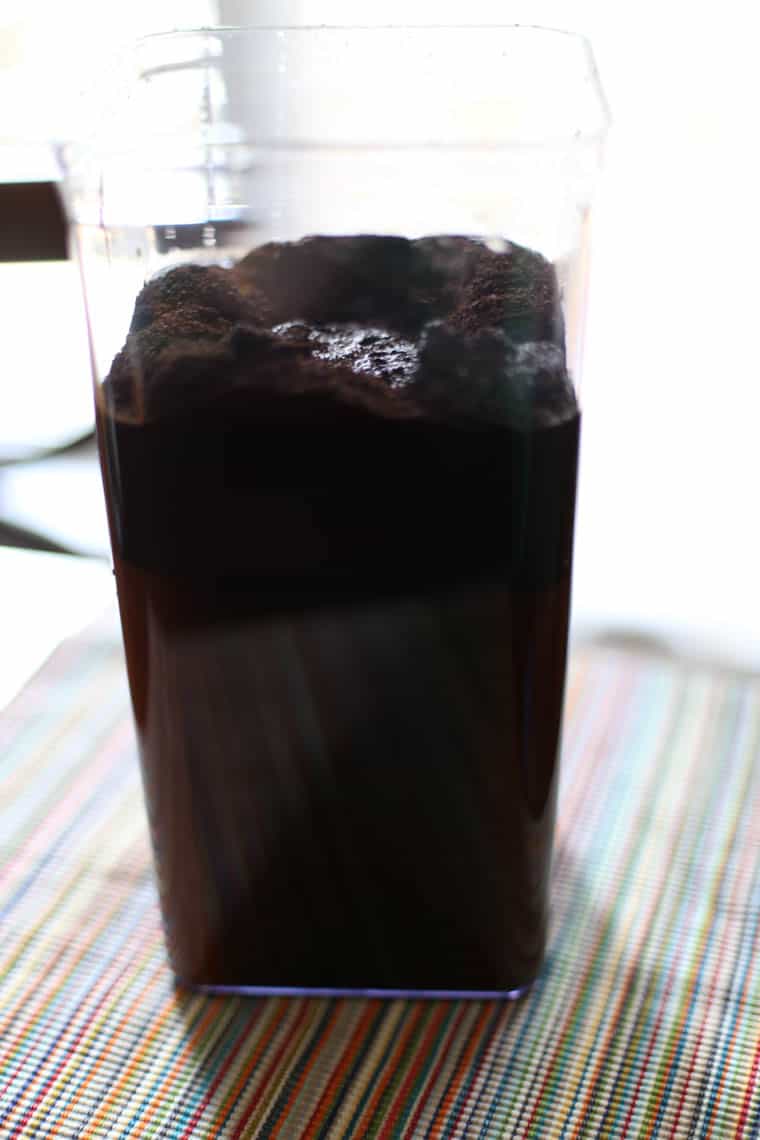 Since some of it will still be dry on top, get a big ol' spoon and stir it up.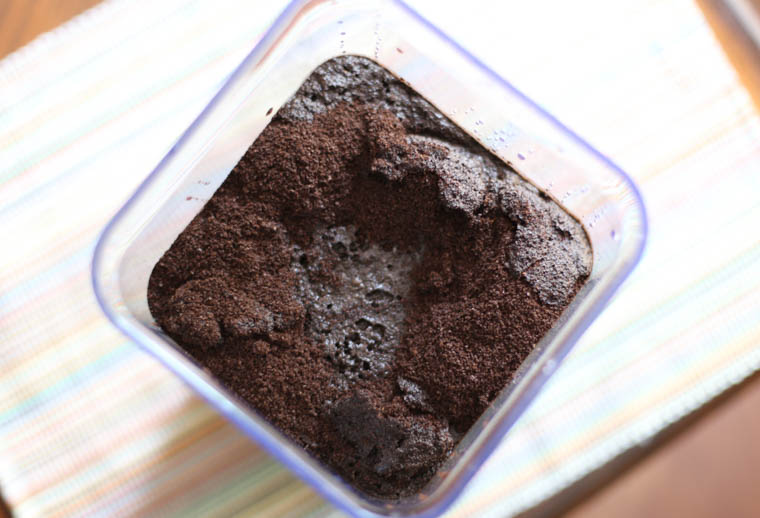 Now, cover it up and be patient. For like, 12 hours. It's not that long. You can do it.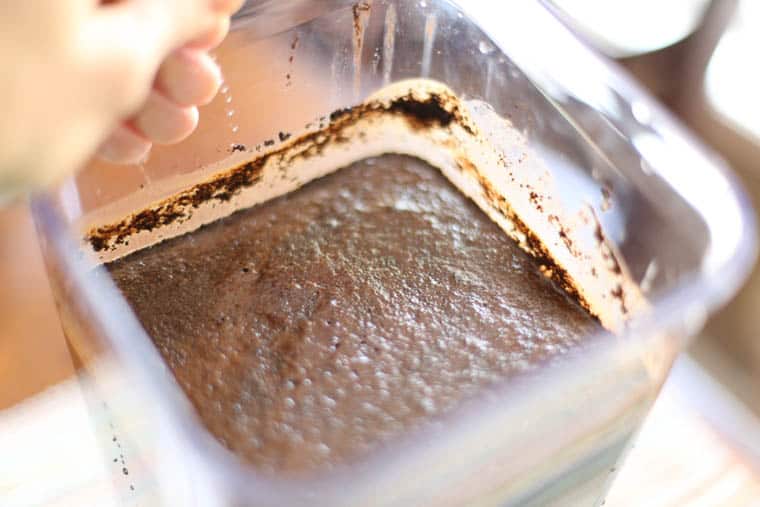 Ding ding ding. 12 hours has gone by and it's time to strain the coffee grounds out. Using a mesh strainer like this will allow grounds to sneak through. (They are sneaky, I tell you!)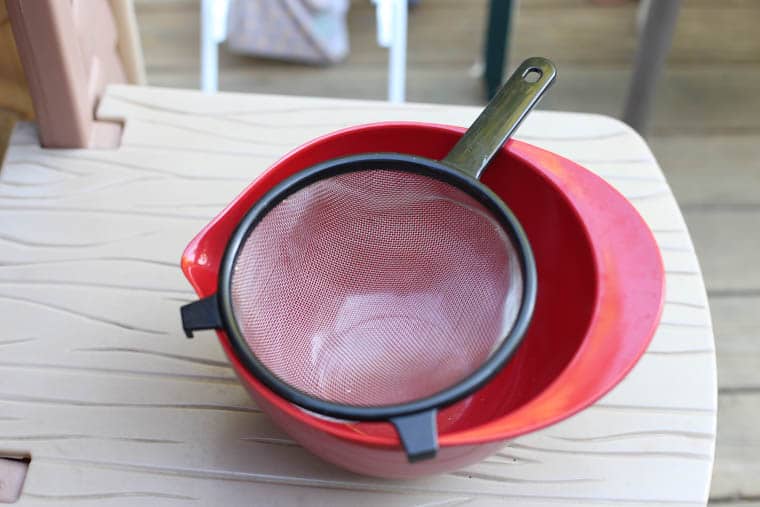 I used a cheesecloth on top of my mesh strainer and it worked quite well. If you don't have a cheese cloth on hand (because lets be honest, most people don't), you can get away with using a paper towel. Do what you must!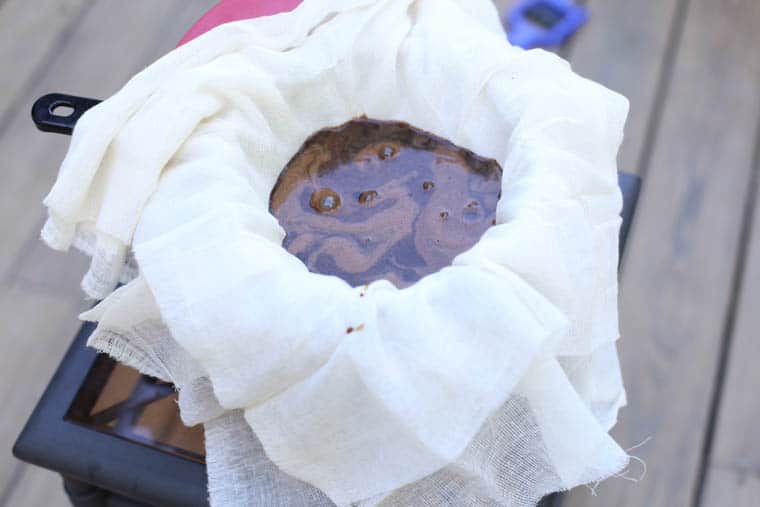 Once you've strained all of your coffee through, add it to a pitcher of some type and store it by covering the top.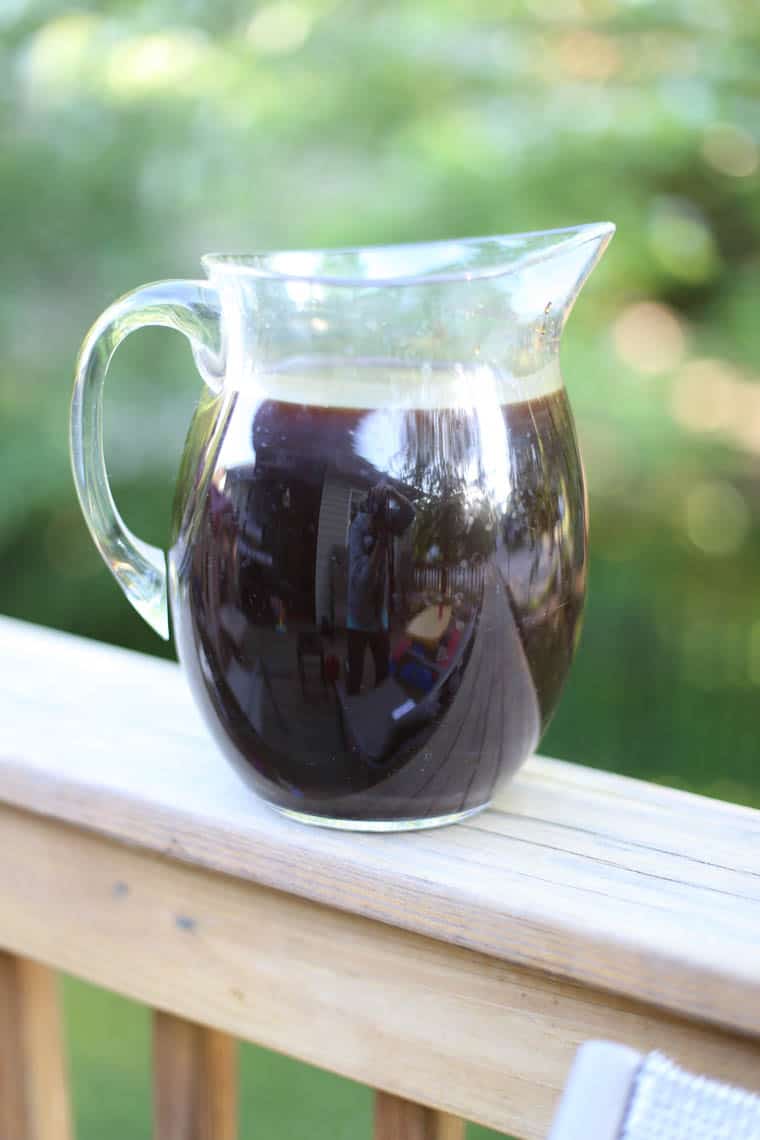 When you're ready to make a glass (i.e. it's late afternoon and you can hardly keep your eyes open), start with about half a glass of ice.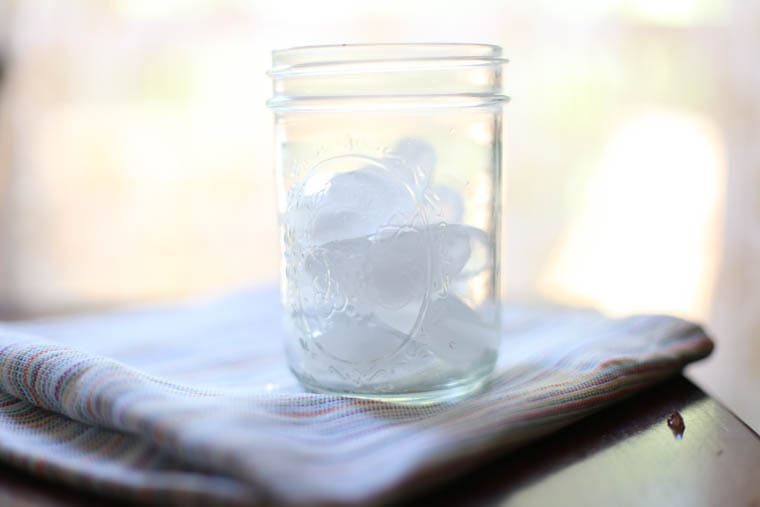 Fill it about 1/2-2/3 full of your coffee concentrate.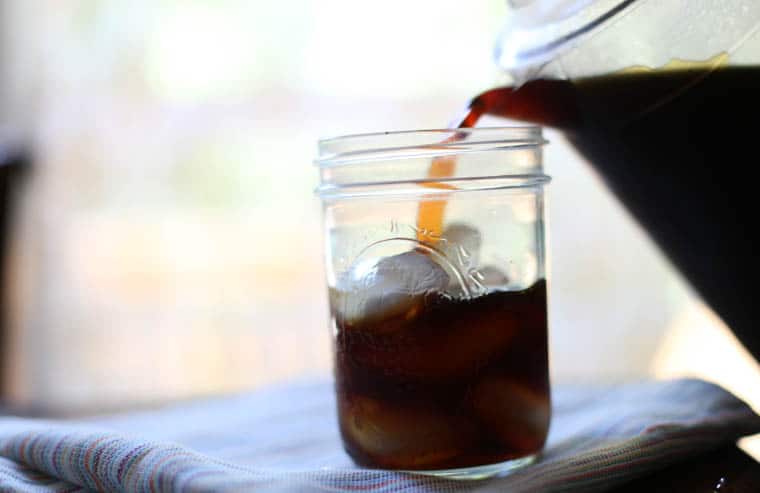 Now, finish it off with whole milk. Or, if you're feeling naughty, some half and half or heavy cream.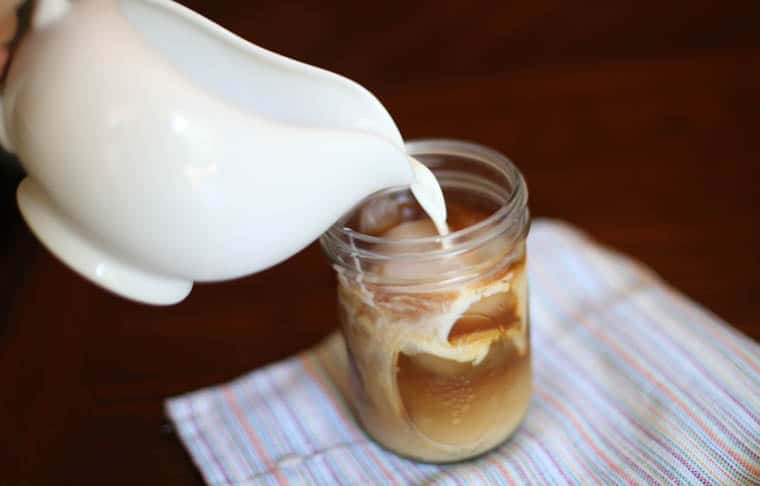 Look how pretty it is going in!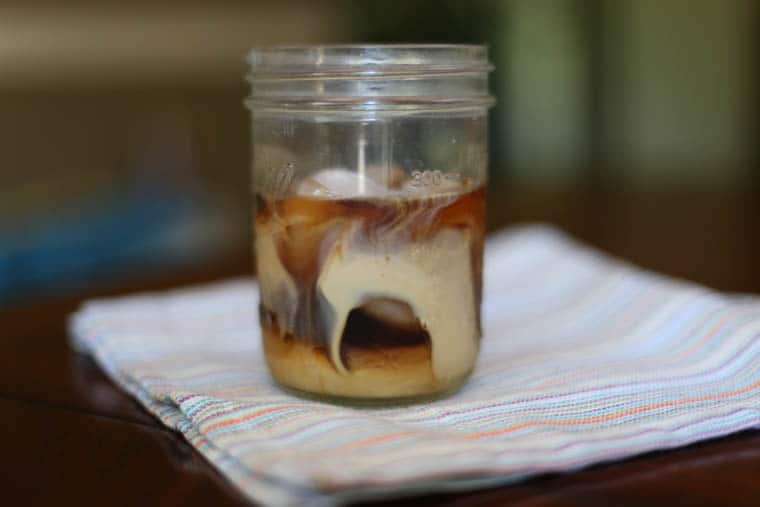 I top mine with half a teaspoon of sugar. OK, maybe a whole teaspoon if it's a big glass. Guilty as charged for having a sweet tooth. Stir it up and enjoy.
Oh, happy day. Iced coffee, I love thee.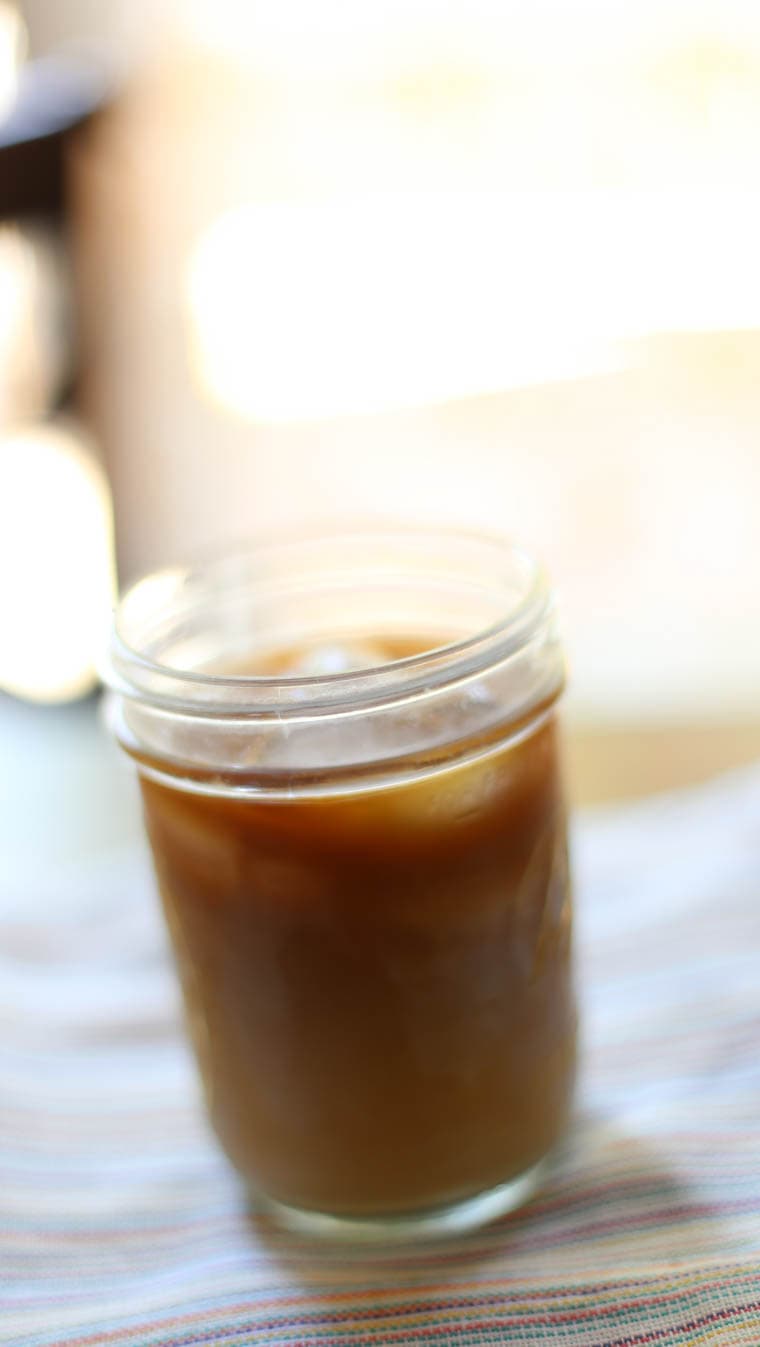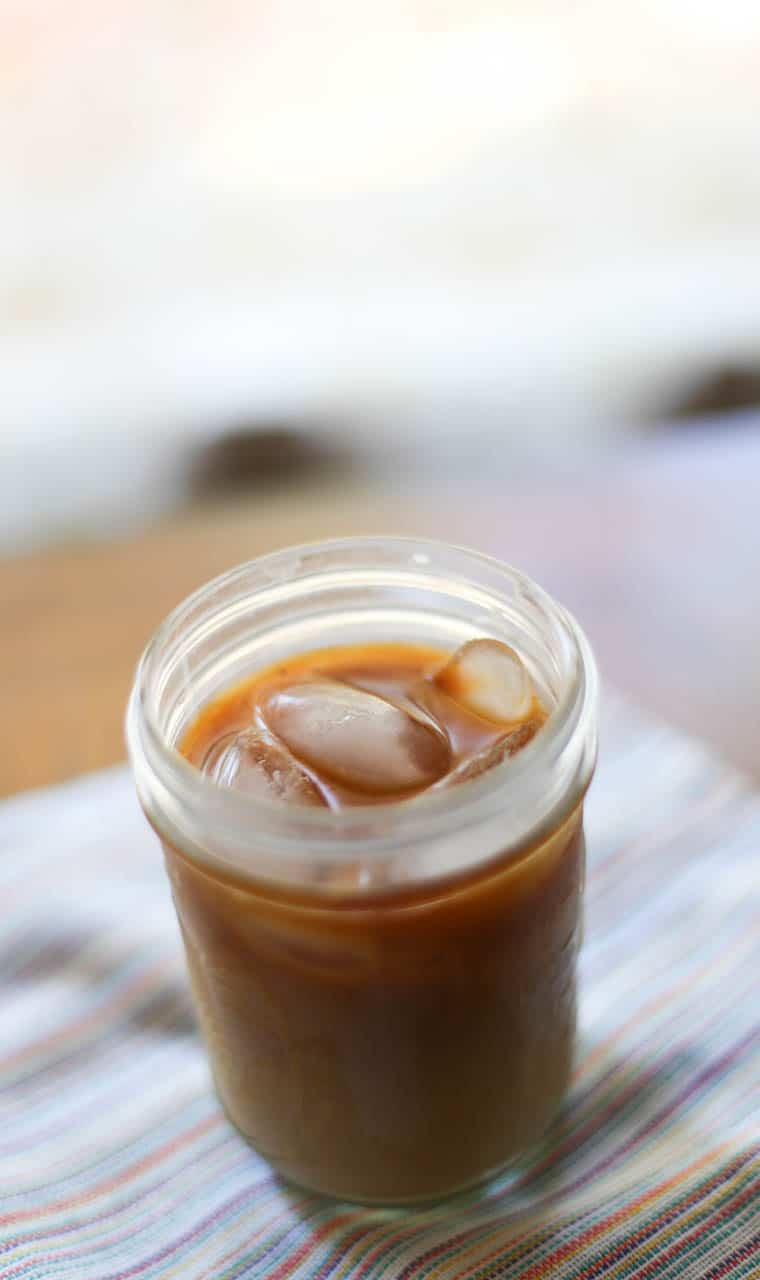 If you like this, you'll probably like our Quick Fix Vanilla Latte too. Check it out!
Print

Easy-Peasy Iced Coffee
Author:

Prep Time:

15 minutes

Cook Time:

0 minutes

Total Time:

15 minutes

Yield:

16 cups

1

x
Category:

Drink

Method:

Brew

Cuisine:

American
---
Description
Need an afternoon pick me up? Make a batch of this yummy iced coffee. You can store the concentrate for over a week in the fridge. Just add milk and ice when you're ready for a cup.
---
Ingredients
1

pound coffee grounds (a strong roast)

16 cups

water
cream of some type (milk, half & half, etc.)
Sweetener of choice
---
Instructions
In a large container or bowl, mix coffee grounds with water. Cover and allow to sit at room temperature for 12 hours.
Line a fine mesh strainer with cheesecloth or paper towel and set it over a pitcher or bowl. Pour mixture through the strainer, allowing all liquid to run through. Discard grounds.
Place coffee concentrate in the fridge and allow to cool.
To make iced coffee, pack a glass full of ice cubes. Fill glass 2/3 full with coffee liquid. Add creamer and sweetener. Taste and adjust as needed.
https://thrivinghomeblog.com/wp-content/uploads/2016/06/Perfect-Iced-Coffee-14.jpg
1347
760
Polly Conner
https://thrivinghomeblog.com/wp-content/uploads/2019/10/thrivinglogo.png
Polly Conner
2016-06-21 08:00:00
2019-09-29 22:34:49
Easy-Peasy Iced Coffee