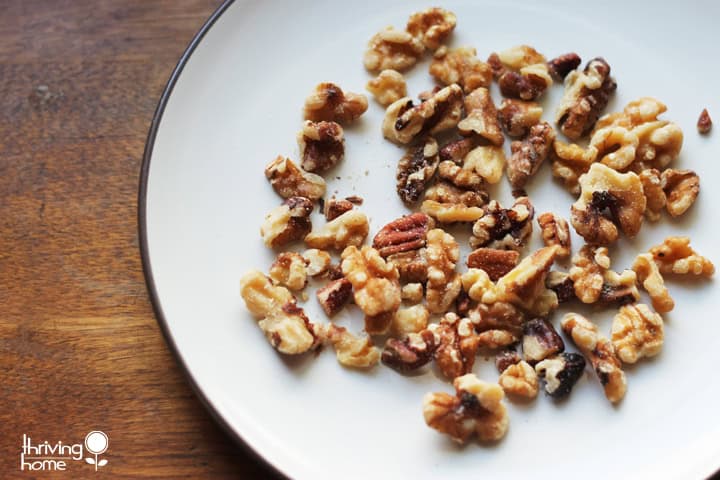 Gosh, people. My definition of what "healthy" is continually evolving. The way I cook and eat is entirely different than it was 5 years ago. Even more so from 10 years ago. Six or seven years ago when I was working really hard to lose weight I focused on the caloric content of something and deemed it "healthy" or not depending on the numbers. So for example, I considered Rice Krispies healthier than shredded wheat based on the numbers I saw on the box. I didn't know how to take nutrition and ingredients into consideration in my diet. It was all about the numbers.
One of the things I hardly ever ate back in the day were nuts. I saw them as fatty and caloric. However, as I started using more and more "real food" recipes, and learning about the nutritional value of food, I noticed how often nuts were included in these "healthy" recipes. I gradually started adding them into some of my baked goods like zucchini flaxseed muffins and baked oatmeal.
Well today I was flipping through a Better Homes and Gardens magazine at the gym and stumbled on a little article about walnuts. I knew they were healthy but I didn't know why or in what ways. It pretty much sealed the deal on me adding walnuts to baked goods when I can!
Why Eat Walnuts?
Walnuts pack more heart-healthy antioxidants than any other nut, along with a dose of omega-3 fats.
They can help lower cholesterol levels and protect against heart disease
At 190 calories per ounce, walnuts aren't obvious diet far. But each serving delivers 4 g of protein and 2 g of fiber to keep you feeling full and satisfied.
Walnuts are one of the few foods that contain melatonin, a hormone that helps control your sleep cycle. Eating walnuts might help you get better sleep!
Pretty cool huh?
So next time you're at the store, snag a bag of walnuts and find ways to throw them into your food.
Here a few recipes that include walnuts if you want a place to start!
https://thrivinghomeblog.com/wp-content/uploads/2019/10/thrivinglogo.png
0
0
Polly Conner
https://thrivinghomeblog.com/wp-content/uploads/2019/10/thrivinglogo.png
Polly Conner
2013-09-23 05:35:03
2014-03-28 21:25:49
Why Eat Walnuts?