A few weeks ago my mom, sister and I put together a shower gift idea for our new sister in-law. We put together a basket of all of our favorite kitchen gadgets for her. It was so fun to do and hopefully a thoughtful way to welcome her into our family.
As promised in my previous post, I'm back to share in detail what our favorite kitchen gadgets are and why. I'll also share a few recipes ideas that I use these gadgets for.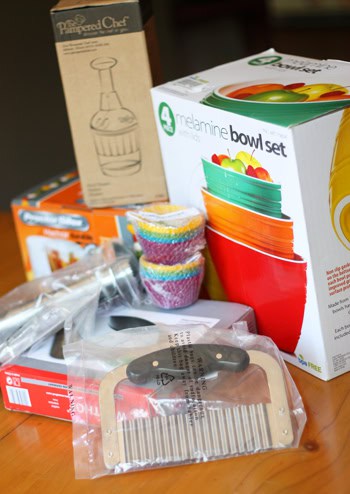 Bowl Set With Lids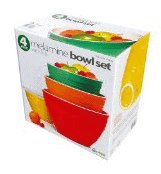 We loving having mixing bowls that have lids. It sounds simple but it is really nice to be able to store the food in the same bowl that it was made in. No need to waste dishes. They are also colorful and fun so could be taken to a cookout or other group event. Just a handy staple to have in the kitchen.
Recipes Ideas: Guacamole for the Masses, Simple Blender Hummus, Whole Grain Chocolate Chip Cookies
 1-1/2-Cup Food Chopper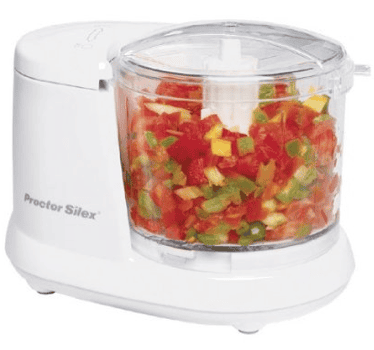 This little gadget is so handy to have for those small chopping jobs you need done. Instead of busting out the huge food processor, you can use this small food chopper for small chopping jobs like for peppers, onions, garlic, nuts, etc.
Recipe Ideas: Homemade Breadcrumbs, Fresh Pesto 
Silicone Baking Cups
I love these reusable muffin cups. They not only peel away from muffins easily but they can also be used for freezing small portions. I used them a lot when making my own baby food and freezing small portions. I also use them as a fun way to serve snacks. Both my kids love to play with them. On a daily basis I find these scattered throughout the house because my kids love to play with them so much.
Recipe Ideas: Pumpkin Chocolate Chip Muffins, Savory Breakfast Muffins, Zucchini Bread Muffins
Crinkle Cut Knife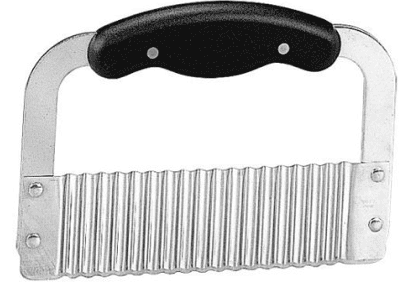 This little cutting tool makes veggies a little more fun to look at and eat.  Add a little decorative flare to those cucumbers, zucchinis, squash, carrots, or anything else you can think of to chop. You'll impress your guests with your decorative cooking 🙂
Recipe Ideas: Small Bites Board, Zucchini Succotash, Oven Fries
Small Cookie Scoop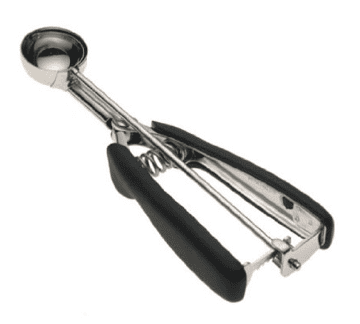 This little scoop comes in more handy than you would think. It's great for scooping up and dropping cookie dough on a baking sheet. It also can be great for scooping out melon fruit to make a fun fruit salad.
Recipe Ideas: Powerball Cookies, Breakfast Cookies, Sweet Potato Biscuits
All three of us have one of these and use it all the time! This tool features measurements on the shaft, so the cut is always perfect & the bottom is never pierced. Plus, when all are fed & done, you are left with the empty fruit shell to use for drinks or as a Hawaiian-inspired centerpiece.
Recipe Ideas: Green Pineapple Smoothie, Tropical Smoothie
Pampered Chef Food Chopper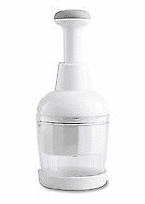 I love my little food chopper. Here's the deal though- don't go cheap on this gadget. Get the Pampered Chef chopper. I know a few people who have gotten the cheaper version and didn't like it much. I use this little guy on a weekly basis. It is handy for chopping nuts, apples, onions, peppers, etc.
Recipe Ideas: Baked Oatmeal, Breakfast Casserole Muffins, Oven Omelet
Mincing Knife and Cutting Board Set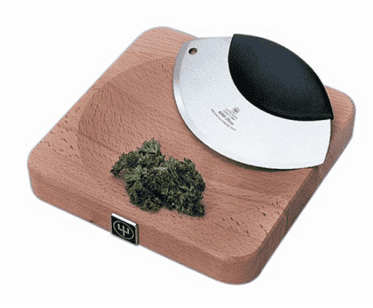 Someone gave me one of these as a wedding gift 5 years ago. It stayed in the drawer for a few years until I realized what a great little tool it was for chopping up herbs, garlic or other small food items. It rocks back and forth easily and makes chopping a breeze.
Recipe Ideas: Parmesan Chicken Casserole, Avocado Basil Pasta
Hope you can find some great uses for these! Make sure to pin them for future gift ideas for either yourself or for future gift ideas!